Shanghai is notoriously one of the most expensive real estate markets in the world. With the largest urban population in the world, it's no wonder. Everyone, Chinese and internationally, wants to come to Shanghai, the city of the future. Which means living space is at a premium price, especially in the heart of the city.
Central Shanghai, including Xuhui and Yangu districts, is the most expensive area of Shanghai. The top neighborhoods are Xintiandi, Jing'an, and the Former French Concession. Lujiazui on the Pudong side of the river is the new financial district of the city and also has many large and expensive apartments. Rent in these prominent neighborhoods can be about 6,000 RMB per month for a studio or 1 bedroom apartment and 10,000 RMB per month for 2-3 bedrooms. It's not uncommon for people to rent just a room as well which would be about 3-4,000 RMB per month. Of course, these are just estimates and the rental market in Shanghai keeps growing at a rate of 10-25% per year.
Homes in central Shanghai are almost exclusively apartments. While there are many lovely old mansions in the Xuhui (Former French Concession) area, they were divided into apartments decades ago. Single family homes exist on the periphery of the city and are called villas. They are most often not near a subway line and are part of a compound of dozens of villas side-by-side with minimal if any yard space. These houses appeal to the very wealthy and foreigners since many of them are near international schools. Otherwise, the vast majority of people in Shanghai live in modern high-rise apartments.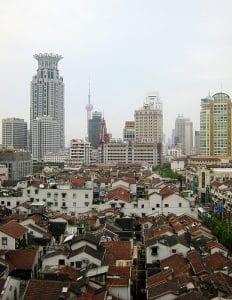 Shanghai is a very historic city that has been a center of commerce for centuries. There are still some very old buildings in areas like Laoximen and near The Bund (waterfront). The majority of old houses have been demolished to make way for new modern high-rise apartment buildings which can accommodate more people in a small area. The old houses often had one shared kitchen and even a shared bathroom for multiple apartments. These houses are now very cold and damp in the winter, hot and stuffy in the summer, and often have pest problems. As these old buildings are demolished, the residents are relocated to brand new apartments very far outside the city center. It is both a blessing and a curse that they get a new apartment from the government but the old long-established communities are being dissolved.