To fulfill your wish as a cat lover, this article brings you a "Cat Special" edition. From the basics of pronunciation of how to Say Cat in Chinese to various cat breeds in China and even some cat trivia… it's a must-see for cat enthusiasts!
The love for cute animals and pets transcends borders worldwide. On social media, posts featuring adorable animals like cats are always a surefire hit. When it comes to discussing cute cats, even if language barriers exist, conversations tend to flow smoothly, making it a great opportunity for practicing basic Chinese conversation skills.
So, let's learn some Chinese expressions related to cats and enjoy talking about our beloved animals.
How to say cat in Chinese?

To say "cat" in Chinese, you can say "猫" (māo).
Let's start with the pronunciation and correct pronunciation of "猫" (māo) in Chinese. Knowing how to write "猫" is not enough; if the pronunciation is incorrect, it won't be understood by Chinese speakers. Practice the Pinyin representation and tones to ensure accurate pronunciation.
The Chinese character "猫" is written exactly the same as in Japanese. For a small kitten, it can also be referred to as "猫咪" (māomī) or "小猫咪" (xiǎo māomī).
In Pinyin, it is written as "māo," with the first tone. To get the right pitch for the first tone, try pronouncing it with the same pitch as the note "so" in the "do-re-mi-fa-so-la-ti-do" scale.
Maintaining a high pitch for the first tone can be challenging, as it's not easy to sustain a high pitch. However, without the correct tone, the listener won't be able to understand. Start by learning the technique and practicing it.
When it comes to pronunciation, trying too hard can make it difficult to maintain the pitch. For "māo," after pronouncing "a" clearly, the trick is to release "o" effortlessly. This makes it easier to maintain the pitch, so give it a try. At first, you might feel a bit self-conscious, but with repeated practice, your body will internalize the technique.
In Chinese, even with the same Pinyin, the meaning can vary due to the four tones (sìshēng). It's crucial to pronounce the four tones correctly. An effective way to practice distinguishing them is by listening to native Chinese speakers.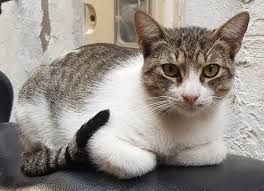 How to count "猫" (māo) in Chinese?
When counting "猫" (māo) in Chinese, you use the measure word "只" (zhī). Let me introduce the expressions for counting "猫" in Chinese. Check out the example sentences:
My parents' house has three cats.
Wǒ de lǎojiā yǎng le sān zhī māo.
我的老家养了三只猫。
Expressing "This cat is cute!"
This cat is cute!
Zhè zhī māo hěn kě'ài yā.
To express cuteness, use the adjective "可爱" (kě'ài) meaning "cute," and add the adverb "很" (hěn) to indicate the degree. Other common adverbs placed before adjectives include "非常" (fēicháng) meaning "very," "特别" (tèbié) meaning "especially," and "真" (zhēn) meaning "really." Use them according to the level of cuteness you want to convey.
Adding the particle "呀" (yā) at the end expresses a sense of exclamation and adds emphasis to your statement. It conveys a nuance similar to "Isn't it cute?" or "Wow, it's cute!" in English.
Furthermore, I'll introduce an example using the commonly used structure "好" (hǎo) + adjective in Chinese conversations. It's useful to remember this as well!
This cat is so cute!这只猫好可爱呀!
Zhè zhī māo hǎo kě'ài yā!
Expressing "My favorite animal is a cat."
My favorite animal is a cat.
Wǒ zuì xǐhuan de dòngwù shì māo.
我最喜欢的动物是猫。
Chinese Expressions and Idioms Using "猫" (māo)
In Chapter 2, we will introduce expressions in Chinese that use the Chinese character "猫" (māo). When you understand the deeper meaning behind "猫," it expands the range of expressions in Chinese.
"猫" (māo) represents different meanings in various Chinese dialects
The Chinese character "猫" (māo) carries different meanings in various dialects of Chinese. It's fascinating to imagine the scenes depicted by the following example sentences using the character "猫."
For example:
She hid herself.
Tā māo qǐlái le.
她猫起来了. (Dialect spoken in Northeast China)
I'm staying at home.
Wǒ zàijiā māo zhe ne.
我在家猫着呢. (Beijing dialect)
Idioms about "猫" (māo)
Expressing feigned pity or false compassion.
Māo kū hàozi jiǎ cíbēi.
猫哭耗子假慈悲.
* "耗子" (hàozi) is a colloquial term for "rat" in Chinese. Despite being a cat's favorite prey, this idiom refers to the scenario where a cat mourns the death of a rat. It expresses "hypocrisy."
Used when both the wrongdoer and the enforcer collude to carry out a plan.
Māo shǔ tóng mián.
猫鼠同眠.
Glutton.
Chánmāo.
馋猫.
Introducing Chinese "cat" "猫" (māo)
trivia
In Chapter 3, we will introduce some trivia about cats in China. Knowing these tidbits can create lively discussions among cat lovers!
The sound of cats in Chinese is expressed as "miāo" (喵).
While the pronunciation for the word "cat" in Chinese is "māo" (猫), their meowing sound is often represented by "miāo miāo" (喵喵) in Chinese. In Japanese, "nyān" is the closest representation of a cat's meow. It's fascinating how the expression of a cat's meow differs across different countries. In English, it's "meow," in Russian, it's "myau," and in Spanish, it's "miau." Interestingly, many languages worldwide use "m" sounds to mimic a cat's meowing.
Don't miss out on expanding your knowledge – visit our Chinese learning resource page!
Immerse yourself in an unforgettable learning experience! – Book a Trial Chinese Learning Class