GoEast Online: Business Chinese
Ready to work in China? With this course you'll be able to join meetings, give reports, discuss team building activities & more.
 6 to 10 self-learning chapters included
 18 to 29 videos and 50 to 100 interactive questions
6 to 9 articles on Chinese corporate culture
 3 to 5 private classes with teacher
Total price: 109 to 199 USD
Learn how to communicate with your colleagues through real world conversations about scheduling meetings, going to lunch, sending emails, and, of course, connecting on WeChat. Through a combination of video lessons, interactive exercises, and cultural articles, you'll be ready to start working and communicating in Chinese in less than 2 months. 
Real life examples of conversational Chinese to apply the words you've learned. Click here for a sample.
Videos explaining basic sentence structure. Click here for a sample.
Have live video lessons with your personal teacher to practice what you've learned and to check your pronunciation.
Several sets of flashcards which you can use to study vocabulary on any device. 
Test yourself with a short quiz and find out what you need to study more.
Chinese culture is part of the language. Our courses include short cultural articles too.
Business Chinese I (Beginner)
After this course, you can:
greet people at work place
exchange business card, ask for email or connect WeChat
have small talks with colleagues
arrange or reschedule meetings
 10 self-learning chapters included
 29 videos and ~180+ interactive questions
 9 articles explaining Chinese culture
 10 private classes with teacher
Business Chinese II (Intermediate)
After this course, you can:
talk about the goal of the year, annual party etc.
talk about politeness in China, eg: welcome new colleague, lend and borrow stuffs, invite someone to the wedding etc
talk about study in school, eg: study after class, exam score, competition etc talk about work at a company, eg: have a meeting
 6 self-learning chapters included
 18 videos and ~100+ interactive questions
 6 articles explaining Chinese culture
 3 private classes with teacher
Why GoEast online?
We're a Mandarin school with teachers online and in Shanghai. Our online school combines self-learning with live teachers; the best of both worlds.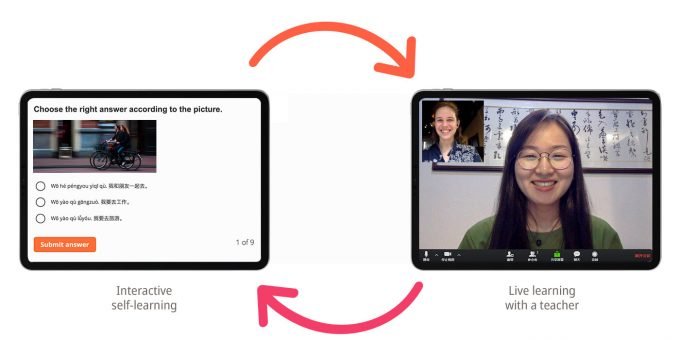 Interactive self-learning
Video lessons and interactive exercises

Learn on any device, anywhere in the world

Real conversations from daily life

Earn a certificate by completing a course
Live learning with a teacher
Highly experienced teachers

Data from self-learning course is used to target areas for improvement

Practice speaking and review each chapter with the teacher

Language immersion to achieve faster proficiency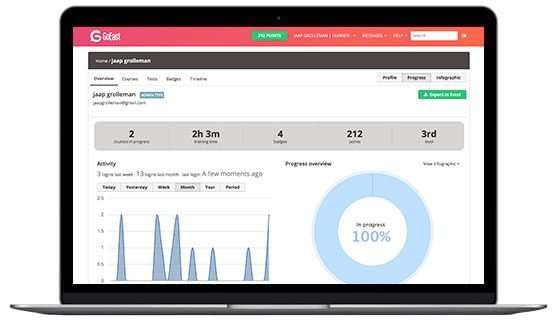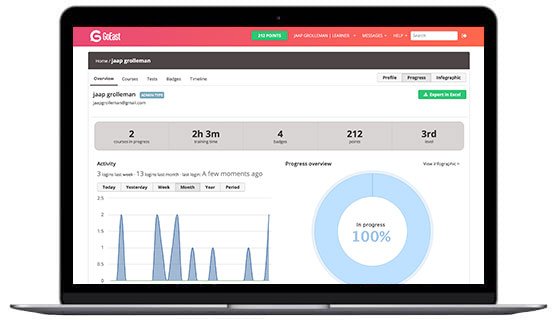 Online dashboard to track your progress
Keep track of the parts you've learned, the tests you've made and the parts you still have to do. All of this generates insightful data for you as well as our teachers, who can select what to learn together with you. Plus, badges to encourage you!
The teachers will contact you in our learning environment to schedule your classes. This platform is integrated with Zoom video calling, which works on any device.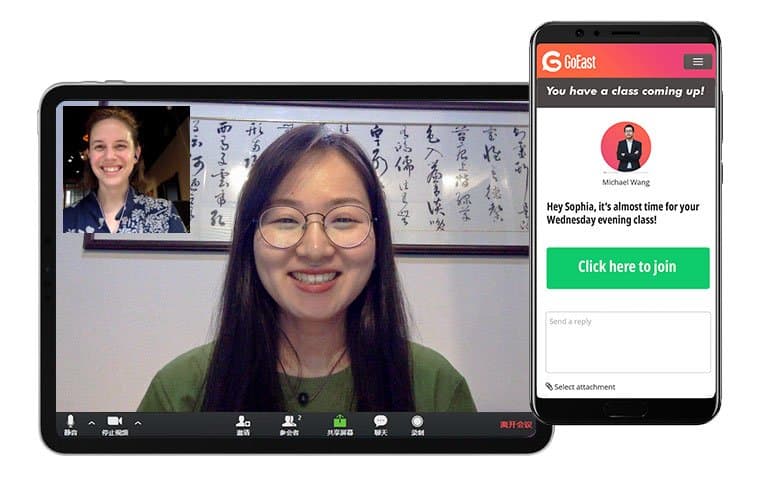 "The teacher was awesome – really friendly, obviously experienced, and spoke great English but stuck with using Chinese. She really did a phenomenal job."
What students say about our online program
What happens when you fill in this form?
A language consultant will contact you soon
He or she will form a lesson plan with you, without obligation
If the times and schedule is agreed with by you, you'll receive a payment link
Upon payment, we'll create an account for you on our learning platform
Then the learning starts!