Supercharge Your Chinese Vocabulary With Pleco? Yay or nay? Here's our Pleco review, one of the most famous apps for learning Chinese.
Chinese can be an awkward language to learn. It's mono-syllabic, and tonal and to add a final layer of complexity the script is pictographic. One of the best ways to expand your Chinese vocabulary is to start using Pleco. It's available for iOS, Android and APK.
Pleco is a flashcard app and Chinese dictionary. Yes, there are plenty of flashcard apps out there, but Pleco was the best of the breed. Here's how we use Pleco.
Generate your flashcards
Pleco is advertised as a Chinese language dictionary but we think that really sells it short. There's way more functionality in there makes it a really useful learning tool such as Mandarin dictation and Chinese Hanzi character stroke order. The key to all of it though is making flashcards out of all the vocabulary you learn in class. Here's How:
Open the dictionary in the sidebar and find your word. Luckily Pleco supports Pinyin and plain English text entry so this shouldn't be a big problem
Click the "Generate Card" button in the top right corner of the app.
Do this for all the words you learned recently.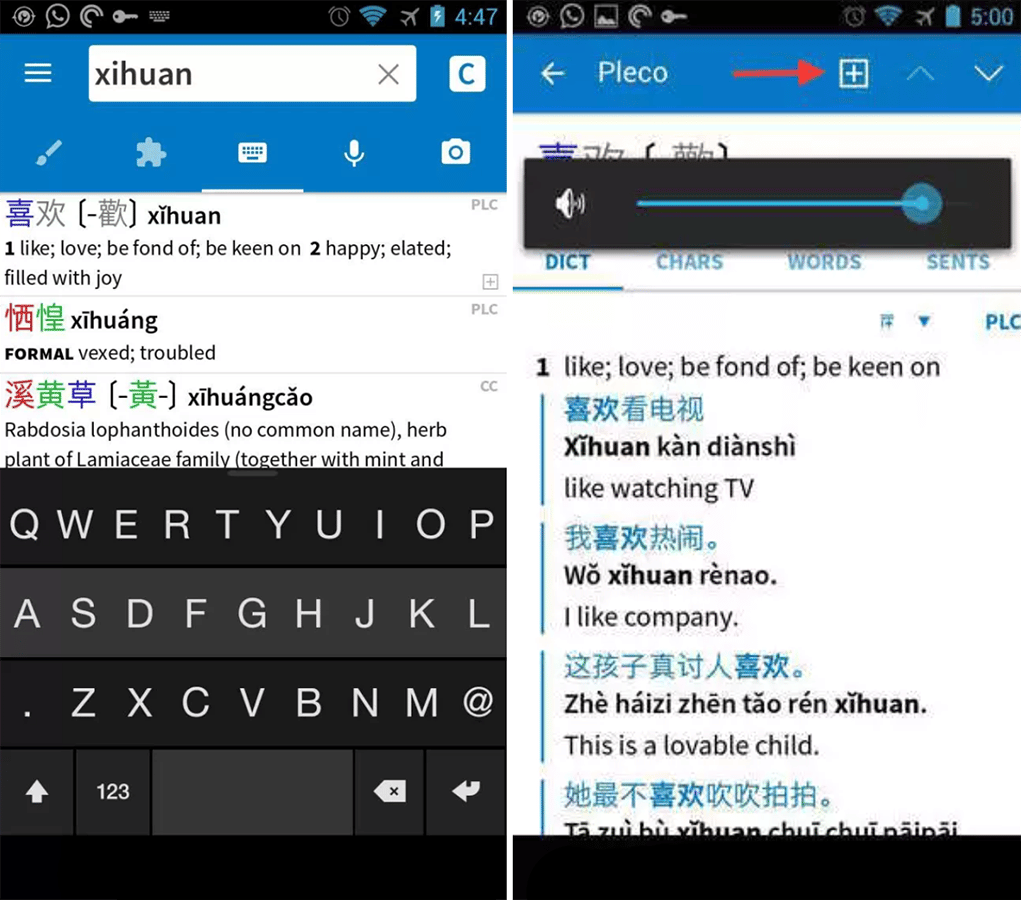 Organize your flashcards
Getting everything organized will help you get some more context about the Chinese words you're learning. Organizing your flashcards will allow you to make customized tests that can help you strengthen any of your weak spots.
If you want to create a new category click the organize cards option in the sidebar and create a new category.
Select the "Uncategorized" category and click edit.
Select all the cards that you'd like to add to any given category (if you created a new category it's likely that one) and click move. Select the category that you'd like to move them to.
Do this until you have no cards left uncategorized.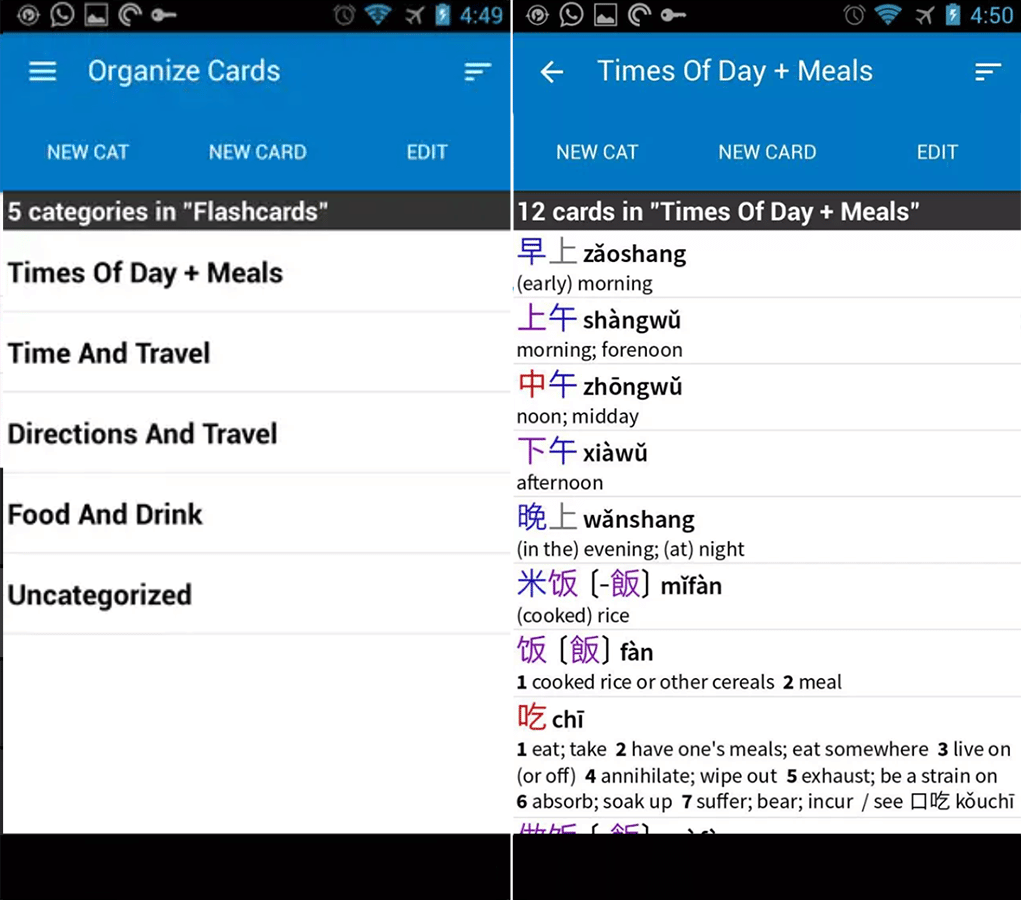 Test yourself
Whenever you have a spare moment (on your commute, a break at work, etc.) start testing your Chinese vocabulary with the test feature. There's a lot of flexibility as to how you'd like to test yourself so you can improve your listening skills, your reading, or even your pronunciation. It's completely up to you.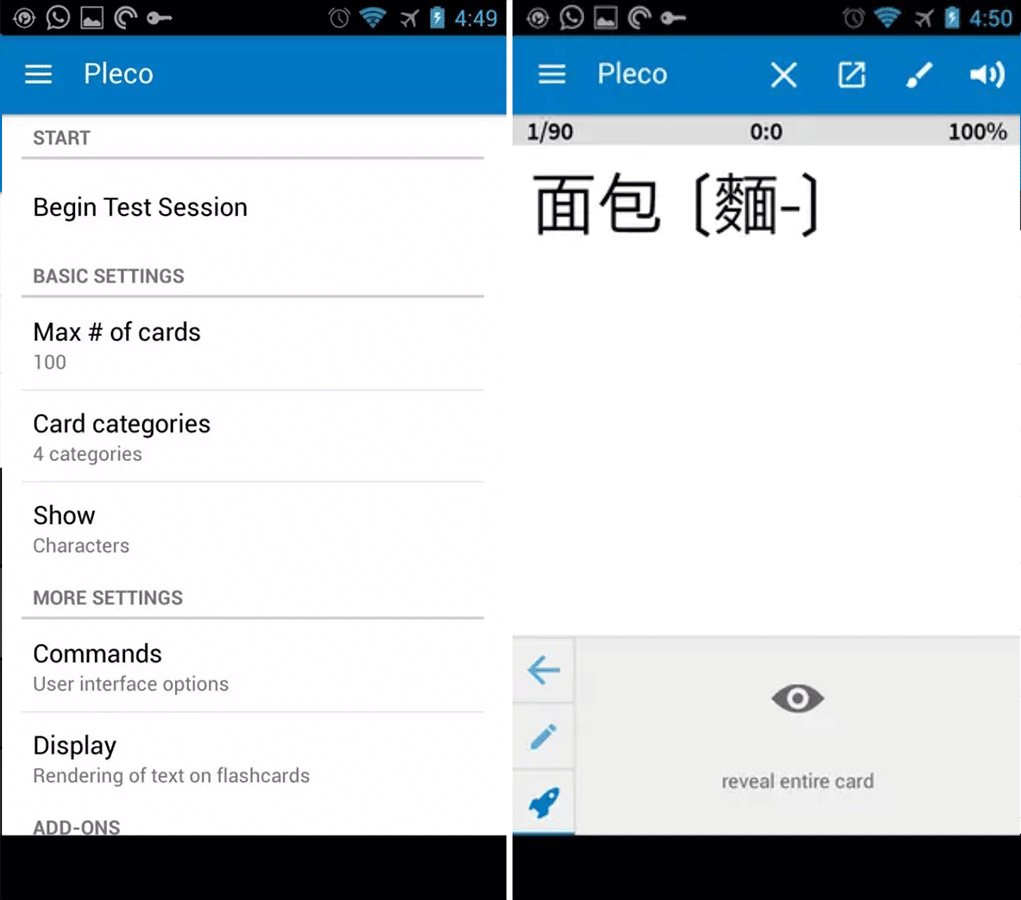 In the sidebar simple select "New Test"
Pick the categories that you would like to test yourself on
Pick the number of cards that you would like to be tested on.
Begin testing!
Test yourself whenever you have a bit of free time and you'll quickly see progress. Using Pleco and testing yourself doesn't replace study but it can be a valuable tool. It also provides you with valuable feedback as to your progress and makes learning vocabulary into a fun game.
If Pleco Gives You Multiple Options, Which One Do You Choose?
Let's say you're trying to find out the Chinese word for 'desk'. Pleco will give you a number of possible translations, including:
台 (tái) 桌子 (zhuōzi) 台子 (táizi)
书桌 (shūzhuō) 办公桌 (bàngōngzhuō)
They can all mean desk, but they probably don't all mean the exact same thing. How do you choose? One way to find out which Chinese word best represents what you're looking for is doing a simple internet search. Enter the words on baidu.com and see if what comes up is the item you were thinking of. You can also do this on the Taobao app, or on images.baidu.com
Proper Names for the Famous and Not So Famous
Dictionaries tend to only include Chinese names for certain very famous people, like President Barack Obama (巴拉克 • 奥巴马 - Bālākè Àobāmǎ) or Bill Gates (比尔 • 盖茨 -Bǐěr Gàicí). But if you're trying to find out the Chinese name of a not-very-famous person, or a company, or a book, then your dictionary will probably give up. The quickest workaround is Wikipedia.
Look something up in English (or another language), and once you've found what you're looking for, change the language to Chinese (bottom left of the page for computers, the bottom of the page on mobile).
You won't be able to find everything, but you'll find more than in your dictionary. Did you know the Chinese name of Greenville, Alabama (population: 8000), is 格林维尔 (gélínwéiěr)? Now you do!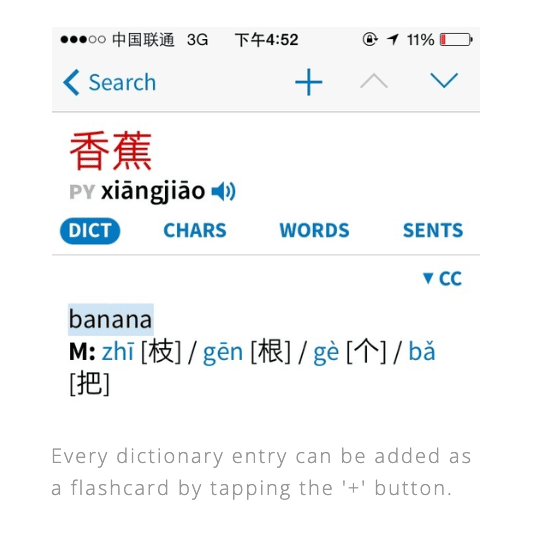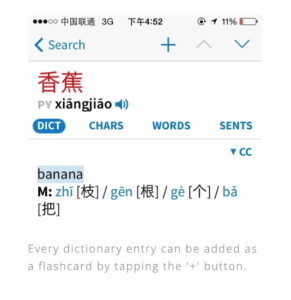 Perhaps the most frustrating aspect of learning Chinese is the hard-to-learn, easy-to-forget nature of Chinese characters. It takes a good deal of repetitive learning to memorize new words, yet if you're not careful you will have forgotten them by next week.
A great tool to help you remember Chinese characters is the Pleco dictionary app, in particular the flashcards function. Every word in the dictionary can be saved as a flashcard, allowing you to easily revise Chinese words you don't know.
You can start a test session whenever you like (we'd recommend once every day), and the app will give you a selection of the flashcards you have saved. The great thing about the Pleco app is that the words you've remembered will not be asked again until a few days later. If by then you still know the word, it won't show up until next week, etc., etc.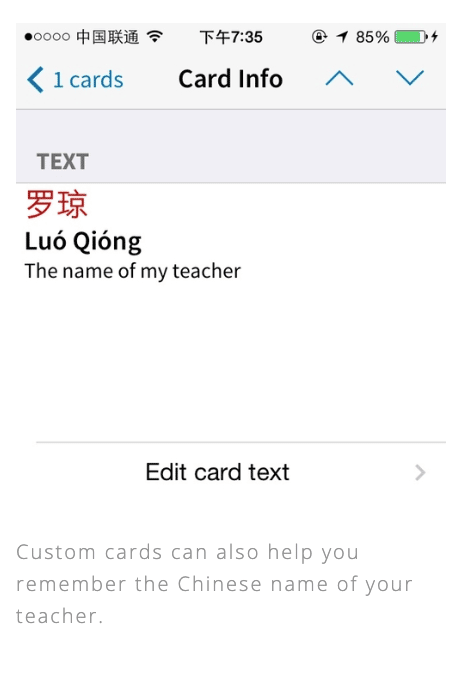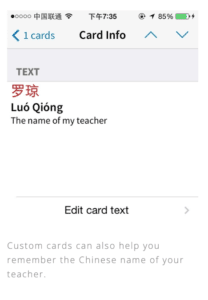 This way, the Chinese characters you know stay out of your way, but are still checked on every now and then. The characters you keep forgetting are repeated often, until eventually you will have learned them.
You can also add custom cards. So, if, for instance, you have trouble remembering how to say "I've never …" in Chinese, you can add a card with "我从来没有吃过四川菜" (I've never eaten Sichuanese food) as an example sentence.
The habit you'll want yourself to get into is to review these flashcards every day. It is far more effective to practice Chinese characters every day for 30 minutes, rather than twice a week for 2 hours. Because the app sorts out which words are up for review, you don't need to think about which words to revise. So getting into this habit is easy: You just open the app and go.
The Pleco dictionary app is available for free for both Android and iOS phones. The flashcard add-on isn't free, but much worth it.