Once you learn how to speak the Chinese language, you'll discover there's so much joy in progressing your language ability and being able to discuss new topics and speak out new Mandarin phrases. So to motivate you to learn onwards, here's a list of phrases, grammar and words per HSK level, that you can achieve in the Chinese language.
Scroll down for words and phrases in these different language levels: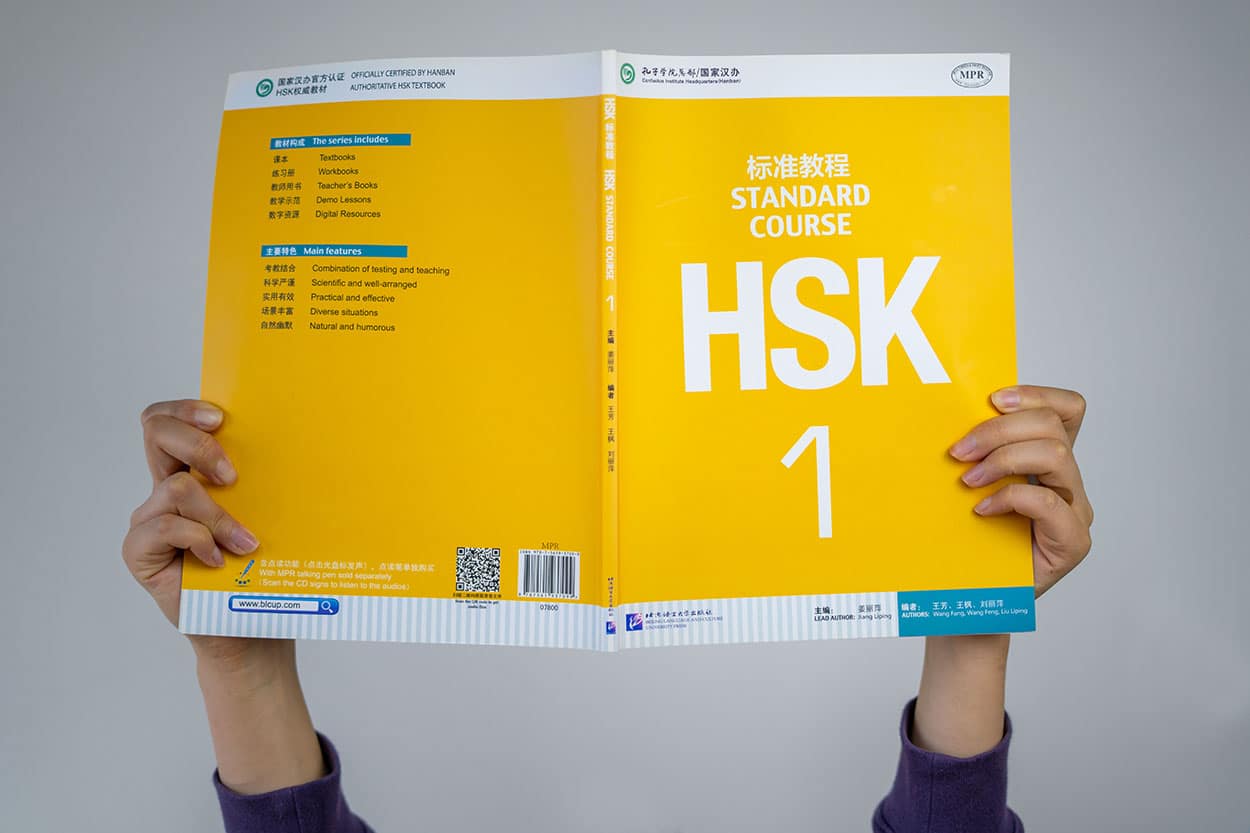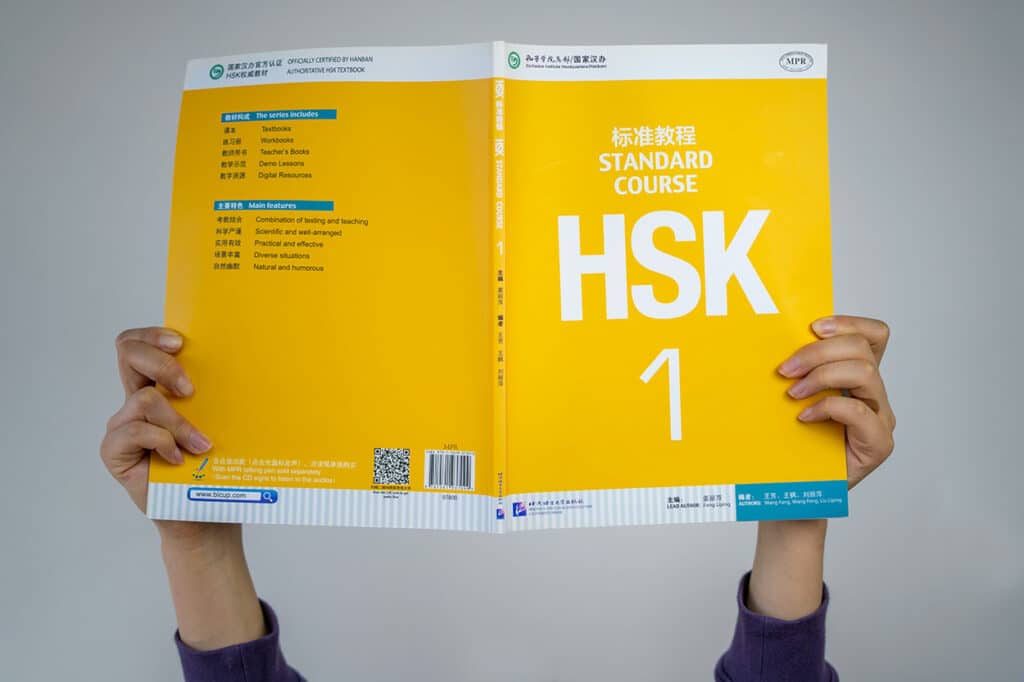 Beginner Chinese words and phrases:
Example Chinese phrases and words of HSK1 & 2:
"Nice to meet you" (Hěn gāoxìng rènshi nǐ)
She is my friend, her name is Lynn. (Tā shì wǒ de péngyou, tā jiào Lynn.)
Yesterday we ate a delicious hot pot. (Zuótiān wǒmen chīle hǎochī de huǒguō.)
Grammar examples:
When I was 11 years old I started playing football. (Wǒ shíyī suì de shíhòu kāishǐ tī zúqiú.)
My Chinese is better than his. (Wǒ de Hànyǔ bǐ tā de hǎo.
Don't sleep, get up and work. (Bié shuìjiào le, qǐchuáng gōngzuò ba.)
With these Chinese phrases, you can usually get directions and buy things. Perfect for travelling in Chines-speaking areas!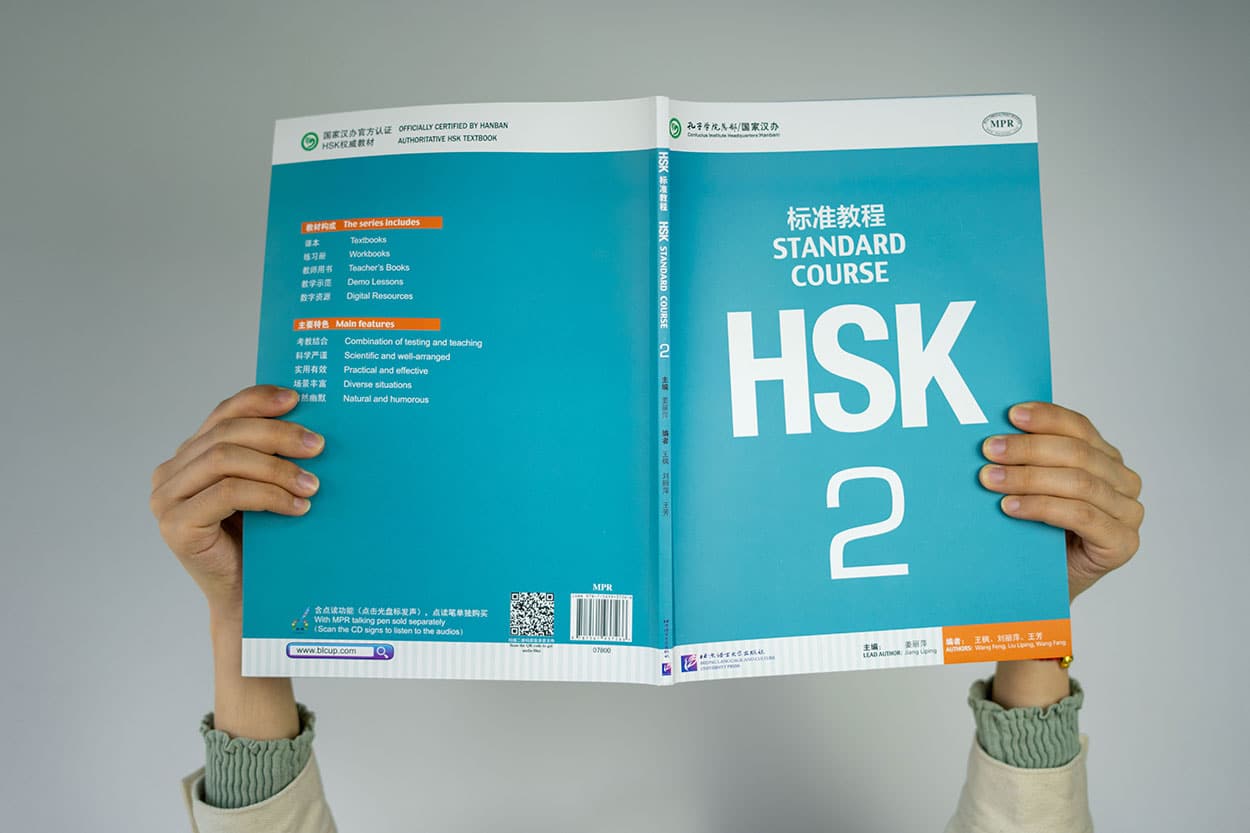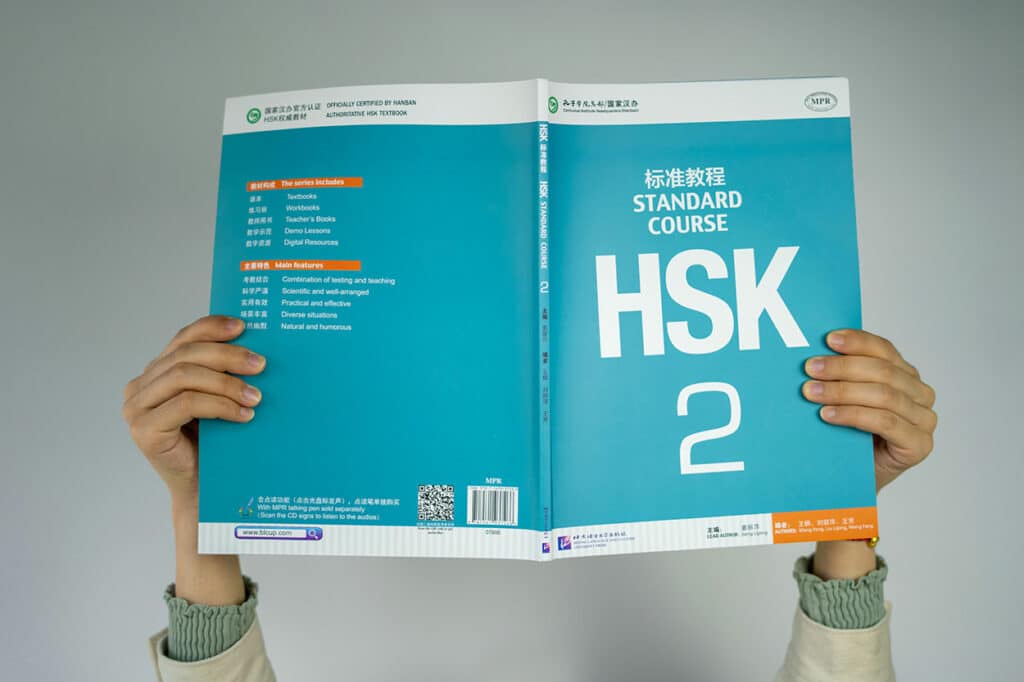 Elementary Chinese words and phrases: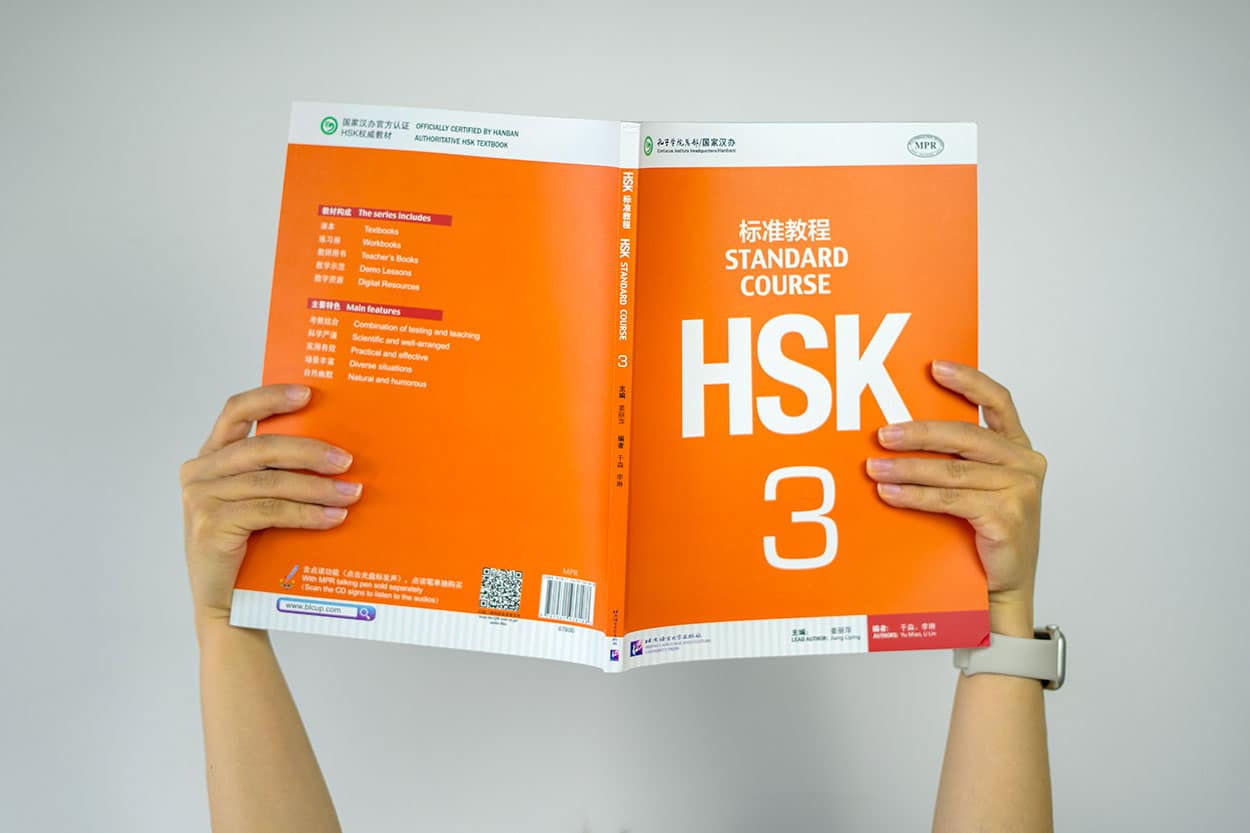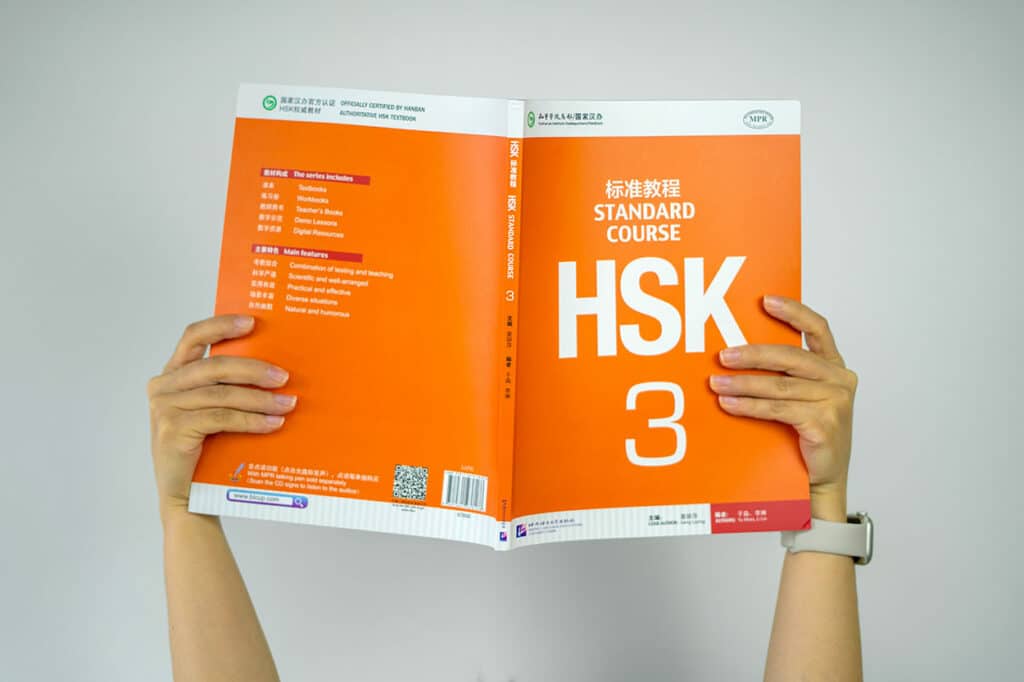 Examples from HSK3:
I am not interested in this movie. (我对这个电影不感兴趣。/ Wǒ duì zhège diànyǐng bùgǎn xìngqù.)
Please clean my room. (请把我的房间打扫干净。/ Qǐng bǎ wǒ de fángjiān dǎsǎo gānjìng.)
The waiter at this restaurant is very enthusiastic. (这个饭馆的服务员很热情。/ Zhège fànguǎn de fúwùyuán hěn rèqíng.)
Grammar examples:
My dad likes to read newspapers while having breakfast. (我爸爸喜欢一边吃早饭一边看报纸。/ Wǒ bàba xǐhuan yìbiān chī zǎofàn yìbiān kàn bàozhǐ.
The manager is too busy to have lunch. (经理忙得没时间吃午饭。Jīnglǐ máng de méi shíjiān chī wǔfàn.
Only my mother knows what I like. (只有我的妈妈,才知道我喜欢的东西。/ Zhǐyǒu wǒ de māma, cái zhīdào wǒ xǐhuan de dōngxi.
With these Chinese phrases, you can also speak about your daily topics and tasks and school or work.
Intermediate Chinese words and phrases:

Sample structure examples from HSK4:
Have you adapted to life here? (你适应在这儿的生活了吗?/ Nǐ shìyìng zài zhèr de shēnghuóle ma?
The attitude of life must be chosen by yourself. (生活的态度要自己选择。/ Shēnghuó de tàidù yào zìjǐ xuǎnzé.)
If you want to do something, be brave and don't worry about the result. (如果你想做什么事情,就勇敢去做,不要担心结果。/ Rúguǒ nǐ xiǎng zuò shénme shìqing, jiù yǒnggǎn qù zuò, búyào dānxīn jiéguǒ.)
You are envious of others, others are envious of you. (你在羡慕别人,别人也在羡慕你。/ Nǐ zài xiànmù biérén, biérén yě zài xiànmù nǐ.)
Plastic bags bring serious environmental pollution. (塑料袋带来了严重的环境污染。/ Sùliào dài dài láile yánzhòng de huánjìng wūrǎn.)
At an intermediate level of Chinese, you can use Mandarin phrases to talk about more deeper topics of life and news, beyond daily topics.
Advanced Chinese words and phrases: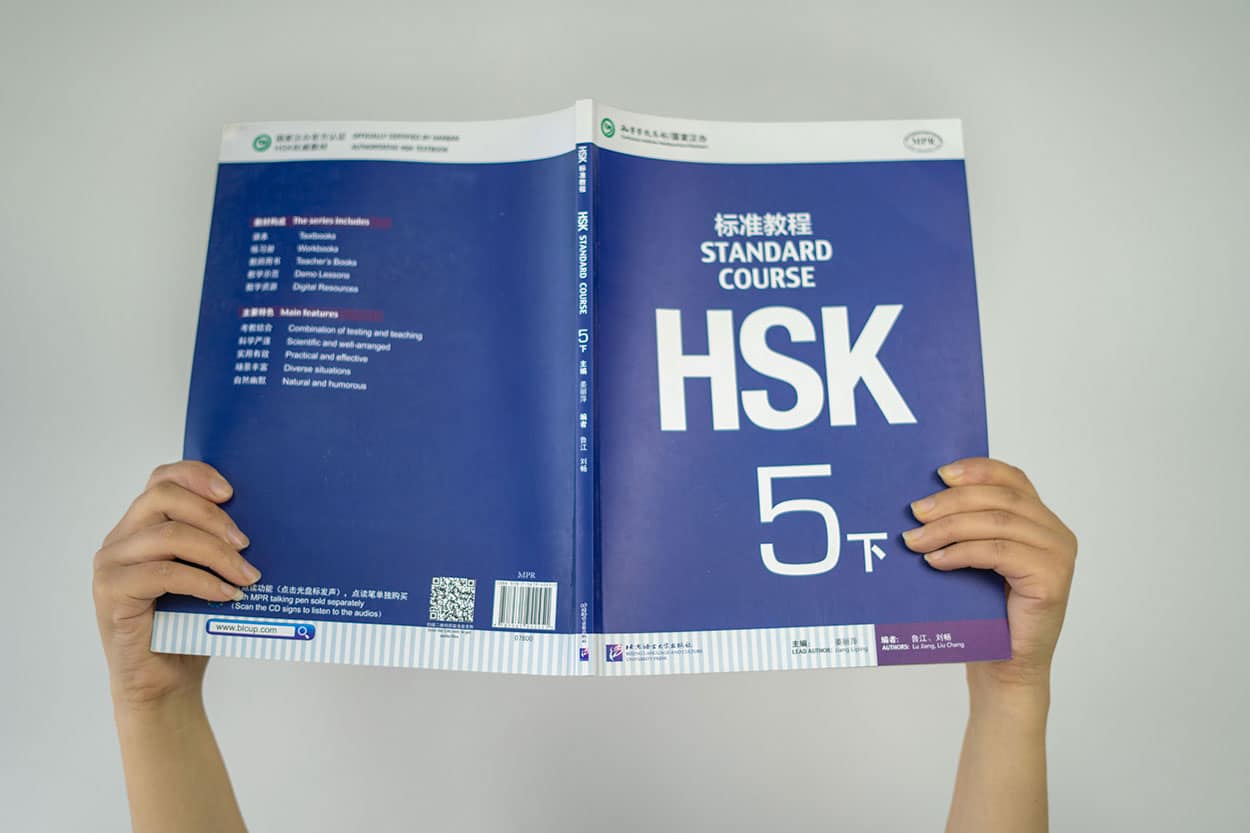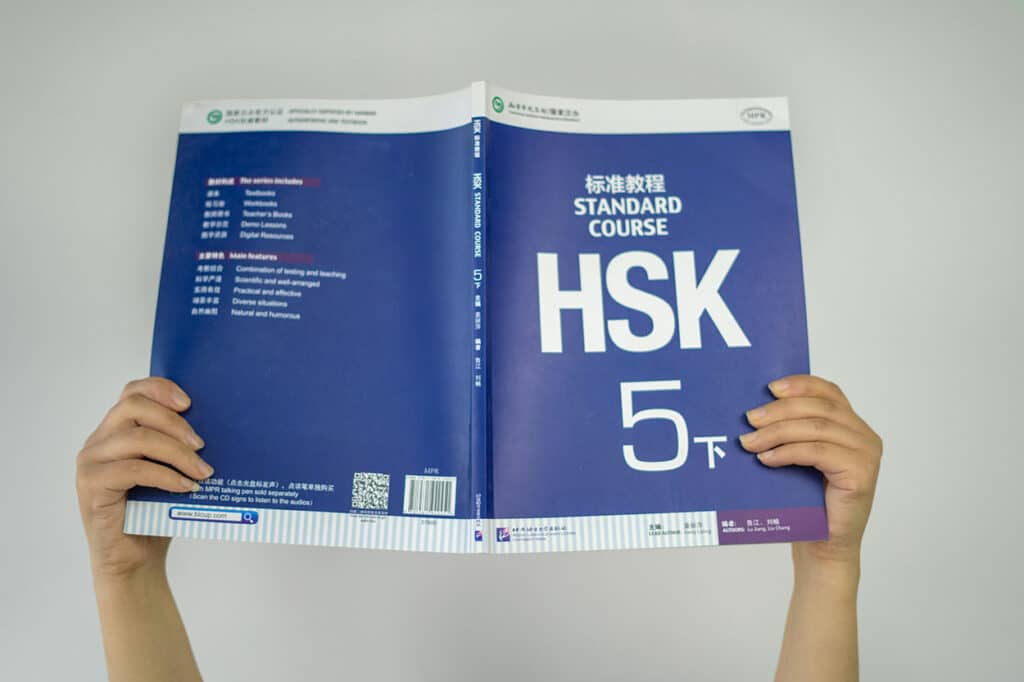 Sample structure examples from HSK5:
No matter Chinese or foreigners, they all value their marriage. (无论是中国人还是外国人,都很重视自己的婚姻。/ Wúlùn shì Zhōngguó rén háishì wàiguó rén, dōu hěn zhòngshì zìjǐ de hūnyīn.)
Our memory of things is only at the peak and the end, and the progress of things has little effect on memory. (我们对事物的记忆仅在高峰和结尾,而事情的经过对记忆几乎没有影响。/ Wǒmen duì shìwù de jìyì jǐn zài gāofēng hé jiéwěi, ér shìqing de jīngguò duì jìyì jīhū méiyǒu yǐngxiǎng.
The study found that people's nutritional intake and eating patterns during the week affected their weight changes. (研究发现:由于人们在一周内的营养摄入和饮食模式会影响到他们的体重变化。/ Yánjiū fāxiàn: Yóuyú rénmen zài yīzhōu nèi de yíngyǎng shèrù hé yǐnshí móshì huì yǐngxiǎng dào tāmen de tǐzhòng biànhuà.)
Grammar phrases:
This will not improve their reading ability, on the contrary, it may reduce their reading interest and enthusiasm. (这样不但不能提高他们的阅读能力,反而有可能降低他们的阅读兴趣和热情。/ Zhèyàng bùdàn bùnéng tígāo tāmen de yuèdú nénglì, fǎn'ér yǒu kěnéng jiàngdī tāmen de yuèdú xìngqù hé rèqíng.)
After painstaking experiments, the filming technology has gradually improved and matured. (经过艰苦的试验,电影拍摄技术逐渐改进、成熟。/ Jīngguò jiānkǔ de shìyàn, diànyǐng pāishè jìshù zhújiàn gǎijìn, chéngshú.)
Although she did not support you in the past, it may change this time. (虽然从前她不支持你,但或许这次会有变化。/ Suīrán cóngqián tā bù zhīchí nǐ, dàn huòxǔ zhè cì huì yǒu biànhuà.)
At HSK5, you can use phrases to discuss even deeper topics. Many say HSK5 is the requirement to start working in China. And possibly you can start reading newspapers and books. Or at least watch movies and understand most of it!
Upper advanced Chinese words and phrases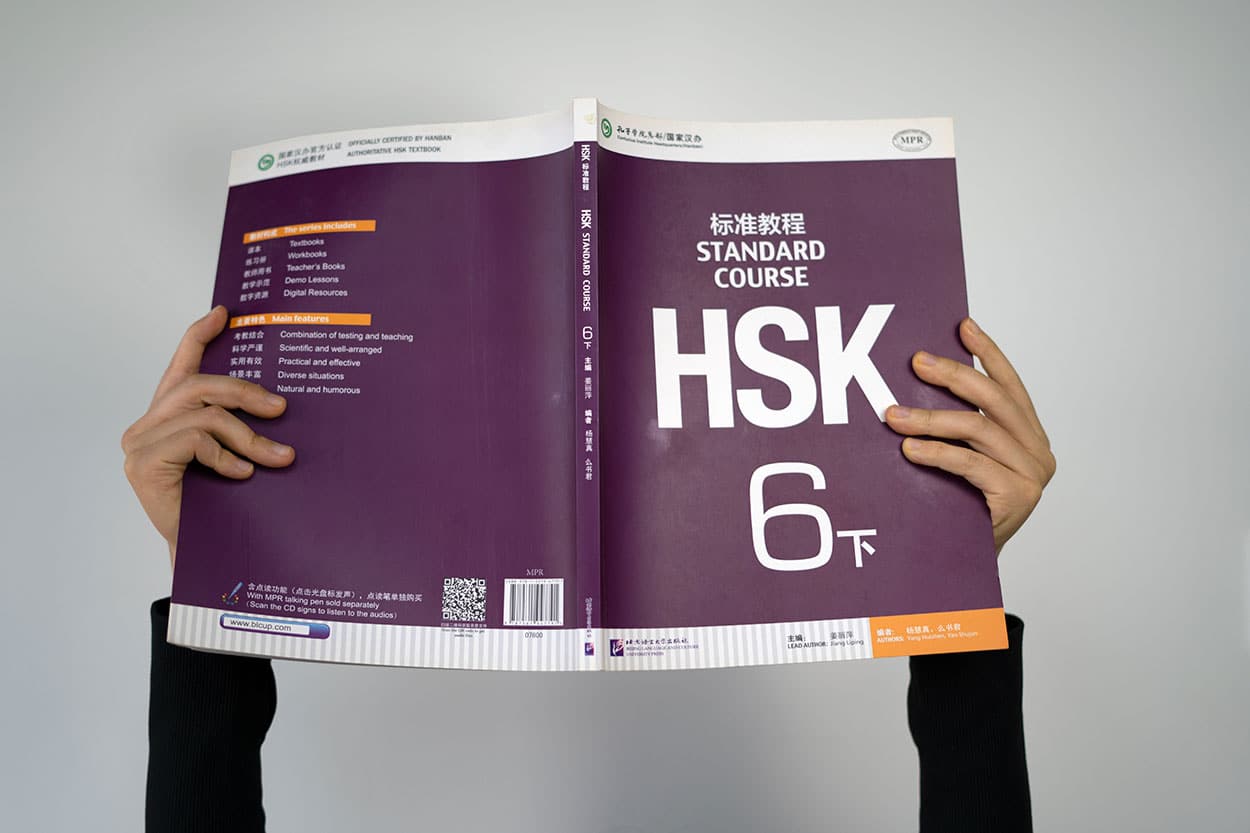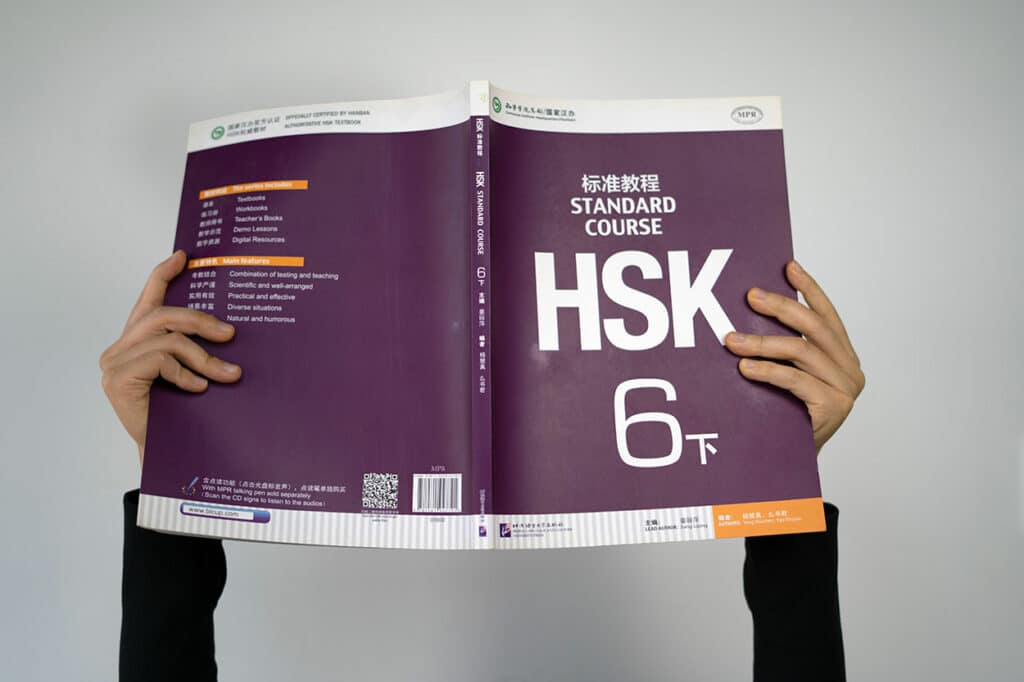 Sample structure examples from HSK6:
Due to the uncertain economic environment, the life expectancy of enterprises is getting shorter and shorter. Compared with 10 years ago, people have to experience more career choices. (由于经济环境的不确定,企业的寿命越来越短,和10年前相比,人们要经历更多次的职业选择。/ Yóuyú jīngjì huánjìng de bù quèdìng, qǐyè de shòumìng yuèláiyuè duǎn, hé 10 nián qián xiāngbǐ, rénmen yào jīnglì gèng duō cì de zhíyè xuǎnzé.
Seeing our daughter's enthusiasm for her partner, my husband and I couldn't be happier. (看到女儿对伙伴热情无私,我和老公别提多高兴。/ Kàndào nǚ'ér duì huǒbàn rèqíng wúsī, wǒ hé lǎogōng biétí duō gāoxìngle.)
When she is busy, she is dying to do two people's work by her own. (工作忙的时候,她恨不得一个人干两个人的活儿。/ Gōngzuò máng de shíhòu, tā hènbudé yīge rén gàn liǎng ge rén de huór.)
Grammar phrases:
For young people, facing difficulties is a happy thing – that means challenges. (对年轻的我们而言,面对困难是件快乐的事情——那意味着挑战。/ Duì niánqīng de wǒmen éryán, miàn duì kùnnán shì jiàn kuàilè de shìqing——nà yìwèizhe tiǎozhàn.)
We would rather spend more money and buy one with good quality. (咱们宁愿多花点儿钱,也要买个质量好的。/ Zánmen nìngyuàn duō huā diǎnr qián, yě yào mǎi ge zhìliàng hǎo de.)
Everyone wants to make big money in a short period of time, so that some companies do not think highly of a 10% profit margin at all. (每个人都想短时间内挣大钱,以致一些商家根本不把10%的利润率放在眼里。/ Měi ge rén dōu xiǎng duǎn shíjiān nèi zhèng dàqián, yǐzhì yīxiē shāngjiā gēnběn bù bǎ 10% de lìrùn lǜ fàng zài yǎn lǐ.
HSK6 is (for now) the holy grail in Mandarin language. With this level you can speak fluent and beautiful phrases about a huge range of topics.
Elementary Business Chinese words and phrases
Examples from HSK2+ Business Chinese:
I want to meet you on Thursday, is it convenient for you? (我想周四和您见个面,您方便吗?/ Wǒ xiǎng zhōusì hé nín jiàn ge miàn, nín fāngbiàn ma?)
Cheers for friendly cooperation! (为友好合作干杯!/ Wèi yǒuhǎo hézuò gānbēi!
I am very happy to meet you. Welcome to join our company. (认识你很高兴,欢迎加入我们公司。/ Rènshì nǐ hěn gāoxìng, huānyíng jiārù wǒmen gōngsī.)
Grammar phrases:
Could you please ask Manager Li, can she change the meeting time to next Monday? (麻烦你问一下李经理,能不能把见面时间改在下周一?/ Máfan nǐ wèn yīxià Lǐ jīnglǐ, néngbunéng bǎ jiànmiàn shíjiān gǎi zài xiàzhōuyī?
I have something urgent to do and I can't go. (我有急事去不了了。/ Wǒ yǒu jíshì qù bùliǎo le.)
You're a newcomer right? I have never seen you before. (你是新来的吧?我以前没见过你。/ Nǐ shì xīn lái de ba? Wǒ yǐqián méi jiànguo nǐ.)
Intermediate Business Chinese words & phrases
Examples from HSK4+ Business Chinese :
In recent years, the company's sales growth rate has remained above 20%. (最近几年,本公司的销售增长率保持在20%以上。/ Zuìjìn jǐ nián, běn gōngsī de xiāoshòu zēngzhǎng lǜ bǎochí zài 20% yǐshàng.)
Manager Wang is very good at management. (王经理很善于做管理工作。/ Wáng jīnglǐ hěn shànyú zuò guǎnlǐ gōngzuò.)
The training is carried out by the Human Resources Department. (培训工作由人力资源部负责。/ Péixùn gōngzuò yóu rénlì zīyuán bù fùzé.)
Grammar phrases:
Excellent results are important, but we value the experience and communication skills of candidates. (优异的成绩固然重要,但我们更看重应聘者的经验和沟通能力。/ Yōuyì de chéngjì gùrán zhòngyào, dàn wǒmen gèng kànzhòng yìngpìn zhě de jīngyàn hé gōutōng nénglì.)
This is just my personal thought. As for the opinions of others, I am not quite sure. (这只是我个人的想法,至于其他人的意见,我还不太清楚。/ Zhè zhǐshì wǒ gèrén de xiǎngfǎ, zhìyú qítā rén de yìjiàn, wǒ hái bútài qīngchǔ.)
Please leave your contact number so I can notify you in time. (请留下您的联系电话,以便我可以及时通知您。/ Qǐng liú xià nín de liánxì diànhuà, yǐbiàn wǒ kěyǐ jíshí tōngzhī nín.)
Berapa lama masa yang diambil untuk belajar bahasa Cina?
See this article for more info on how long it takes to learn Chinese language. At each level your amount of words will double, and you'll be more and more fluent in the Mandarin phrases you put together.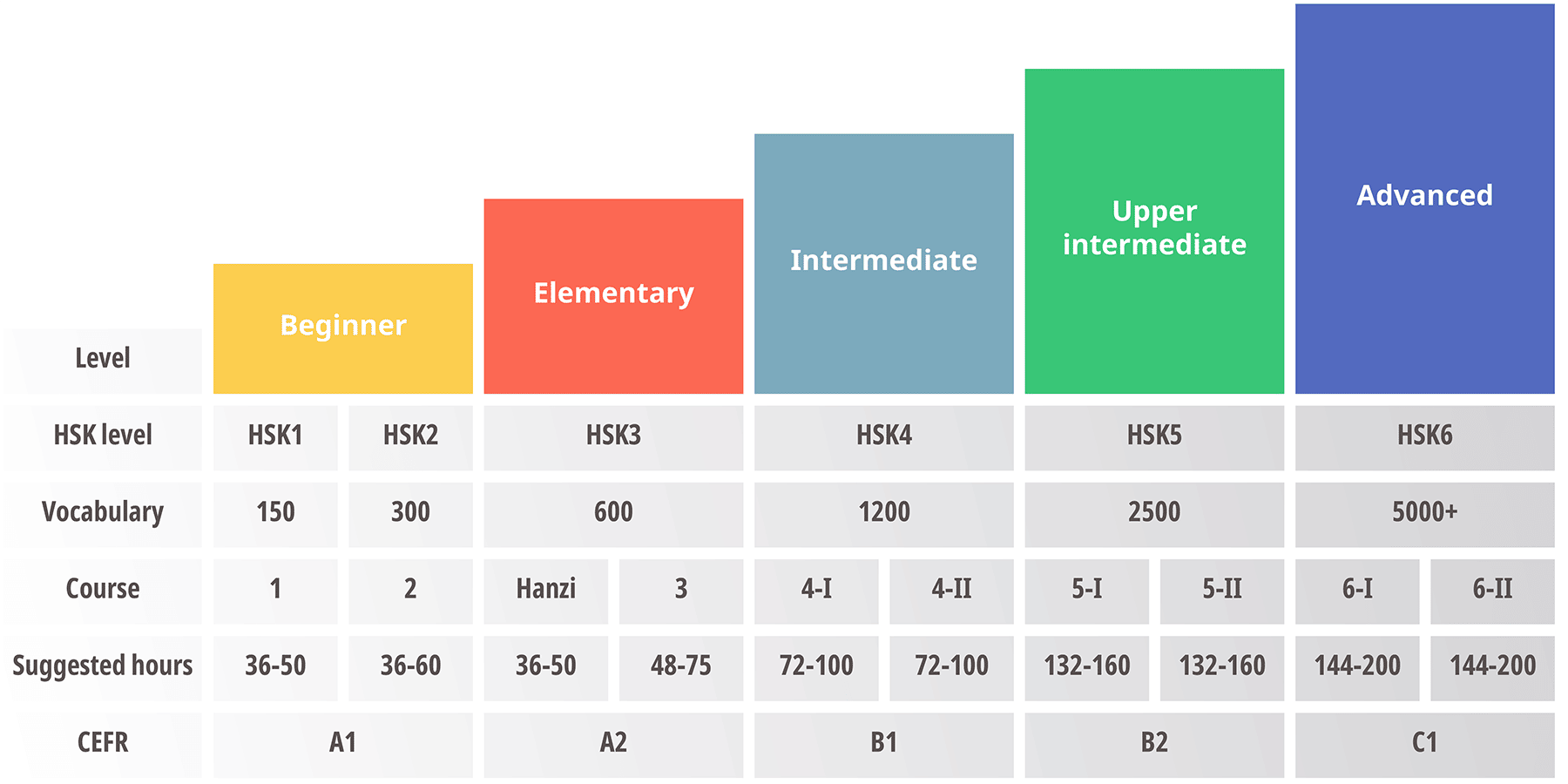 ---
These graphs don't take in the new HSK levels yet. For more info see our New HSK blogposts, or our courses, HSK B1, HSK B2, HSK B3.