Learning Chinese characters can be a challenging but rewarding experience. With over 50,000 characters in the Chinese language, it's no wonder why many students find it overwhelming. But with the right techniques and strategies, mastering Chinese characters can become an achievable goal.
At GoEast, we've spent years developing the best methods to help students master Chinese characters. In this article, we'll be sharing the top tips and strategies for learning Chinese characters effectively. Whether you're a beginner or an intermediate learner, these tips will help you take your Chinese language skills to the next level.
So, let's dive in and explore how you can become a Chinese characters master!
1. Understand the History and Evolution of Chinese Characters
When it comes to learning Chinese characters, it's essential to build a strong foundation by understanding their unique history and evolution. Chinese characters were initially pictographs, or drawings that represented objects or concepts. For example, the characters for "person," "moon," and "sun" were originally simple drawings that resembled their real-life counterparts.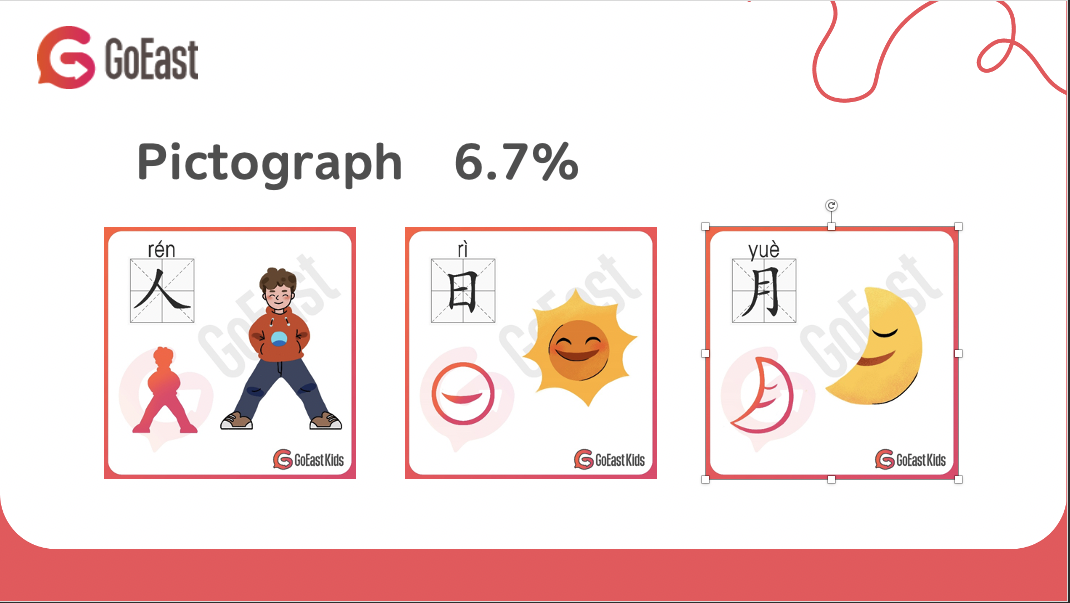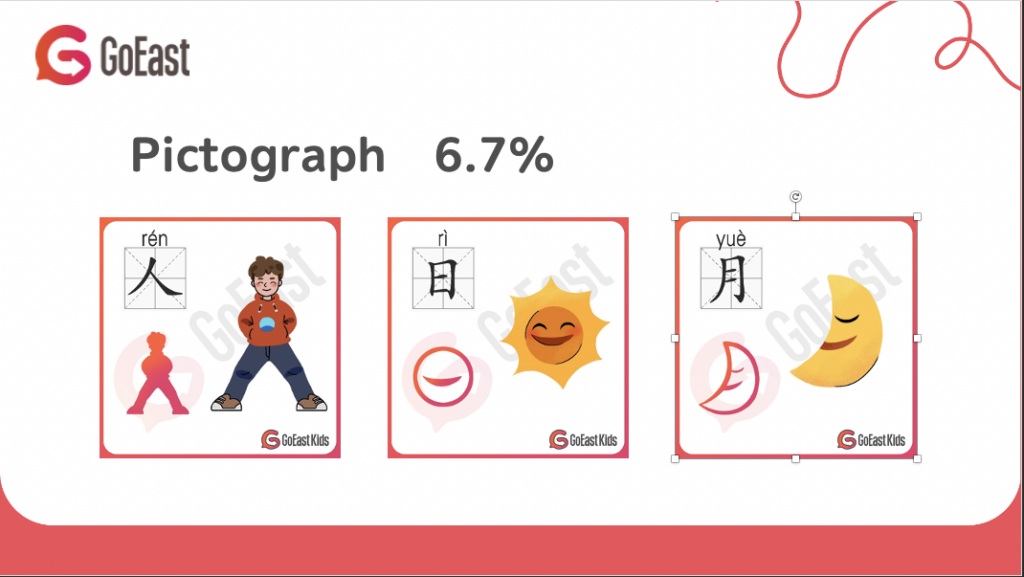 Besides drawing, symbols or marks are used as well.One line means "One", so you easily understand the meanings of 2 lines and 3 lines.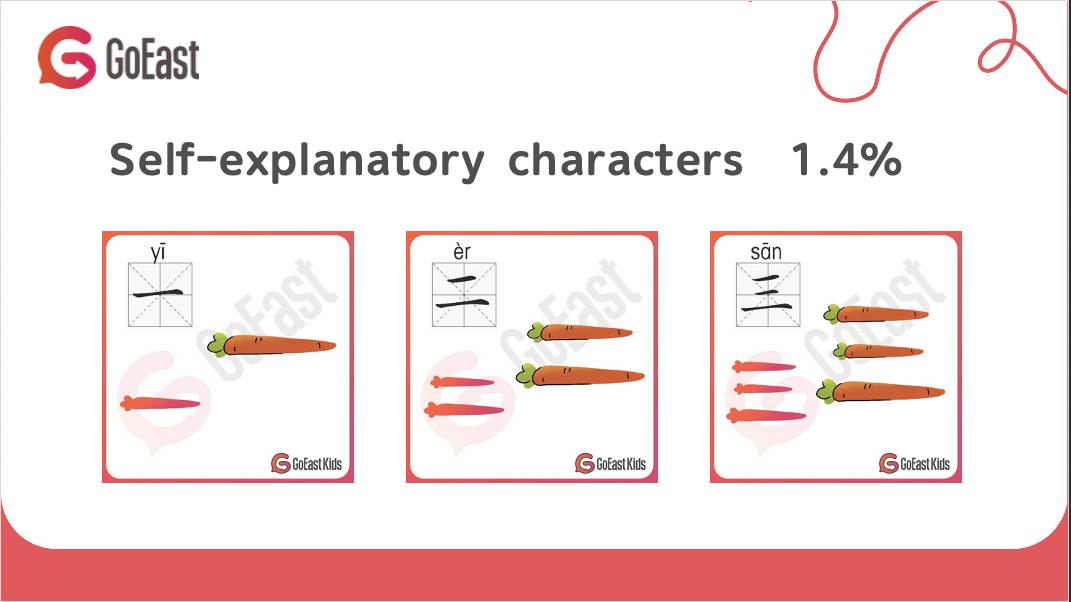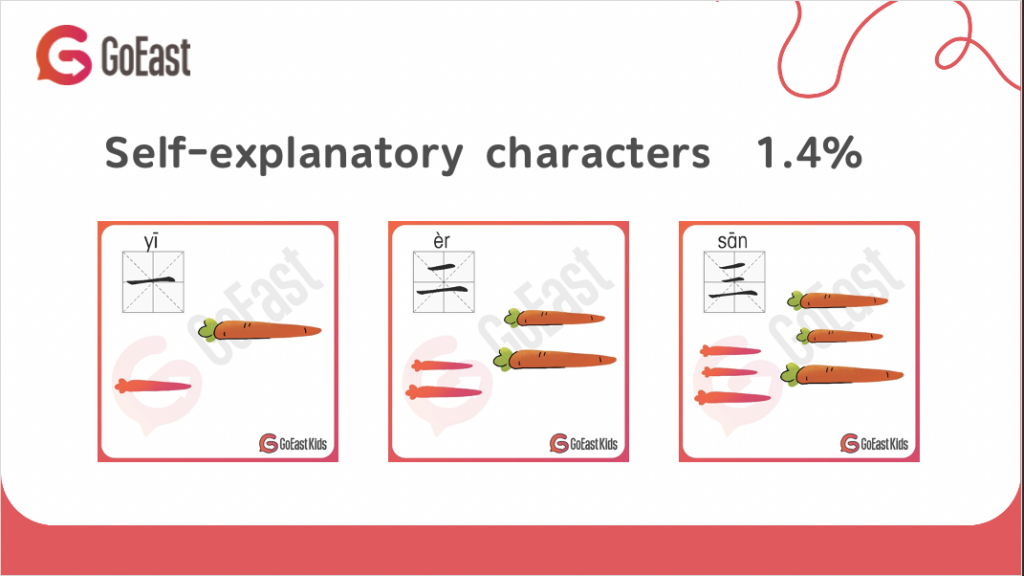 As the language developed, creating new characters using only images or symbols became challenging. So, the Chinese people found new ways to combine existing characters to create new ones. This led to the creation of two new categories of characters: associative compounds and phonetic compounds.
Associative compounds combine two characters to create a new meaning. For example, the character for "bright" is made up of the characters for "sun" and "moon," while the character for "sharp" is made up of the characters for "small" and "big."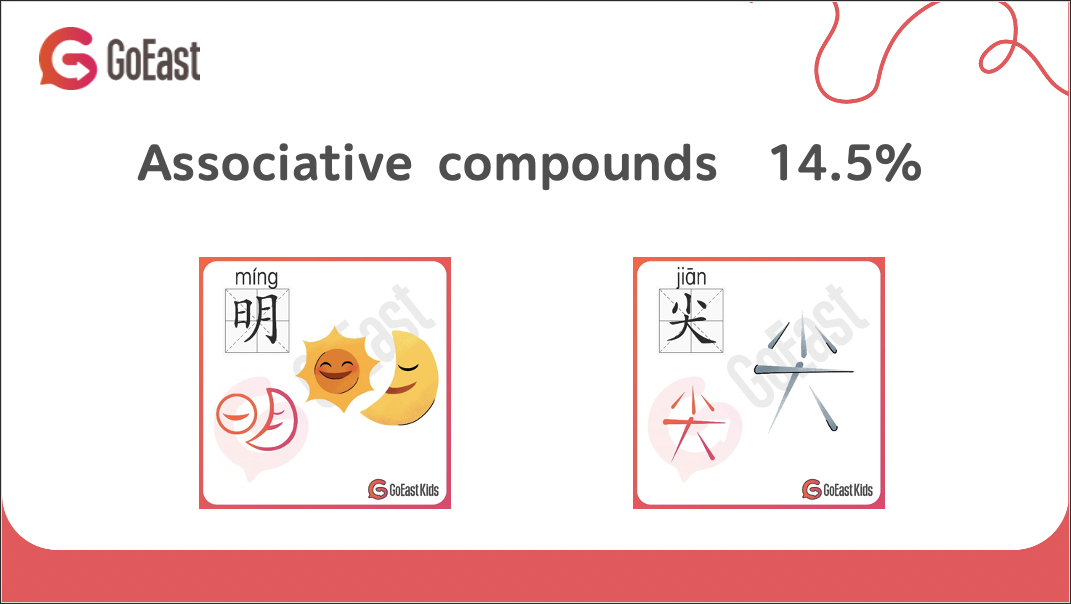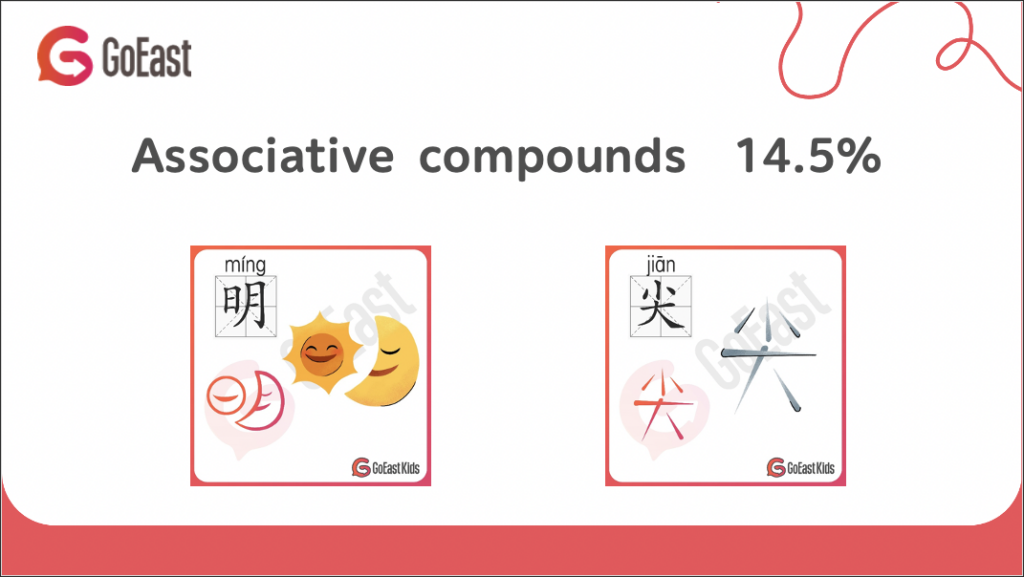 Phonetic compounds, on the other hand, use one character to indicate sound and another to indicate meaning. For example, the character for "sister" is made up of the character for "female" and the character for the sound "jia." These different types of characters demonstrate just how creative and smart the Chinese language system is.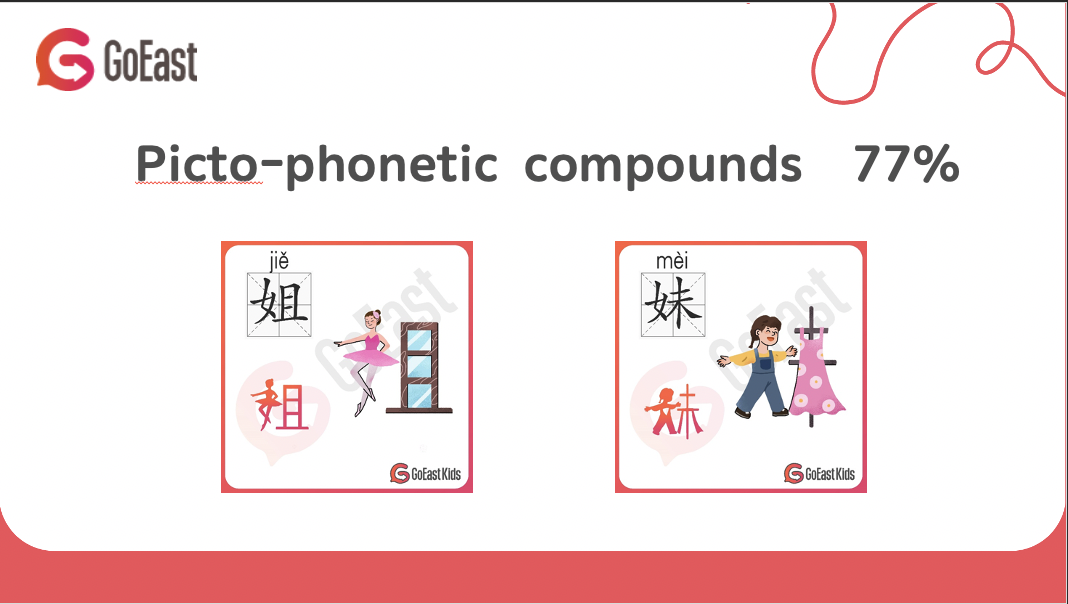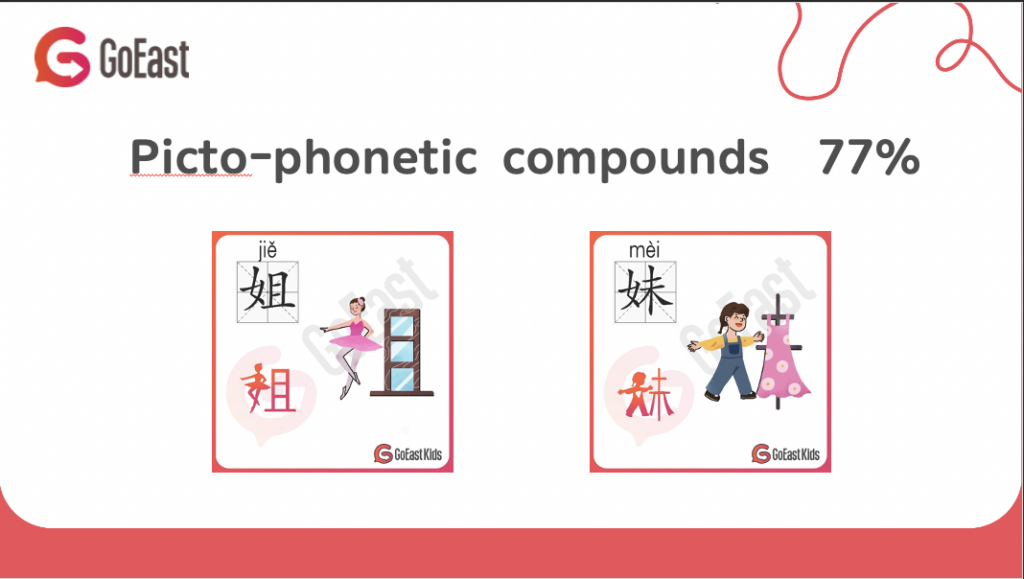 But understanding the history of Chinese characters is only part of the equation. The most important takeaway from this knowledge is to understand the key to comprehending Chinese characters: the two-dimensional space. By understanding the spatial relationship between the various components within a character, you can decipher and understand what was once a random collection of strokes on a page.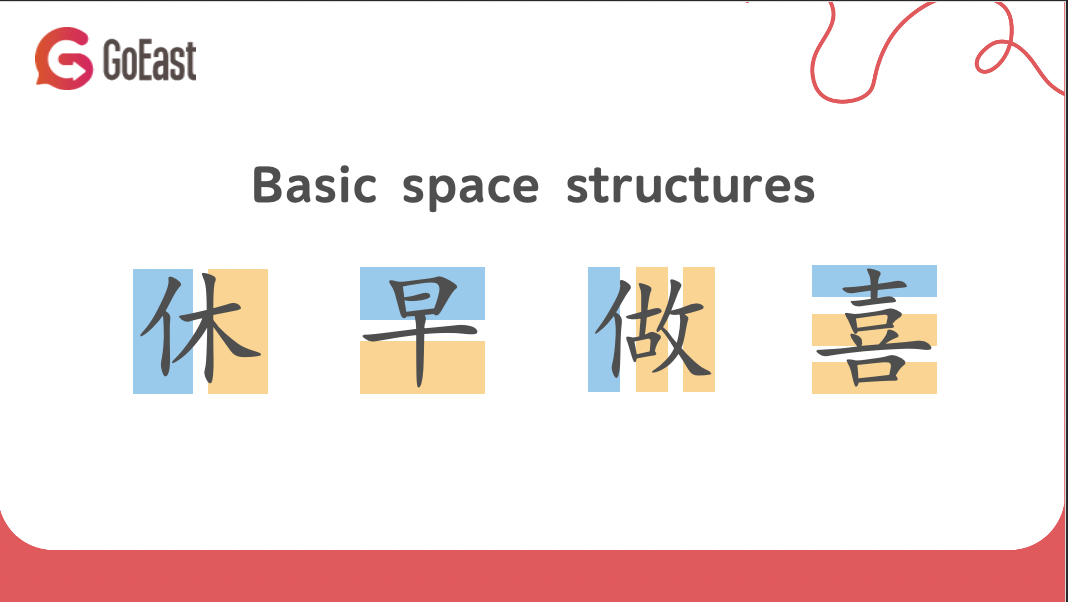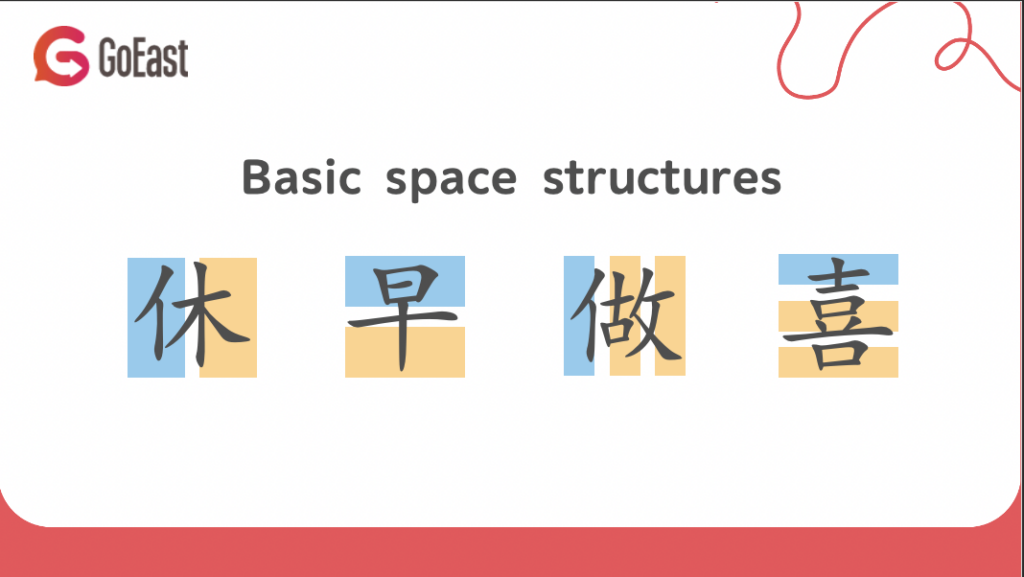 So, as you begin your journey to mastering Chinese characters, keep in mind the fundamental concepts and essential tips to build a strong foundation.
2. Avoid the Impractical Methods and Learning  Effectively by Reading
let's discuss what not to do when learning Chinese characters and how to avoid bad or impractical methods. At GoEast, we often get asked if it's possible to master 3000 characters in a year by learning 10 characters a day. While this may seem like a reasonable goal, it's actually the first and foremost "not to do" at GoEast.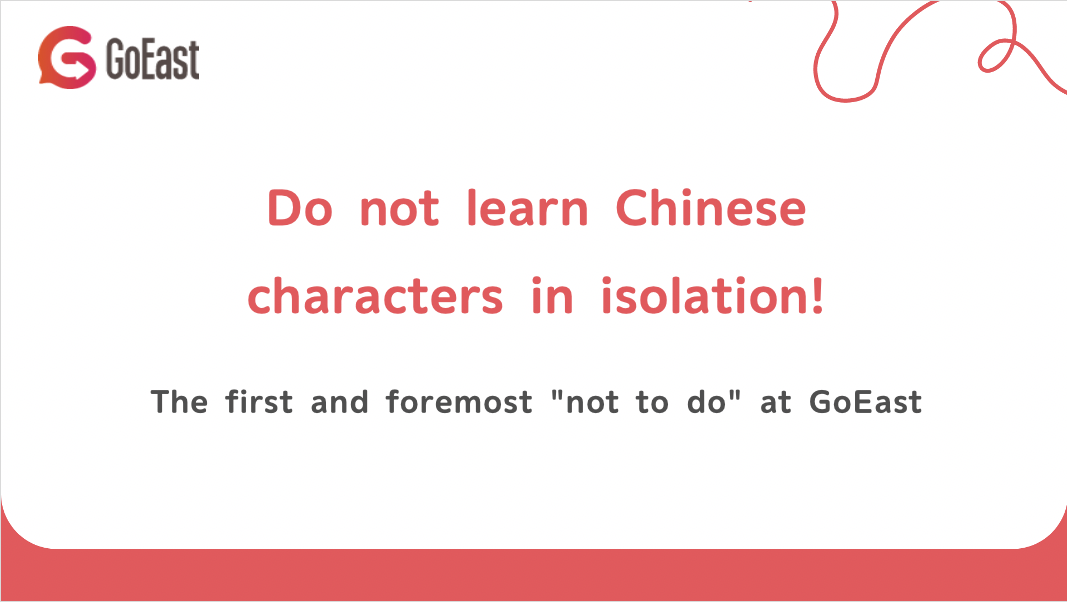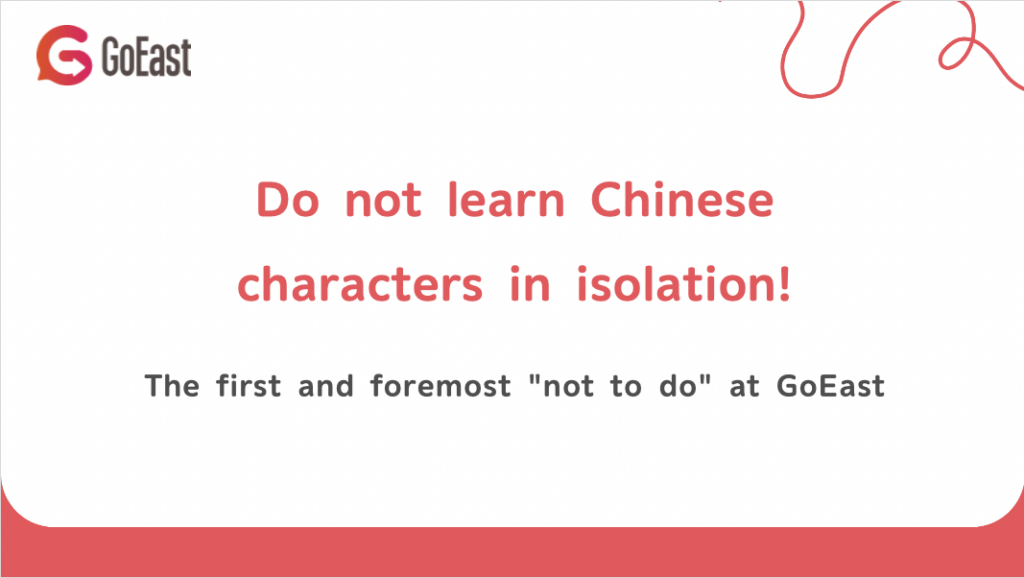 Why is that, you may ask? Firstly, Chinese characters are not independent entities. They are part of a system, with families and relationships between them. Therefore, it's important to understand the system and the relationships between characters. It's great to learn Chinese characters in words and in context! By doing so, you can see how the characters work together and build on each other, rather than simply memorizing them in isolation.
Secondly, forgetting is a common problem when learning new things. It's unrealistic to expect to remember all the characters learned each day, especially as the number grows. The more characters you learn, the more you need to review. By the end of the year, you would need to review over 3000 characters a day, which would be impossible.
Thirdly, the reason for learning Chinese characters is also important. You learn characters because you want to be literate in Chinese, to be able to read Chinese books, signs, emails, messages, and news. In this context, learning characters independently is not an efficient way to achieve this goal.
So what's the best way to learn Chinese characters? The answer is simple: by reading. By reading, you learn the characters in context, which makes them more memorable and easier to understand. This is exactly the strategy that GoEast uses to teach Chinese characters.
It's important to note that there are other common "not to do's" when it comes to learning Chinese characters, such as relying solely on apps or flashcards, or trying to learn too many characters too quickly. These methods may provide short-term gains, but they often lead to long-term frustration and lack of progress.
In summary, to effectively learn Chinese characters, it's essential to understand their relationships and learn them in context, rather than in isolation. By reading and exposing yourself to Chinese characters in their natural context, you'll be able to master them more efficiently and effectively.
3. The Full GoEast Strategy of Learning Chinese Characters Efficiently
Let's get to the full GoEast strategies. As discussed before, Part One of our strategy involves learning the basic concepts of Chinese characters. We recommend having a strong awareness of the two-dimensional space of a character, which is the key part of our GoEast Beginner Hanzi course. It's important to understand that Chinese characters are not independent entities and that they are part of a system with families and relationships between them. That's why we encourage our students to learn characters in words and in context.
In Part Two of our strategy, we emphasize the most effective way to learn characters is through reading. We provide reading materials that are appropriate for your level to ensure that you never learn characters in isolation but always in related words and contexts. Whether you are at HSK 1 or HSK 6 level, we make sure that the reading materials are suitable for you. We also recommend using a special font called "pinyin font" when typing, which displays both the character and its corresponding pinyin on top, allowing you to learn the character and its pronunciation simultaneously every time you type.
3.1 How to Type Chinese Characters Efficiently?
One of the important tool that we use at GoEast to help our students learn Chinese characters effectively is: we encourage our students to use a special font called "pinyin font" when typing. This font displays both the character and its corresponding pinyin on top, allowing you to learn the character and its pronunciation simultaneously every time you type. Here is a video to demonstrate how to use pinyin font.
Using a pinyin font is an easy and convenient way to reinforce your Chinese character learning. It's a great tool to use outside of class or when you're practicing your writing skills. If you want to get the installation package of the pinyin font on your computer, just
send us an email
to require it.
3.2 How to deal with Confusing characters?
But what about confusing characters like "请,清,情,晴" and "中,钟,终" that have similar parts or sound? Part Three of our strategy addresses this issue. First, writing Chinese characters is still a useful and important method for learning. We recommend writing with grid books for basic Chinese characters while at HSK 1 and 2 levels to help memorize the space structure. At HSK 3-6 levels, it may not be necessary to write every character, but it can be helpful for difficult ones that are hard to remember.
At GoEast, we're always looking for ways to support our students' learning journey and are open to utilizing all kinds of technology to enhance their learning experience. As a large school, we have strong buying power and can often offer our students exclusive discounts on various apps and resources. One such app that we highly recommend is called "Skritter" for reviewing Chinese characters. It's an excellent tool for against forgetting for characters.
To summarize confusing characters, we recommend using a notebook or mind map and grouping them by radicals, components, or phonetic parts. This will help you avoid confusion when reading and writing Chinese characters.
3.3 Using "stories" to Help Remember the Difficult Characters
At GoEast, we believe that stories can be a powerful tool to help remember Chinese characters. There are two types of stories: academic explanations and imaginary explanations. Academic explanations are widely believed true stories that explain why the character looks the way it does. On the other hand, imaginary explanations are created to help remember characters when there is no academic explanation available.
For instance, the character for "rest" (休) combines the components of a person and a tree. The left part represents a person, and the right part represents a tree. When a tired person walks to a tree, they want to rest, and that's how the character for "rest" is formed. Similarly, the character for "good" (好) combines the components of a boy and a girl, representing the idea of a good family that has a son and a daughter.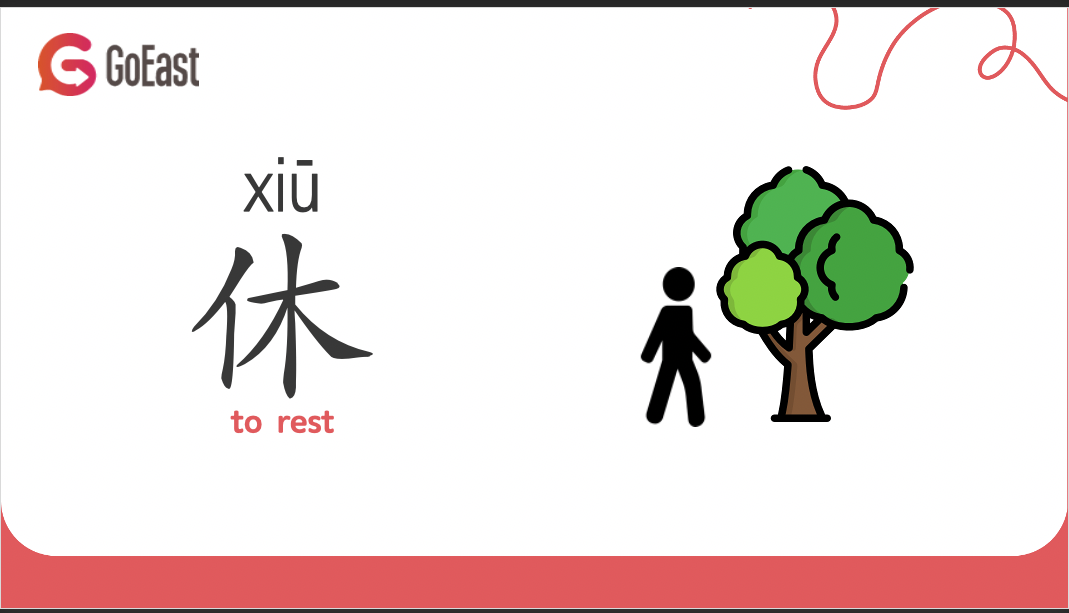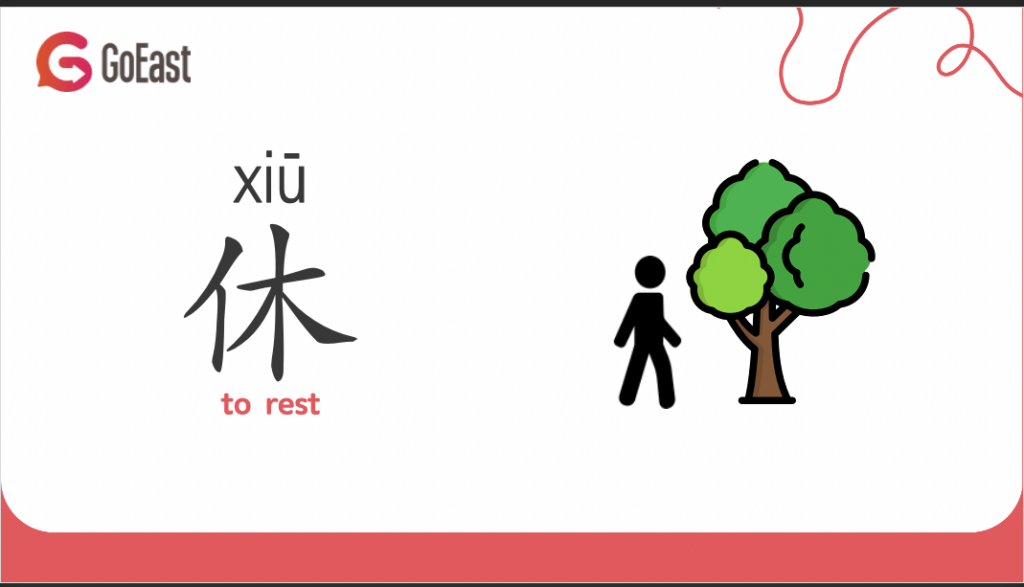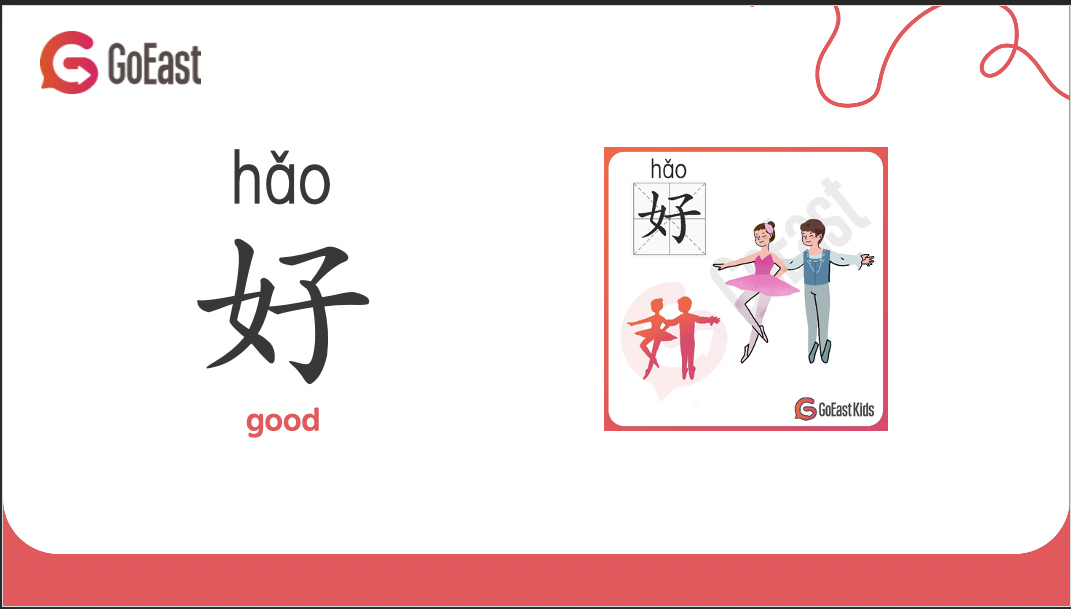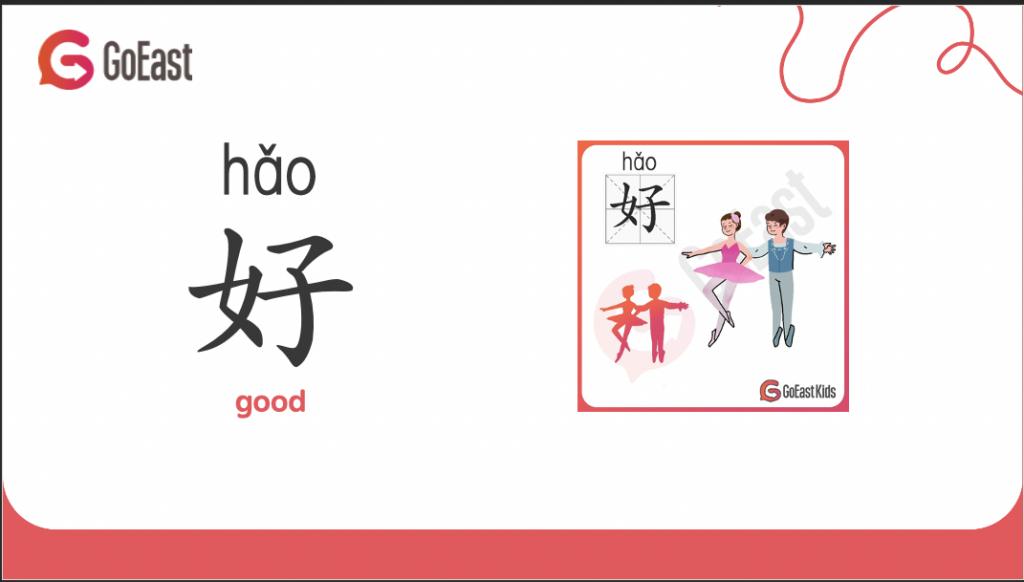 When there is no academic explanation available, imaginary explanations can be created to help remember characters. For example, the character for "tired" (累) can be imagined as a person carrying a huge stone on their back, indicating they are super tired. Likewise, the character for "cry" (哭) can be imagined as two big eyes with tears dropping down, indicating a person crying. It's essential to note that these explanations must be your own to be effective.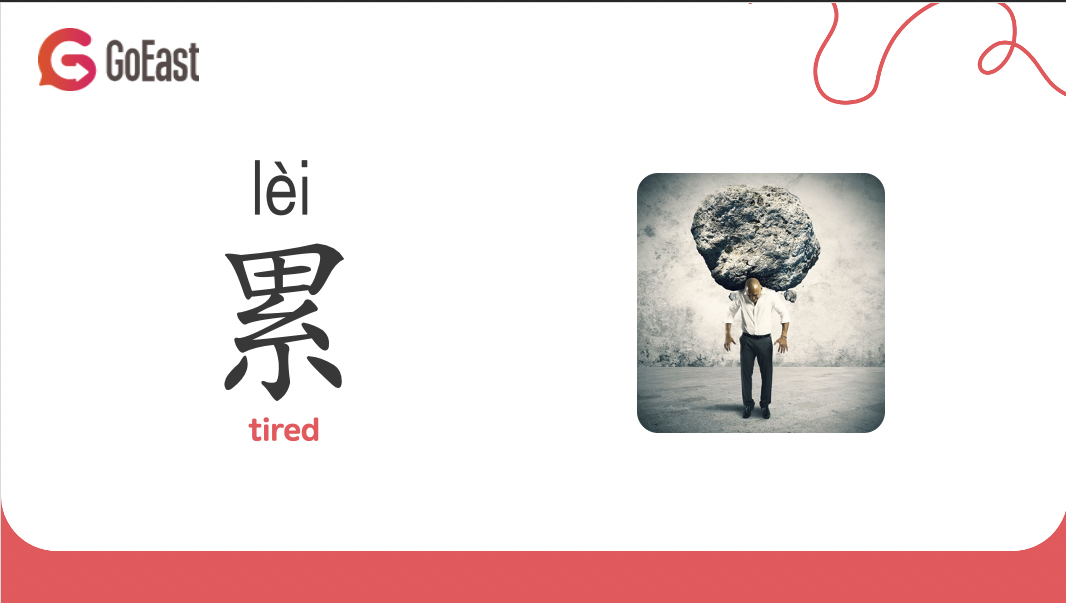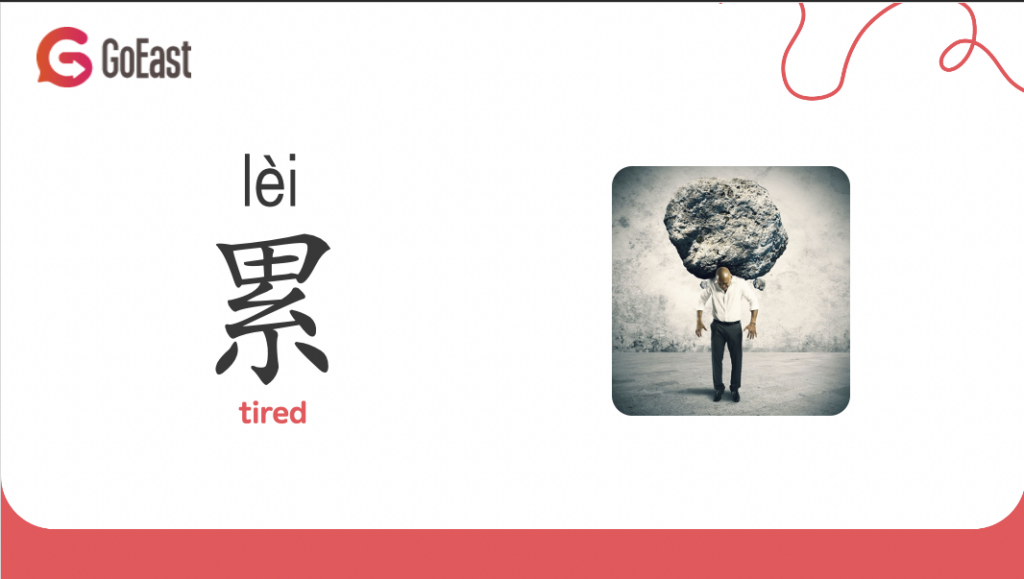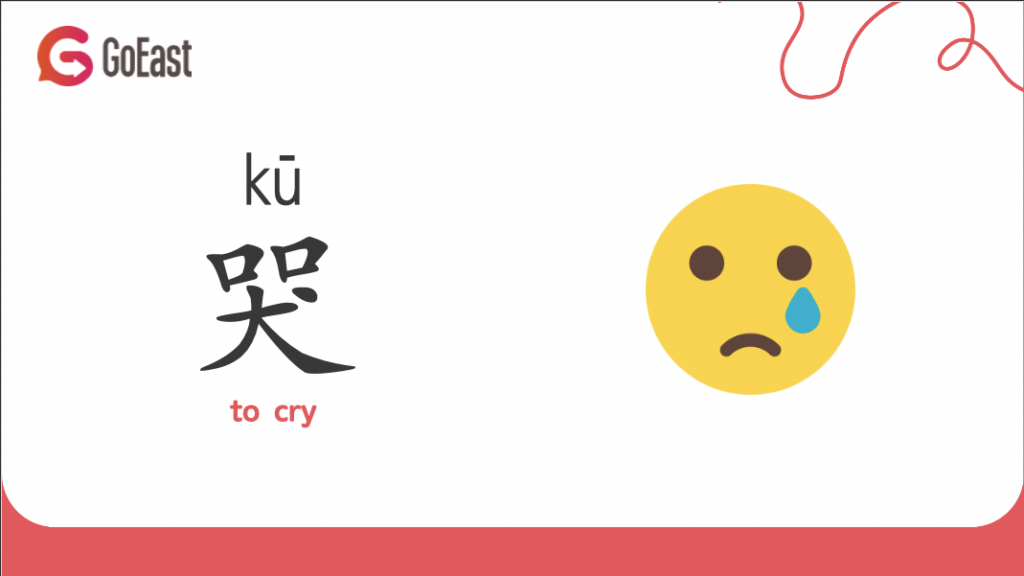 Connecting different characters to create a memorable story is another effective way to remember them. This could involve linking 4, 5, or 6 characters together, and the stories don't have to follow any particular logic or rules. To illustrate, let's look at a story created by one GoEast student to link the four characters we just saw to aid memorization.
"After a long day of work, I was super tired and felt like there was a heavy stone on my back. I struggled to catch my breath and eventually I cried, big drops of tears flowed down my face and made my eyes look very swollen. Seeking some comfort, I noticed a tree by the side of the road and I leaned against it to rest. I eventually drifted off to sleep and had a vivid dream about my son and daughter. When I woke up, I felt so good."
Remember, the more bizarre and illogical the story, the more effective it can be. It's also important to use all of your senses when describing the situation, including sight, smell, sound, touch, and taste. This will help you remember the story more effectively.
3.4 How to Combat the Forgetting of Characters?
Now that you have learned how to efficiently learn and handle difficult characters, there's one more important aspect to consider: retaining the information you've learned. It's essential to acknowledge that most people forget over half of what they learn immediately, which is supported by a scientific experiment known as the "forgetting curve." This curve is widely known among Chinese students, and it demonstrates that after one day, you may only recall 30-33% of what you learned, even if you initially had a 100% understanding and memory of it. This decline in retention continues on day 2, day 6, and day 31, but reviewing the material can help you maintain as much as 80% retention. This applies not only to learning Chinese but to all other types of learning.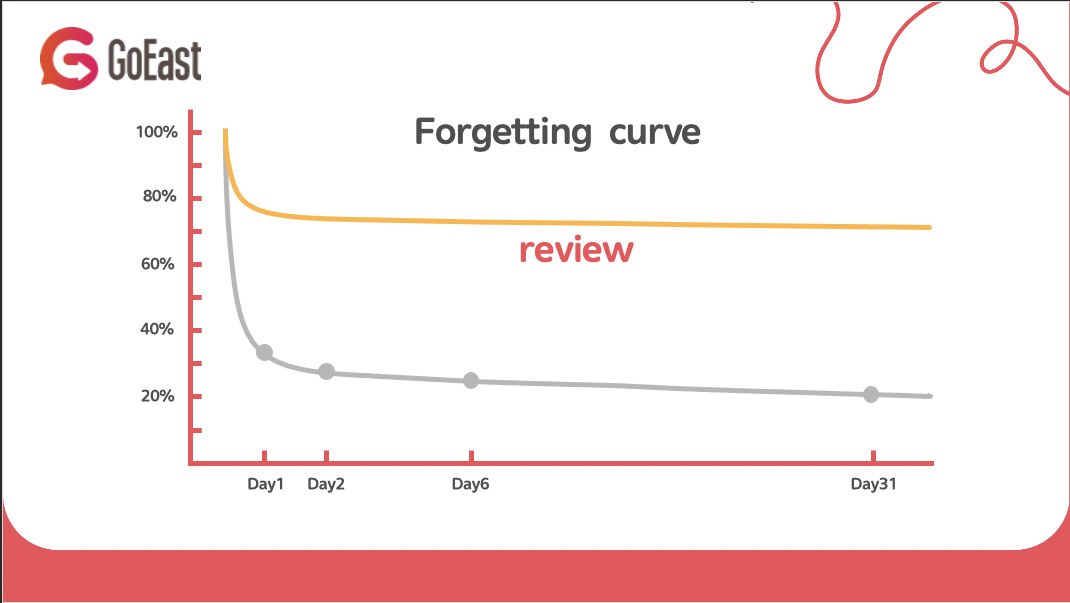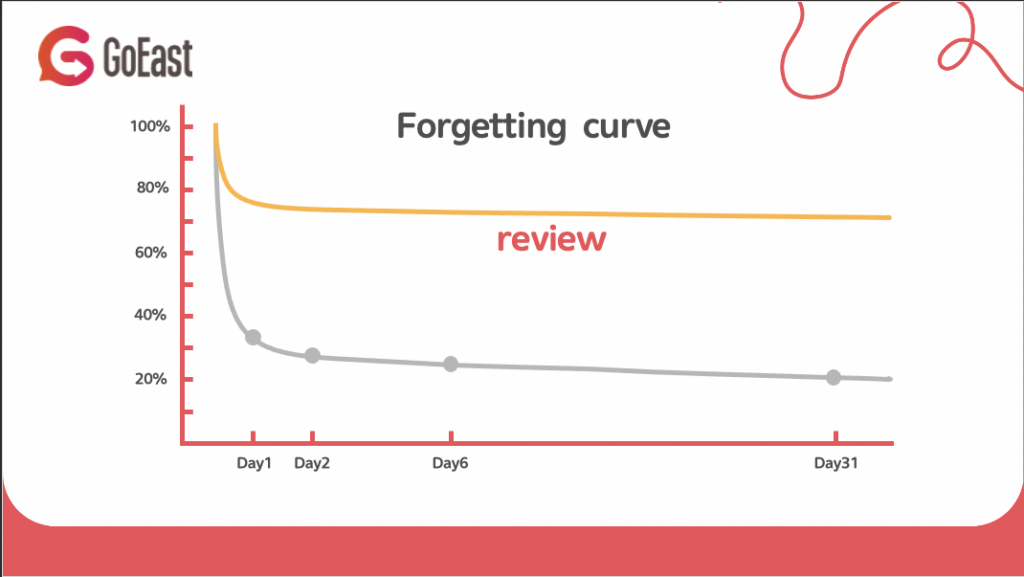 To effectively review the characters you've learned, it's important to use the knowledge of the forgetting curve. This means reviewing the characters on the 2nd day, 6th day, and 31st day after you initially learn them. We recommend using apps like Quizlet to help with review.
In addition to technology, stories are also a great tool for combating the forgetting curve. By linking characters together through a story, you can help reinforce your memory of them.
Now, let's test your retention of the four characters we just learned after some time has passed. Can you recall their meanings?
In conclusion, by following our three-part strategy for learning Chinese characters, you'll be well on your way to mastering Chinese characters efficiently.
we are proud to offer outstanding character courses tailored for both adults and children. Check out our Chinese Hanzi Character Course and kids Chinese Course pages to learn more about our curriculum and class schedules.
If you have not enrolled with us yet, our language consultant is always available to assist you with any inquiries or questions you may have. We will be thrilled to provide you with a personalized learning plan that caters to your individual needs and goals. With no obligation or commitment required, do not hesitate to meet with our language consultant and discover your options with GoEast Mandarin.