Whether you're someone who wants to learn Chinese, someone who needs it for work, someone aiming for the HSK, or in various other situations, there are common principles that apply to any goal. Please take the time to read this post about the secret to learn chinese from a yoga perspective, as it may provide a refreshing break. Additionally, I hope it can boost your motivation and bring about positive results.
Controlling the Mind: Lessons from Yoga
What does it mean to control the mind? In yoga, we teach the concept of "controlling the mind." But what does it really entail?
While there are various nuances, in yoga, it often refers to the practice of meditation. However, meditation is not about emptying or imagining things in your mind; it involves focusing your awareness on a single point.
Interestingly, this concept holds great significance when it comes to achieving goals.
The mind constantly makes judgments like "I like this" or "I dislike that." Following these judgments, we may like something when it's convenient but dislike it when faced with challenges.
For example, let's consider studying. If we enjoy studying when we score well on tests but start disliking it when we receive poor grades, we might be tempted to quit.
Instead, "controlling the mind" in this context means setting a goal, such as passing a particular test, and maintaining a focused mindset of consistent effort regardless of the test results.
Understanding the Nature of the Mind
However, the mind can be quite tricky, as mishandling it can turn it into an "enemy," while skillfully managing it can make it a "friend."
For example, when it comes to learning Chinese, you may set aside time to study, but end up watching TV or snacking instead. Ultimately, you couldn't allocate that time for studying. It's an experience most of us have had at least once, if not more.
In such cases, when we choose what is convenient for us and fail to take actions aligned with our goals, it can be said that the mind becomes an enemy.
So, from the perspective of yoga philosophy, how can we understand this? In the fundamental scripture of yoga, the Bhagavad Gita, there is a verse that provides insight. Let me share a verse from it:
"The mind is restless, turbulent, obstinate, and very strong, O Krishna, and to subdue it, I think, is more difficult than controlling the wind."
Some may be surprised by the mention of a "practitioner," but this applies to everyone, regardless of whether they actively practice yoga. Let's explore its meaning together.
Firstly, it states that "the nature of the mind is unreliable and easily swayed." We often make resolutions like "I will do this!" but end up giving up after a short while. This is a common occurrence when it comes to studying or maintaining a diet, for instance.
The phrase "roaming and searching for sensory objects" refers to the mind's tendency to seek sensory gratification. It could manifest as wanting to watch TV for entertainment, craving delicious food to satisfy the appetite, or desiring social interactions for enjoyment.
In essence, the mind is unreliable and constantly busy seeking sensory satisfaction.
心的性质是不可靠的,易摇动,漫游寻找感官对象。修炼人要坚决把它拉回来,控制住。
(xīn de xìngzhì shì bù kěkào de, yì yáodòng, mànyóu xúnzhǎo gǎnguān duìxiàng. xiūliàn rén yào jiānjué bǎ tā lā huílái, kòngzhì zhù.)

The nature of the mind is unreliable, easily swayed, and constantly wandering in search of sensory objects. The practitioner must firmly bring it back and exert control.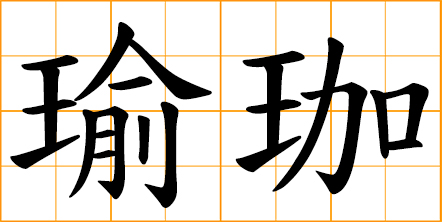 The secret to learn Chinese from a yoga perspective
Focusing the Mind
In yoga, the mind is likened to 5 to 10 horses. Controlling these horses is the consciousness (self).
What if these horses started running in different directions simultaneously? You would deviate from your desired path (destination), wouldn't you? It would take longer, and you might become confused and lose your way.
Conversely, if you could skillfully harness these horses and make them all run in the same direction, what would happen? You would reach your destination much faster.
The mind's natural tendency is to be attracted to various things; it is part of its nature. Here, the key is to "focus the mind on a single point."
In terms of goal achievement, focusing the mind on a single point means "not straying from the goal." Once you have set a goal, it is necessary to dedicate yourself to it, consistently striving towards it.
In the previous example, if you found yourself watching TV instead of studying for a test, it indicates that your consciousness has deviated from the goal. While this may seem obvious, as mentioned in the Bhagavad Gita, the mind and senses wander, requiring conscious control.
To avoid straying from the goal, it is effective to "recall the true purpose and goal of your learning." For example, in language learning, you can visualize engaging in conversations or imagine yourself speaking confidently in certain situations.
Knowing the shortest route to your destination However, there is one challenge. What if you don't know how to proceed? It often happens that you're unsure where to start or what to prioritize.
Trying to figure it out on your own can be time-consuming and confusing. That's where guidance from someone who already knows comes in. They can make it easier to guide the horses to the destination. A coach can be seen as a high-performance reminder. With a coach, you not only receive guidance on effective study methods but also have your motivation managed.
They can provide study strategies tailored to your current situation and help you overcome obstacles together. A coach believes in you, even when you may doubt yourself, and becomes a constant presence who doesn't give up on you, even if you were to give up.
Important Points for Achieving Goals in Chinese Language Learning
In addition to the two secrets from a yoga perspective, there are other important points that I would like to share:
Set specific goals: It is crucial to establish concrete goals. This includes setting deadlines and clearly outlining what needs to be accomplished each day.
Have a vision and purpose beyond goal achievement: It is essential to have a vision or purpose that extends beyond simply reaching your goals. This will help maintain motivation and commitment even after achieving initial objectives.
Don't miss out on expanding your knowledge – visit our Chinese learning resource page!
Immerse yourself in an unforgettable learning experience! – Book a Trial Chinese Learning Class