Technology is here to make our life as Chinese learners easier. Quizlet or Anki have already made flashcards digital, including some spaced repetition functionalities; but Hack Chinese takes this another step further with ease of use, a low learning curve, and specialized for Mandarin Chinese. Hack Chinese lets you quickly set up your cards which are rotated based on what you know and don't, so you'll simply have to open our daily study session and you'll learn those words and characters — like a painter applying layers of paint to a canvas. Read all about it all in our Hack Chinese review.
Onboarding
Simply register on hackchinese.com and from there on a proper onboarding starts. You can use your phone, tablet or laptop (for this review we use a laptop).
You're asked if you have already learned characters, and if not; it'll ask you what your goal is, YCT or HSK. If you already learned Chinese Hanzi characters, it'll ask you how many characters you know.
If you need a reminder of how many characters correspond to each HSK level:
| HSK level | Characters known upon completion | Words known upon completion |
| --- | --- | --- |
| HSK 1 | 178 | 150 |
| HSK 2 | 349 | 300 |
| HSK 3 | 623 | 600 |
| HSK 4 | 1,071 | 1,200 |
| HSK 5 | 1,709 | 2,500 |
| HSK 6 | 2,633 | 5,000 |
Don't worry too much about getting this perfectly right. You'll go through words you've learned quickly, and you can also add more words to your queue. (More on this later.)
The core of the app
Anyway, let's get learning. Hack Chinese is basically a piece of software: It's not hugely advanced A.I. or machine learning (but we are no experts on that), but it is really clever piece with lots of extra bits too. It basically rotates words you want to learn, until you have verified you've learned them. (John from Outlier Linguistics calls it 'a spaced repetition system'.)
This repetition makes educational sense too. Hack Chinese will let you review each new word within 24 hours, so you're less likely to forget it. It'll also occasionally let you review words you may have forgotten. These 'already learned words' will sometimes be checked, and if you know correctly them they won't be reviewed for a long time. New words, however, show up frequently but then less frequently as you remember them correctly, building up that vocabulary memory.
New words are introduced with Hanzi, Pinyin, a sample sentence in Hanzi spoken aloud, and English meanings.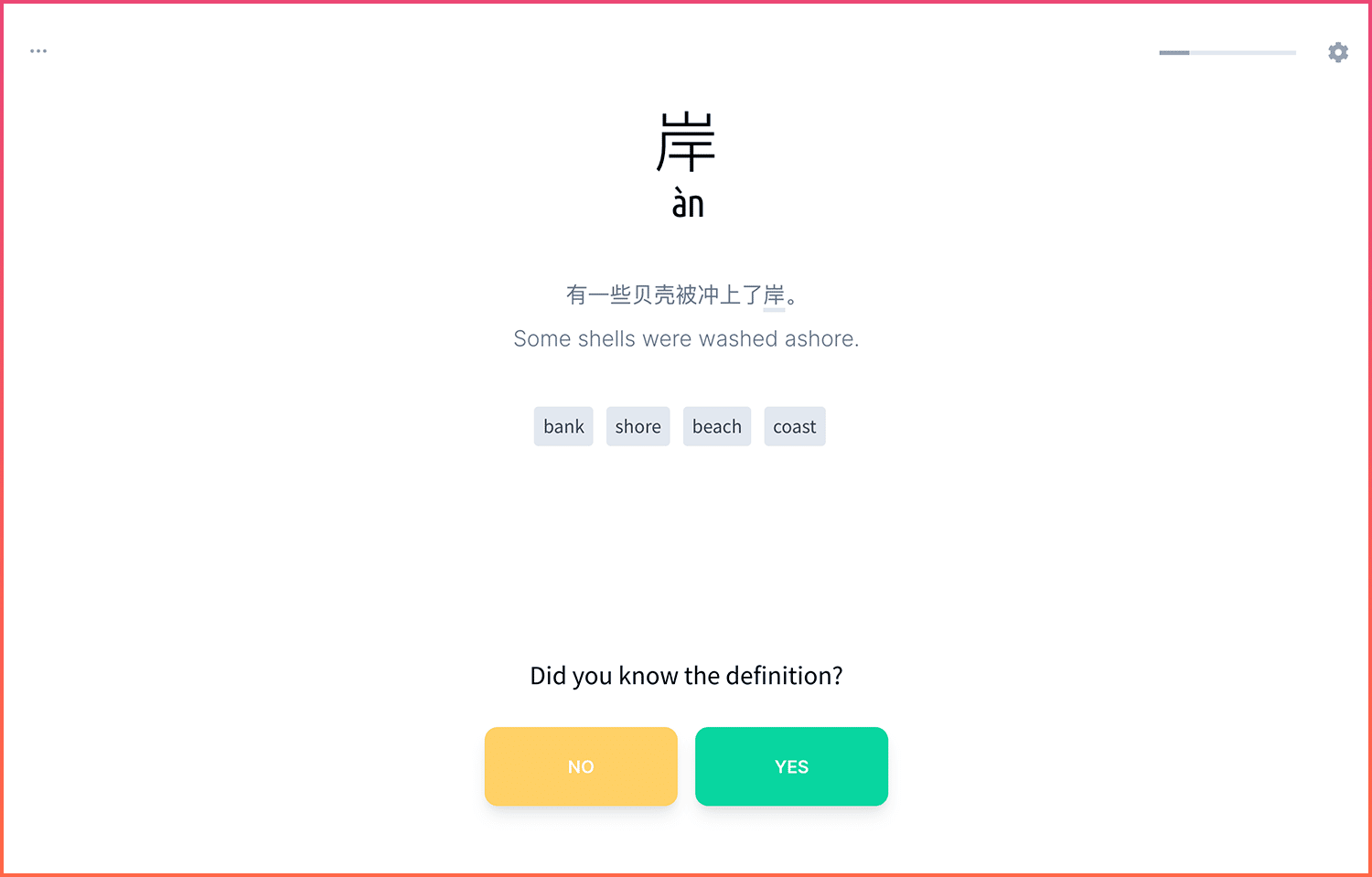 It tests this by asking five questions, again and again.
New words, "I think I've memorized it"
Pronunciation: I don't know / I know
Did you know the Pinyin? No / Yes
What is the definition of the word? I don't know / I think I know
Did you know the definition? No / Yes
You can use the keyboard to navigate this quickly, down-key for when there is only one option, left or right-key when there is a yes-or-no question.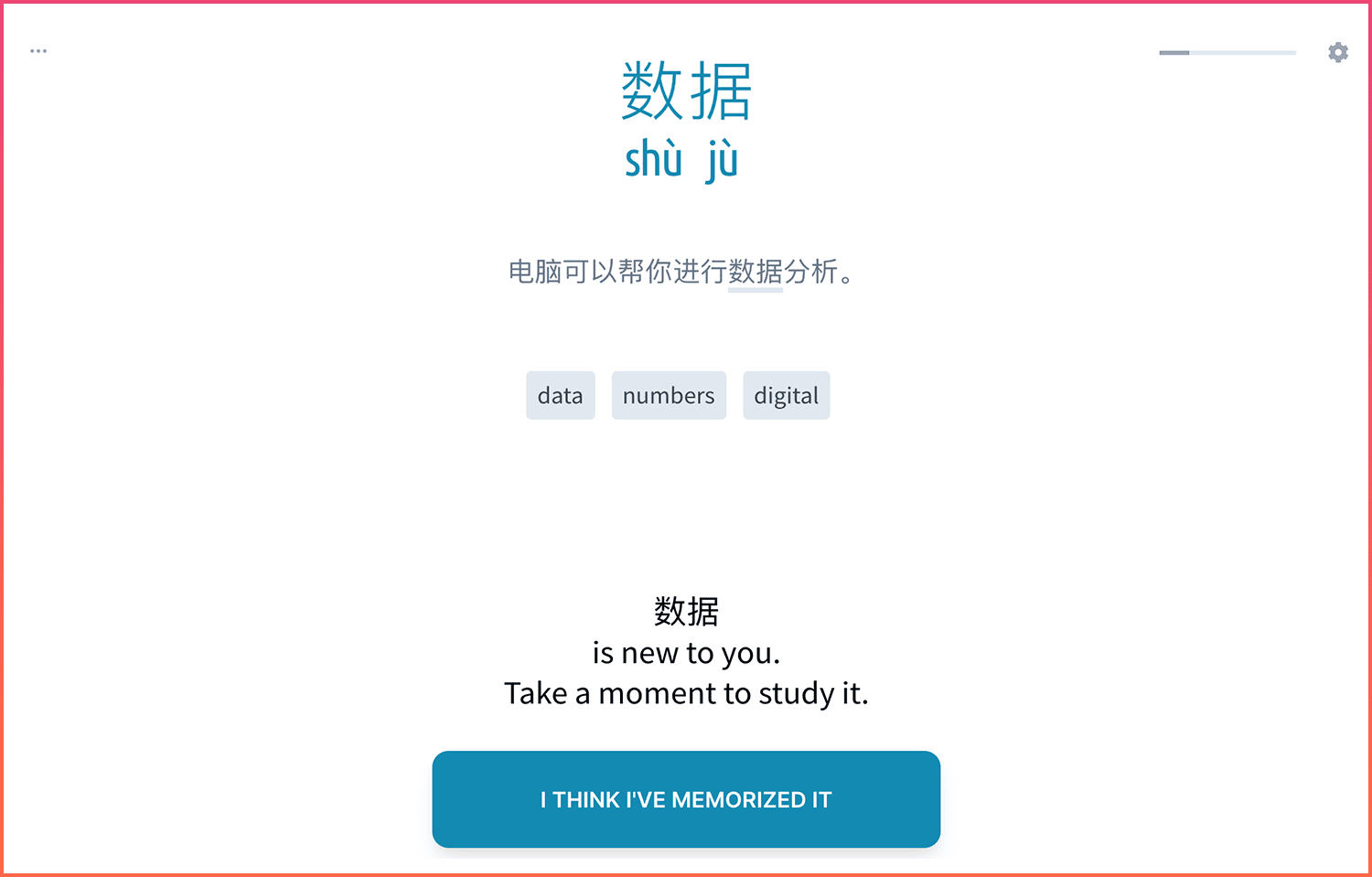 If any of these is negative, then the word will be added to your queue again.
Regardless of whether you nailed it all, a word may appear again.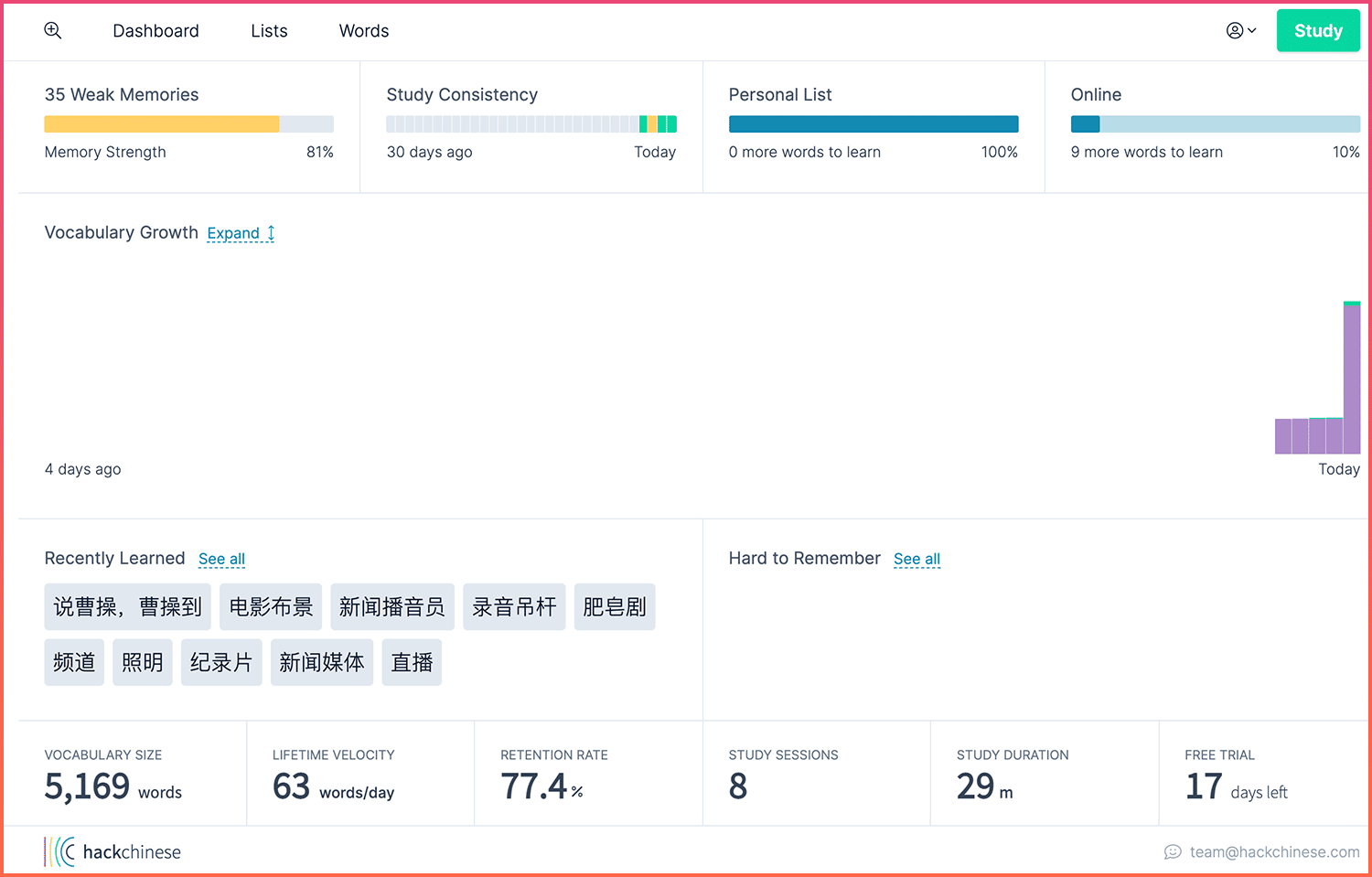 You start by opening your dashboard and it'll prompt you for your 'workout' (or you click the green 'Study' button) you can do one from 2 to 20 minutes. The 'Every day' rotation is a combination of refreshing words and adding new words, with occasionally checking if you still know an assumed word. With Custom you can set this yourself.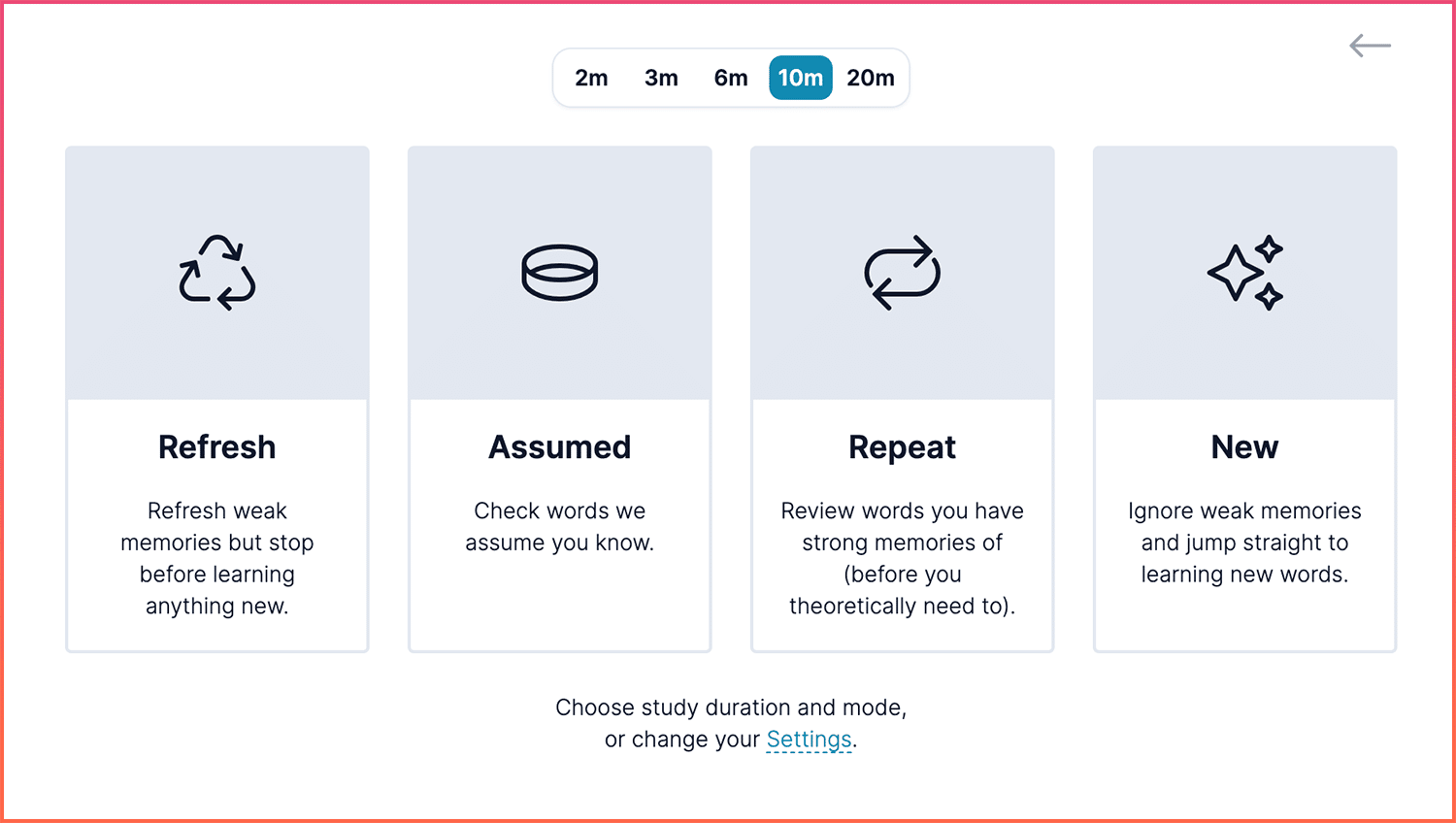 Word lists
The word rotation works really well and you can decide which Chinese words Hanzi characters to feed it. This is one of the best parts of Hack Chinese, you basically couple the words you want to learn with automatically rotated flashcards and it works perfectly. You can browse a catalog, and pick books from HSK, YCT, the new HSK, Business Chinese, but also Developing Chinese (which the author of this piece is studying from), and dozens of other Chinese learning textbooks.)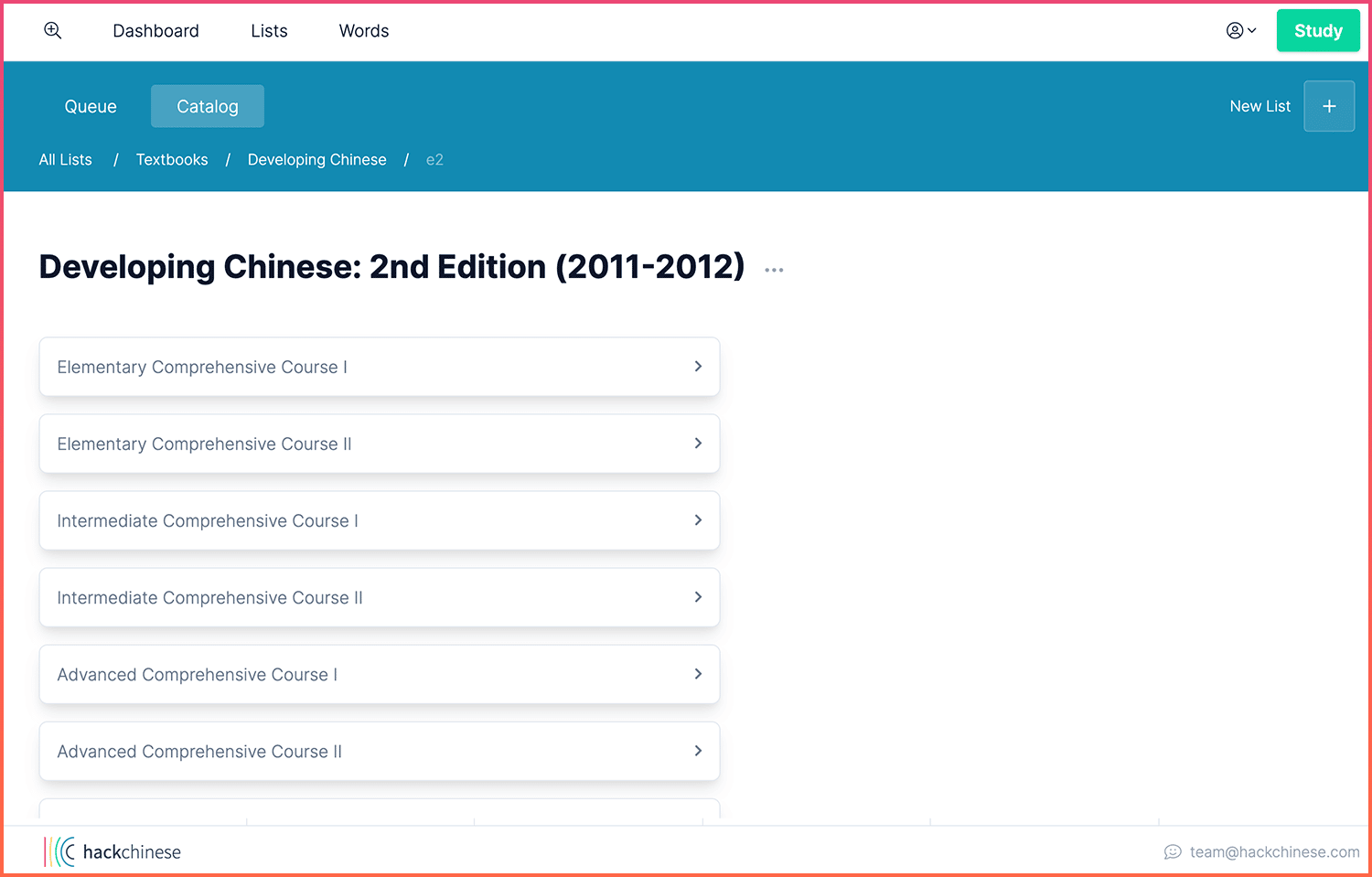 There's also a huge list of topics, from which I selected vegetables and city life. Both are immediately useful for my daily life. You can see from the page of City life, the software assumes some words I know (but has not tested), while some it has tested and others I never studied.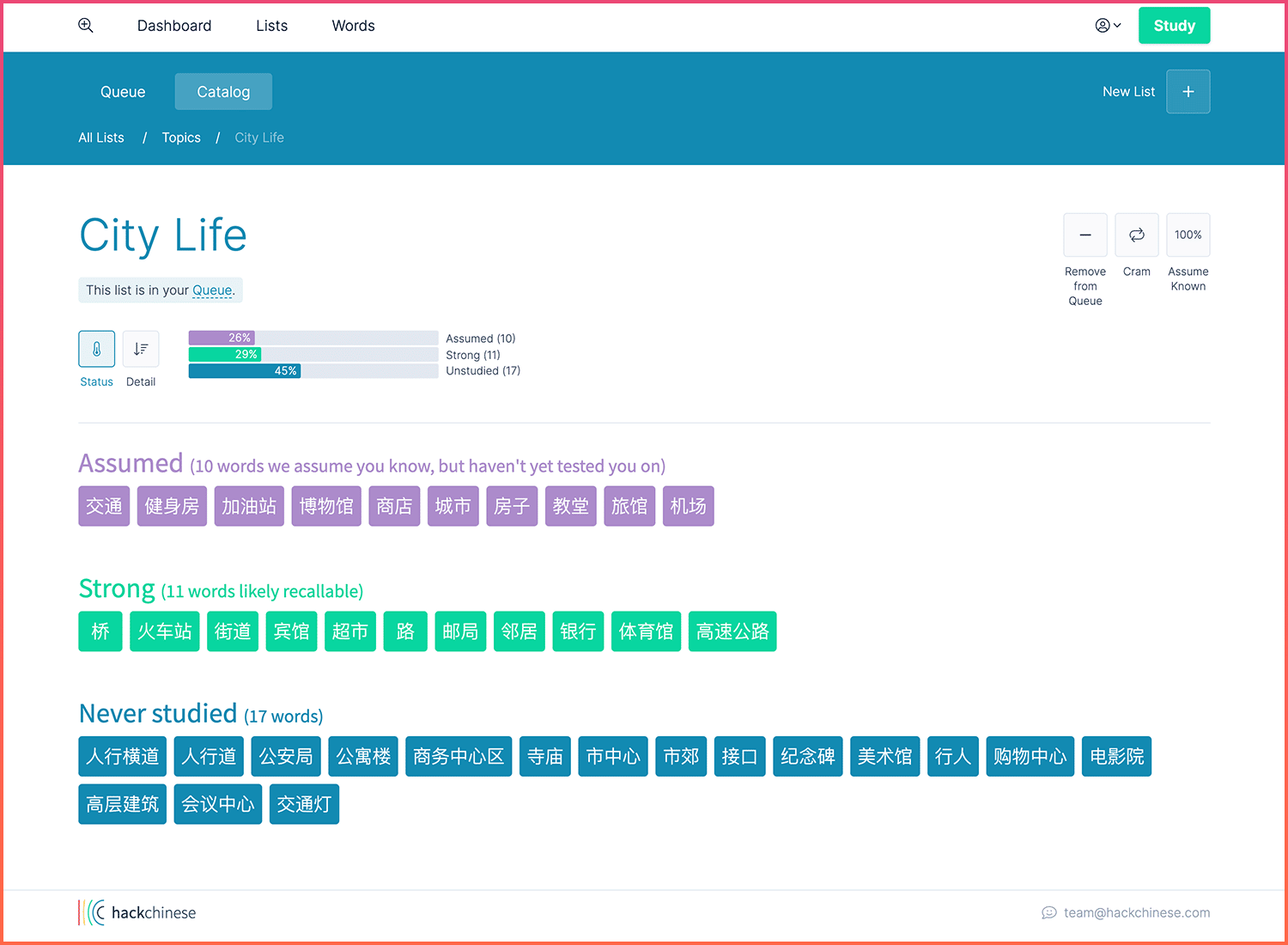 You can also make your personal list. Simply search for words and add them to your lists. If a word isn't on Hack Chinese, then it'll be added soon. (The writer here especially wants to add some idioms because they're notoriously hard to learn.)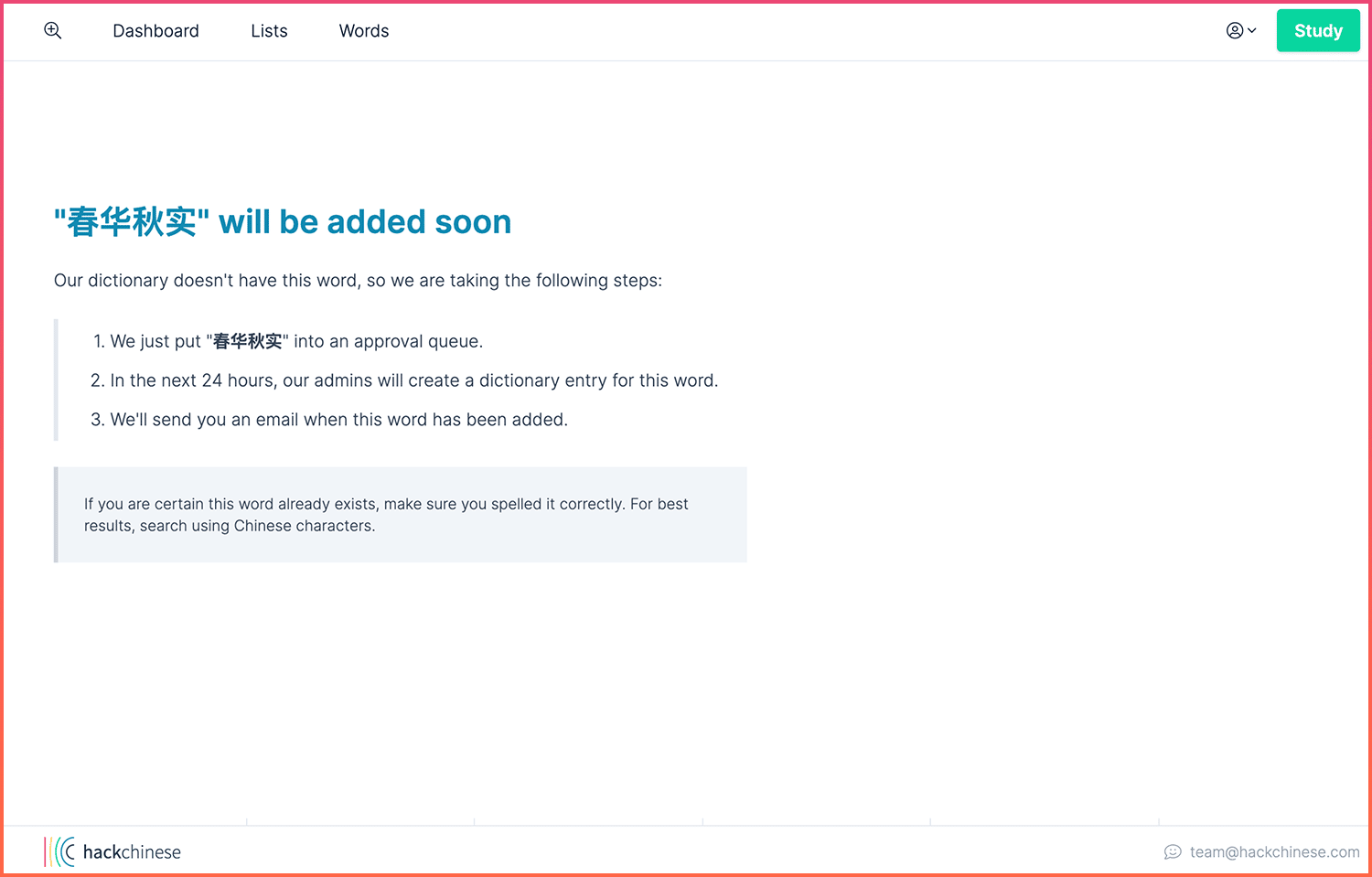 How best to study?
It may take a few days before you're fully used to Hack Chinese. They give a lot of tips, some during the onboarding, others per email in the days after sign-ing up.
Some tips focus on learning Chinese in general:
Consistency is all that matters
Don't go too fast
Recover from breaks with your normal routine
We have some tips for you as well when using Hack Chinese:
Keep close attention to the sample sentence. Learning words does not equal speaking a language. Actually one of the problems of many Anki-fanatics is that they can literally know 5,000 words, but cannot hold a proper conversation. Learning words is a nice straightforward job, and you may think that if you just do your daily vocabulary lessons every day, you're going to achieve fluency. If only it were that simple. You may come across sentences in which you understand each character, but not the combined meaning. You need to know the thousands of variations of language, like knowing if a word is formal or casual, if it's a verb or nouns, or both. (Of course, words are still an important building block and for this Hack Chinese is a brilliant tool.)
Clicking through vocabulary in Hack Chinese is really easy, and with the shortkeys you can go really fast. But try to learn slowly. You may think you know a word, but it's good to listen to the pronunciation, and speak it out. That is how your voice gets trained to differentiate between 北京 Běijīng (the capital of China) and 背景 Bèijǐng ("background"). Speak out the sample sentence if you can, or make sentences with the word in it.
Some Hack Chinese vocabulary does not come with a sample sentence, especially custom vocabulary lists. You can search the word on Pleco for a sample sentence. For instance, Pleco gives the sample sentence "这是肯定有背景Zhè shì kěndìng yǒu bèijǐng" for 背景. It doesn't just mean "This has a background for sure", it also means "There's more in this than meets the eye."
If you like handwriting, simply handwrite each word on paper. Even better if you write the whole sample sentence out.
As Hack Chinese also said: Consistency is key. Try to learn at least 2 minutes a day, and then see if you can add some more. But always learn at least every day. Do not skip. Do not let yourself go to sleep without those 2 minutes. Set an alarm, or put a reminder on your pillow.
Other notes
You can try Hack Chinese out for 20 days for free, which is great — but we think the value of this web-app is higher if you use it for a period longer than that, because it'll keep rotating words, understanding you better. It's also really cool to have a dashboard with learning statistics of 1 year.
Monthly subscription is 12 USD per month, 8 USD per month for an annual subscription. There's also a discount but you have to earn it; learn for five days in a row for 10% off.
We definitely recommend it for your Chinese language studies!
Video review (and demo) from our student Jaap