Correct pronunciation is one of the hardest parts of the Chinese language. There are not just the tones, but some of these sounds you need to pronounce are absent in many Western languages, so you'll have to train your mouth and tongue on how to speak them.
How to pronounce the Chinese tones
Here are the four tones of the Chinese language, plus the fifth neutral one: mā | má | mǎ | mà | ma
These tones are important because they can totally change the meaning of a word! "Wǒ xiǎng wèn nǐ" means I'd like to ask you a question, but change wèn to wěn and it means I'd like to kiss you.
Here are some tips for speaking the Chinese tones:
First tone: high and flat, imagine you are listening to a high pitch opera
Second tone: going up, like you have doubts or don't understand something, ah?
Third tone: going down first and going up. It sounds like you understand something with a complete explanation. "Ah ǎ"
Fourth tone: going down strongly. Make yourself sound like a big boss or with strong emphasis or excitement
When beginning to speak Chinese, don't feel too afraid to overdo the tones when speaking them. They'll become more natural later.
Improving your Chinese pronunciation
First, you need to know Pinyin very well and you need to learn to distinguish the pronunciation of the tones. Listen to the word recording and try to say the word with the same tone. You can try our Chinese practice stories for this. You can listen to pronunciation audio. After listening to the recording, you can also read after it. Speak as much as you can.
Pronounce the sounds of the Chinese language
There are several ways to display the pronunciation of the Chinese language in alphabet writing. We find this method really useful, which divides the sounds into:
blockage with no air
blockage with strong air
no blockage
It further divides this with tongue-positions:
tip of tongue behind bottom teeth
tip of tongue behind top teeth
tip of tongue touching roof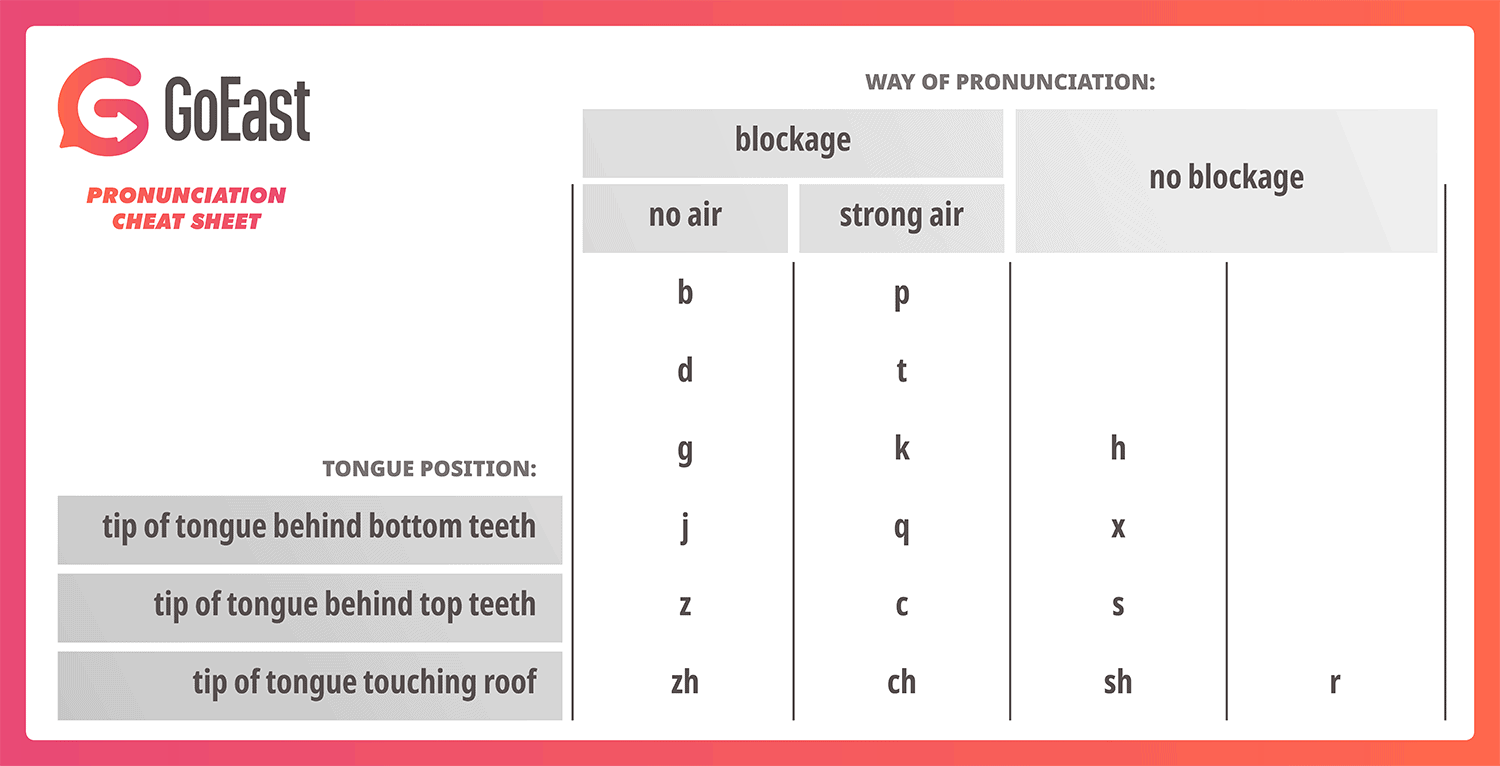 Here's Maria going over some more sounds, how to pronounce of 'i', 'ü', and 'u' correctly:
Here's Maria explaining the pronunciation of j q x in Chinese.
… and how to pronounce Z C S Zh Ch Sh R in Chinese.
How to pronounce the Chinese 'R'
Another difficulty is the Chinese R, which is different from most Western languages and causes trouble for many beginning Mandarin students. Roll up your tongue. The two sides of your tongue touch the upper jaw. Now try to pronounce r and at the same time you can put your hand on your throat. Feel the vibration of your vocal cords. Then try to pronounce these pinyin.
ri
re
ren
ran
There is also another r in words like 二Èr, 儿子érzi, 耳朵ěrduǒ. It sounds like the r in litter or flowers.
Click here for more info on how to pronounce the Pinyin in the Chinese alphabet.
Pronunciation video explanation
Let Lynn take you through pronouncing the tones, finals, and the initials of the Chinese language, in 26 minutes.