Learn Mandarin at our Chinese school in Shanghai
Whether you take private Chinese lessons or small group classes, learning on our school in Shanghai is a great way to learn Mandarin while getting face-to-face contact with your teachers and fellow students. Besides, there are plenty of other things before and after class!
Ni hao! This is Lynn from GoEast. Add me on WeChat for any questions you have, or to receive a free placement test and a short tour around the campus.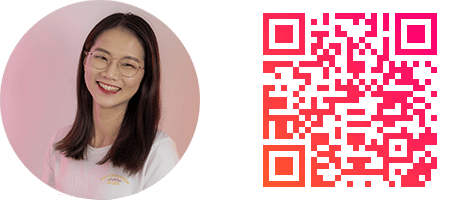 How would you like to learn Chinese?
Ways to learn at our school
Small-sized group classes schedule
Total beginner to elementary

Intermediate & above

Each Class Hour is 50 minutes.
How long does it take to learn Chinese?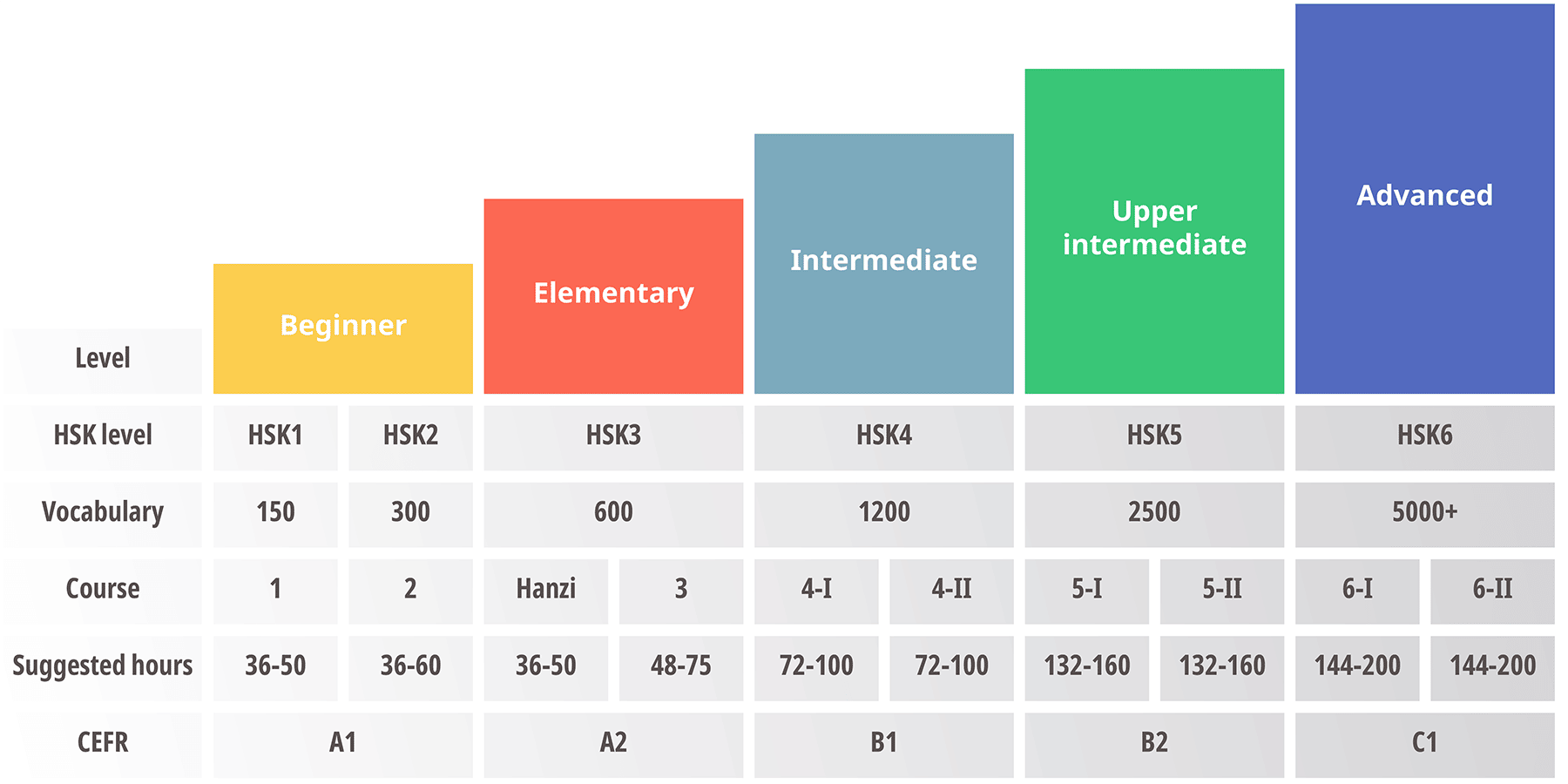 Join our Chinese school in Shanghai
Do you want a free placement test or a short tour around our campus, either in Yangpu or Shanghai Library? 
Fill in the form to let a language consultant contact you. 
Learn Chinese in Shanghai
Come learn the Chinese language in Shanghai at GoEast Mandarin's Chinese school. Aside of learning at our campuses in the former French Concession or Yangpu, there are plenty of other reasons.
Cons of learning Chinese in Shanghai
Shanghai is by far the most international city in China, and this may not appeal to you since you want 'real Chinese culture'. In many modern shopping malls, staff will be able to speak English, so it depends on you to stick speaking Chinese to them to to practice your Mandarin.
Pros of learning Chinese in Shanghai
…. on the upside of Shanghai being a very international city: great services for expats, such as specialized companies dealing with health insurances or moving for foreigners. And there are many high-quality Chinese language schools, such as GoEast Mandarin! 
Shanghai has a huge range of places and events to go to, and with around 26 million people, you can choose if you want to hang out with other foreigners, or Chinese locals who do not speak English.
Best Chinese school in Shanghai
GoEast Mandarin is listed by TimeOut Shanghai as one of the top Chinese schools in Shanghai, as well as by 'Sapore di China'. Since opening our school in Yangpu, Shanghai, in 2012, our Chinese language students have consistently rated us 4.9 out of 5, with an NPS of 84.
In 2016 we started teaching Mandarin Chinese online, and in 2018 we opened our second Chinese school in downtown Shanghai, the French Concession campus.
You can come to our Chinese language school in Shanghai not just for Chinese language classes, but also for monthly events. In the last years, we've hosted food workshops to make jianbing or dumplings, held movie nights looking at Mulan in Mandarin as well as other Chinese movies, We made art such as Chinese handfans or Chinese ink wash paintings. And so much more. When you take classes at our Chinese school, there's so much more than just the classes, but a whole environment to make you feel like home in Shanghai.
Overview of Chinese Classes in Shanghai
GoEast Mandarin offers different types of Chinese classes in Shanghai to cater to the diverse needs of learners.
Small Group Classes: GoEast Mandarin offers small group classes where you'll study Mandarin Chinese alongside a small group of students. These classes are great for interactive learning and practicing your language skills with classmates. The small class size allows for more individual attention from the teacher, giving you the opportunity to ask questions and receive personalized feedback.

1-on-1 Classes: If you prefer a more personalized learning experience, GoEast Mandarin also provides 1-on-1 classes. In these classes, it's just you and the teacher, allowing for focused attention on your specific learning needs. You can customize the curriculum, pace, and content based on your goals and interests. It's a great option if you prefer a tailored approach or have a specific focus area you want to work on.

Intensive Classes: For those who want to immerse themselves in learning Mandarin at a faster pace, GoEast Mandarin offers intensive classes. These classes provide a more concentrated learning experience, with a higher number of hours dedicated to language instruction each week. Intensive classes are designed to help you progress quickly and build a solid foundation in Mandarin Chinese.
Immersion in Real-Life with GoEast's Cultural Activities
Participating in cultural activities alongside language classes can greatly enhance your Mandarin learning experience. Here are some benefits:
Immersion in Real-Life Context: Cultural activities provide an opportunity to immerse yourself in real-life situations where you can practice your language skills outside the classroom. By engaging in cultural activities, such as visiting local markets or historical sites, attending cultural performances, or participating in traditional Chinese arts and crafts, you can apply what you've learned in class to real-world scenarios.

Cultural Understanding: Learning a language is not just about vocabulary and grammar; it's also about understanding the culture and customs of the people who speak that language. Cultural activities help you gain a deeper understanding of Chinese traditions, etiquette, and social norms. This understanding allows you to communicate more effectively and respectfully in various social and professional settings.

Building Vocabulary and Language Skills: Cultural activities expose you to new vocabulary, idioms, and expressions related to specific cultural contexts. By actively participating in cultural activities, you can expand your vocabulary, improve your listening and speaking skills, and develop a more authentic and natural way of using Mandarin Chinese.
Now, let's talk about some examples of GoEast Mandarin's cultural activities in Shanghai:
Chinese Calligraphy Workshop: GoEast Mandarin offers workshops where you can learn the art of Chinese calligraphy. You'll have the chance to practice writing Chinese characters with traditional brushes and ink, guided by experienced calligraphy teachers.

Chinese Cooking Class: GoEast Mandarin organizes cooking classes where you can learn how to prepare authentic Chinese dishes. These classes not only teach you cooking techniques but also introduce you to Chinese ingredients, flavors, and culinary traditions.

Shanghai City Tour: GoEast Mandarin arranges city tours of Shanghai, taking you to popular attractions and historical sites while providing interesting insights into the city's culture and history. This gives you a chance to practice your Mandarin skills while exploring the local surroundings.

Traditional Tea Ceremony: GoEast Mandarin hosts traditional tea ceremonies where you can learn about the art and etiquette of Chinese tea. You'll get to taste different types of tea, learn how to brew tea properly, and understand the significance of tea in Chinese culture.
Looking to Learn Chinese in Shanghai? Here Are Some Tips to Get You Started!
From immersion techniques to cultural activities, we'll equip you with the tools and advice you need to make the most out of your Chinese learning journey.
Immerse Yourself: Take advantage of living in Shanghai by immersing yourself in the language and culture. Practice speaking Chinese with locals, engage in daily conversations, and explore the city's vibrant neighborhoods where you can use Mandarin in various settings.

Join Language Exchange Programs: Seek out language exchange programs or language partner opportunities in Shanghai. Interacting with native Chinese speakers who want to learn your native language can be a valuable way to practice Chinese and make new friends.

Explore Cultural Activities: Participate in cultural activities offered in Shanghai, such as attending traditional performances, visiting museums, or joining local interest groups. These experiences will deepen your understanding of Chinese culture and provide additional language practice opportunities.

Utilize Language Apps and Online Resources: Make use of language learning apps and online resources to supplement your studies. Schools like GoEast Mandarin offer interactive lessons, vocabulary practice, and listening exercises that can be accessed conveniently on your smartphone or computer.

Practice Regularly: Consistency is key when learning a language. Set aside dedicated time each day to practice Chinese, whether it's reviewing vocabulary, listening to podcasts, or practicing speaking with a language partner. Regular practice will help you progress more effectively.

Take Advantage of Language Schools: Enroll in reputable language schools like GoEast Mandarin that offer structured courses and experienced teachers. Language schools provide a supportive learning environment, curriculum guidance, and opportunities for cultural immersion.

Make Flashcards and Use Memory Techniques: Create flashcards for vocabulary and characters that you find challenging. Utilize memory techniques such as visualization, mnemonics, or creating stories to help you remember new words and characters more effectively.

Explore Chinese Media: Watch Chinese movies, TV shows, and listen to Chinese music or podcasts to expose yourself to the language and improve your listening skills. You can also read Chinese books or news articles to expand your vocabulary and comprehension.
X2 visa for learning Chinese in Shanghai
GoEast Mandarin can assist you in obtaining the X2 student visa to study Chinese in Shanghai. The X2 visa is specifically designed for students who wish to pursue short-term language courses in China. It allows you to stay in the country for the duration of your studies.
One advantage of choosing GoEast Mandarin is our expertise and support in the visa application process. We have experience and knowledge in handling visa procedures, ensuring a smooth and hassle-free application. GoEast Mandarin understands the requirements and can provide the necessary documents and guidance to increase your chances of obtaining the X2 student visa.
By choosing GoEast Mandarin, you can focus on your language learning journey while we take care of the administrative aspects, including visa assistance. This relieves you from the stress of navigating the visa process on your own, giving you peace of mind and allowing you to fully immerse yourself in your studies and experience life in Shanghai.
To learn more about X2 Visa, visit this page.
Pick up your Chinese guide at a GoEast in Shanghai
Speaking some Chinese makes Shanghai much easier: you can tell the taxi driver where to go, or exactly which dish you want (no surprises).
Learning Mandarin also makes Shanghai much nicer: locals will be even nicer to you when you to speak them in their language.
And speaking some Chinese can also possibly make Shanghai safer: you can ask someone to call an ambulance (although we hope you'll never have to).
So you can do two things. First off, you can come pick up our free twelve-page quickguide at our campus in Shanghai's Yangpu district or in the French Concession near Shanghai Library. And secondly, you can take Mandarin classes at GoEast, of course, either in Shanghai or online.
So feel welcome to pick up a quick guide for yourself, or for your friends that may need one. And if you decide to sign up for classes, you'll know where to find us.
The Chinese quick guide covers topics like food, greetings, animals, colors, talking to a taxi driver, ordering a restaurant, and emergencies, as well as some small talk (such as 'You are cute!').
Sample pages: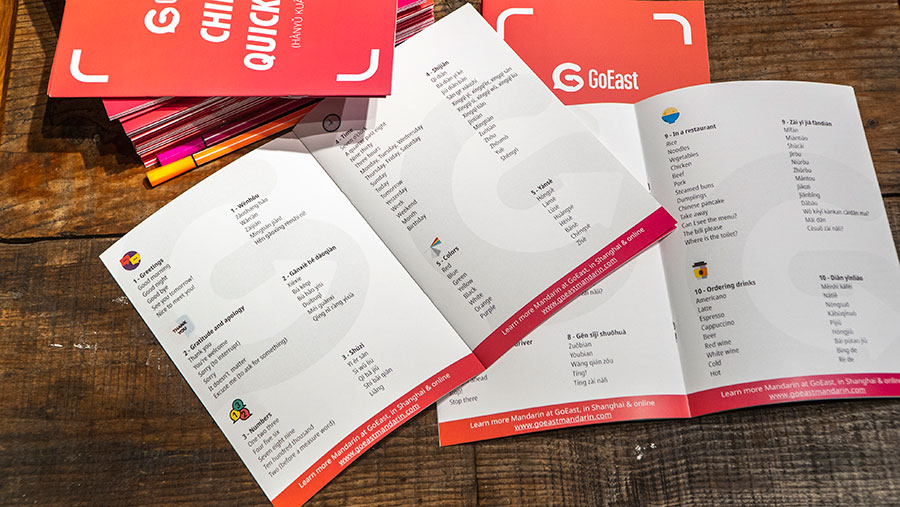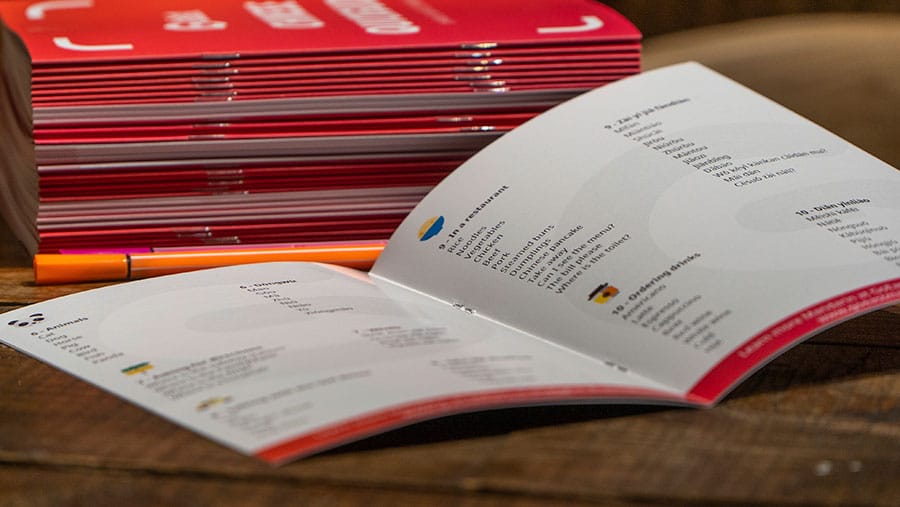 Reviews for GoEast Mandarin
+10.000 satisfied Chinese language students and counting. Read all reviews on Trustpilot.

I've been studying at GoEast for over 2 years now and during this time I have tried ad hoc classes at other schools and they have never once come close to the quality of a GoEast class. When I first started learning at GoEast, I had already passed HSK3. After my assessment, GoEast told me that I should repeat the HSK3 course because my speaking was not up to standard. At the time, I was really angsty about this decision but I honestly think that was one of the best decisions for my Chinese learning progress. GoEast will be honest with you and is really the ideal school for anyone serious about learning Chinese.

My teacher is INCREDIBLE. I also love the program's self study tools and set up. It's super helpful for the student that is ambitious and wants to learn Chinese at their pace! I do wish there was more speaking opportunities–but my teacher is incredible and I enjoy every session with her and learn LITERALLY so much.

I have tried other schools and GoEast is the best. I love the structured nature of the courses. The instructors have proper teaching credentials from universities which means they have formal training in teaching languages. I also love the flexibility of the private courses. After gaining the fundamentals in HSK1/2/3 at GoEast, I worked with my course consultant to create a private course tailored to my needs and goals. I can't say enough good things about my experience at GoEast.

I have been studying with GoEast on and off for 3 years (my schedule sometimes necessitates breaks) and without fail, every teacher has been extremely professional and knowledgeable. That being said, my current teacher, Jaxon, is exemplary. Not only one of my best Chinese teachers, but one of the best teachers that I have encountered, and I am 55, with a masters degree. His knowledge, patience, and the dedication to tailor each lesson to student needs is beyond rare. In fact, were it not for HIS commitment, I might have given up.

Great course, lots of resources available, and my teacher is super helpful and good at explaining all the answers to my questions. I really enjoy the lessons and it's made me more interested in learning Chinese.

The verdict from my second daughter was that this class is the best of ALL the classes she has ever done (and we've tried a lot over the years). She had an instant connection with Teacher Jenny, and my daughter was very joyful about doing these classes, even twice each weekend!

When I started at GoEast, I was afraid to open my mouth. But in just a few months, I've became much more confident in expressing myself, to the point where sometimes I can't even believe how the words seem to flow out of my mouth by themselves. I sometimes even feel like I can't shut up! I never thought I'd feel that way about speaking Chinese. If you're looking for a Chinese language school, I'd recommend GoEast in a heartbeat.

Since one year I study already with GoEast. I started as a total beginner and I'm about to finish HSK3 now. For me the system they are using is very convenient to make simple and quick very good progress. I'm looking forward to completing HSK4 in 2022 with as much fun as in 2021.

I came across Go East Mandarin School when in Shanghai. It was the most beautiful part of my trip. I started learning Chinese and now I am still studying with them from Italy thanks to online classes. I believe it is the best school you can find. It is not only a school, it is a family.

I have been studying with GoEast for three months, and have just renewed for another year as it has been such a good experience. I have lived in China for many years, am currently studying HSK 5, and signed up for lessons with a goal of improving the complexity of my Chinese speaking and grammar patterns. My teacher (Andie) is always well prepared and patiently answers all my questions in detail. I have been really pleased with the convenience of the online platform and the quality of Andie's teaching. In comparison with other studying methods that I've used in the past, I've found that GoEast provides good value for money, and the twice-weekly online classes give me the structure that I need to move through the material.

GoEast showed me it is really possible to get to know the reading mandarin which is so essential to get deeper knowledge about the Chinese culture from a not only occidental approach. I am very happy with my progress and do recommend for those who like me want to get success in this challenging experience !
Learn Chinese at our school in Shanghai