Chinese is often seen as one of the most difficult languages to learn. While it does take a longer-than-average time (compared to other languages) to learn,
it is not as difficult as many people think it is. Here we answer the question 'How long does it take to learn Chinese' in two ways?
A not super scientific quiz
You can get an answer here, but obviously reality is much more nuanced and variable than the quiz. Anyway, have a go!
How many hours per week do you self-study?
Usually, this number is overestimated. Be honest. Time on your phone during self-study doesn't count!
How many hours per week do you take classes?
Do you take private or group class?
How good are you with language learning?
We add a tiny bit of a multiplier into the scores this way, but not a huge one. We are 100% sure that everyone can learn Mandarin. You can also replace this question with: How motivated are you?
Do you live in China or do you have a Chinese speaking environment?
How long to learn Mandarin?
Background knowledge on how long it takes to learn Chinese
"I want to learn the Chinese language and be fluent in a year, do you think it's possible?"
It's a hopeful question that we often get from beginning Mandarin students. And because the last thing we want to do is dampen someone's enthusiasm, we say yes, of course, it's possible to reach fluency in the Chinese language, and learning how to speak beginner Mandarin may not be as hard as you think. But we'll quickly add it's only possible with the right methods and great persistence.
Managing a student's learning expectations is an important part of long-term learning, so it's good to be down to earth and prepared with the ups and downs that come along that realize the immensity of the task.
How long does learning Mandarin Chinese really takes
If you're an English speaker, the first thing that can help you set practical goals is the FSI scale, the foreign language proficiency guidelines used by the Foreign Service Institute, a training institution for U.S. foreign affairs staff.
They divide language proficiency into five levels:
Language level 1 – Elementary level
The person can fulfill basic courtesy requirements and ask for basic things during traveling.
Language level 2 – Limited working proficiency
The speaker can fulfill basic social conversations and basic working conversations.
Language level 3 – Minimal professional proficiency
The person freely speaks full sentences and can participate in most conversations about practical, social and professional topics.
Language level 4 – Full professional proficiency
The person uses language fluently and accurately on all topics.
Language level 5 – Native or bilingual proficiency
The person has a speaking ability equivalent or above that of an educated native speaker.
They also have difficulty rankings for foreign languages, seen from the point of an English native-speaker:
Group 1 – Closely related to English
Languages like French, Italian, Spanish, Portuguese, Dutch, and Scandinavian languages like Norwegian, Swedish and Danish
Group 2 – Languages similar to English
German
Group 3 – Languages with linguistic/cultural differences from English
Indonesian, Malaysian, Swahili
Group 4 – Languages with significant linguistic and/or cultural differences from English
A long list of languages like Greek, Turkish, Urdu, Hindi, Nepali, Thai, Vietnamese, and a lot of Russian-related languages like Ukrainian, Bulgarian, Croatian, Polish and Czech
Group 5 – Languages which are exceptionally difficult for native English speakers
Arabic, Chinese (Cantonese & Mandarin), Japanese, and Korean
The two charts below indicate how long it normally takes for learners to reach different FSI levels for two different language groups. The three different lines on the charts represent learners with different aptitudes.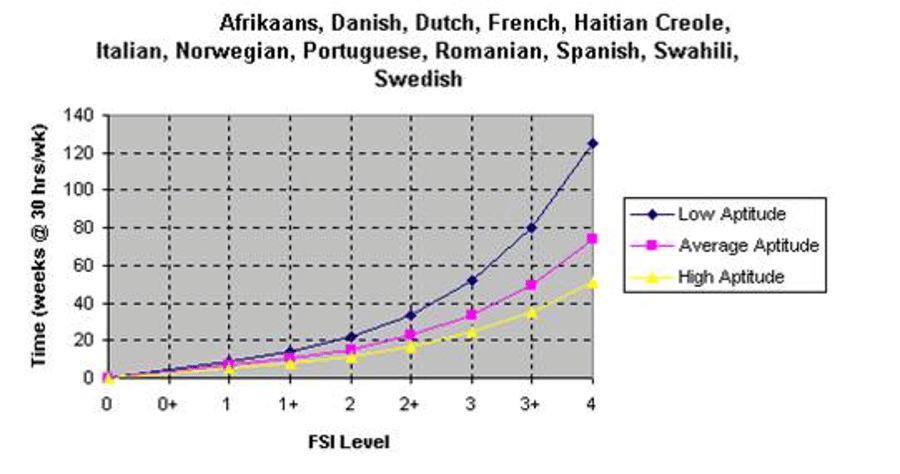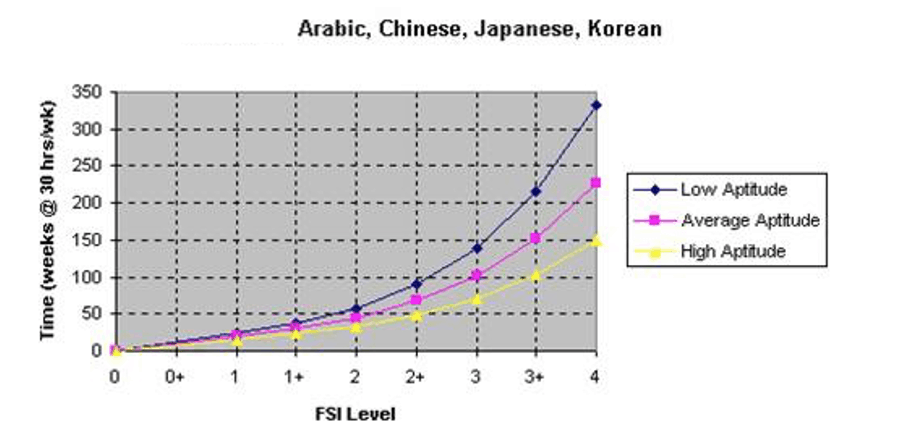 It takes a learner with average aptitude only 15 weeks to reach level 2 for Spanish or French, but about 50 weeks to reach a similar level of the Chinese language. If you want to be fully fluent in Mandarin, you'd better plan to spend about 230 weeks, which is about 4 years.
There's also this (partial) world map by Redditor u/Fummy, that gives a more geographical view of language differences (& distances):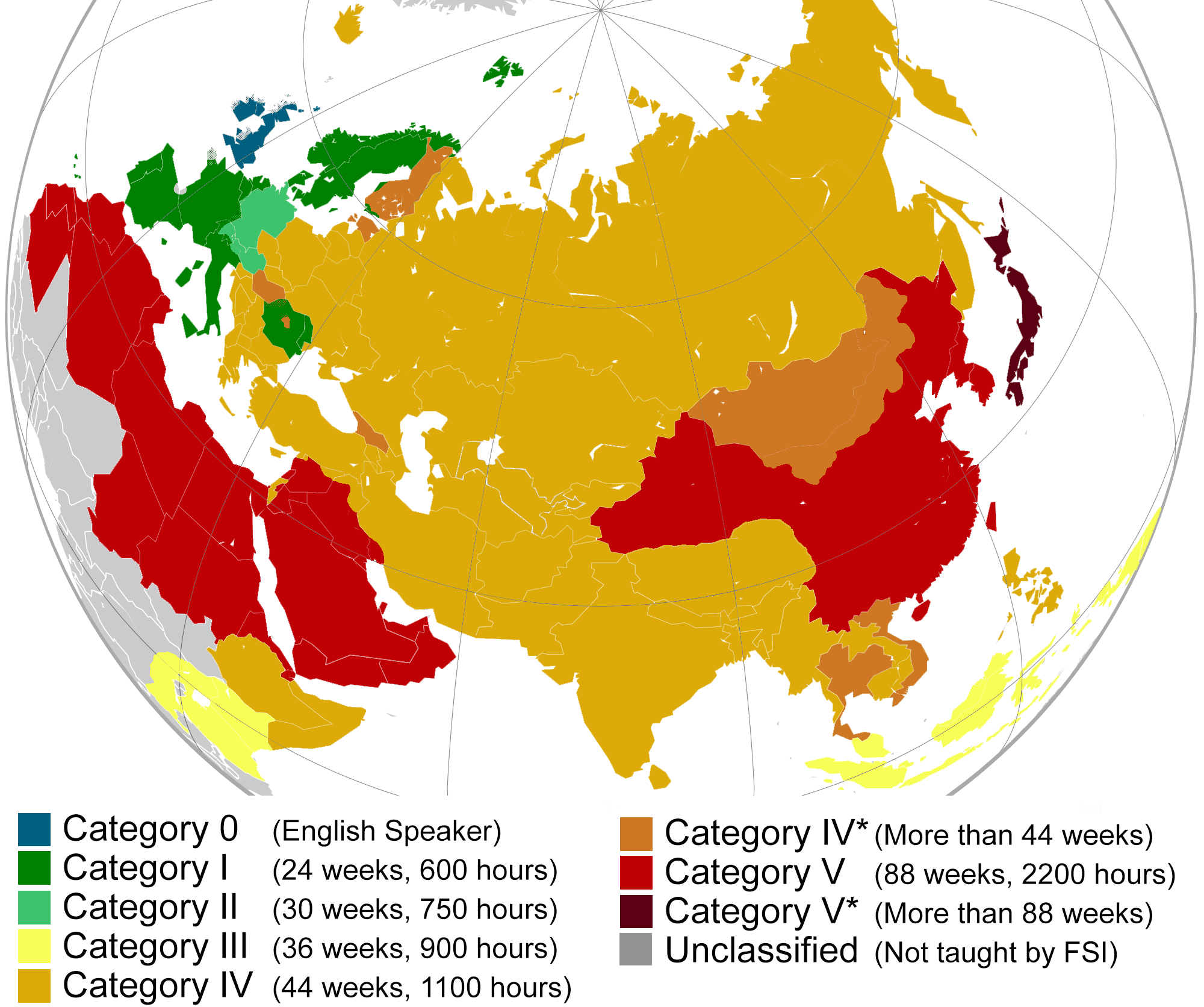 Chinese language in HSK levels
Another way to get your head around the difficulty of Mandarin is to look into the guidelines of (汉语水平考试 Hànyǔ Shuǐpíng Kǎoshì, translated as the Chinese Proficiency Test) – China's only standardized test of Standard Chinese language proficiency for non-native speakers.
HSK divides the Chinese language proficiency into five levels and focuses more on listening, reading and writing:
Level
 
Description
Suggested learning Duration
1
Beginner
Understand and use some simple Chinese characters and sentences to communicate
2 to 3 lessons per week, for one semester
2
use Chinese in a simple and direct manner
2 to 3 lessons per week, for two semesters
3
Intermediate
use Chinese to serve the demands of their personal lives, studies and work
2 to 3 lessons per week, for three semesters
4
can discuss a relatively wide range of topics in Chinese
2 to 3 lessons per week, for four semesters
5
Advanced
Can read Chinese newspapers and magazines, watch Chinese films
2 to 3 lessons per week, for more than 2 years
6
Can easily understand any information communicated in Chinese
So according to the HSK levels, 'more than two years' will be the duration you should give to yourself to reach a good fluency – if you take 2 to 3 lessons per week.
Chinese language levels at GoEast Mandarin
At GoEast, our courses are designated as 6 levels with 10 courses. And it takes 45 hours or so to finish level on average. If you want to learn conversational Chinese onlineas soon as possible, we recommend you do 2-3 lessons weekly in persistence, and at least set your goal to finish both beginner and elementary (4 levels) courses so that you can reach a conversational level and also not lose it easily.
If you want to learn conversational Chinese online, we propose 300 hours of lessons to first reach an intermediate level and at the same time, you'll need to spend the same amount of time outside class to review and practice.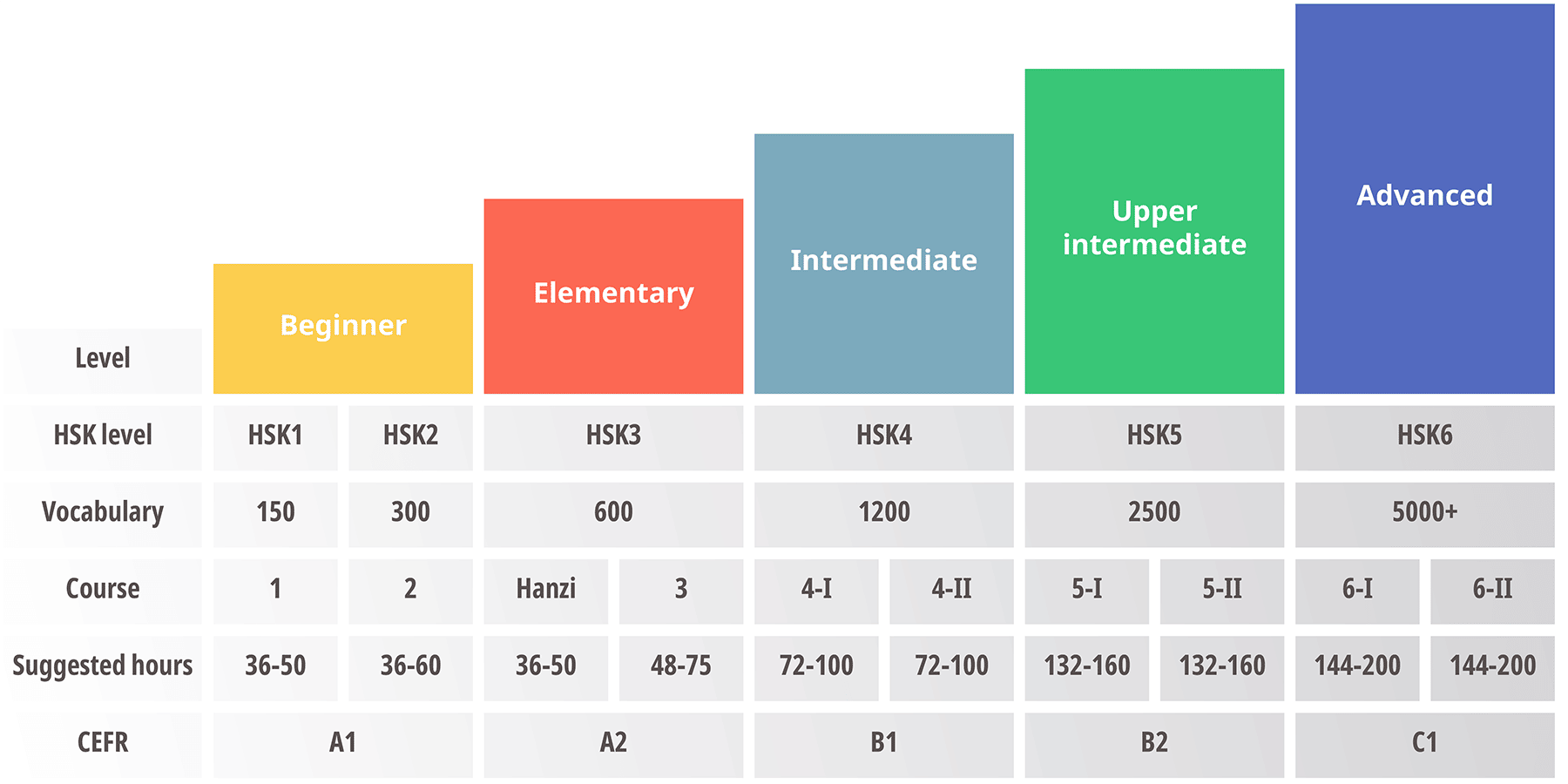 It is definitely not easy to learn a brand-new language when you are already a grown-up, but we believe persistence, cheerfulness and good instruction bring you victory.
好好学习,加油!
How to learn Mandarin Chinese?
Generally speaking, there are three steps to learning Mandarin Chinese: Learn basic Mandarin Chinese rules; Learn to read and write in Mandarin Chinese; Immerse yourself in Mandarin Chinese.
Learning Mandarin Chinese is not something that can be achieved overnight. However, there are always ways to help you learn Chinese more joyfully.I f you have the opportunity, try to communicate with Chinese people as much as possible. Doing so can quickly improve your fluency in Chinese.
Step 1: Learn basic Mandarin Chinese rules
When learning a language, the first thing you should do is to memorize some simple and important vocabulary and start practicing as much as possible right away. Although grammar and sentence structures are also important, it is meaningless to study them without acquiring a certain amount of vocabulary. You can start learning using the following list:
Hello = 你好nǐhǎo,
Yes = 是shì,
No = 不是bú shì,
Goodbye = 再见zài jiàn,
Morning = 早上zǎoshàng,
Afternoon = 下午xià wǔ,
Evening = 晚上wǎn shàng,
Head = 头tóu,
Foot = 脚jiǎo,
Hand = 手shǒu,
Beef = 牛肉niú ròu,
Chicken = 鸡jī,
Egg = 鸡蛋jī dàn,
Noodles = 面条miàn tiáo。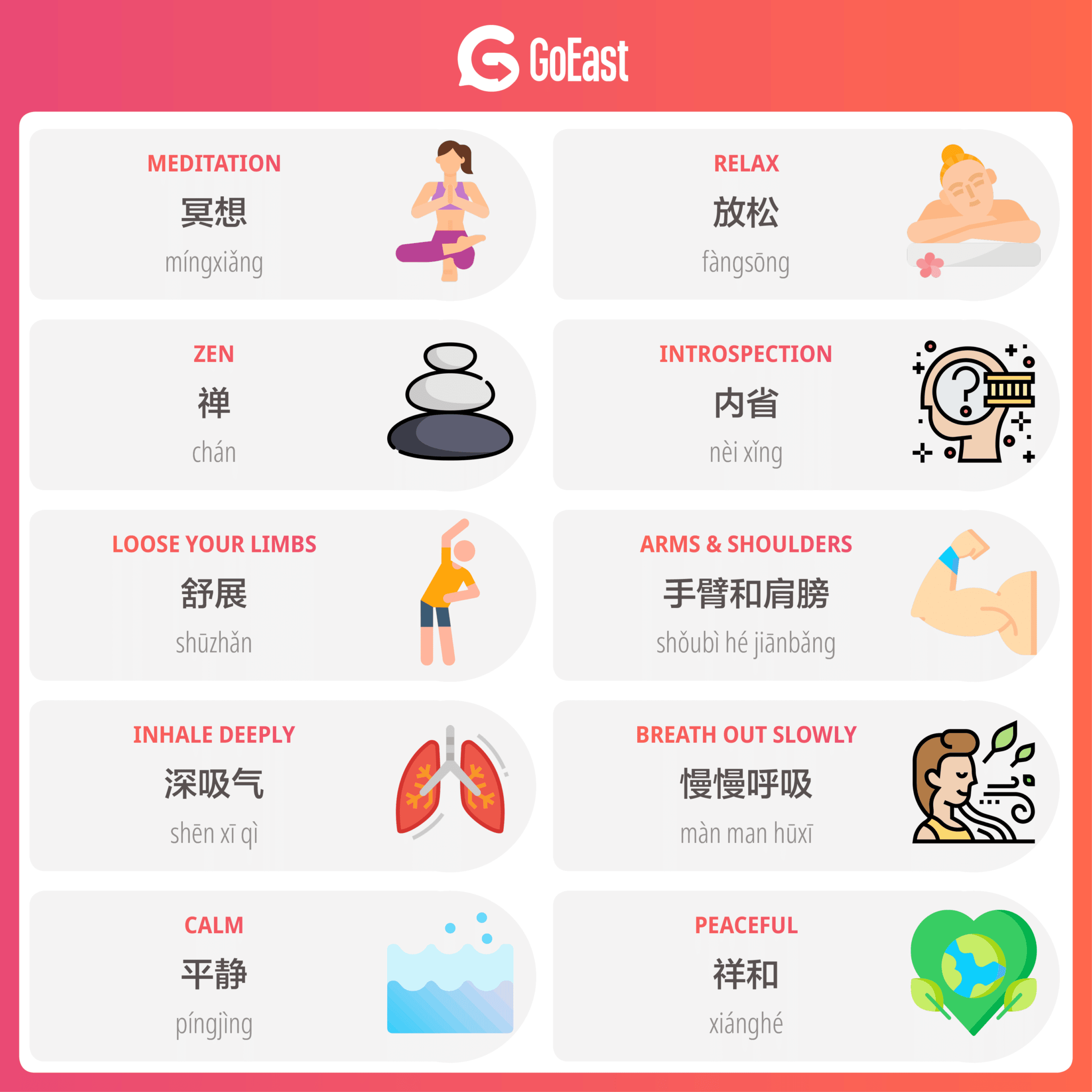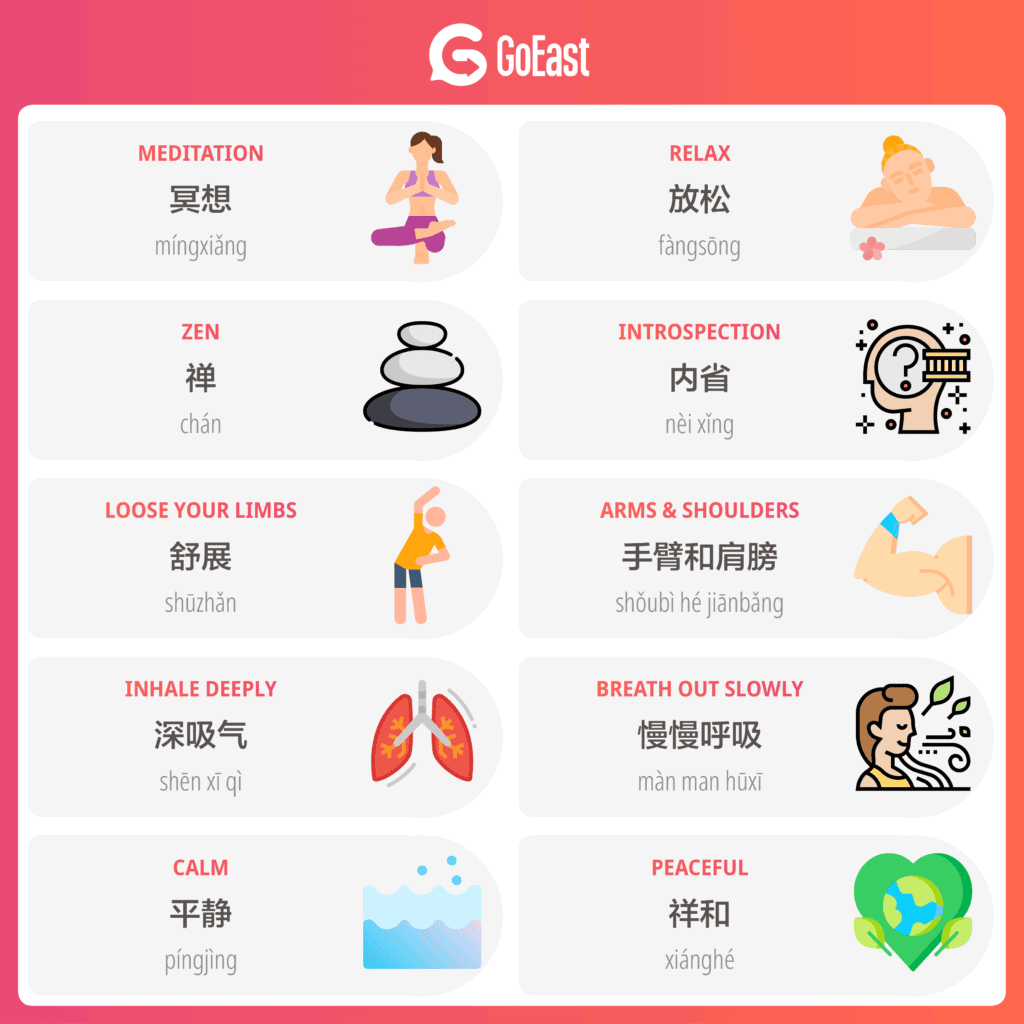 2. Learn some basic phrases.
Once you have mastered some vocabulary, you can try learning basic phrases and sentences that will help you in everyday conversations. You can start with the following phrases:
How are you? =你好吗 nǐ hǎo ma?
I'm fine = 我很好wǒ hěn hǎo
Thank you =谢谢 xiè xiè
You're welcome =不用谢 bú yòng xiè
Sorry =对不起 duì bu qǐ
I don't understand =我不懂 wǒ bù dǒng
May I ask your name? =您贵姓 nín guì xìng
What is your name? = 你叫什么名字nǐ jiào shén me míng zì, Pronounced [nee-jee-yow shen-ma meeng zher]
My name is _____ = 我叫____wǒ jiào _____。
3.Learn Mandarin Chinese tones.
Mandarin Chinese is a language that emphasizes tones. The same word can have different meanings with different tones (even if the spelling and pronunciation are the same). For those accustomed to speaking English, this may pose some difficulties. However, if you want to speak Mandarin Chinese authentically, tones are crucial. There are four main tones in Mandarin Chinese:
First Tone: It is a high-level tone. It is a relatively high and flat pitch without any rising or falling. Taking "ma" as an example, the first tone is represented in writing as "mā."
Second Tone: It is a rising tone. This tone starts at a low pitch and gradually rises, similar to the English expression "hmm?" The second tone is represented in writing as "má."
Third Tone: It is a dipping tone. This tone starts at a medium level and then dips below the initial pitch, similar to the letter "B" in English or the word "horse." The third tone is represented in writing as "mǎ."
Fourth Tone: It is a falling tone. This tone starts at a medium level and then falls, as if giving a command in English (e.g., telling someone to "stop"). The fourth tone is represented in writing as "mà."
Learn pronunciation.
By listening to native speakers (Goeast Mandarin's YouTube can also help with this), you can learn the correct pronunciation. After practicing on your own, you need to apply what you have learned to specific vocabulary.
With different tones, the same word can have different meanings. For example, the tones "mā" and "má" are like the difference between "peaceful dove" and "piece of love", completely changing the meaning.
Therefore, when learning words, it is not enough to only learn the pronunciation; you also need to learn the correct tones. Otherwise, it's easy to use words in the wrong context, making it difficult for others to understand what you're trying to express.
The best way to learn pronunciation is to speak Mandarin Chinese with native speakers. When your pronunciation is correct, they can encourage you, and when you make mistakes, they can help you correct them.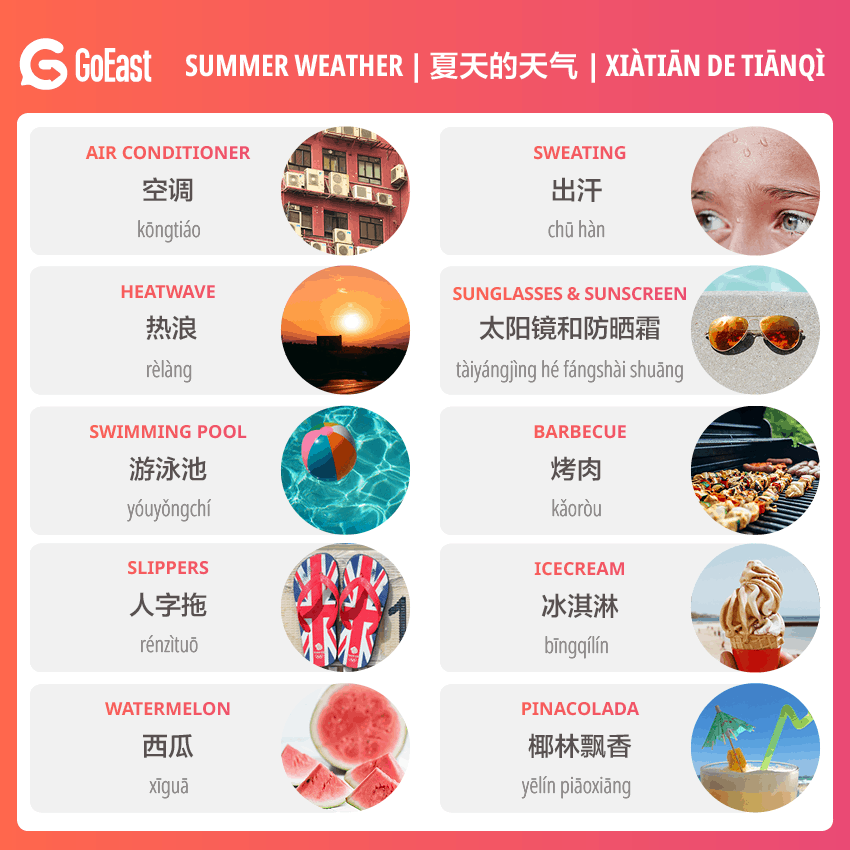 Learn grammar and sentence structures.
A common misconception is that Mandarin Chinese is a language without grammar. In reality, the grammar system of Mandarin Chinese is quite complex and significantly different from English and other European languages.
Fortunately, when learning Mandarin Chinese, there is no need to memorize verbs, plural forms, tenses, etc., as the analyzability of Mandarin Chinese makes these things simpler and more intuitive.
Another advantage is that the sentence structure of Mandarin Chinese is similar to English, following the subject-verb-object (SVO) structure. This makes translation between English and Chinese, as well as between Chinese and English, easier. For example, the English sentence "he likes cats" can be translated to Mandarin Chinese as "tā (他) xǐ huan (喜欢) māo (猫)."
Of course, Mandarin Chinese also has some sentence structures that are different from English, which may pose some difficulties for native English speakers in terms of expressions related to classification, emphasis, preferences, etc. However, these aspects are not a concern before learning the basics of Mandarin Chinese.
Step 2: Learning to read and write in Mandarin Chinese
1. Learn Pinyin
Pinyin is a system for writing Mandarin Chinese using the Latin alphabet, rather than Chinese characters.
For Chinese language learners, Pinyin is very useful because even if you haven't learned traditional Chinese characters, with Pinyin, you can still read and write Chinese. There are many Chinese textbooks and learning materials that include Pinyin.
Although Pinyin is based on the Latin alphabet, it may not be immediately familiar to native English speakers in terms of pronunciation. Therefore, it is important to use proper pronunciation guidance when learning Pinyin.
2.Learn to read some Chinese characters
While learning Mandarin Chinese doesn't necessarily require knowledge of Chinese characters, many people are still drawn to them as they feel closer to traditional Chinese culture.
Learning to recognize and read Chinese characters is not an easy task. To be able to read Chinese newspapers, an average Chinese reader needs to be familiar with about 2,000 characters, and that's just the beginning. It is said that there are over 50,000 Chinese characters in total (although some are no longer in use).
The greatest benefit of knowing Chinese characters is being able to explore more cultures, including Cantonese, Japanese, and Korean, as these languages, although different in pronunciation from Mandarin, also use Chinese characters (or simplified versions of them) in their writing systems.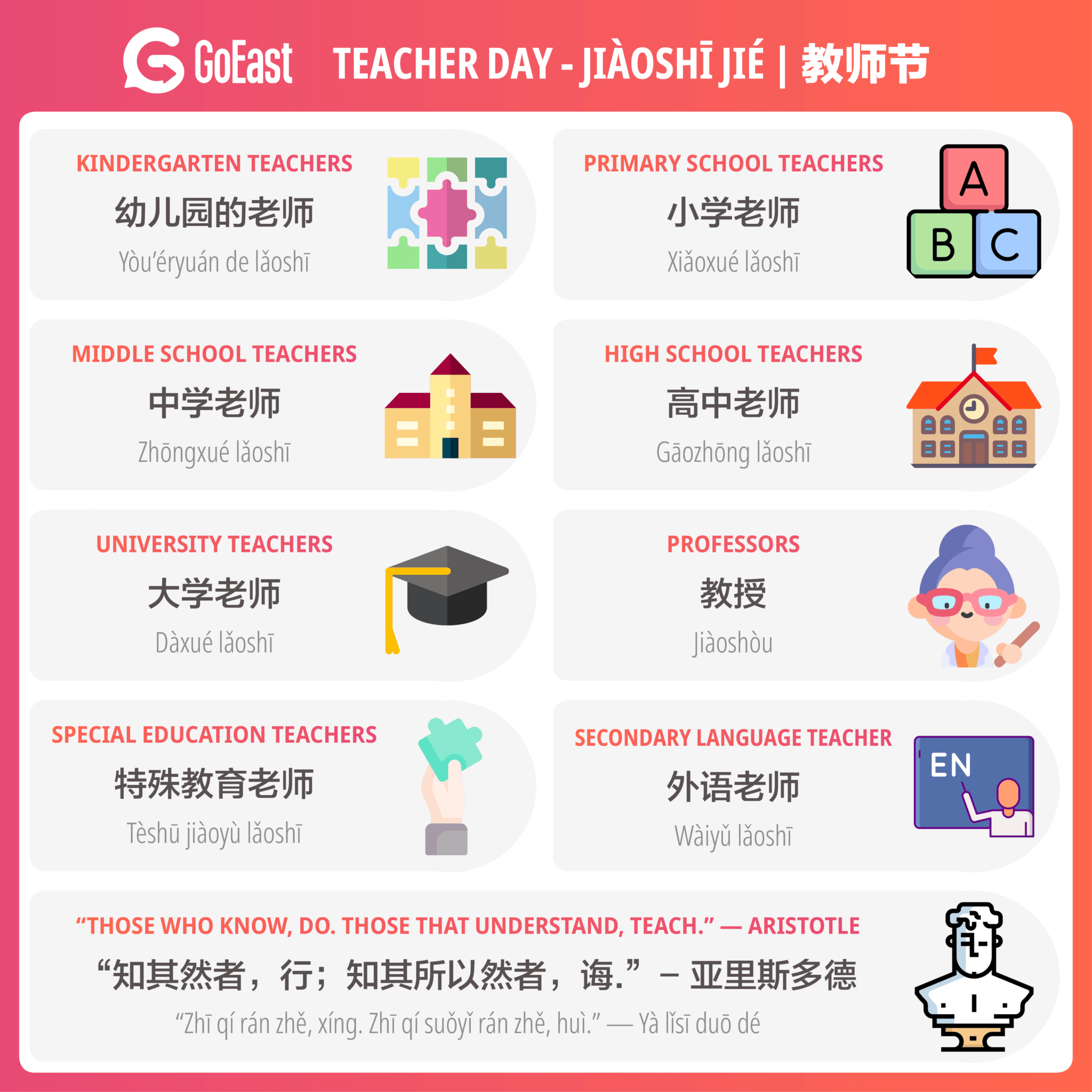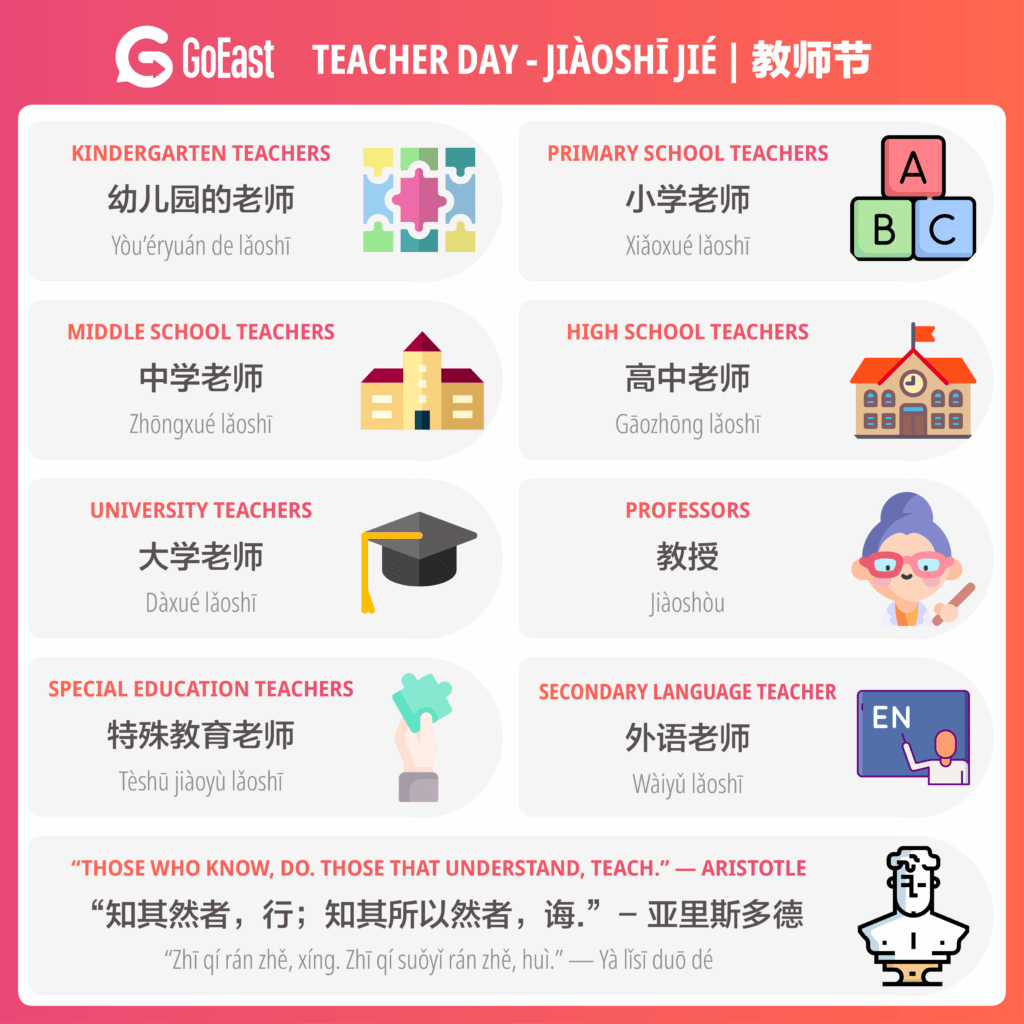 3.Learn to write Chinese characters
Once you learn to read Chinese characters, you may develop an interest in writing them. Writing Chinese characters is a complex skill that requires patience and a touch of artistic flair.
The first step in learning Chinese characters is to study the "basic units" – independent radicals that form the foundation of Chinese characters. There are a total of 214 radicals in the Chinese language, and some radicals can stand alone as characters, while others are only part of more complex characters.
When writing Chinese characters, stroke order is crucial, and you must follow certain rules, such as writing from top to bottom and left to right, and horizontal strokes before vertical ones. If the stroke order is incorrect, the entire character will be wrong.
Read in Mandarin Chinese
If you want to improve your Chinese reading skills, it is recommended to spend at least 15-20 minutes reading every day.
First, you can start by reading some children's books that usually include Pinyin to enhance your reading level. Additionally, you can find good reading materials online.
You can also apply your Chinese language skills to daily life. Try reading the Chinese labels on food products or ask the waiter for a Chinese menu at a restaurant.
Once your reading proficiency improves, you can read Chinese newspapers (in Chinese characters) and make an effort to read articles. This is also a great way to learn about Chinese culture and current affairs in China.
Write in Mandarin Chinese every day
To improve your Chinese writing skills, you can write something in Chinese every day, whether it's in Pinyin or Chinese characters.
One method is to write a daily Chinese diary where you can write about the weather, your daily reflections, or what you have done each day. If you're brave enough, you can ask friends who speak Chinese to check for any errors.
Alternatively, you can find a Chinese pen pal to exchange letters with. This is a mutually beneficial activity where you can improve your Chinese skills while your pen pal can enhance their English skills. You can also ask your pen pal to help you revise your letters and send them back in response.
Another way to practice your Chinese writing skills is to create Chinese lists, such as shopping lists or labels for items in your home.