Chinese is often seen as one of the most difficult languages to learn. While it does take a longer-than-average time (compared to other languages) to learn,
it is not as difficult as many people think it is. Here we answer the question 'How long does it take to learn Chinese' in two ways?
A not super scientific quiz
You can get an answer here, but obviously reality is much more nuanced and variable than the quiz. Anyway, have a go!
How many hours per week do you self-study?
Usually, this number is overestimated. Be honest. Time on your phone during self-study doesn't count!
How many hours per week do you take classes?
Do you take private or group class?
How good are you with language learning?
We add a tiny bit of a multiplier into the scores this way, but not a huge one. We are 100% sure that everyone can learn Mandarin. You can also replace this question with: How motivated are you?
Do you live in China or do you have a Chinese speaking environment?
How long to learn Mandarin?
+5 years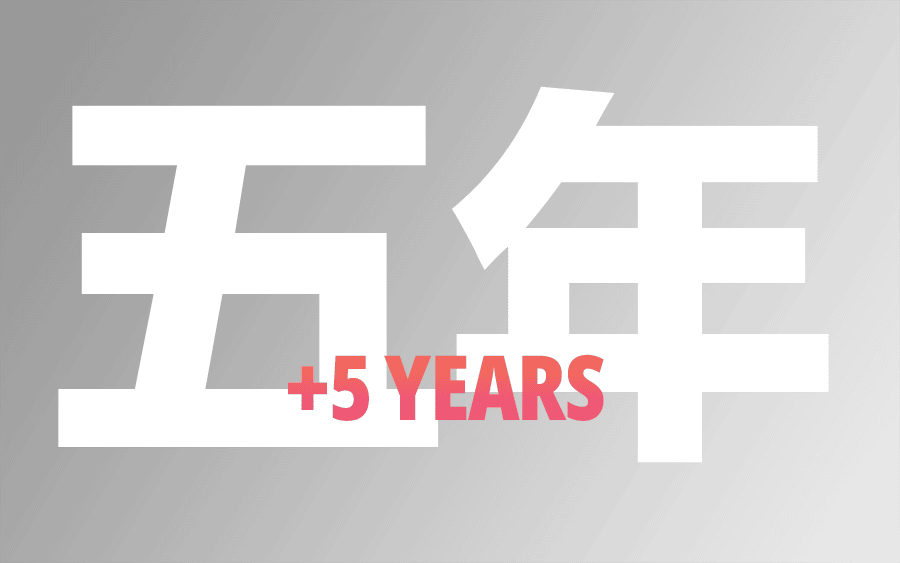 Fluency is going to take 5 years or more. That's ok, right? Learn to enjoy the process and it doesn't matter. Besides, you'll be conversational almost right away, so you can already start talking in Chinese, even if you are not 100% fluent yet.
5 years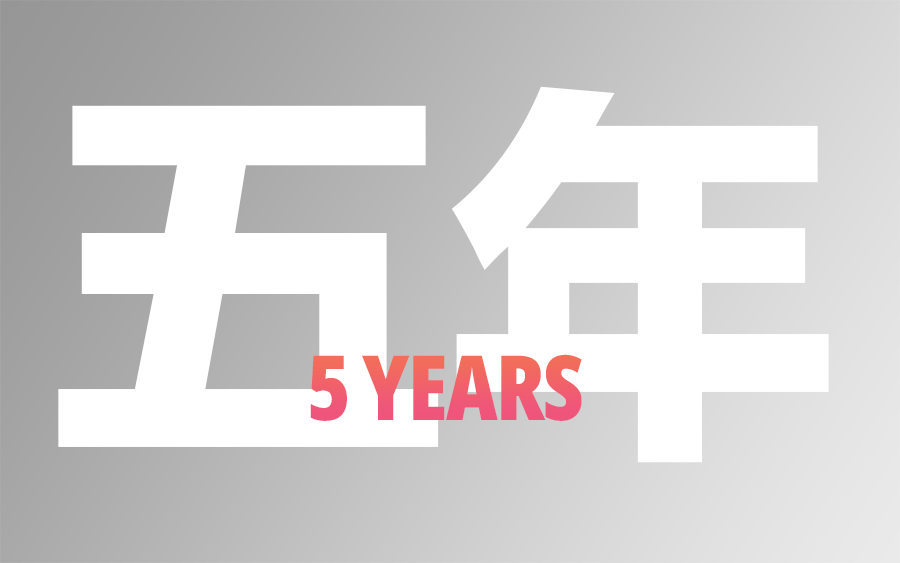 Five years! Not bad right? If you keep it up you will reach fluency eventually. It's a long road but you can do it!
3 to 4 years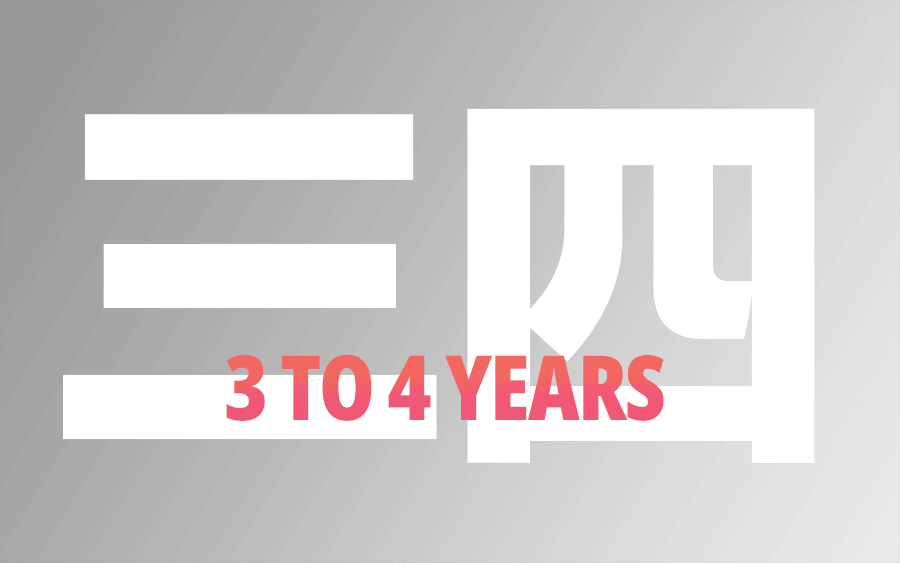 Pretty determined! It's a long road to fluency, but also not that long, right? You can reach fluency within 3 to 4 years.
2 years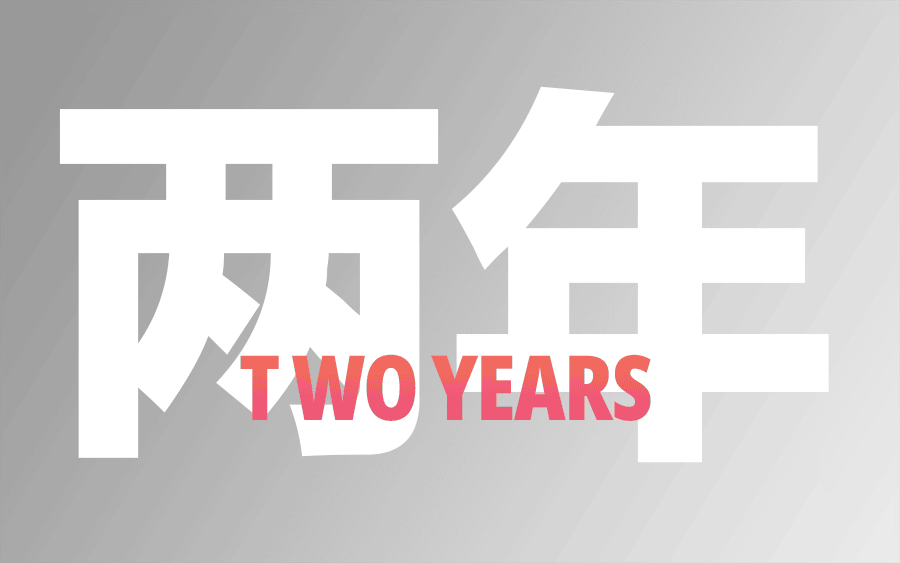 You seem very determined with plenty of time for it! If you stay focussed, you can reach fluency within two years.
Within one 1 year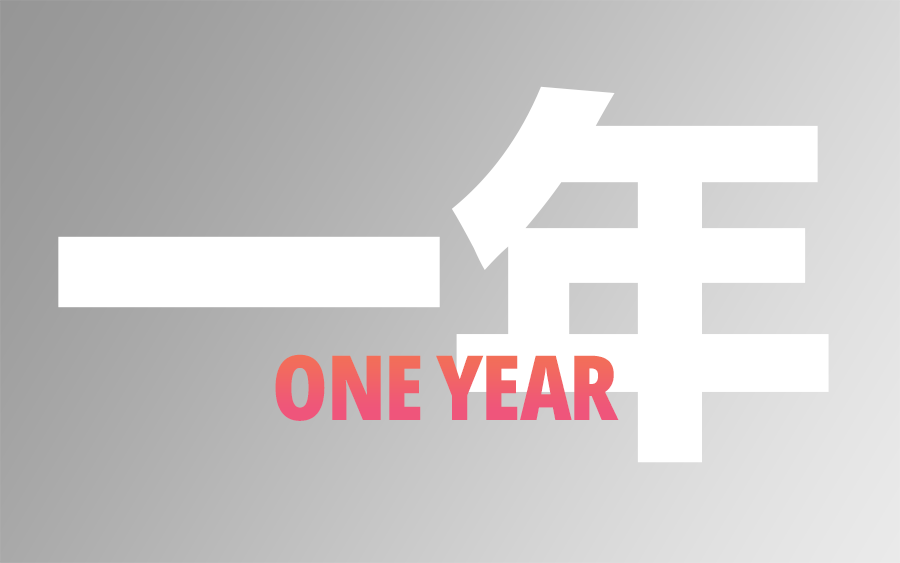 Wow, you're super determined. If you keep this up, you may reach fluency in Mandarin Chinese. But you'll need a lot of dedication to make it happen. But if you have the time, energy & dedication, go for it!
Background knowledge on how long it takes to learn Chinese
"I want to learn the Chinese language and be fluent in a year, do you think it's possible?"
It's a hopeful question that we often get from beginning Mandarin students. And because the last thing we want to do is dampen someone's enthusiasm, we say yes, of course, it's possible to reach fluency in the Chinese language, and learning how to speak basic Mandarin may not be as hard as you think. But we'll quickly add it's only possible with the right methods and great persistence.
Managing a student's learning expectations is an important part of long-term learning, so it's good to be down to earth and prepared with the ups and downs that come along that realize the immensity of the task.
How long does learning Mandarin Chinese really takes
If you're an English speaker, the first thing that can help you set practical goals is the FSI scale, the foreign language proficiency guidelines used by the Foreign Service Institute, a training institution for U.S. foreign affairs staff.
They divide language proficiency into five levels:
Language level 1 – Elementary level
The person can fulfill basic courtesy requirements and ask for basic things during traveling.
Language level 2 – Limited working proficiency
The speaker can fulfill basic social conversations and basic working conversations.
Language level 3 – Minimal professional proficiency
The person freely speaks full sentences and can participate in most conversations about practical, social and professional topics.
Language level 4 – Full professional proficiency
The person uses language fluently and accurately on all topics.
Language level 5 – Native or bilingual proficiency
The person has a speaking ability equivalent or above that of an educated native speaker.
They also have difficulty rankings for foreign languages, seen from the point of an English native-speaker:
Group 1 – Closely related to English
Languages like French, Italian, Spanish, Portuguese, Dutch, and Scandinavian languages like Norwegian, Swedish and Danish
Group 2 – Languages similar to English
German
Group 3 – Languages with linguistic/cultural differences from English
Indonesian, Malaysian, Swahili
Group 4 – Languages with significant linguistic and/or cultural differences from English
A long list of languages like Greek, Turkish, Urdu, Hindi, Nepali, Thai, Vietnamese, and a lot of Russian-related languages like Ukrainian, Bulgarian, Croatian, Polish and Czech
Group 5 – Languages which are exceptionally difficult for native English speakers
Arabic, Chinese (Cantonese & Mandarin), Japanese, and Korean
The two charts below indicate how long it normally takes for learners to reach different FSI levels for two different language groups. The three different lines on the charts represent learners with different aptitudes.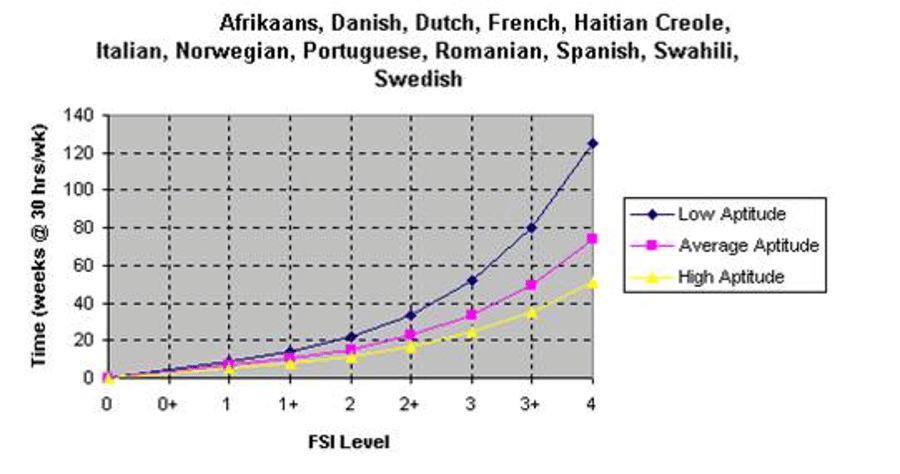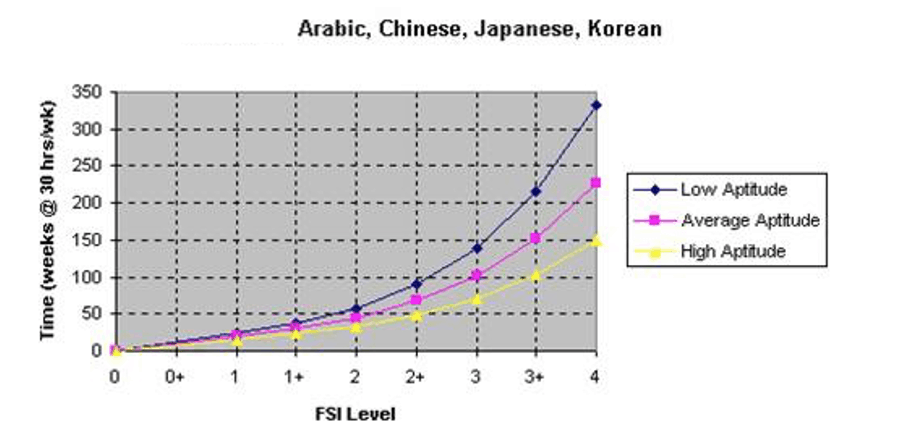 It takes a learner with average aptitude only 15 weeks to reach level 2 for Spanish or French, but about 50 weeks to reach a similar level of the Chinese language. If you want to be fully fluent in Mandarin, you'd better plan to spend about 230 weeks, which is about 4 years.
There's also this (partial) world map by Redditor u/Fummy, that gives a more geographical view of language differences (& distances):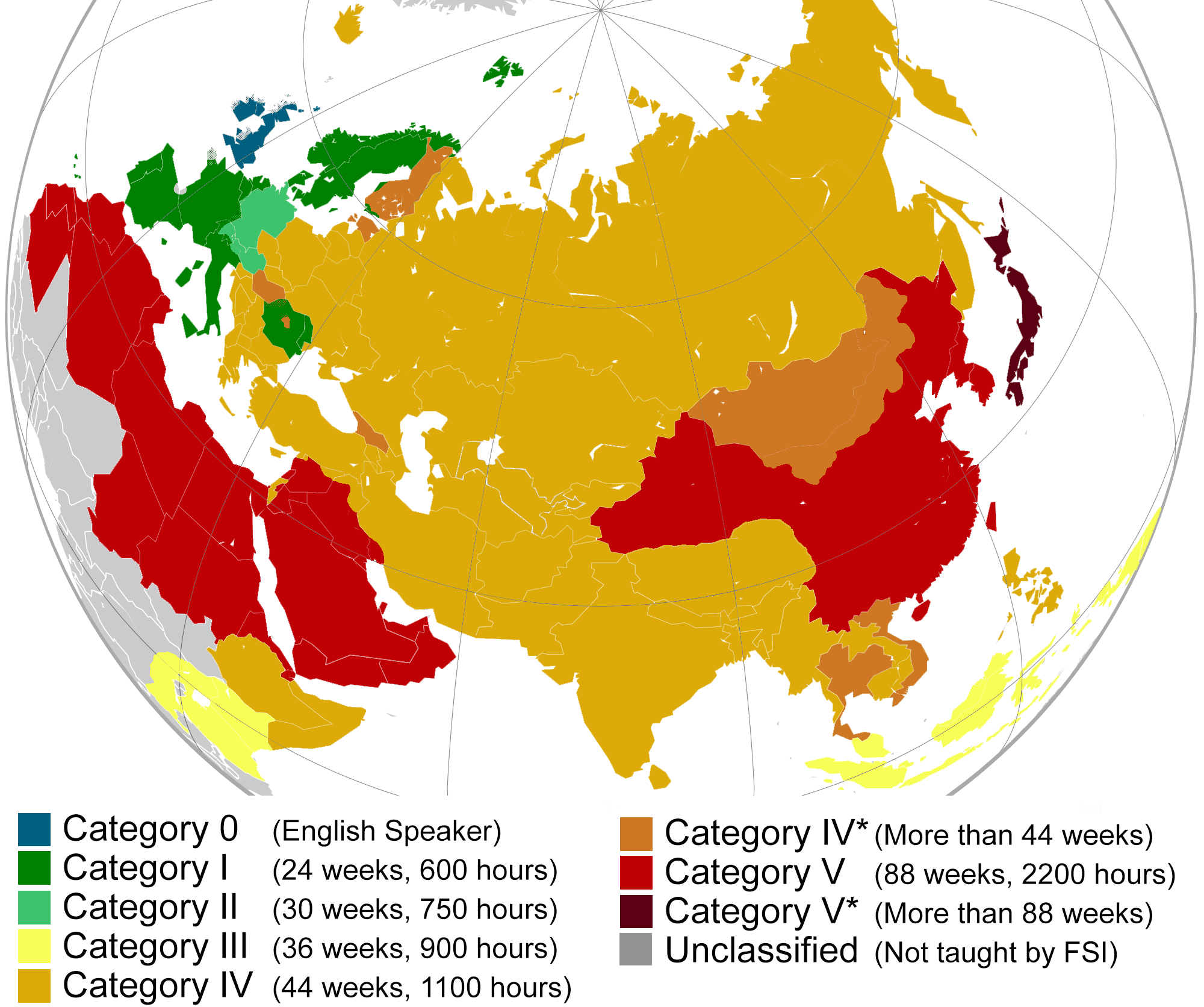 Chinese language in HSK levels
Another way to get your head around the difficulty of Mandarin is to look into the guidelines of (汉语水平考试 Hànyǔ Shuǐpíng Kǎoshì, translated as the Chinese Proficiency Test) – China's only standardized test of Standard Chinese language proficiency for non-native speakers.
HSK divides the Chinese language proficiency into five levels and focuses more on listening, reading and writing:
Level
 
Description
Suggested learning Duration
1
Beginner
Understand and use some simple Chinese characters and sentences to communicate
2 to 3 lessons per week, for one semester
2
use Chinese in a simple and direct manner
2 to 3 lessons per week, for two semesters
3
Intermediate
use Chinese to serve the demands of their personal lives, studies and work
2 to 3 lessons per week, for three semesters
4
can discuss a relatively wide range of topics in Chinese
2 to 3 lessons per week, for four semesters
5
Advanced
Can read Chinese newspapers and magazines, watch Chinese films
2 to 3 lessons per week, for more than 2 years
6
Can easily understand any information communicated in Chinese
So according to the HSK levels, 'more than two years' will be the duration you should give to yourself to reach a good fluency – if you take 2 to 3 lessons per week.
Chinese language levels at GoEast Mandarin
At GoEast, our courses are designated as 6 levels with 10 courses. And it takes 45 hours or so to finish a level on average. If you want to reach fluency as soon as possible, we recommend you do 2-3 lessons weekly in persistence, and at least set your goal to finish both beginner and elementary (4 levels) courses so that you can reach a conversational level and also not lose it easily.
If you target fluency, we propose 300 hours of lessons to first reach an intermediate level and at the same time, you'll need to spend the same amount of time outside class to review and practice.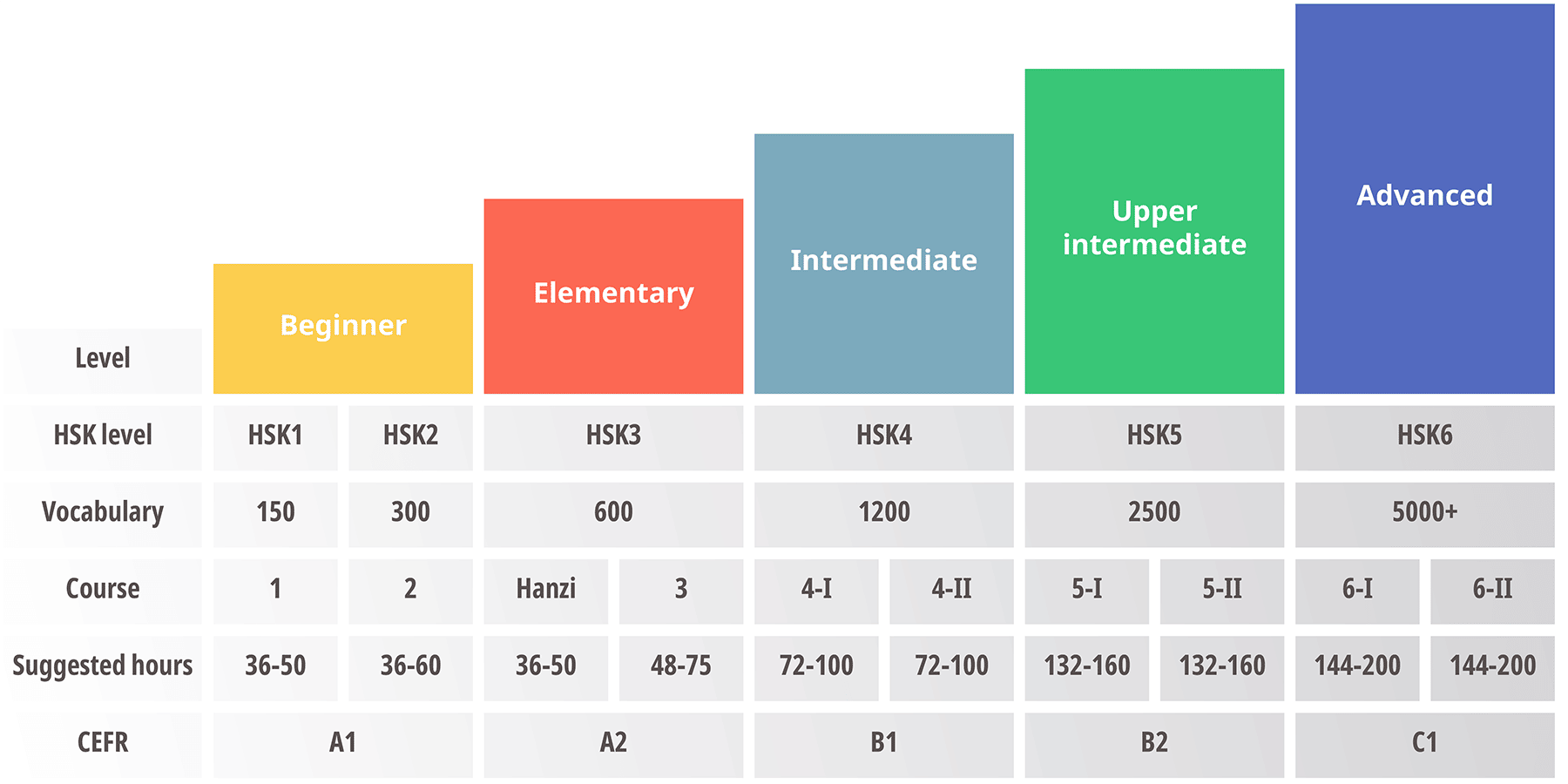 It is definitely not easy to learn a brand-new language when you are already a grown-up, but we believe persistence, cheerfulness and good instruction bring you victory.
好好学习,加油!