Teachers, friends & adventures await
We teach Mandarin to kids through stories and activities, including characters, grammar & speaking.
For kids aged 3 to 12 years old
All language levels
Learning by doing & play
All online, all timezones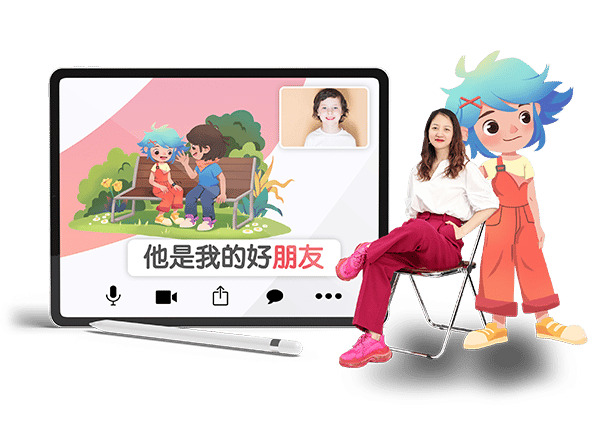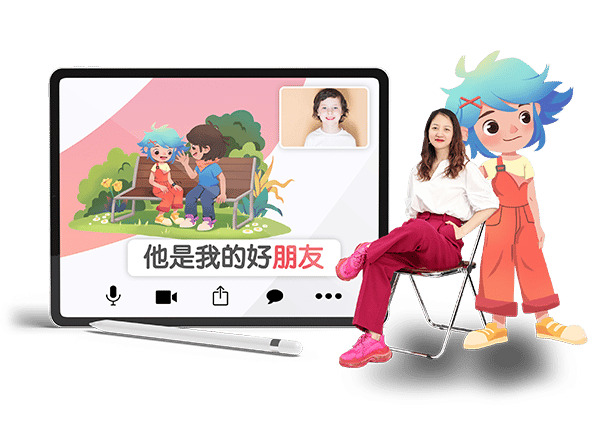 Teachers, friends & adventures await
We teach Mandarin to kids through stories and activities, including characters, grammar & speaking.
For kids aged 3 to 12 years old
All language levels
Learning by doing & play
All online, all timezones
A speaking environment to fall in love with the Mandarin language
Beautifully illustrated materials
Our learning materials are turned into a story about Mika & Xiao Tian, sparking the interest of young Chinese learners.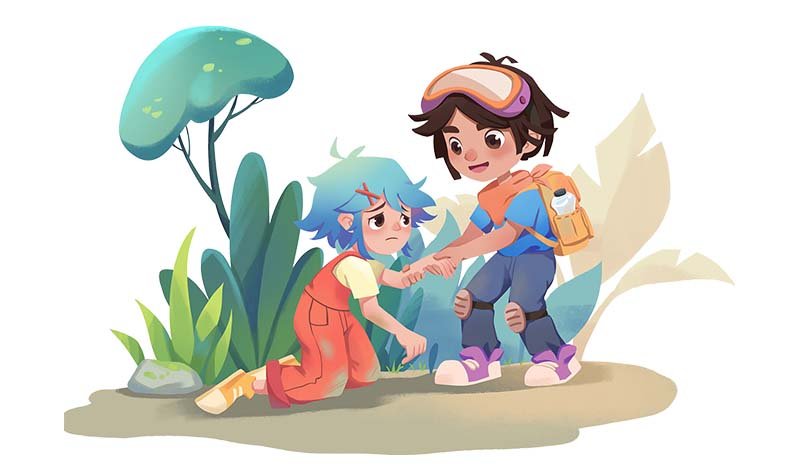 Live classes with a teacher
In classes, a certified children teacher will help review learned content and give your child the opportunity to speak, and check his or her pronunciation.
Click here for demo class. 
Live classes with a teacher
In classes, a certified children teacher will help review learned content and give your child the opportunity to speak, and check his or her pronunciation.
Click here for demo class. 
Education through personal interaction
Our teachers will get your child to speak, solve quizzes or games, and answer questions about her or his life or preferences.
We add more focus on speaking and listening, or put more focus on reading and writing (e.g. If your child already has a Chinese-speaking environment at home). Plus we supply after-class worksheets and printables.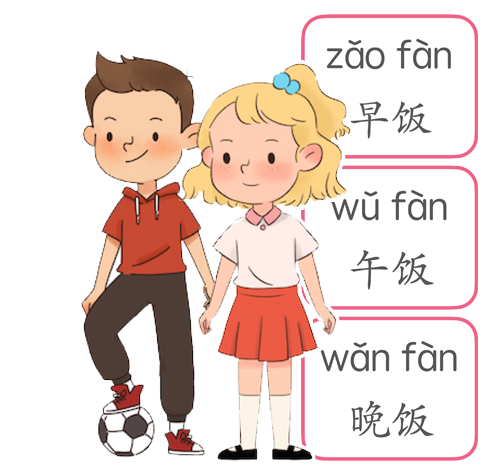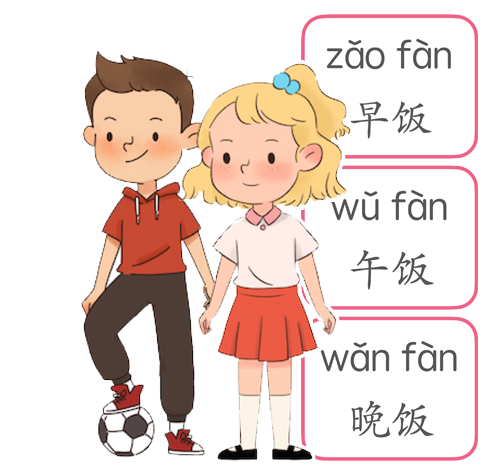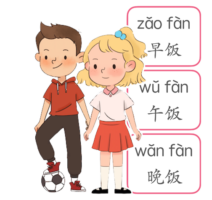 Custom Classes for Little Learners 
Goeast Mandarin offer specialized classes tailored to different age groups, with our Fun Chinese classes perfect for ages 3-6 and our Fantasy Chinese classes ideal for ages 6-12.
Fun Chinese
– 3~6 year-old kids
– Pre – YCT (Youth Chinese Test)
– 25min per class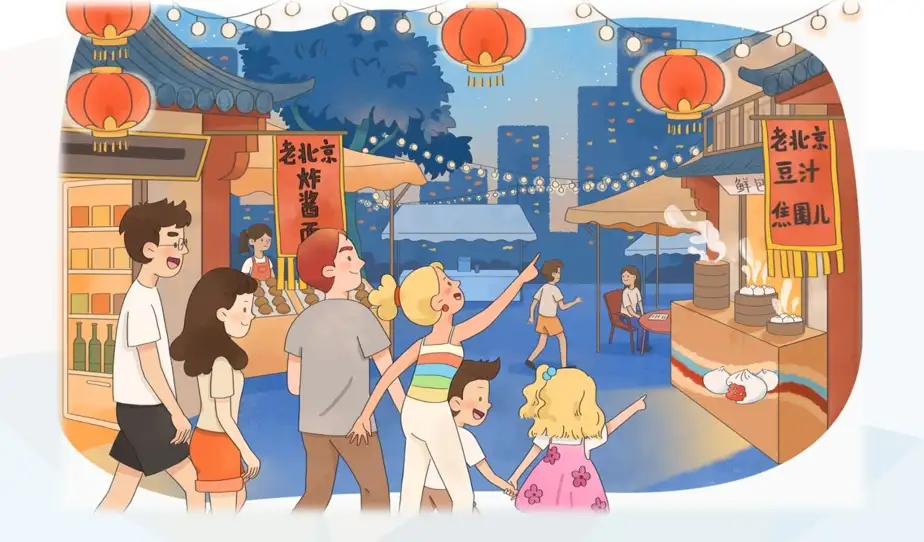 What's inside the lessons?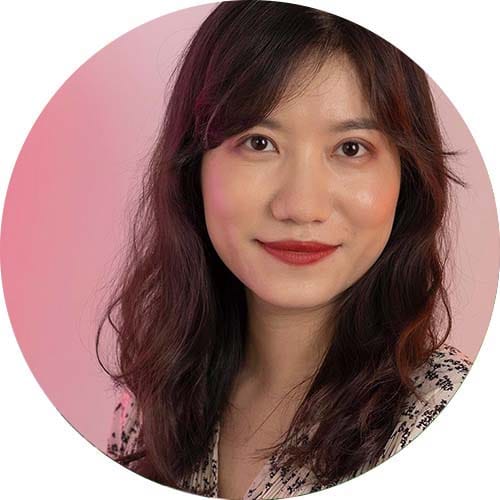 Liz Zhao (赵灵)
Liz Zhao holds a master degree in Education in Teaching Chinese as a Foreign Language from Yunnan University. Before she joined GoEast, she taught Chinese for one year in Myanmar and also had trained students from different backgrounds with private lessons. Her teaching style if fun and relaxing with a good structure.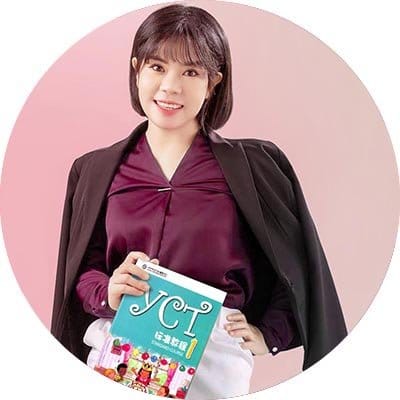 Jenny Huang (黄淑珍)
Jenny graduated from Tianjin Normal University with a bachelor degree in advertising, and another degree in Chinese Education. She has started teaching Chinese, especially for kids. since the beginning of 2017. She is passionate about her career. She is extremely patient with children and has been teaching children from 6 to 16 years old of different levels from different countries.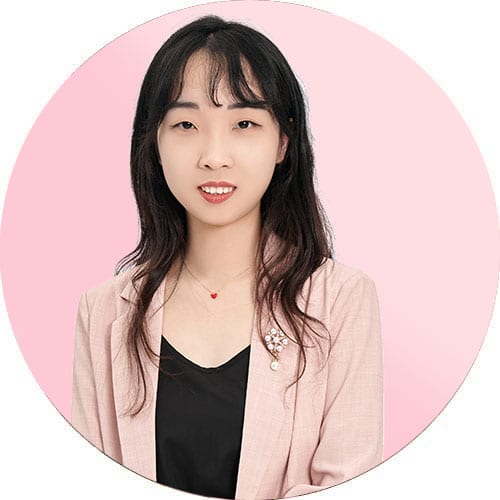 Sophia Sun (孙鹏)
Sophia Sun graduated from Tianjin University of Technology and Education with a Bachelor's Degree in Teaching Chinese to speakers of other languages. She has taught adults and children and she has more than 3000 hours of teaching experience.She can analyze the most effective teaching method according to the students' needs and preferences using the most effective ways to enhance the students' learning experience.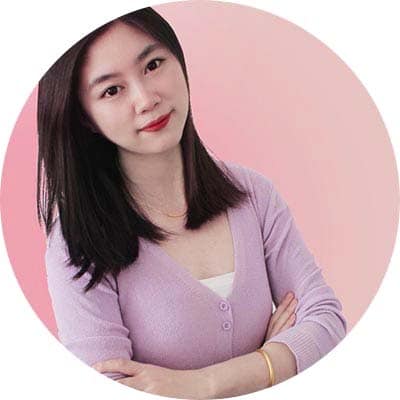 Karen Shi (时晓明)
Karen graduated from Dalian University with a Bachelor's Degree in Chinese Language and Literature. She started teaching Chinese in 2011. She has been to the Philippines and Seychelles as a Chinese teacher. She is very patient, you will learn a lot of interesting Chinese in her class.
Trusted by parents & institutions around the world

What I liked about classes is that they cleverly incorporated some movement activities to engage Kieran as he can be very fidgety and needs to shake off his excess energy; he had fun demonstrating the actions). The class focuses on making Chinese more conversational through stories and engaging activities (games, puzzles, dramatisation etc). What struck me most is really the personalisation of the lesson; it felt very much like a cosy Chinese lesson with a Chinese teacher over Zoom, and for parts when Kieran wasn't so warmed up yet, Jenny 老师 could adapt her activities on the spot rather than strictly following a one-size-fits-all syllabus.

The verdict from my second daughter was that this class is the best of ALL the classes she has ever done (and we've tried a lot over the years). She had an instant connection with Teacher Jenny, and my daughter was very joyful about doing these classes, even twice each weekend!

I've been studying at GoEast for over 2 years now and during this time I have tried ad hoc classes at other schools and they have never once come close to the quality of a GoEast class. When I first started learning at GoEast, I had already passed HSK3. After my assessment, GoEast told me that I should repeat the HSK3 course because my speaking was not up to standard. At the time, I was really angsty about this decision but I honestly think that was one of the best decisions for my Chinese learning progress. GoEast will be honest with you and is really the ideal school for anyone serious about learning Chinese.

My teacher is INCREDIBLE. I also love the program's self study tools and set up. It's super helpful for the student that is ambitious and wants to learn Chinese at their pace! I do wish there was more speaking opportunities–but my teacher is incredible and I enjoy every session with her and learn LITERALLY so much.

I have tried other schools and GoEast is the best. I love the structured nature of the courses. The instructors have proper teaching credentials from universities which means they have formal training in teaching languages. I also love the flexibility of the private courses. After gaining the fundamentals in HSK1/2/3 at GoEast, I worked with my course consultant to create a private course tailored to my needs and goals. I can't say enough good things about my experience at GoEast.

I have been studying with GoEast on and off for 3 years (my schedule sometimes necessitates breaks) and without fail, every teacher has been extremely professional and knowledgeable. That being said, my current teacher, Jaxon, is exemplary. Not only one of my best Chinese teachers, but one of the best teachers that I have encountered, and I am 55, with a masters degree. His knowledge, patience, and the dedication to tailor each lesson to student needs is beyond rare. In fact, were it not for HIS commitment, I might have given up.

Great course, lots of resources available, and my teacher is super helpful and good at explaining all the answers to my questions. I really enjoy the lessons and it's made me more interested in learning Chinese.

When I started at GoEast, I was afraid to open my mouth. But in just a few months, I've became much more confident in expressing myself, to the point where sometimes I can't even believe how the words seem to flow out of my mouth by themselves. I sometimes even feel like I can't shut up! I never thought I'd feel that way about speaking Chinese. If you're looking for a Chinese language school, I'd recommend GoEast in a heartbeat.

Since one year I study already with GoEast. I started as a total beginner and I'm about to finish HSK3 now. For me the system they are using is very convenient to make simple and quick very good progress. I'm looking forward to completing HSK4 in 2022 with as much fun as in 2021.

I came across Go East Mandarin School when in Shanghai. It was the most beautiful part of my trip. I started learning Chinese and now I am still studying with them from Italy thanks to online classes. I believe it is the best school you can find. It is not only a school, it is a family.

I have been studying with GoEast for three months, and have just renewed for another year as it has been such a good experience. I have lived in China for many years, am currently studying HSK 5, and signed up for lessons with a goal of improving the complexity of my Chinese speaking and grammar patterns. My teacher (Andie) is always well prepared and patiently answers all my questions in detail. I have been really pleased with the convenience of the online platform and the quality of Andie's teaching. In comparison with other studying methods that I've used in the past, I've found that GoEast provides good value for money, and the twice-weekly online classes give me the structure that I need to move through the material.

GoEast showed me it is really possible to get to know the reading mandarin which is so essential to get deeper knowledge about the Chinese culture from a not only occidental approach. I am very happy with my progress and do recommend for those who like me want to get success in this challenging experience !
Leave your info for a free learning plan
Receive a detailed and tailored plan for your child without obligations. 
Fill in the form on the left or click here to contact Maria (8617701810086) on WhatsApp.
Services in English only.
About GoEast Mandarin
GoEast Mandarin has been offering online Mandarin lessons to thousands of adults since 2012 and offering Chinese language lessons for kids since 2014. We're a Mandarin school in Shanghai and online, with a great reputation among teachers & students.
In our Chinese courses for children, we focus less on grammar (compared to adult classes) but lead your child through conversations, games, puzzles, and activities, developing an intuitive feeling for the Mandarin language, so kids can become conversational and learn Chinese online.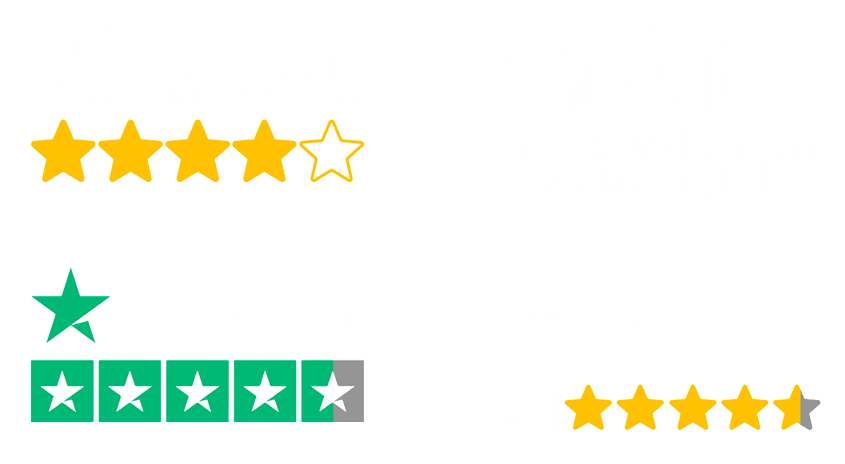 Total beginner level 1
Here we introduce the Pinyin and the most basic words and characters to your child: How to say her or his name, family members and their age. And the time, animal also included.
Total beginner level 2
Here we build on basic Chinese words and phrases (characters included). Here your child can talk about transportations, occupation, daliy life, weather and shopping.
Beginner (3 & 4)
At a beginner level (comparable to YCT3), children can speak more in detail about school life, like the school they go to, which classes she or he likes at school, the city they live in, and their friends. They can start to have a real conversation in Chinese, albeit at a beginner level.
Elementary (5 & 6)
At the elementary level, children can have a full conversation albeit many words are still out of their vocabulary. But in essence, they can talk about habits, their personalities, and the social life, like health, science and technology, and environment
Intermediate (7 & 8)
An intermediate level simply adds more detail to the whole elementary level, whether it's about the weather or their hobbies. Children will have much more confidence holding a conversation from start to end, and have no problem keeping the conversation going. In addition, children can read and understand a simple story.
Upper intermediate (9 & 10)
More and more abstract terms are introduced. Children can compare different cultures and which kind of TV shows, or which kind of holiday. And why? Your child will be able to answer in high detail, describing physical aspects of a topic as well emotional aspects. In addition, children can read and understand the story, like Chinese idioms story.
At this language level (seen from a language perspective only), your child could theoretically study or work in China.
Advanced (11 &12)
Here your child can basically converse at a native level. While specific topics are unknown (we are giving an example: aviation terms), your child is free to express herself or himself in any topic or opinion freely, whether abstract or very concrete. In addition, children can read and understand the article, like Chinese culture story, Daily News, and so on.
If your kid is under 8 years and it's her or his first time taking lessons online, we would suggest you to be next to here for the first 2-3 lessons. After that, in our experience, most childs will be fine on their own!

Besides live lessons, we will suggest textbooks and other video resources based on your child's level. After classes, we'll also hand out assignments (often games such as crosswords or dubbing for movies).

In that case, please contact our language consultant and we will provide another teacher. Yet in our eight years of teaching, it has never happened that a child wanted to change his or her teacher!

Prices per session range from 120RMB to 240RMB, depending on the packages you choose. Session lengths are 25 minutes for children aged kindergarten & primary school students, and 50 minutes for high school students.

Simply fill in the form on this page and our language consultant will contact you as soon as possible.

We expect this to be a team work between GoEast and parents.

We will send you an online link where you can get the paper version of the textbooks (e.g. from Amazon) and we will email you some digital resources as well.

We found out the convenient way for parents to stay informed of the kid's progress is actually by weekly emails; we can also provide an account on our learning platform if the parent would like it.

Yes, they can. We also can do private group lessons, but only if their levels are roughly similar.