Reviews from Chinese language learners
Our students rate us 5 out of 5 with an NPS of +84. Over 90% of our students renew their lesson package with us.
Listed in 'The best Chinese language classes in Shanghai' by Time Out Shanghai
Awarded 'Innovative Enterprise for Youth' by Shanghai Entrepreneurship Foundation
Awarded 'Outstanding Culture and Communication Company' by the Shanghai Government
More quotes from our Chinese language students
Reviews from GoEast Mandarin's immersion courses
Samuel from Canada:
"I spent 5 weeks at GoEast doing an intensive course. I had learned HSK2 at a slow pace, but within the first week of the immersion course, I went from badly structured sentences in pinyin, to being able to read and write paragraphs in characters. By the third week, I had gone from basic replies to questions to full conversations. By the end of 5 weeks, when I finished my HSK 3, I was able to recognize and identify hundreds of characters. It was a very busy 5 weeks getting all of the classes and homework done, but it was worth every minute that I put into it."
Rebecca from Italy:
"I studied Chinese up to HSK3 back in high school, but when I moved to China I felt I had forgotten everything. GoEast suggested an intensive HSK2 course. I would have never expected to regain my Mandarin so fast and so easily. The course was well structured and very interactive. I was constantly speaking Chinese, and reading and writing some characters. I completed the level in just two weeks and I was already able to express some thought after it. GoEast is like a family, that will take you in and help you through entering China and learning about Chinese beautiful culture and extremely difficult language. I stayed at GoEast and switched to a 1-on-1 course to best fit my busy schedule. I completed HSK3 in one month and HSK4上 in a month and a half. I deeply suggest joining this school if you want fast and excellent results. The teachers are extremely prepared and always ready to help with any issue you may face."
How do we teach Chinese language
Our team is passionate about sharing Chinese language and culture with students all over the world. Every instructor has a university degree in Chinese a linguistics related major, is a native speaker, and is fluent in at least one foreign language.
In addition to teaching, our team works together to help our language center grow with each instructor having a management role. Above all, our instructors are dedicated to helping you achieve your learning goals through fun, effective, and customized lessons.
Other GoEast-promises:
Highly versatile. Group class, private classes, self-learning, remote. GoEast adapts to your time, location and learning pace
Modern curriculum. This includes business Chinese, conversational Chinese, cultural courses, HSK preparation.
A community. We have an active WeChat group and areas in campuses to hang out, and several weekly events to learn about Chinese culture and meet people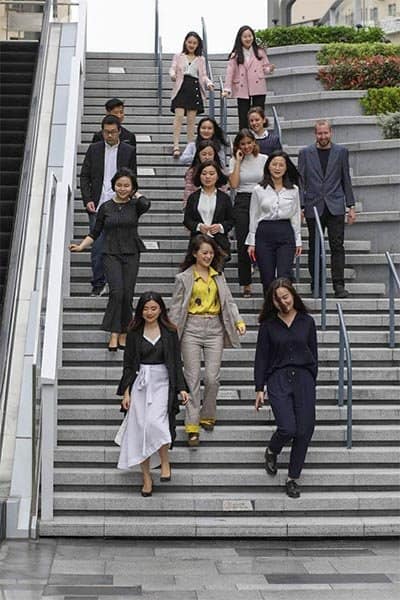 Questions about learning Chinese?
Fill in the form to let a language consultant contact you, or send us a message on WeChat