Chinese language courses
At GoEast Mandarin we offer our students a great variety of choices, from HSK courses to Spoken and Business Chinese. Each course is thoroughly developed with supplementary PPT's, flashcards, exercises and grammar examples.
Variety of Chinese courses








Course journey
The HSK1 to HSK4 courses are perfect to get you conversational. From there on, HSK5 and HSK6 move more into literature Chinese, while Business Chinese prepares you for working in China, and Spoken Chinese helps you get more fluent in daily conversations.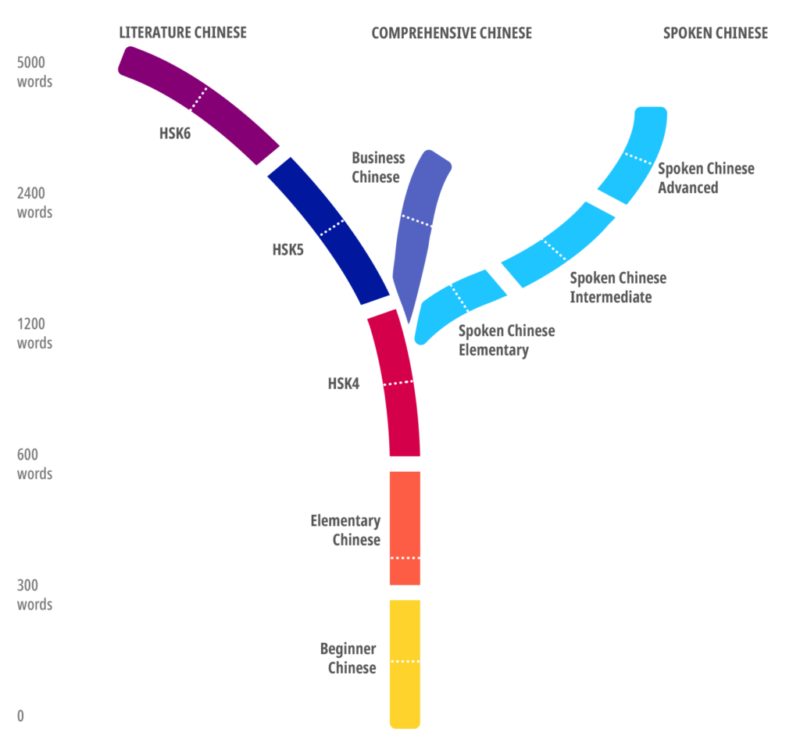 When to continue with the HSK books instead
All these three options progress your Mandarin, but in different ways.
When to choose Business Chinese courses
When to choose Spoken Language courses
Reviews for GoEast Mandarin
+10.000 satisfied Chinese language students and counting. Read all reviews on Trustpilot.

I've been studying at GoEast for over 2 years now and during this time I have tried ad hoc classes at other schools and they have never once come close to the quality of a GoEast class. When I first started learning at GoEast, I had already passed HSK3. After my assessment, GoEast told me that I should repeat the HSK3 course because my speaking was not up to standard. At the time, I was really angsty about this decision but I honestly think that was one of the best decisions for my Chinese learning progress. GoEast will be honest with you and is really the ideal school for anyone serious about learning Chinese.

My teacher is INCREDIBLE. I also love the program's self study tools and set up. It's super helpful for the student that is ambitious and wants to learn Chinese at their pace! I do wish there was more speaking opportunities–but my teacher is incredible and I enjoy every session with her and learn LITERALLY so much.

I have tried other schools and GoEast is the best. I love the structured nature of the courses. The instructors have proper teaching credentials from universities which means they have formal training in teaching languages. I also love the flexibility of the private courses. After gaining the fundamentals in HSK1/2/3 at GoEast, I worked with my course consultant to create a private course tailored to my needs and goals. I can't say enough good things about my experience at GoEast.

I have been studying with GoEast on and off for 3 years (my schedule sometimes necessitates breaks) and without fail, every teacher has been extremely professional and knowledgeable. That being said, my current teacher, Jaxon, is exemplary. Not only one of my best Chinese teachers, but one of the best teachers that I have encountered, and I am 55, with a masters degree. His knowledge, patience, and the dedication to tailor each lesson to student needs is beyond rare. In fact, were it not for HIS commitment, I might have given up.

Great course, lots of resources available, and my teacher is super helpful and good at explaining all the answers to my questions. I really enjoy the lessons and it's made me more interested in learning Chinese.

The verdict from my second daughter was that this class is the best of ALL the classes she has ever done (and we've tried a lot over the years). She had an instant connection with Teacher Jenny, and my daughter was very joyful about doing these classes, even twice each weekend!

When I started at GoEast, I was afraid to open my mouth. But in just a few months, I've became much more confident in expressing myself, to the point where sometimes I can't even believe how the words seem to flow out of my mouth by themselves. I sometimes even feel like I can't shut up! I never thought I'd feel that way about speaking Chinese. If you're looking for a Chinese language school, I'd recommend GoEast in a heartbeat.

Since one year I study already with GoEast. I started as a total beginner and I'm about to finish HSK3 now. For me the system they are using is very convenient to make simple and quick very good progress. I'm looking forward to completing HSK4 in 2022 with as much fun as in 2021.

I came across Go East Mandarin School when in Shanghai. It was the most beautiful part of my trip. I started learning Chinese and now I am still studying with them from Italy thanks to online classes. I believe it is the best school you can find. It is not only a school, it is a family.

I have been studying with GoEast for three months, and have just renewed for another year as it has been such a good experience. I have lived in China for many years, am currently studying HSK 5, and signed up for lessons with a goal of improving the complexity of my Chinese speaking and grammar patterns. My teacher (Andie) is always well prepared and patiently answers all my questions in detail. I have been really pleased with the convenience of the online platform and the quality of Andie's teaching. In comparison with other studying methods that I've used in the past, I've found that GoEast provides good value for money, and the twice-weekly online classes give me the structure that I need to move through the material.

GoEast showed me it is really possible to get to know the reading mandarin which is so essential to get deeper knowledge about the Chinese culture from a not only occidental approach. I am very happy with my progress and do recommend for those who like me want to get success in this challenging experience !
Get started with your Chinese course
Questions about learning Mandarin Chinese? Fill in the form to have a language consultant contact you soon, or email us at coursecenter@goeast.cn
Services in English only.