A common question about the 'Chinese alphabet' we get from students is: "I heard Chinese is a box-like 'character language', does it have an alphabet?"
And yes, opposite to the English language, the Chinese language is an ideographic language. However, Chinese people have always been working on different methods to show how the characters are pronounced. The system we are using now is called "Hanyu Pinyin", or just Pinyin, which consists of Roman letters, therefore, these letters are what people referred to as the Chinese alphabet. Pinyin was created in the 1950s in mainland China and is widely adopted internationally since 1982.
"How does Pinyin or the Chinese alphabet work?"
In 1950s, the group of linguistics who created the Hanyu Pinyin system (汉语拼音), wanted to choose one set of coding/decoding system to show the real pronunciations of all Chinese characters, so the illiterate Chinese people and foreigners can learn this language more easily. In the end, they found that many sounds of Roman letters are fairly close approximations of Mandarin, with exception of some cases.
Based on this idea, rather than letter by letter, one Chinese Hanzi character has a corresponding set of roman letters (which is called Pinyin syllable) to indicate its sound. When someone is learning Chinese, at the very beginning, words are shown just in Pinyin, and later, when one is learning characters, the Pinyin syllable will be marked above the character to help you to memorize the character.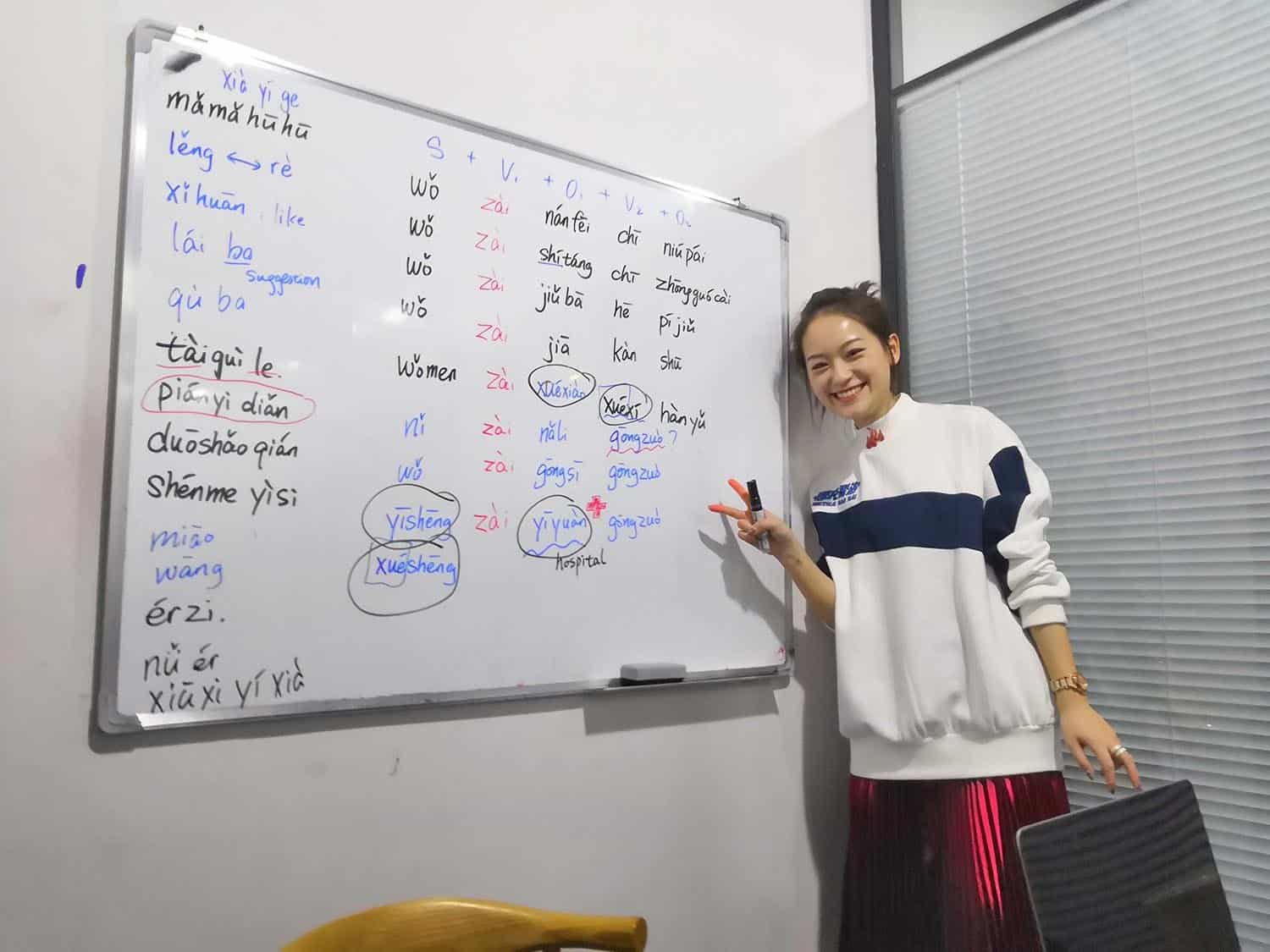 A meaningful set of roman letters for a character (or one Pinyin syllable ) contains the following three parts:
Initial, which usually is a consonant from roman letters. There are in total 23 initials
Final, which is the following part after the initial, and it contains at least one vowel
Tone, the little symbol above. There are in total four tones in the Chinese language
An example of a Chinese character and the corresponding Chinese character: zhōng 中
The complete 23 initials for Chinese alphabet (Pinyin):

The complete 24 finals for Chinese alphabet (Pinyin):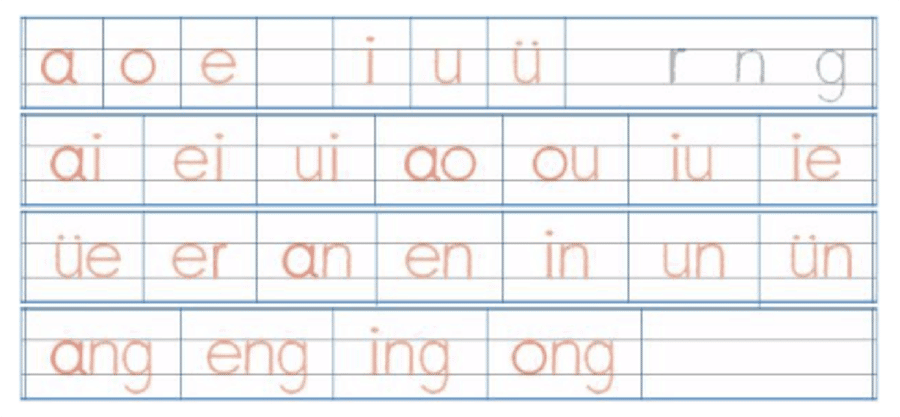 The 4 tones for Chinese alphabet (Pinyin):

How to learn Pinyin and the Chinese alphabet:
First, you shall get familiar with the sounds of all the initials, finals and tones found in the Chinese alphabet, then you learn how to pronounce them together as a complete sound. Here are some tricks for you to learn the sounds of Pinyin fast:
Pronunciation of the 23 initials:
Most of these 23 you can find English equivalences, here they are:
| Chinese alphabet – initials | How to pronounce them |
| --- | --- |
| b | like spa |
| p | like poor |
| m | like mum |
| f | like fur |
| d | like stop |
| t | like together |
| n | like nit |
| l | like love |
| g | like skirt |
| k | like cake |
| h | like hat |
| j | No equivalent in English, but similar to an unaspirated "-chy-" sound when said quickly |
| q | No equivalent in English. Like punch yourself, with the lips spread wide as when one says ee |
| x | No equivalent in English. Like sh y, with the lips spread |
| z | similar to something between birds but voiceless |
| c | similar to ts in cats, but strongly aspirated, very similar to the Czech, Polish, and Slovakian c. |
| s | like snake |
| zh | similar to hatching but retroflex |
| ch | similar to church but retroflex |
| sh | similar to shoe but retroflex |
| r | no equivalent in English, but similar to the r in right |
| y | like water |
| w | like yes |
Pronunciation of the finals in the Chinese alphabet:
The most important are the basic 8 components first: They are very similar to the English ones. The rest of the finals are just combinations of these 8, and when you pronounce them, just remember the trick: you slide quickly from one sound to another.
Chinese alphabet – finals
How to pronounce them
a
like father
o
like office
e
similar to duh, like the sound one makes when he/she gets punched on the stomach
i
like bee
u
like loose
ü
as in German über or French lune
-n *
They are not real finals, but used as components of finals, similar to English, which -ng has a stronger sound for your nose
-ng *
The four tones of Pinyin
Chinese is a tonal language, which means different tones, like music, will change the meaning of the word. We have four tones in the Chinese language. When you apply it to the same set of alphabets, you can get different meanings, for example:
māo: cat
máo: hair
mao: rivet
mào: hat
Here are the tricks for you to master tones:
| | |
| --- | --- |
| First tone | The pitch is high and flat, like the pitch you will use in "en" when you are thinking something hard |
| Second tone | The pitch is rising, like the pitch you use in "en" when you are confused and asking a question |
| Third tone | The pitch goes down first and then up, like the pitch you will use in "en" when you are trying to tease someone |
| Fourth tone | The pitch is falling, like the pitch you will use in "en" you are being certain and confirm it is ok |
Finally, you just need to practice how to combine these ones together fluently, try some of these syllables below:
shànghǎi,shāfā,wǒ ài nǐ
How are the Chinese alphabet and Pinyin used?
Now we understand that "Pinyin" is not real Chinese, nor the real alphabet, we understand that it's used to show the pronunciations of Chinese characters. So if you write in Pinyin to Chinese people, they probably won't understand what you mean. However, Pinyin is extremely important in modern life in China, mainly in the following aspects:
To indicate the pronunciations for Chinese characters so all nation-wide can understand these characters. In 1949, 80% of the population was still illiterate. So to have Pinyin marked over Chinese characters on the signs, newspapers, etc would help lots of people to understand.
To assist in teaching Mandarin. Pinyin is widely adopted in primary schools and other adult education textbooks, making it easier for children or formerly illiterate people to continue with self-study after a short period of Pinyin literacy instruction. In addition, Pinyin has become a tool for foreigners to learn Mandarin pronunciation.
Used for the sorting of dictionaries and dictionaries, and the indexing of books and scholarly works.
The spelling of Chinese geographical or personal names in Pinyin has become the most common way to transcribe them in English.
Pinyin has also become the dominant method for entering Chinese text into computers, phones, and other digital products.
Therefore, nowadays it's not a huge deal if you can not write Chinese characters stroke by stroke yet, as long as you know the right Pinyin and the overall of the character, because you can type and choose the right one out of the bunch that the computer/cellphone input system provides.
To learn more about Pinyin or to get started with your Mandarin learning, check out these pronunciation videos by GoEast Mandarin.
Pinyin pronunciation video
Here's Lynn taking you through the finals and initials of the Chinese language in Pinyin, as well as tones and accents.