Zongzi, often referred to as sticky rice dumplings, is a true delight that encapsulates centuries of culinary tradition. Roll up your sleeves, grab some bamboo leaves, and let's learn How to make Zongzi / Rice Dumpling for Dragon Boat Festival with GoEast.
Why Zongzi for Dragon Boat Festival
Have you ever wondered why zongzi holds a special place during the Dragon Boat Festival?
Legends of Qu Yuan:
The Dragon Boat Festival
pays homage to Qu Yuan, a revered poet and statesman from ancient China. As the legend goes, when Qu Yuan faced political turmoil and exile, he drowned himself in the Miluo River as a form of protest. The locals, deeply saddened by his demise, raced in boats to retrieve his body. To prevent fish from devouring his remains, they threw rice dumplings, known as zongzi, into the river.
Warding Off Evil Spirits:
Beyond the tale of Qu Yuan, zongzi is also believed to ward off evil spirits during the Dragon Boat Festival. The unique pyramid shape and the use of bamboo leaves are said to symbolize protection against malevolent forces. By consuming zongzi, people seek to safeguard themselves and their families from harm.
How to make Zongzi step by step?
Step 1: Gathering the Essentials
To begin your zongzi-making adventure, gather the essential ingredients and prepare ahead:
Sweet rice 糯米(nuò mǐ): 1 kg ( for 14-16 zongzi), rinse and dry it well, add 1/2 tablespoon of oil, 1 teaspoon of salt, 1/2 tablespoon of soy sauce and 1/2 tablespoon of dark soy sauce into it. Let it sit 1 to 2 hours before using it.

Dried Bamboo leaves粽叶(zòng yè): 16-20 pieces, soak them in cold water overnight (12-24hours) to soften them for warapping, clean and dry.

A variety of fillings: Traditional fillings include succulent pork belly 五花肉( wǔ huā ròu), salted egg yolk, mushrooms, and chestnuts. Take the most popular pork belly as an example: get 1 pound of pork belly, cut it into finger length string of 14-16 pieces, add 1 teaspoon of salt, 1 tablespoon of soy sauce, 1/2 tablespoon of dark soy sauce, 1 tablespoon of oyster sauce. Keep it refrigerated for 12-24 hours to get the full flavour.

Handy Twine 线(xiàn): for wrapping and fix in the end.
Step 2: Assembling the Parcels
With your ingredients ready, it's time to assemble your zongzi.
Take a bamboo leaf and form it into a cone-like shape.

Add a scoop of glutinous rice at the base, followed by your desired fillings.

Fill the cone with more rice, ensuring a tightly packed bundle.

Fold the bamboo leaves over the filling and secure with a string.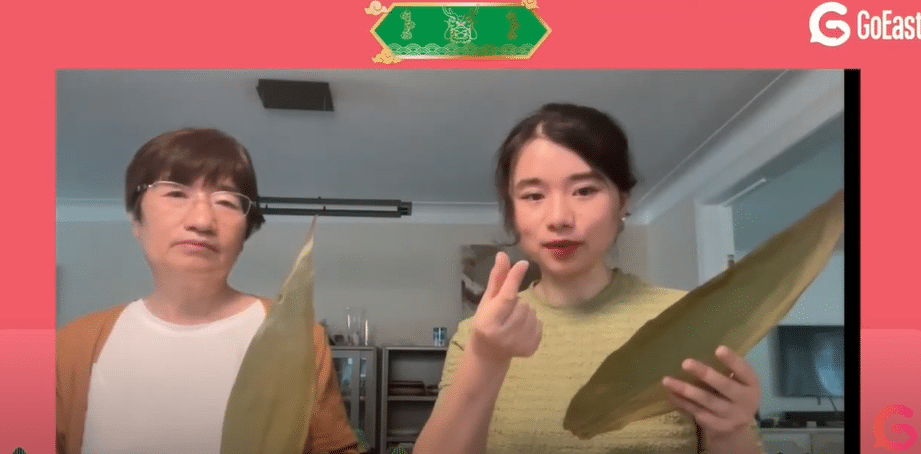 Step 3: Steaming or Boiling
Now, it's time to cook your zongzi to perfection. You have two options: steaming or boiling.
If steaming, arrange the zongzi in a steamer and let them steam for a couple of hours until the rice is tender and infused with the flavors of the fillings.
If boiling, place the zongzi in a large pot of boiling water and let them simmer for a few hours. The aroma that fills your kitchen will undoubtedly awaken your taste buds!
Step 4: Unwrapping the Delicious Rewards
Once your zongzi is cooked, let them cool for a little while. Then, carefully unwrap the bamboo leaves, revealing the treasure within. The sight of the aromatic sticky rice combined with the tantalizing filling will surely make your mouth water in anticipation.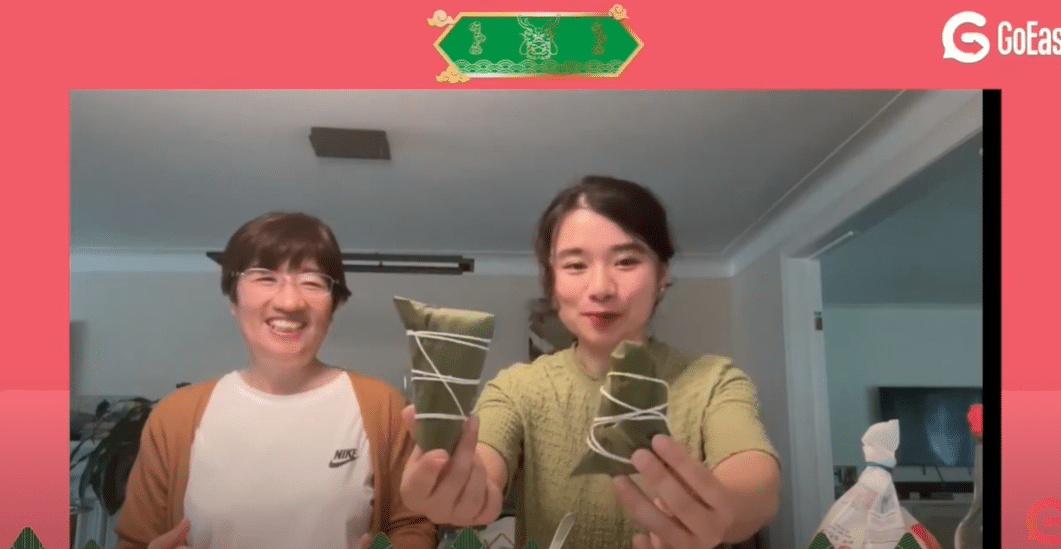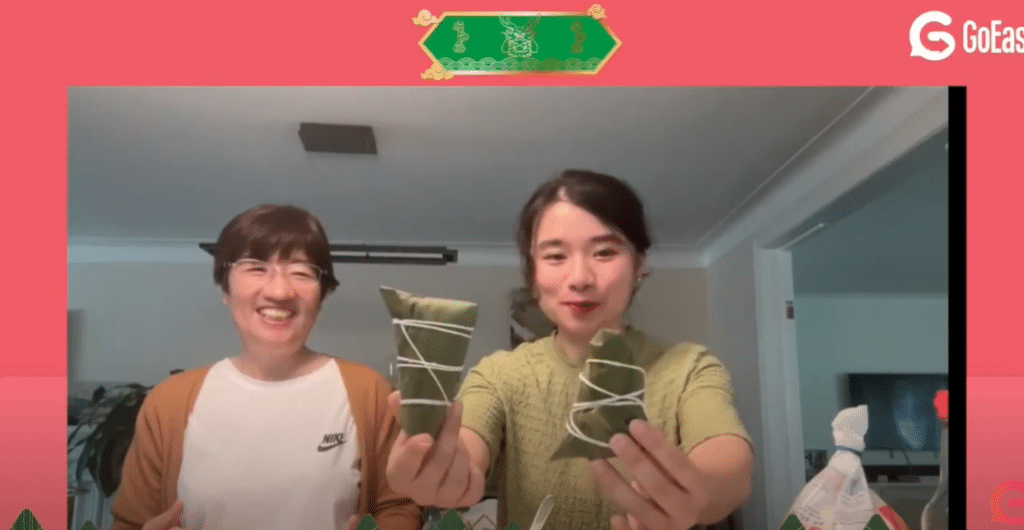 Step 5: Indulge and Share the Joy
Congratulations, you have successfully created your own homemade zongzi! It's time to savor the fruits of your labor. Take a bite and relish the explosion of flavors and textures. Share this traditional delicacy with friends and family, spreading the joy and celebrating the cultural heritage of zongzi.
Tips and Variations on making Zongzi / rice dumplings
Alternative wrapping options
When it comes to wrapping zongzi, while bamboo leaves are the traditional choice, there are indeed alternative options that can add a creative twist to this classic dish.
One popular alternative is lotus leaves, which impart a distinct aroma and flavor to the zongzi. These large, green leaves lend a unique earthy essence and a subtle tea-like fragrance that can elevate the overall experience. Additionally, you can explore using banana leaves, which are widely available in tropical regions.
The smooth, glossy surface of banana leaves not only adds a visually appealing touch to the zongzi but also infuses a subtle floral note into the rice and fillings. The key is to ensure the leaves are clean, pliable, and large enough to securely wrap the zongzi.
 Experimenting with different fillings and flavors
When it comes to zongzi, the fillings and flavors you can explore are as vast as your imagination. While traditional fillings like pork, salted egg yolk, and beans are widely loved, don't hesitate to venture into the realm of creativity and personalize your zongzi with unique combinations.
For meat lovers, you can experiment with different cuts of protein such as chicken, beef, or even seafood options like shrimp or fish. Infuse your fillings with enticing spices, herbs, and seasonings to add depth and complexity to the flavors.
Vegetarians and vegans can explore a myriad of options as well, incorporating ingredients like mushrooms, tofu, or a medley of colorful vegetables. Consider adding aromatic ingredients such as ginger, garlic, or scallions to elevate the overall taste profile.
You can also play with sweet variations by incorporating ingredients like red bean paste, jujubes, or even fresh fruits like mango or pineapple. Remember, zongzi is a canvas for culinary experimentation, so let your taste buds guide you and create zongzi masterpieces that will surprise and delight everyone fortunate enough to savor them.
Storage and reheating instructions
Once you've made a batch of delicious zongzi, you might be wondering about the best way to store and reheat them for future enjoyment. To ensure that your zongzi stay fresh and maintain their flavors, it's essential to store them properly. Firstly, let the zongzi cool down to room temperature. Then, wrap them individually in plastic wrap or place them in an airtight container. Refrigerate the zongzi, and they can stay fresh for up to 3-4 days.
When it's time to enjoy the stored zongzi, there are a few methods you can use to reheat them.
Steaming is the preferred method as it helps retain the moisture and texture of the rice. Simply place the zongzi in a steamer and steam them over medium heat for about 10-15 minutes, or until they are heated through.
Alternatively, you can reheat them in a microwave. Remove the plastic wrap, if any, and place the zongzi on a microwave-safe plate. Heat them on medium power in short intervals, checking and flipping them occasionally to ensure even reheating.
If you have frozen zongzi, it's important to thaw them before reheating. Transfer the frozen zongzi to the refrigerator and let them thaw overnight. Then, follow the aforementioned reheating methods.