Here's a cat (named Nincha) that can fly, tell stories, and teach you Chinese. Ninchanese combines a ton of ways to teach Chinese to kids and teenagers — as well as adults, using animated stories, questions, voice speaking and character drawing.
When you study with Nincha, it feels like you're playing a computer game. This platform has already helped thousands of Chinese learners across the world. It's available in web browsers as well as with an Android app.
Click here to sign-up, and apply "GOEASTNINCHA" as discount code for 20% off on check out.
For who it is
Ninchanese provides multiple self-study courses. Unlike other apps (like Duolingo), Ninchanese' curriculum is very extensive and can get you well into advanced territory.
Essential phrases
Chinese Character (components and practice)
Subject Chinese (world movies, books, computer games etc in Chinese)
Chinese culture (famous people)
Plus there's also a grammar course, free for everyone
All this content is packaged in a very modern and cartoony look. And Ninchanese does cater more to younger learners. Children may need some guidance from their parents to learn, but teenagers will love Ninchanese, and adults can also learn with it.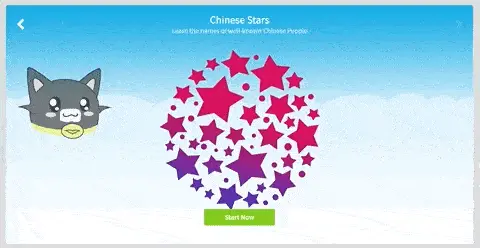 Purposely fun to learn…
Language learning is tough, and conventional text aren't always interesting. The regular HSK books, for instance, are filled with rather boring texts of visits to doctors or taxi drivers. Although it's all super educational, there seems to have been made no attempt to make it stimulating.
But Ninchanese obviously did do this. Their course on Hanzi characters is named "The Rad and Components Way", "Turbo Reading", and you can choose optional courses such as Chinese food, games, and movies. Plus the purrfect amount of puns!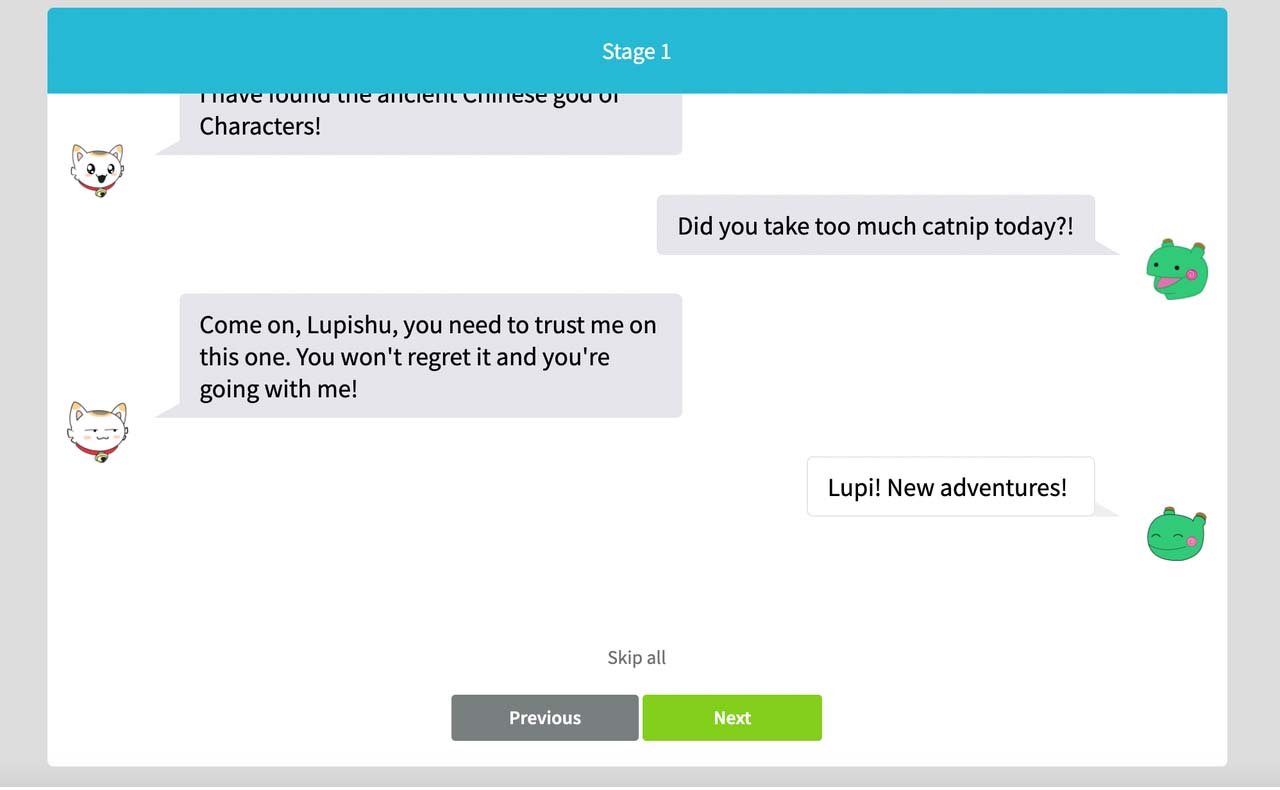 You feel like you always have Nincha or some of the other characters to accompany and encourage you.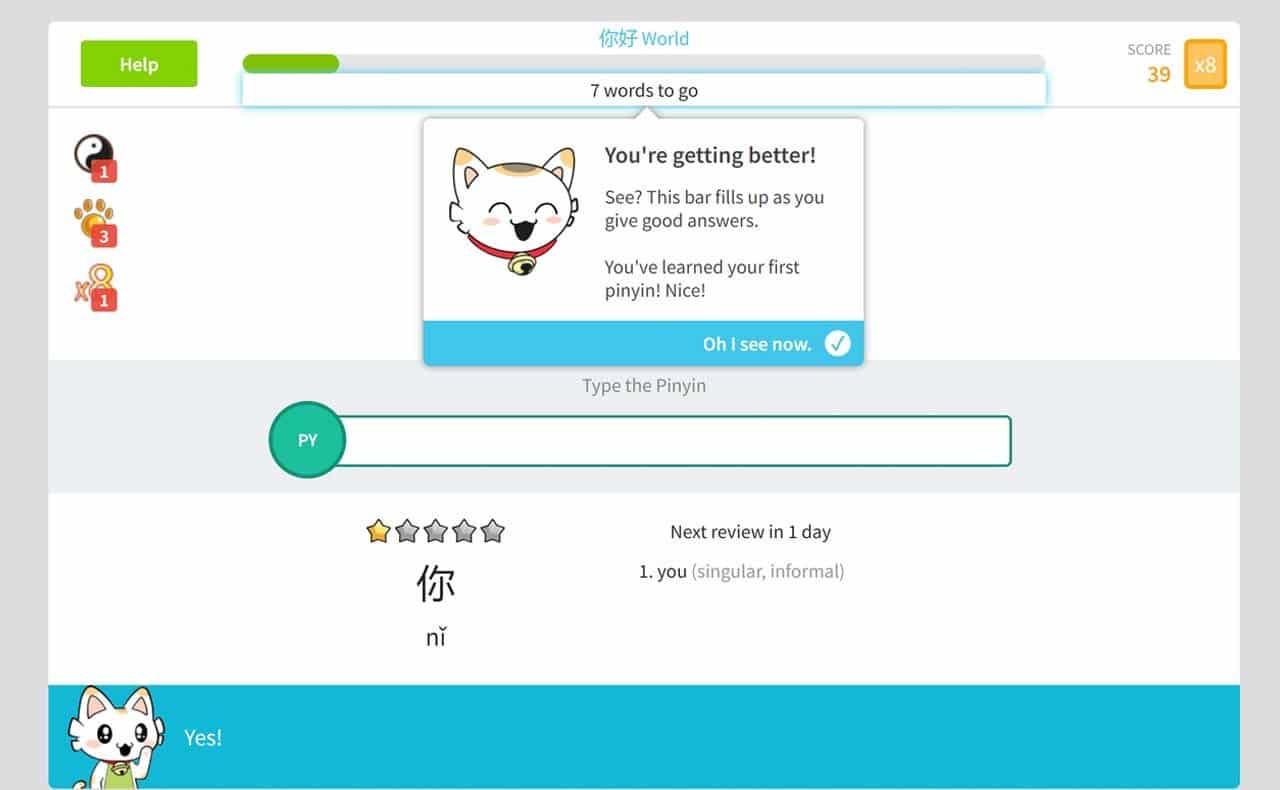 …but also seriously educational
Under the bonnet, there's a lot of clever stuff. Take for instance the way new vocabulary is learned. Stars indicate how well a character is learned, and showing it'll be retested in a certain period of time. This is actually spaced-repetition-software in disguise.
Ninchanese also uses voice recognition (in Chrome & Edge browsers), IME handwriting recognition, and asks you to write in English or Pinyin.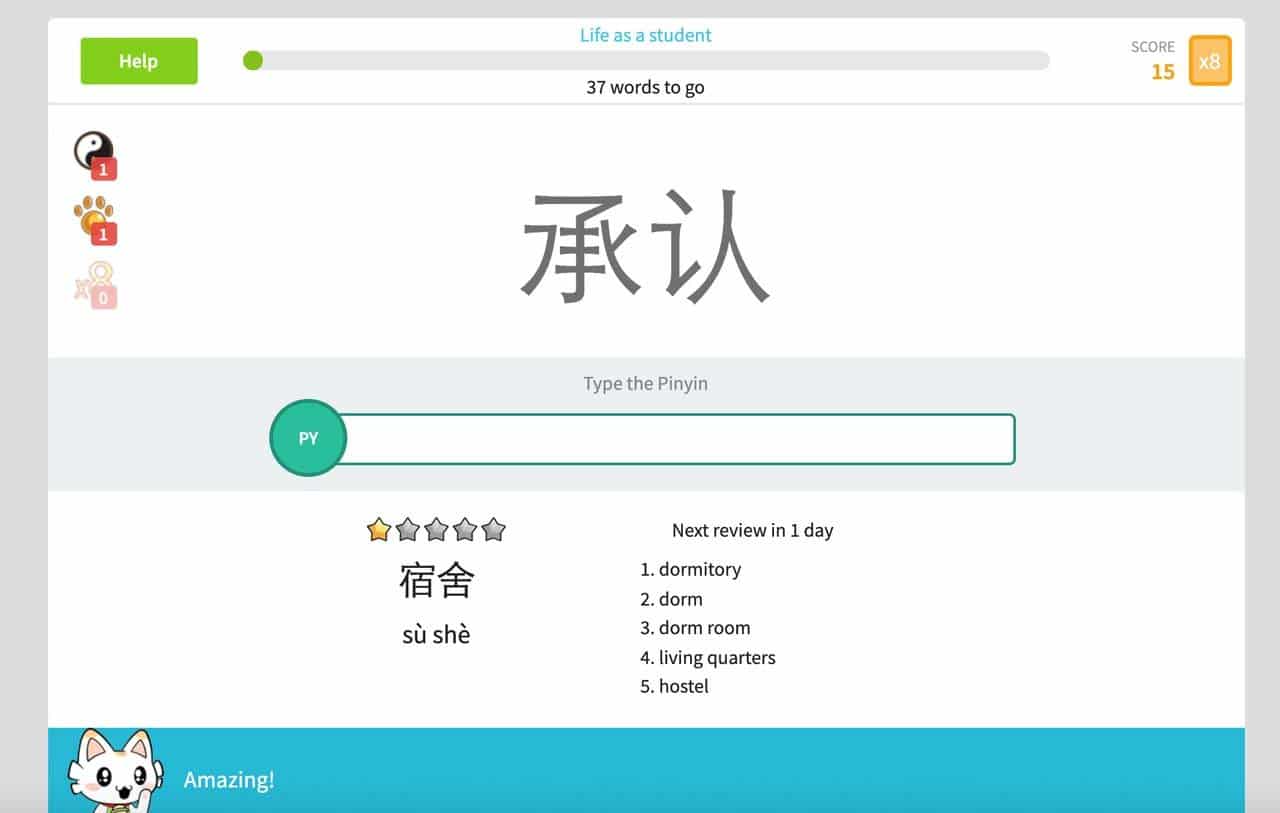 As said before, Ninchanese is also BIG. There are 8 core courses, plus several optional courses. Each consists of stories and tasks, a total of 1,500 Mandarin Chinese lessons. The complete vocabulary consists of almost 3,000 characters, and there over 150 sentence patterns you'll learn.
Here's one example:
Other things
Things covered not in this review are:
Ninchanese' dictionary with word meaning, writing animation, decomposition, related characters
Badges and points for the leaderboards and user profiles
A multiplayer game where you challenge each other for vocabulary
A lively Discord server
We're not saying this lightly, but it's unlikely you ever "finish" learning Ninchanese. At least not in one or two years' time, and even then there'll be plenty for you to rehearse.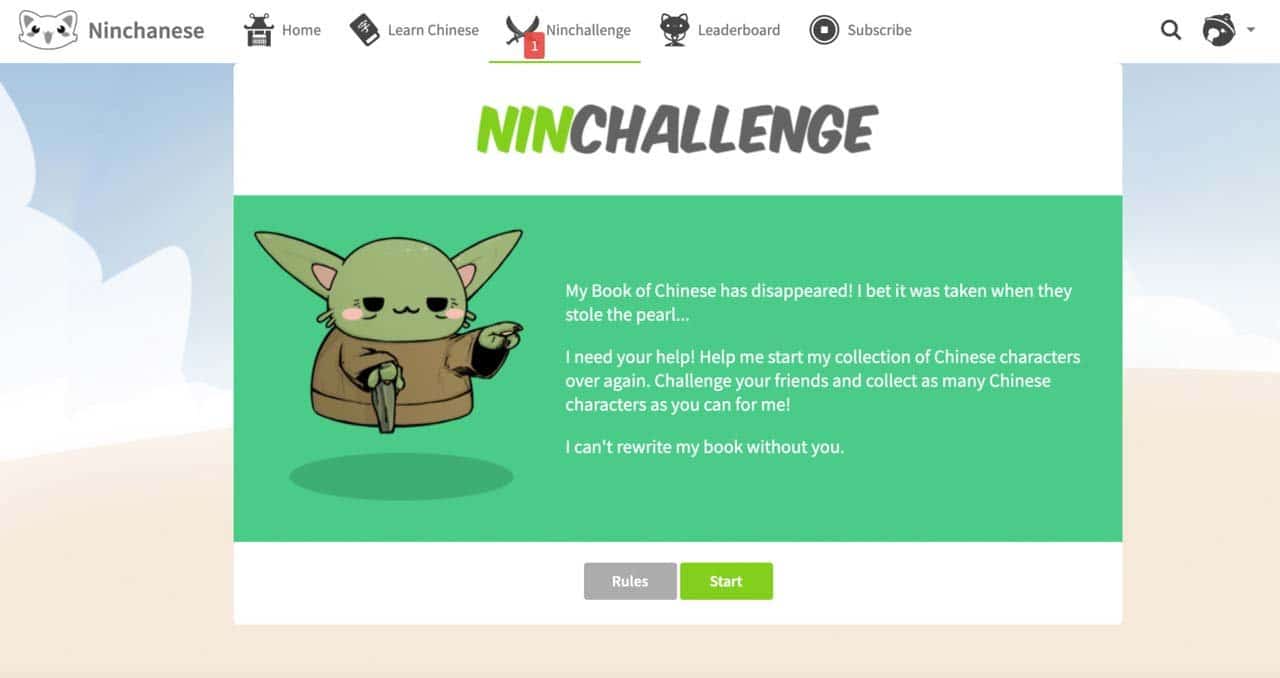 Pricing & summary
Ninchanese isn't expensive for what you get, at all. One month subscription is 10$, while a whole year sets you back $96. If you use the coupon code "GOEASTNINCHA", you'll get a 20% discount on that. Plus the grammar course is totally free, also as Android app.
We definitely recommend you try it out though, especially if you're more a casual learner and don't like theoretical or academic environments, but obviously still want to progress your Mandarin vocabulary and grammar. We're pretty sure you'll have a PAWsitive experience ?