Which Chinese Hanzi character for a tattoo? Any do's or don't's? Although tattoos are highly personal, here is some context and tips for picking Chinese characters for tattoos.
Chinese tattoo culture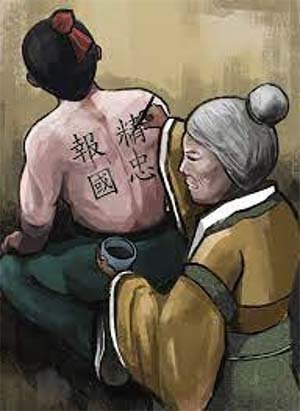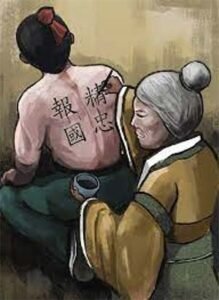 In Chinese tattoos are called 纹身 wén shēn or 刺青 cì qīng. They're more acceptable now than before, but still many parents do not approve of their kids getting a tattoo, plus on TV, often tattoos are censored, because it does not want to promote a tattoo culture.
One of the four classic novels, Water Margin (水浒传), mentions tattoos on the body of bandits on Mount Liang in Shandong. Of the 108 bandits, 3 of them have tattoos covering their entire body. This story is set in around the year 1120. There's also the story of Yue Fei 岳飞 who lived around the same time. He was a general of the Southern Song army, and one of his marshalls betrayed him. He went home to his mother to complain, who tattooed 精忠报国 (Jīngzhōng bàoguó) on his back: Serve the country faithfully.
Tattoos got a worse reputation because of criminals, who were exiled and tattooed on their faces to clearly show everyone their punishment. This type of punishment is called 刺字 (Cìzì) or 黥刑 (qíngxíng), but by now long confined to the history books.
China also has some minorities who have tattoos as an integral part of their culture. For both the Dong Lu & Li minorities in China, tattooing is seen as a coming of age for girls — even if their exact meanings and rituals differ.
Chinese tattoo design
Here are some avenues you can think about for getting a Chinese tattoo design.
Your name (or family) in Chinese
A character you love
An idiom or phrase
Chinese zodiac
With your lover or friend
Jenna's (a student at GoEast) tip:
"I got all of my twelve tattoos in China. Make sure you learn about the tattoo artist. If you find a tattoo design online and you want that design, find the original artist. If you have an idea, make sure you look for a tattoo artist who's style you like and then let her or him design it."
One of Jenna's tattoos (done in 'stick-and-poke method' method) is the Chinese character 福 Fú; (Blessing/fortune) character, because it keeps coming to her in her life in China.
Click here for Jenna's Instagram.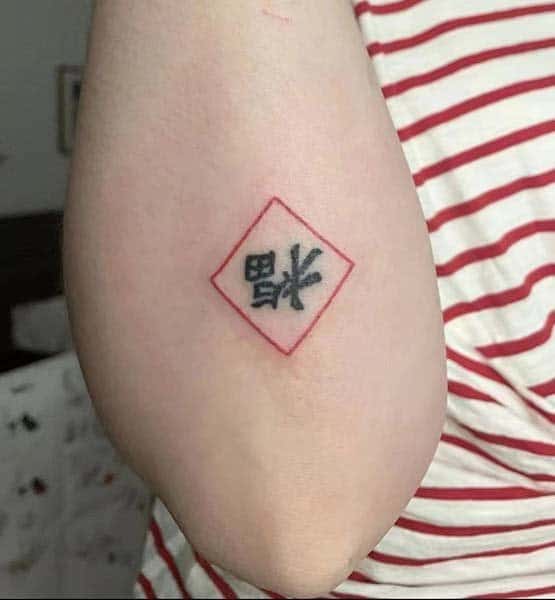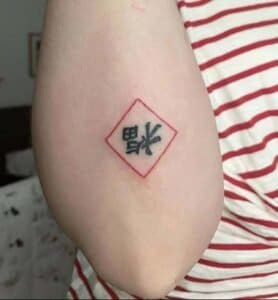 Possible characters or idioms
Characters:
心Xīn (heart, but also relates to the philosophical concept of heart-mind)
爱ài (love)
雨yǔ (rain)
家jiā (family, home)
爽shuǎng (feel good)
Different scripts for characters
Terms:
自由Zìyóu (freedom)
无为 Wúwéi (the concept of 'inaction')
忠勇真 zhōngyǒng zhēn (Loyal, brave and true, famous from Mulan's sword)
心上人 xīnshàngrén (This simply means 'sweetheart')
Idioms and quotes:
一心一意 Yīxīnyīyì (Do to something full-heartedly)
春华秋实 Chūnhuáqiūshí (Spring flowers & autumn fruits, referring to a literary person)
恐懼會扼殺思維 Kǒngjù huì èshā sīwéi (Fear is the mind-killer, from the movie Dune)
One important decision to make is the script for your Chinese character tattoo. This is covered in more detail in our article about Chinese Hanzi characters. The four key styles are:
1: Clerical script (隶书Lì shū)

2: Cursive script Chinese character style (草书Cǎo shū)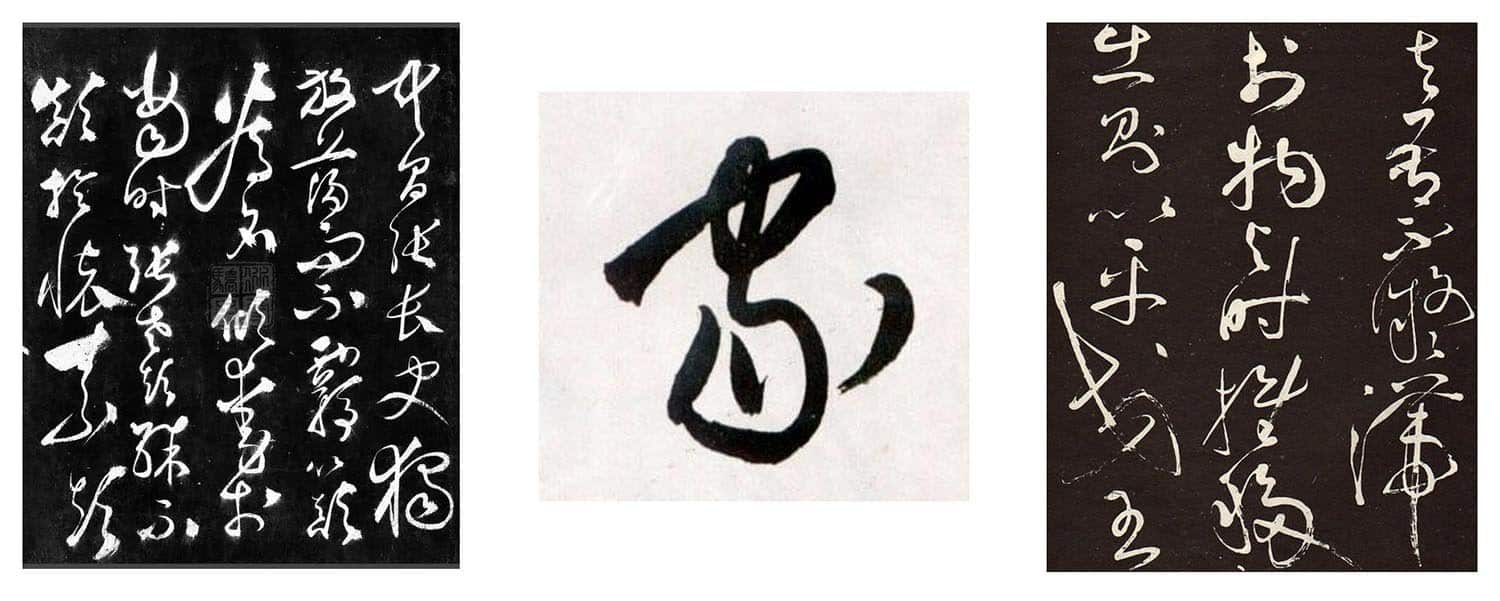 3: Regular script Chinese characters (楷书Kǎi shū)

4: Semi-cursive script Chinese characters (行书 Xíng shū)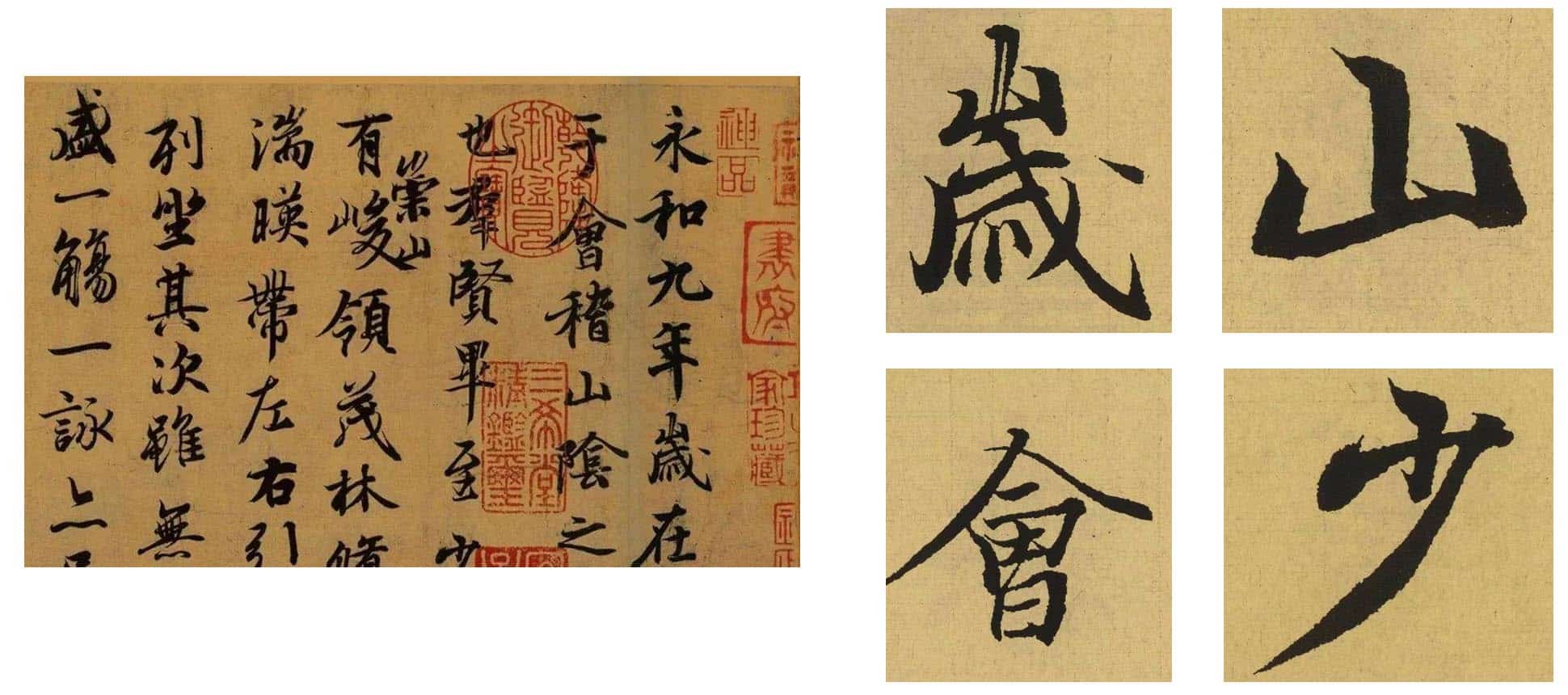 Bad Chinese tattoos
Chinese people are sometimes laughed at if they wear clothes with English writing which they do not know the meaning off. But this is actually no different than foreigners getting bad Chinese tattoos.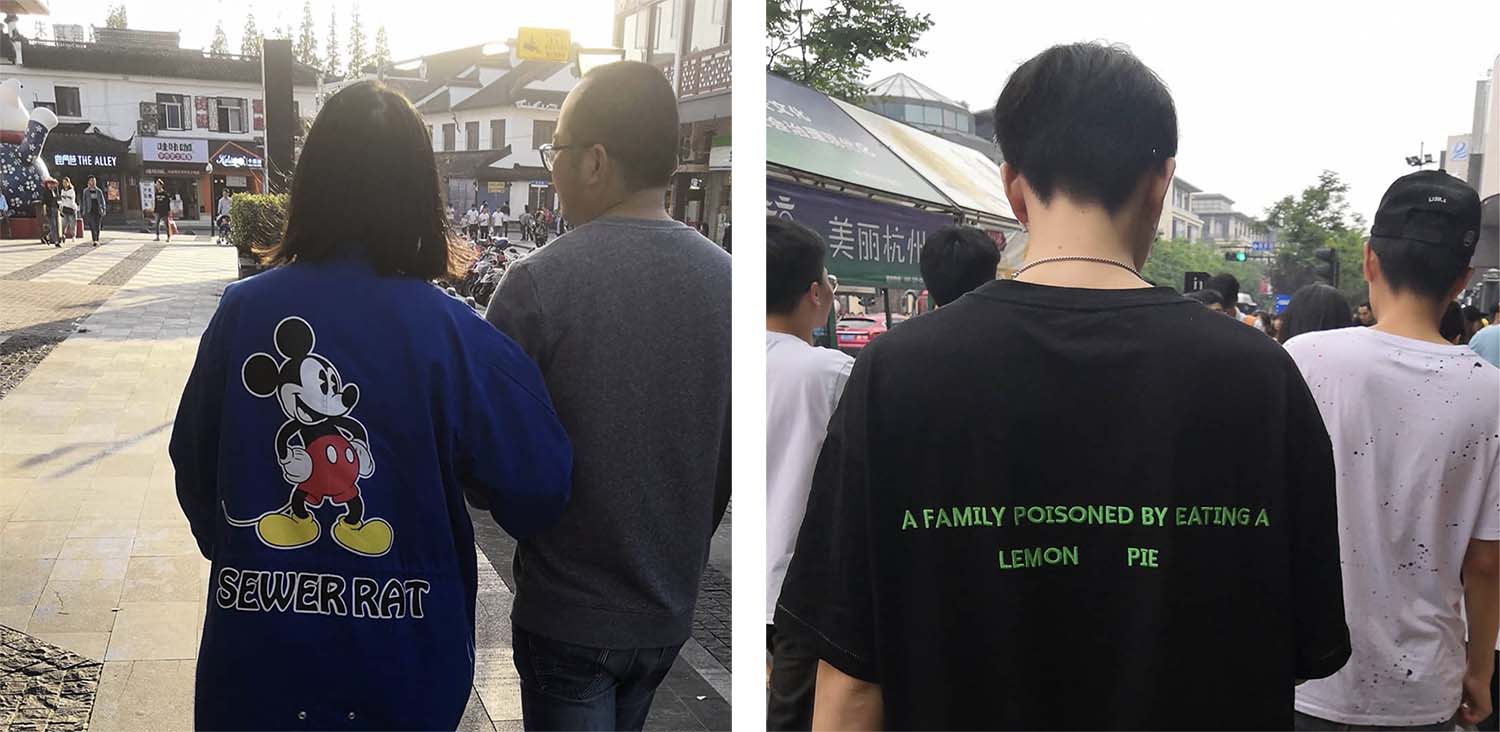 Of course, it's good to learn Chinese online before getting a Chinese character, because you'll learn the meaning and how to write it.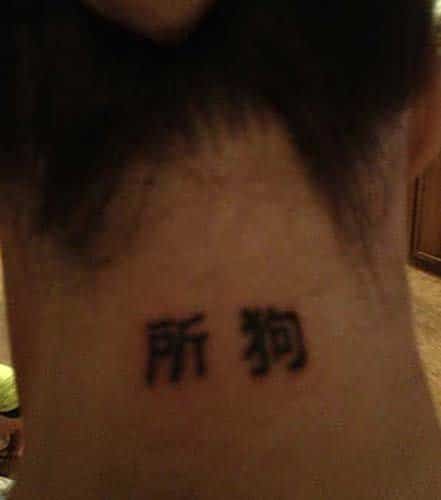 This tattoo consists of two characters that don't make up a Chinese word:
所 (suǒ); place
狗 (gǒu); dog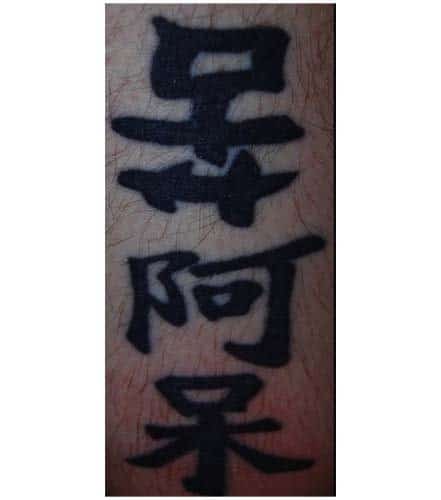 This tattoo design says "bitter idiot" and the top character is written upside down:
苦 [upside down] (kǔ); bitter
阿呆 (ā dāi); dummy, idiot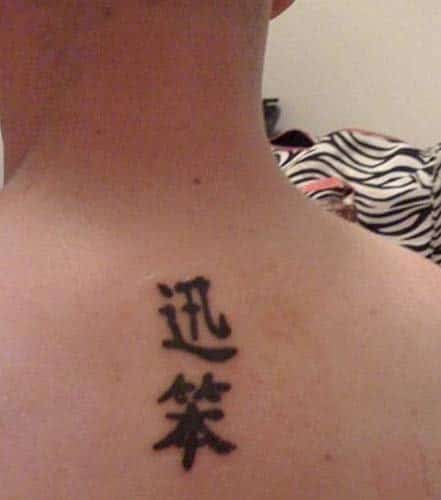 Another Chinese tattoo of which the wearer probably doesn't know the meaning:
迅 (xùn); fast
笨 (bèn); fool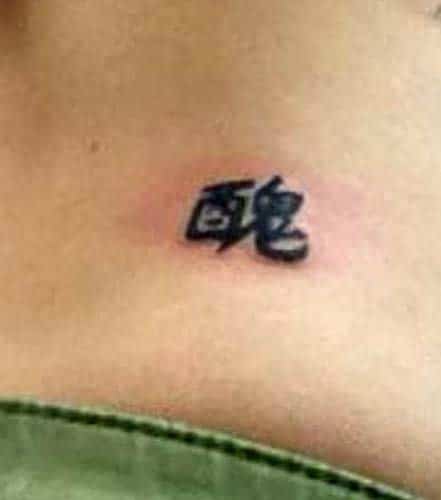 Just like this one: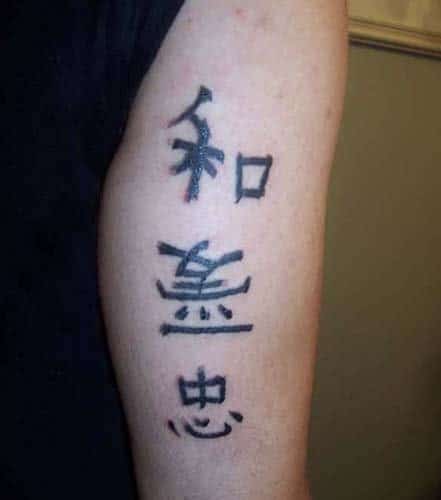 This Chinese tattoo is kinda right, almost! The meaning is good, but the character for love is written upside down:
和 (hé); peace
爱 [upside down] (ài); love
忠 (zhōng); loyalty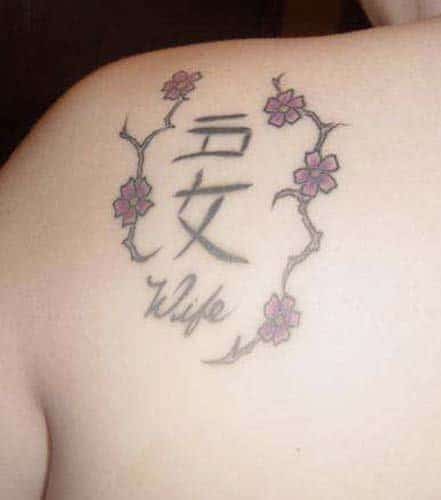 Here there's a character "wife" that is misspelled or misses a stroke (we're not sure):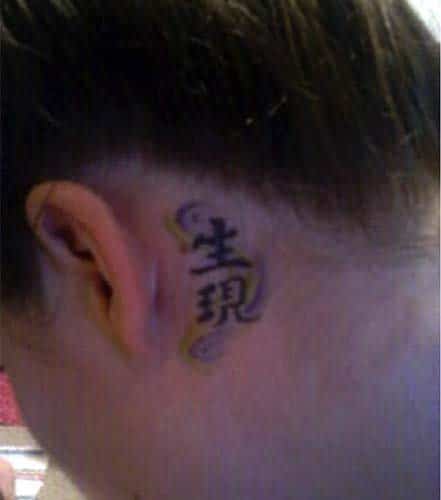 You can't always literally translate English into Chinese. This person probably wanted "live now", but you cannot translate it like that.
生 (shēng); to live, life
現/现 (xiàn); now, present/to show up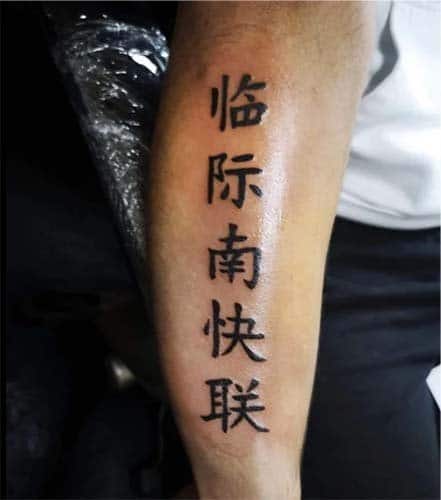 Then there is this insane Chinese tattoo. The craft is done well but the characters don't mean anything:
临际南快联 (Lín jì nán kuài lián); ?
What's probably going on is the worst way to "translate" English into Chinese for tattoos. Using this alphabet chart, the tattoo spells "PAOLO". Of course, you cannot and should never translate characters like this. It is pure fantasy.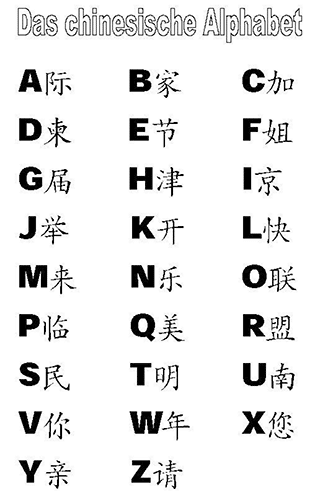 Celebrities with Chinese tattoos
Here we list a few celebrities with Chinese character tattoos. This list isn't complete at all, but it'll give you a nice overview of what types of Chinese character tattoos you can have.
Lewis Hamilton has:
勇士(yǒngshì); warrior
爱 (ài); love
Justin Bieber has:
Nicki Minaj's Chinese tattoo:
上帝與你常在 
(Shàngdì yǔ nǐ cháng zài); God is always with you.
Fabio Cannavaro has the name of his daughter in Chinese characters:
瑪丁娜 (Mǎ dīng nà); Martina
Megan Fox:
David Beckham has a long sentence:
生死有命富貴在天 (Shēngsǐ yǒu mìng fùguì zài tiān); Death and life have their determined appointments / Riches and honors depend upon heaven
Video about Chinese character tattoos
Hosted by Lynn老师: