GoEast met up with Imagin8 Press, and as a small Chinese learning community ourselves, we'd love to help this company from Verona, Pennsylvania. We also think it's great for our Chinese language students to read graded Chinese readers.
Unlike flashcards, you're learning vocabulary in context
Language students who read in their target language do significantly better on tests than students who don't
Finishing a graded reader gives an insane feeling of accomplishment, plus motivates you to keep learning Mandarin. You can read more about this in this article here.
How Chinese graded readers are different from Chinese children books:
The key difference is that graded readers use vocabulary primarily from HSK books, and if not, they will highlight it. Chinese children 's books aren't simple at all. Chinese kids don't learn Chinese the way foreigners learn Chinese — so their books aren't graded into HSK vocabulary, so you may be constantly looking up characters and words. This is just frustrating and demotivating. A good way to improve your Chinese reading is to have a too high difficulty level. If there are more than ten new words per page, it's best to choose an easier book. Reading should not become a boring 'dictionary exercise'. If you can understand the general meaning and only look for a few new words on each page, then this book may be your ideal choice.
About Imagin8 Press
There are several graded readers, but most still have pretty childish stories. This is why Imagin8 Press was founded in 2016. Jeff says:
"We realized that there were almost no books available for English speakers learning to read Chinese, except books written for children and young adults. We decided to write a book that would be interesting for adults. That book, 'Rise of the Monkey King', became a best seller in the Chinese language learning community, and after that, one book led to another, and we now have almost 40 books in our library."
Each book comes in Hanzi characters but with Pinyin on facing pages, English version in the back. On YouTube you'll also find an audio version. Here's a sample from "Hulin and the Mad Goose" (double-click to expand):
A sample from "The Angry Monkey", Journey to the West book 19 (double click to expand):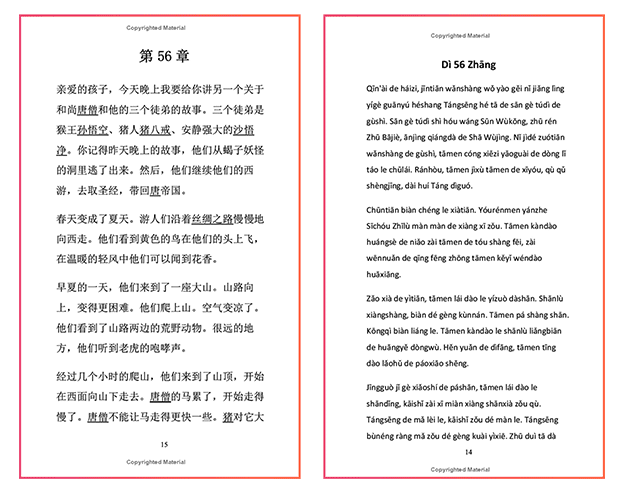 You can also click here to download a chapter from 'The Ball of Fire' for free:
(Right-click and save as)
GoEast's review of Imagin8 Press
Each type of Chinese graded reader has a slightly different flavour. Some are a tad childish, some highlight non-HSK words with Pinyin, and most don't include any English. Imagin8 Press stories come in Chinese Hanzi characters, with Pinyin and English as a backup.
And the stories are nice too. Maybe you're an adult who has spent a few hundred hours learning Chinese. If so, it may be rather demotivating to be reading about bears having picnics or kids mischievous adventures. But this is exactly what many Chinese graded readers offer. For this, Imagin8 Press is such a relief; you can combine reading for fun with learning Chinese. Imagin8 Press books have a good flow of sentences and vocabulary. It's always a challenge to use a limited vocabulary and still create nice, non-repetitive sentences. The stories have a good amount of alternation between words and not every sentence uses the same core words.
We highly recommend you read Imagin8 Press' "flagship" books so to say: The Journey to the West. It's a compilation now 21 books long, and ranges from HSK3 to HSK5. The Journey to the West is one of China's four classic novels, written in the 16th century, with lots of tiny stories in it, the most famous being The Monkey King.

Audio books
Imagin8 Press also supplies an audio version of each book, on their YouTube. And this is actually turned out to be a huge benefit. Reading a Chinese-graded reader is still requires a lot of mental effort, and this way you can relax a little bit, so it's less daunting to read after a long day at work or school. Plus, because you read and listen at the same time, you're improving your Chinese listening ability.
Here's one of their books, The Rain of Blood, in 80 minutes. But you still need the book to read the Hanzi characters.
Pricing and ordering
Most books are $9.95 to $12.95, with most compilation books (three together) for $24.95). And if you use the GoEast25 at imagin8press.com/buy-our-books you'll save 25% on orders over $100 (before discount). They ship to all over the world, including to Shanghai.