Let your children learn Chinese Hanzi characters with these tips & printouts "Chinese characters for kids". Chinese characters are one of the most interesting parts of the Chinese language, and many kids find them interesting too. They're not really pictures (some of the most basic ones you could describe as pictograms), but with repetition and playing they become easier to remember.
Scroll down for a free download
If your child wants to continue learning Chinese characters, try out our online Chinese language course for kids.
A short history of Chinese characters for kids
Are Chinese Hanzi characters difficult? No! And knowing the history of Chinese characters will help you learn Hanzi better! Many children have a fear of difficulty in Chinese characters, unwilling to write. However, most children like drawing, right? In fact, Chinese characters are very interesting, when you know the history of the development of Chinese characters.
The evolution of Chinese characters has gone through seven stages:
The oracle bone script → bronze inscription →seal character → official script → Regular script → Cursive script → Running script. From the oracle bone inscriptions, Chinese characters have gone through more than 6,000 years of development and evolution.
Let's take a quick look!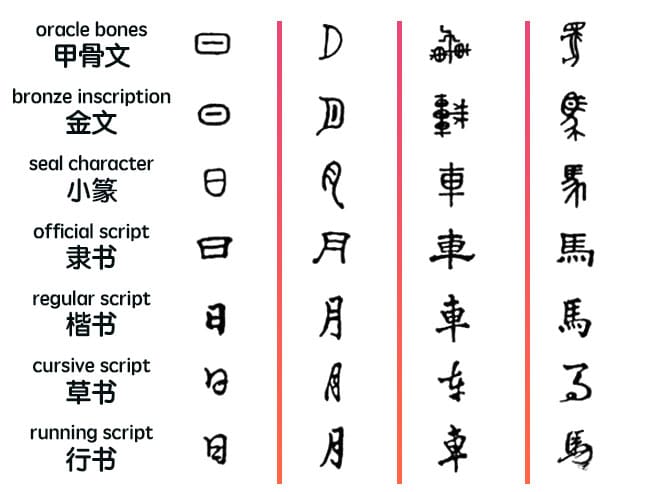 The emergence of the system of Chinese characters can be traced back to the period of the Yellow Emperor, who existed almost 6000 years ago. According to legend, Cangjie, who had eight eyes, was the historian of the Yellow Emperor. He simplified the shapes of various things which he observed and carved them on tortoise shells and animal bones, forming the first Chinese characters.
This is a legend, of course, but it illustrates the point that Chinese characters are indeed evolved from pictographs (oracle bone script).
Oracle bone script 甲骨文(jiǎgǔwén) is one of the three oldest writing systems in the world, and only Chinese characters have been in use until now. According to statistics, nearly 2,000 characters can be recognized among more than 4,500 characters found on Oracle bone scripts. At the same time as the oracle bone inscriptions, the characters which were cast on bronze (a kind of metal) named bronze inscription 金文(jīnwén) (Jin Wen or Zhong Ding Wen)
After the unification of China, the first Emperor of Qin (Qin Shi Huang) established seal characters 小篆(xiǎo zhuàn) as the standard writing font of the Qin Dynasty and unified the Chinese characters. In the Han Dynasty, official script隶书 (lìshū) replaced 小篆 (xiǎo zhuàn) seal character as the main font and laid the foundation for modern Chinese characters.
The regular script 楷书 (kǎishū) evolved from the official script, which tended to be simplified, horizontal, and vertical. Cursive script 草书 (cǎoshū) originated in the Han Dynasty, which means to write quickly and is not as formal as an official script. The running script 行书(xíngshū) originated on the basis of the regular script, between the "regular script"楷书 and the "cursive script"草书. The running script is neither too slow to write like the regular script nor too illegible to read like the cursive script.
For example, we can look at several Chinese characters "人", "天","火" in the picture, which are common and basic Chinese characters, and very clear how they evolved.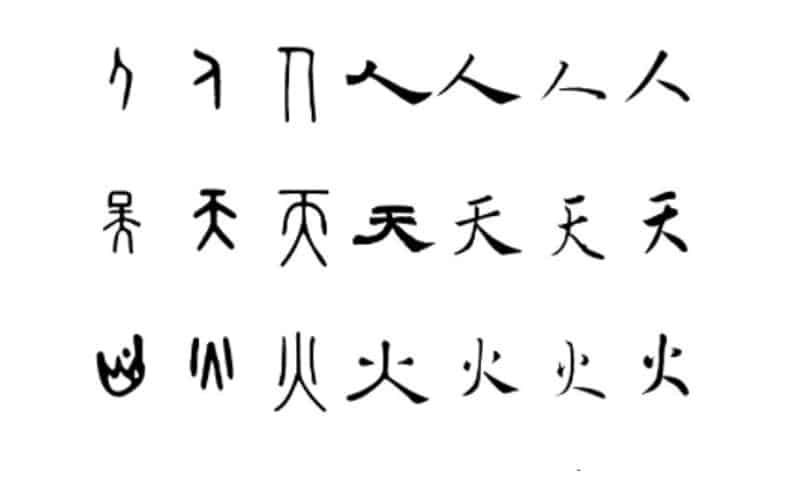 How kids can learn Chinese characters
To develop an interest in Chinese characters and to increase their love of it, think of characters as a simple and clear picture.
Practice the "shape, sound and meaning" of Chinese characters by reading, writing and memorizing them at the same time. (The three elements of Chinese characters are shape, sound and meaning. All three elements are indispensable. Such as "字"is composed of "宀" and "子", which is the shape. The sound of 字 is "zì" . The meaning of it is character.)
Put the Chinese character card at hand. Take a glance when you free, easy to master.
Tips to learn characters
Chinese character book sets like 《宝宝第一本汉字翻翻书》 (bǎobao dì yī běn hànzì fānfānshū)is very good. The box says 3-6 years old, but keep in mind native Chinese children learn also with this. For any child or even adults learning Chinese characters, this book set is fantastic as it's well designed.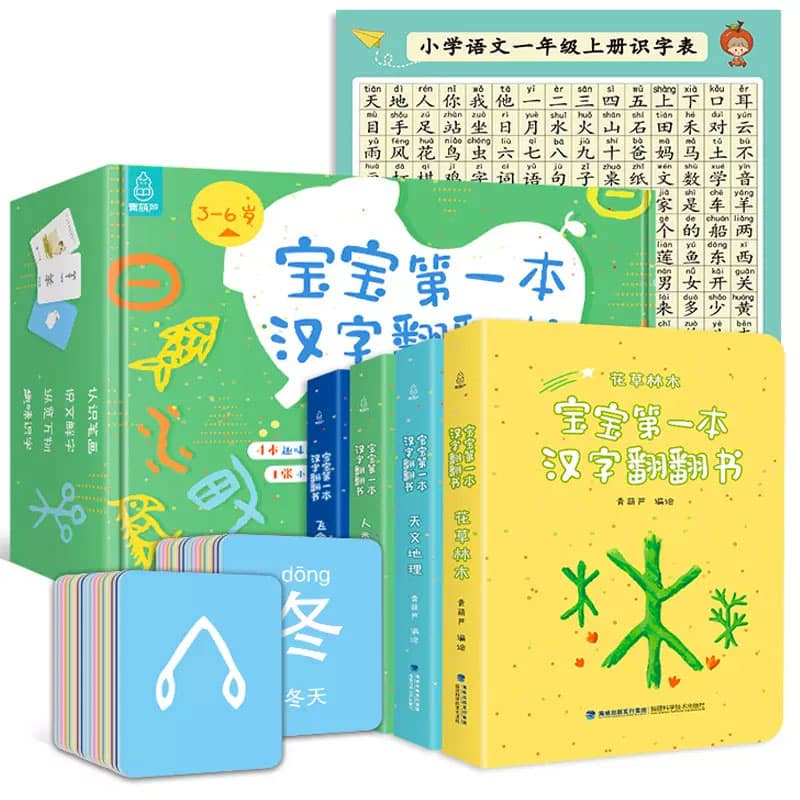 This shows that Chinese characters in their present form can be understood and remembered. So, all the children and Chinese learners shouldn't be intimidated by Hanzi!
Click here for more books for children to learn Chinese.
Easy Chinese symbols for kids
What are the easiest Chinese symbols you can pick up for your kids? We have them right here! Actually, we don't call these symbols but 'characters', or Hanzi (汉子). There are some of the most basic and commonly used Chinese Hanzi characters in Mandarin language, the ones with the least number of character strokes. You'll find them easy to remember as well, since some of the symbols actually resemble their meaning.
The Chinese symbols for 'One, two, three'
The Chinese symbol "一(yī)" means "one" in English. And it is simply one horizontal stroke. And the symbol for two"二(èr)" and three "三(sān)"are also simple horizontal strokes. As you can see, one is one stroke, two is two strokes, etc. Note that number four is NOT made up of four strokes. From three upwards, this logic changes. Click here for all numbers in Chinese.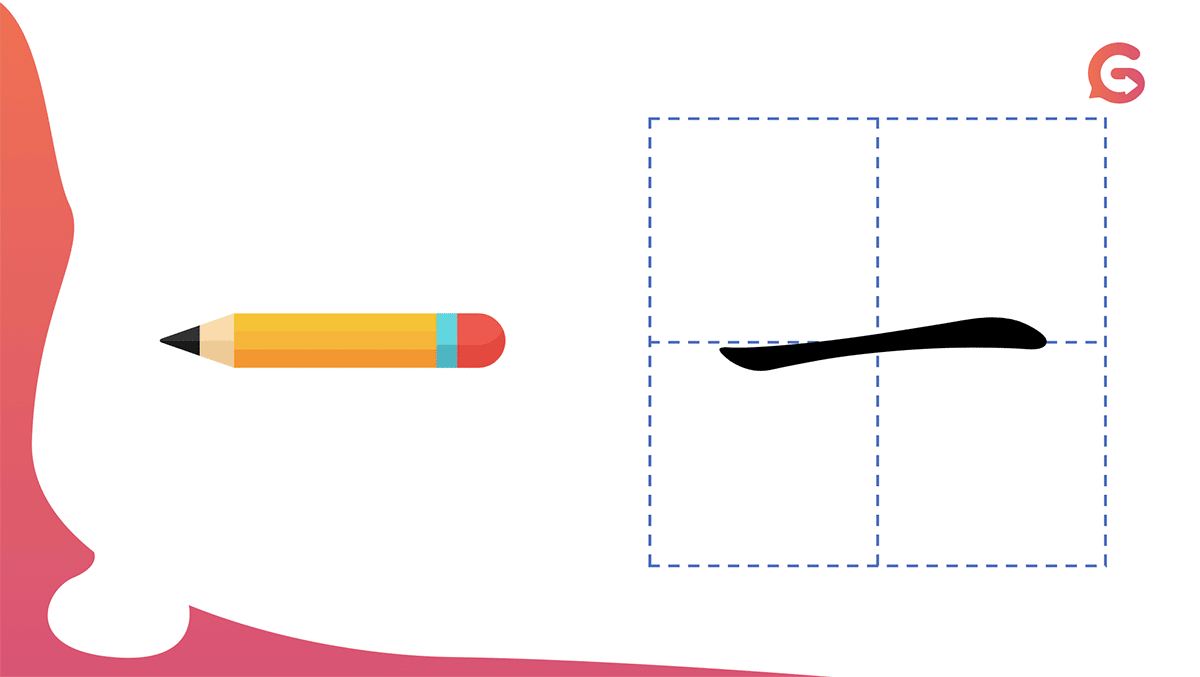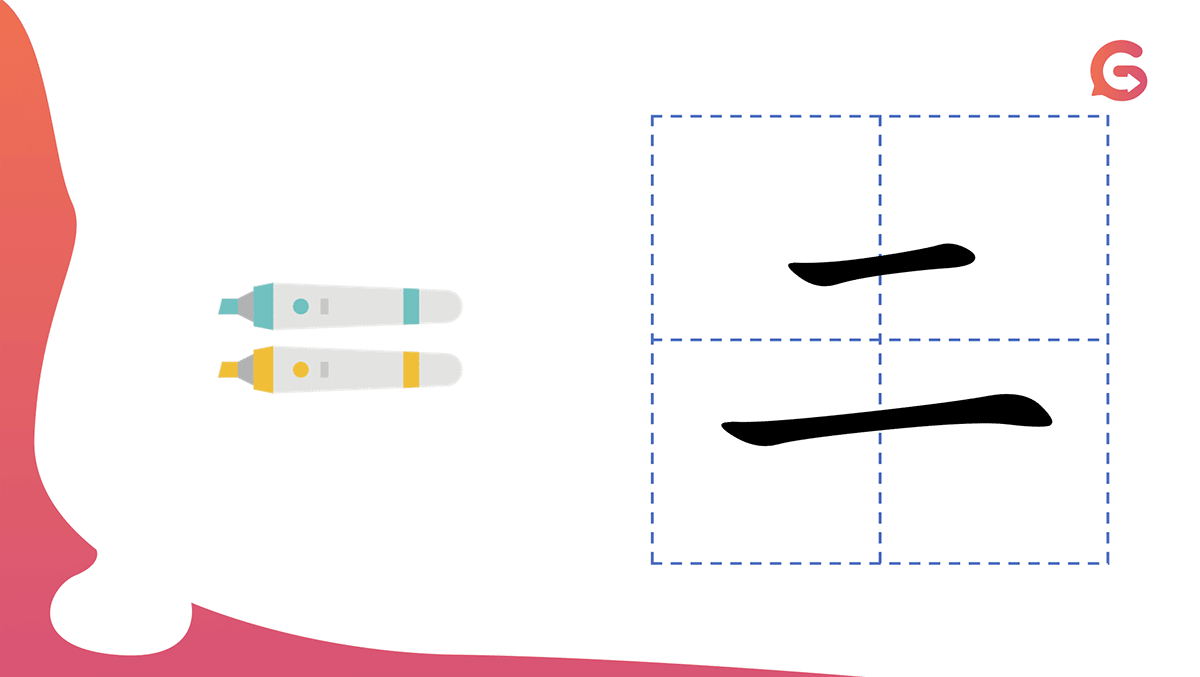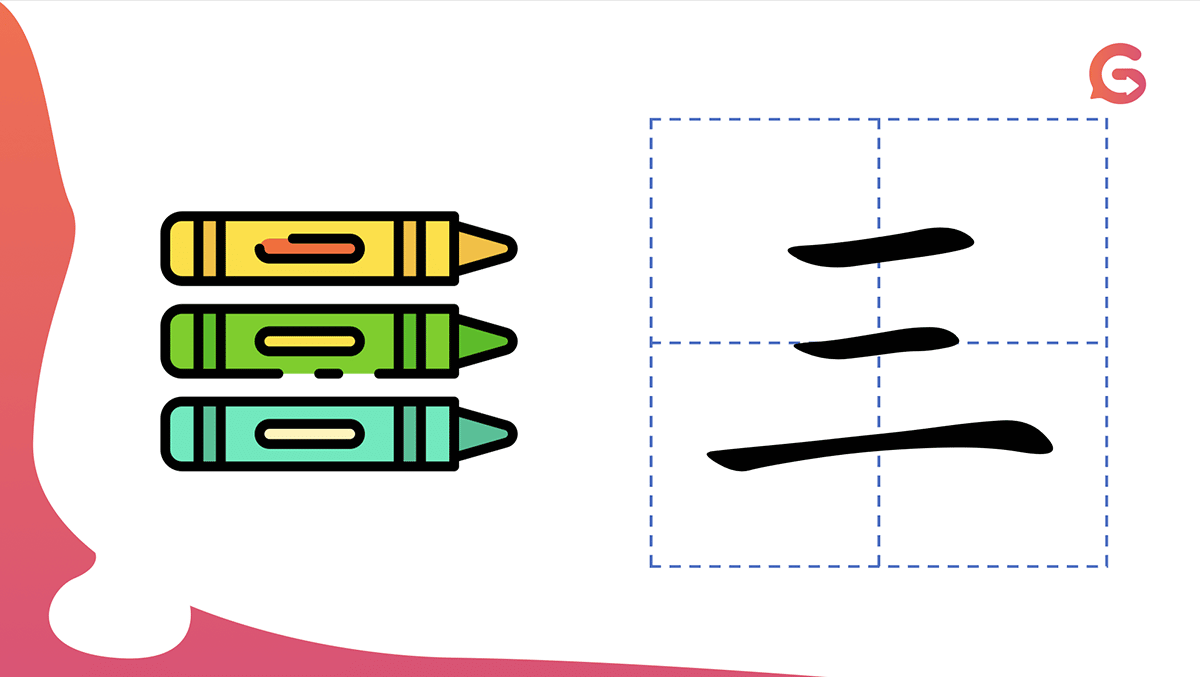 The number ten
The Chinese symbol "十(shí)" means "ten" in English. And it is simply one horizontal stroke plus one vertical stroke, like the cross.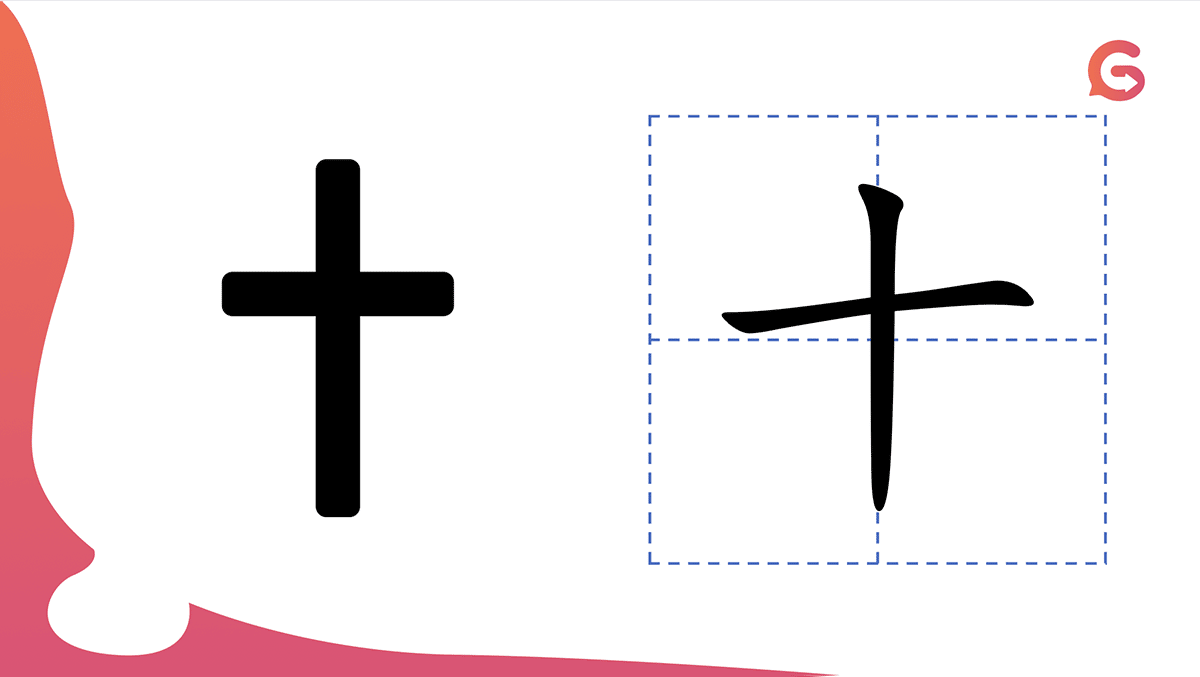 The symbol for 'person'
The Chinese symbol "人(rén)" means "person" in English. And it is simply one left-falling stroke plus one right-falling stroke, like a standing person.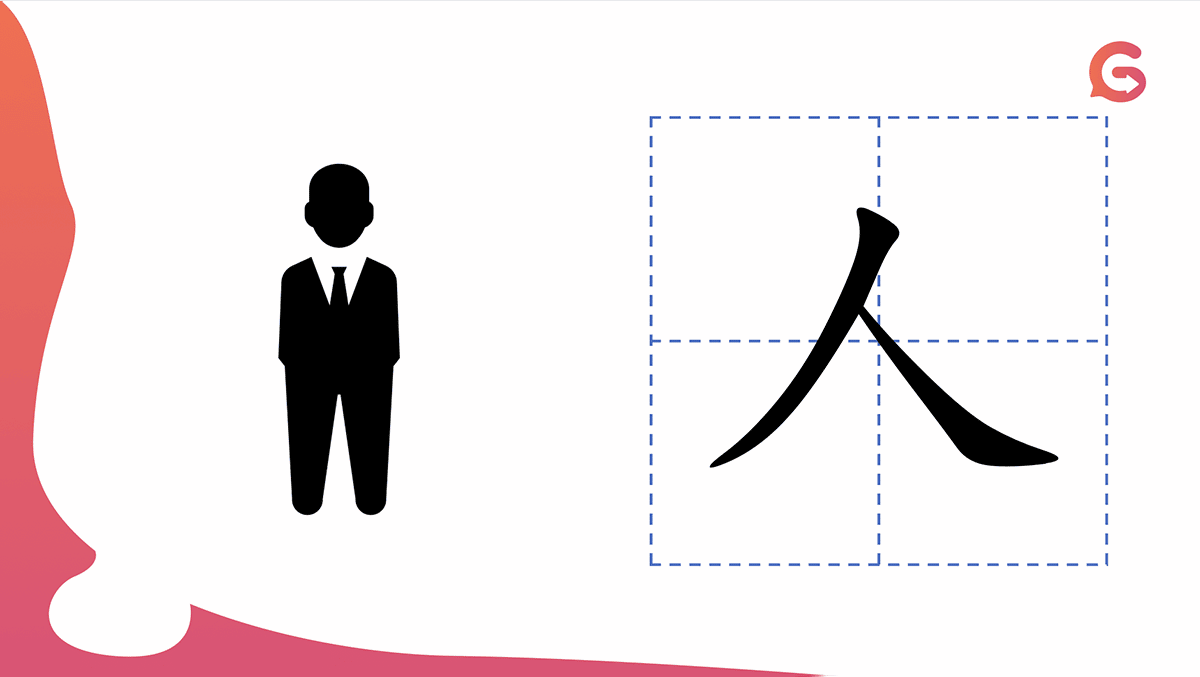 The Chinese symbol for 'big'
If your child can write 'ren', she or he can also write 'da'! The Chinese symbol "大(dà)" means "big" in English. And it is simply one horizontal stroke plus character "人(rén)", as the standing person with open hands.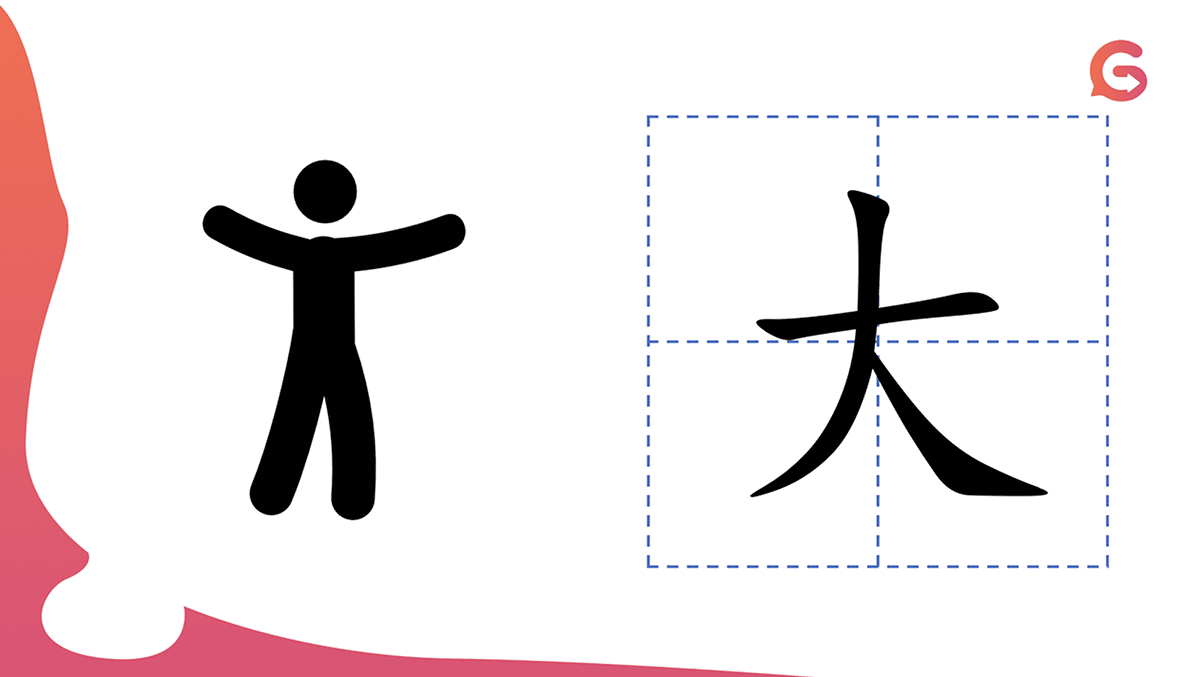 The character 'mouth'
The Chinese symbol "口(kǒu)" means "mouth" in English. And it looks like an open mouth.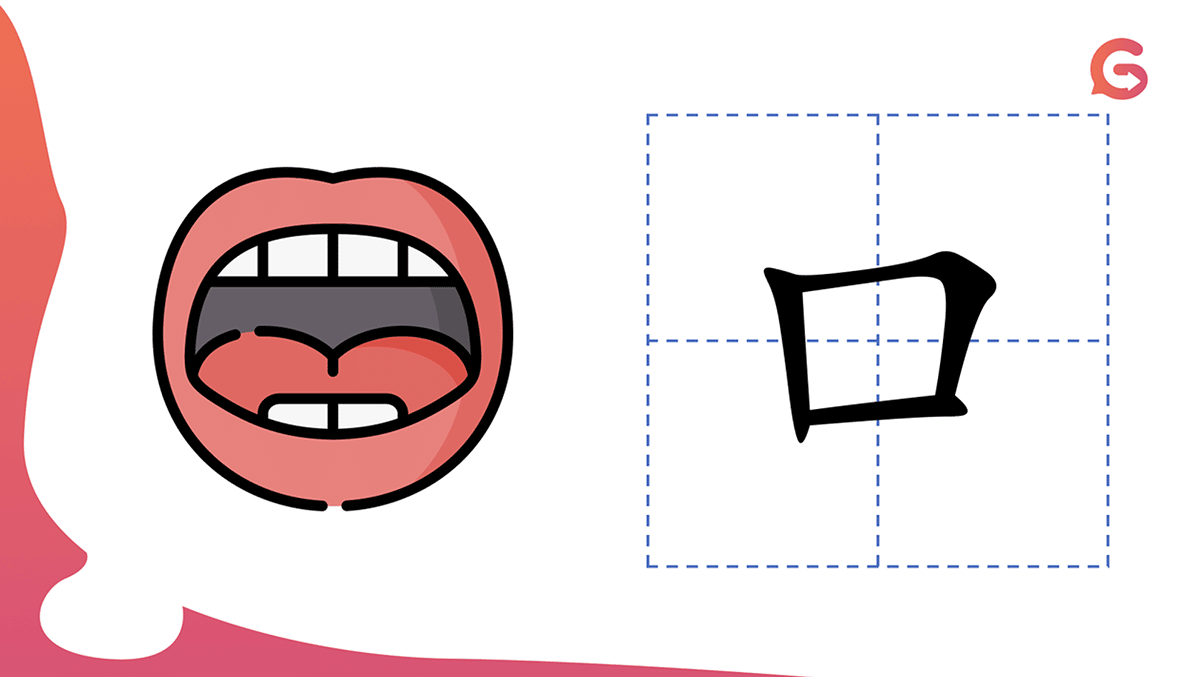 How kids can learn them?
Understanding the meaning
As we know, many Chinese learners can speak Chinese before they can write. So do kids. Therefore, before we teach kids how to write Chinese symbols, we should help them understand the meaning first. It doesn't matter if we use pictures, English, or anything else.
Writing
When we understand the meaning of Chinese symbols, we will explain the structures, and strokes to help kids remember it. As we know, in Chinese we have single symbols and compound characters. For compound characters, we will pay more attention to the radical.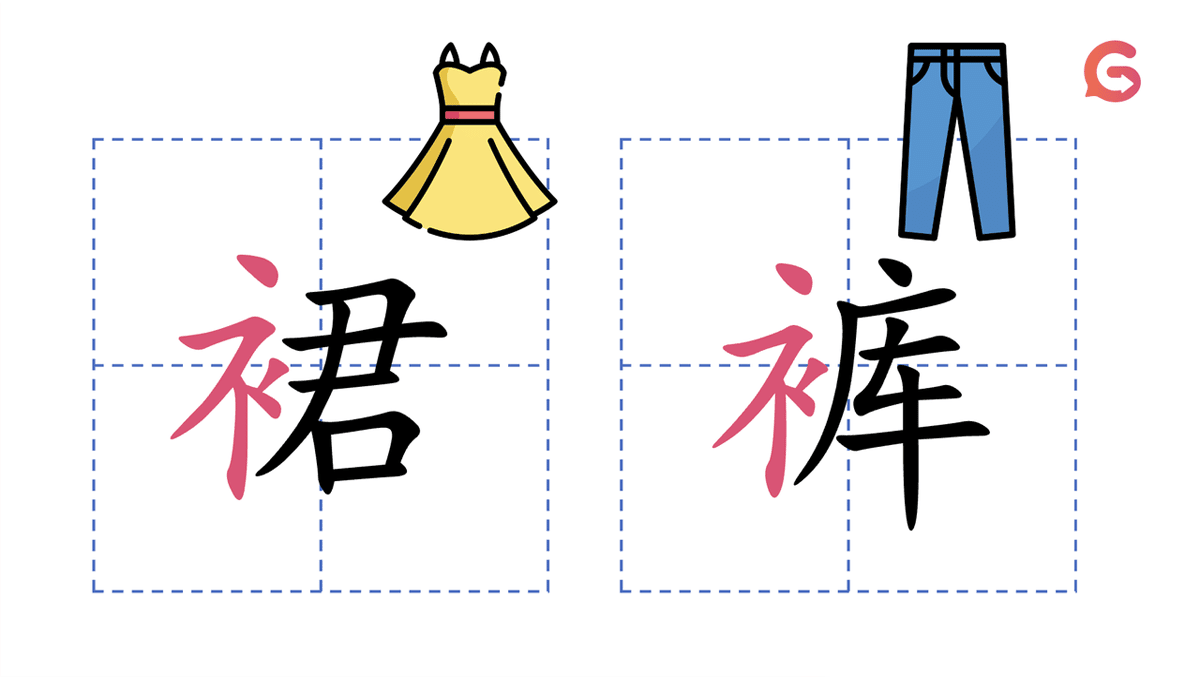 Practice writing Chinese symbols
Practice is the best way to help people to recognize the Chinese symbols. For kids, of course we need to be more fun. We prepare a lot of fun ways to help kids practice.
A. Games
You can check out more tips in our article about Chinese language learning games for children. You can combine playing games with learning Chinese symbols.
B. Making learning something special
You can also make learning Chinese symbols more interesting for your children. They will like animals and relate to animals; why not teach them the 12 Chinese zodiacs?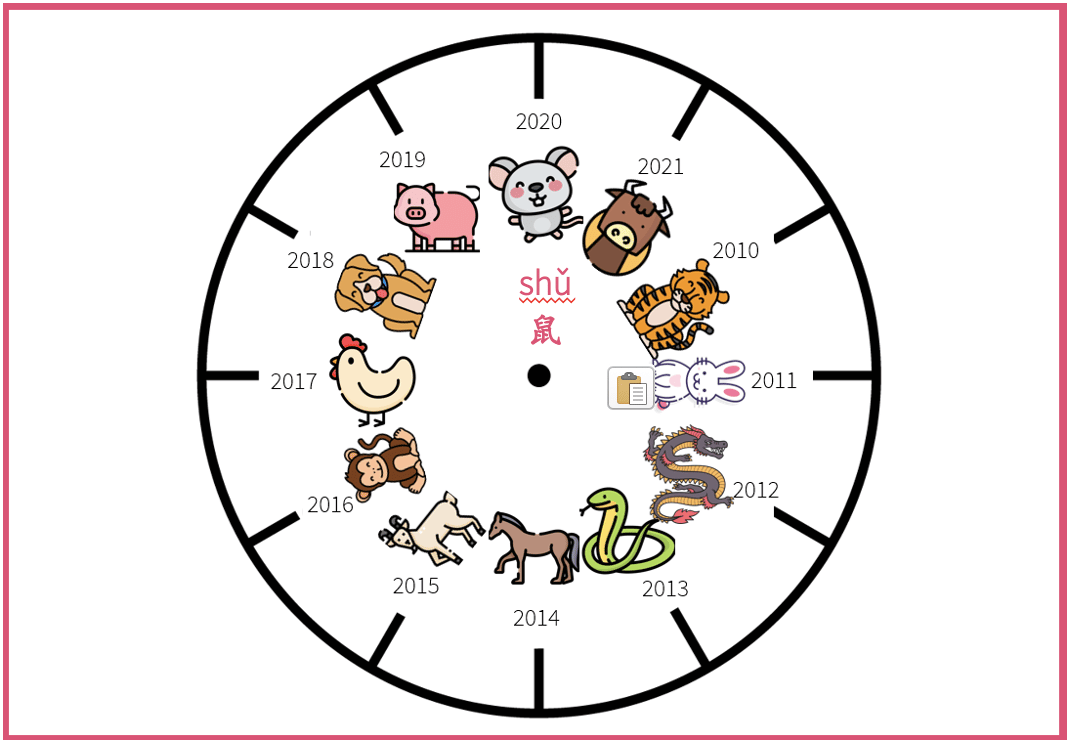 C. Writing task
Otherwise, you can give them a writing task. This may not look like a whole lot of fun, but it's good to practice writing symbols on paper. And actually, writing Chinese symbols is a very relaxing and fulfilling task.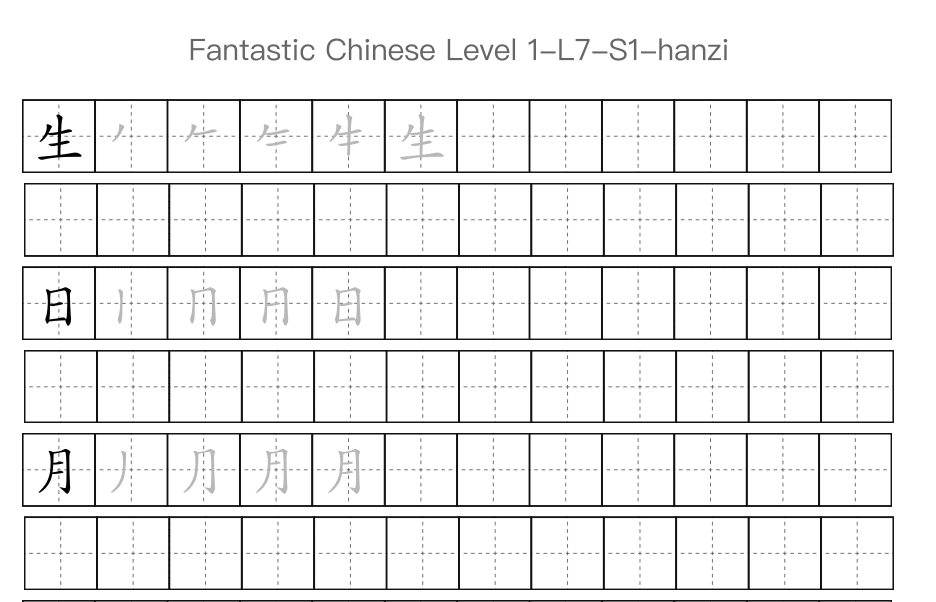 Chinese characters for kids
Let your child write Chinese characters in salt
Fill a low box or platter with salt (or sugar) and use it as a base for calligraphy. You can use a pen or pencil, or a butter knife to let your child write the Chinese character. Easy to erase too, just shake it! You can let them write the most basic Chinese characters such as numbers from 1 to 10, or the characters for me (我) and you (你), or if your children have a Chinese name, let them practise writing this.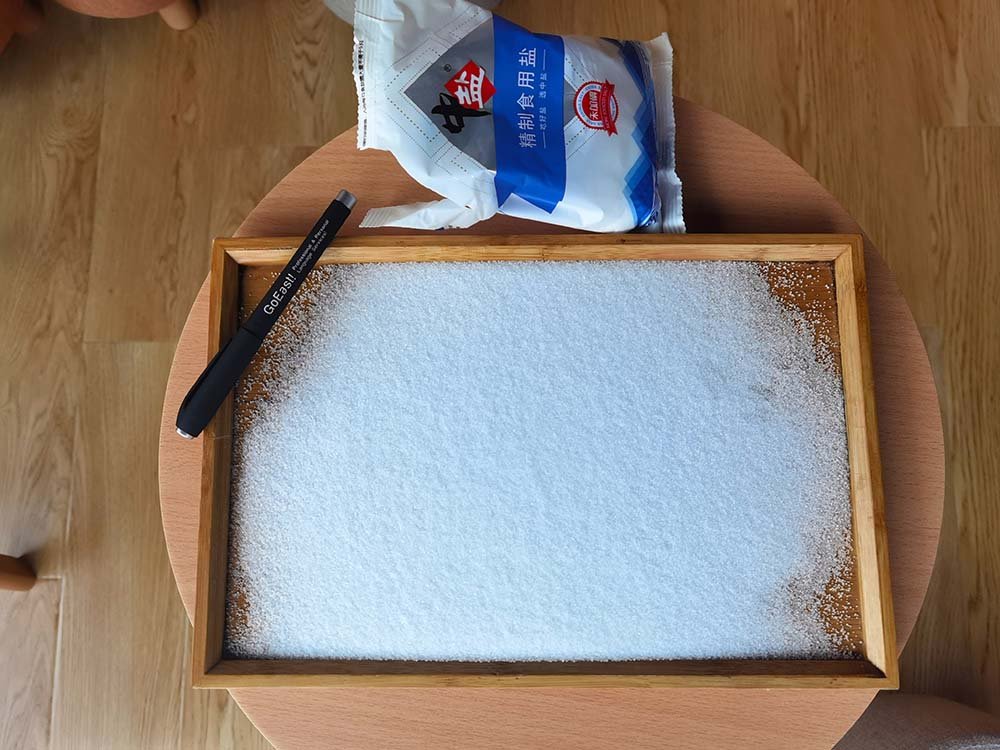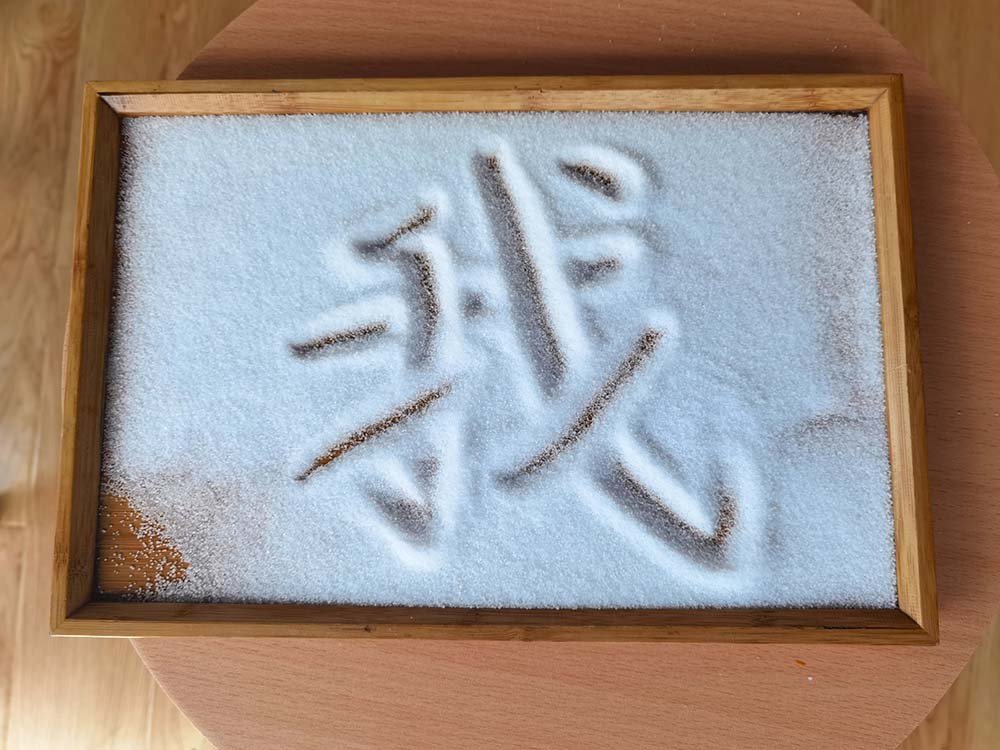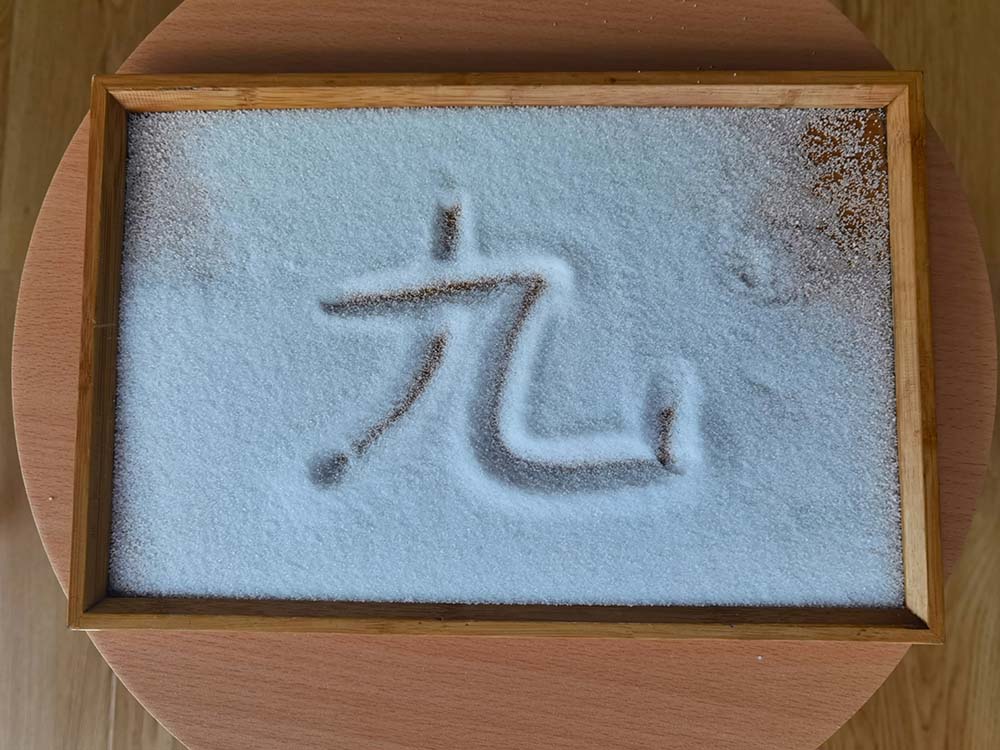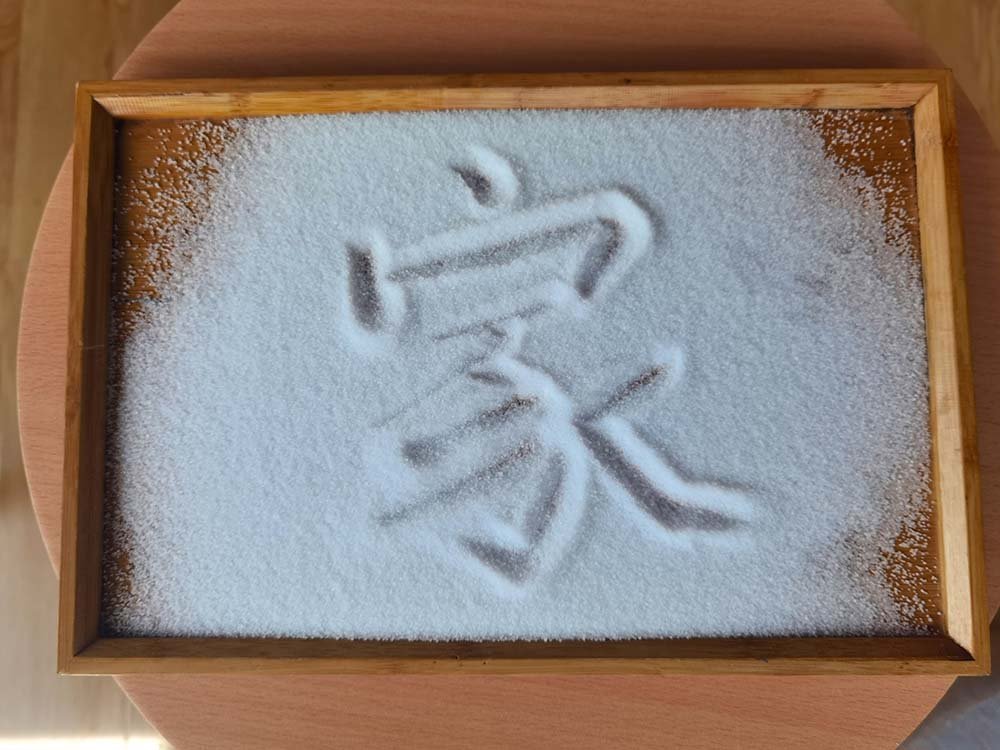 Coloring pages for kids
Click here to download this printable coloring page with Chinese characters for children. You can print it on A4 and let your child color these Chinese characters with colors and illustrations they like. Feel free to share this on Instagram and tag us at @GoEastMandarin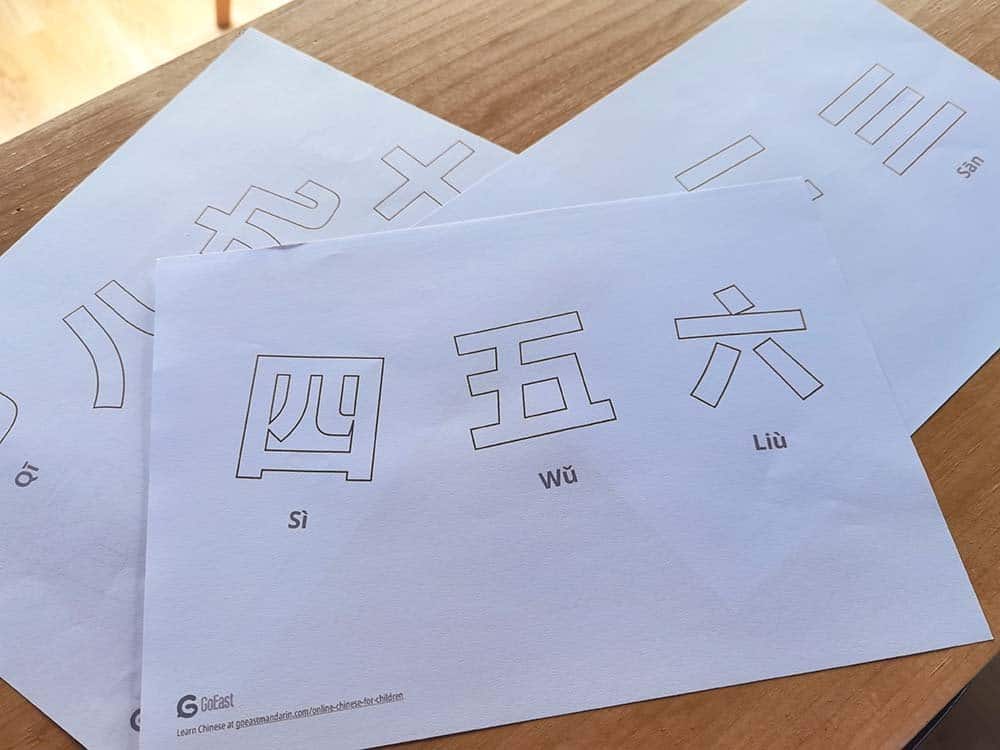 Click here for other tips for children to learn Chinese aside from characters, including games, family activities, movies, and online Chinese courses for children.
Video about Chinese characters for kids