Foreigners pick a Chinese name for several reasons. The most common reason is probably that Chinese natives may have trouble pronouncing their original name, but it's also a nice way of immersing yourself in the Chinese language and assigning some Hanzi characters to yourself. And it's only fair: Chinese people have English names, the privilege should go both ways 😉
Here we list some GoEast Mandarin Chinese language students and how they got their Chinese names.
Sarah:
Sarah translates to Salad in Chinese (Shālā), so for my Chinese name I had a Chinese friend help me choose something that sounds similar to Sarah. She gave me three options with beautifully detailed descriptions of each option, and I ultimately chose 思苒 Sīrǎn. Each option had the same first character.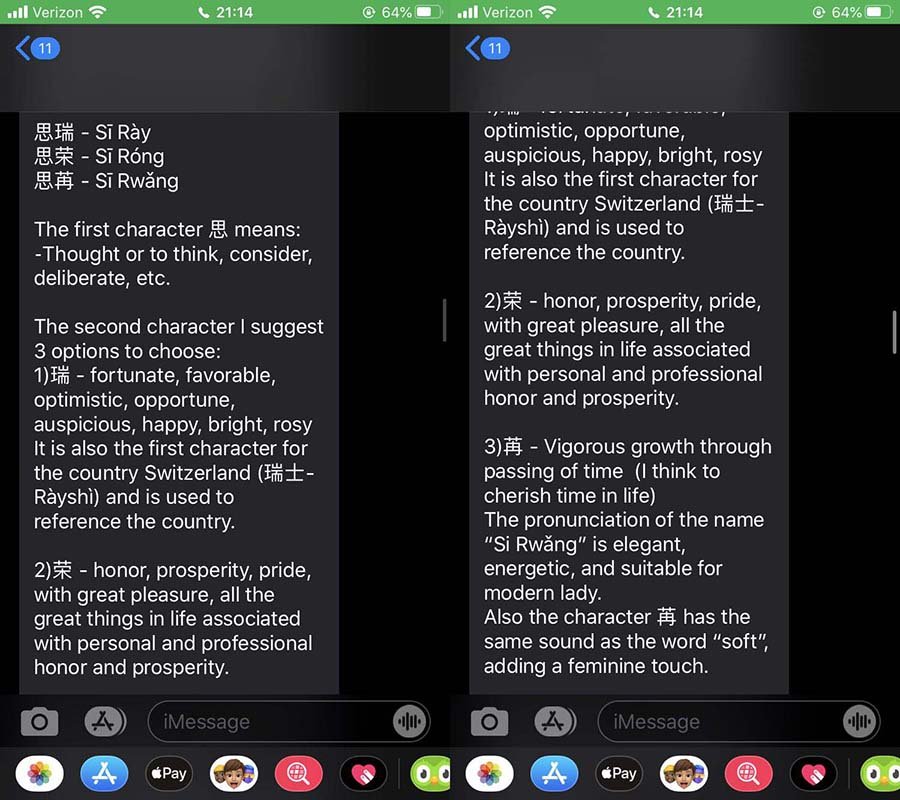 Ricardo:
I'm 厉龙山 Lìlóngshān because all Ricardo's are 李 (Li) but I didn't like that Li. I took 厉 Lì from 厉害 (awesome). 龙 because I'm from 1988年 (属龙 Dragon zodiac) and 山 because my last name is Sierra which means mountain in Spanish.
Filipe:
My Chinese name is '马小飞Mǎ Xiǎofēi'. 马 because of my husband's last name, who's Chinese, and 小飞 because he thought it was cool — and so did I. However I cannot remember the brainstorm we had that resulted in some sort of relation between 小飞 and Filipe, commonly translated to 菲利普.
Follow Filipe on Instagram.
Germano:
I had a Chinese name before, but an old person said it didn't have a good '风水' (Chinese Geomancy), so he gave me the name 马杰 Mǎjié.
Hannah:
My English name is Hannah so……汉娜Hànnà. Not much choice there lol.
Alex:
My Chinese name is 朴翼Pǔyì. My first teacher at GoEast gave it me. If I'm being generous, it can be translated as 'unadorned wings'.
Trenton:
After lots of searching and years of deliberations, I have settled on 夏川藤Xiàchuān téng, mostly because it is the best approximation of how to pronounce my name.
Jaap:
When I arrived in China, my colleagues pronounced Jaap as Yǎpǔ and later added the characters 雅普 to that. I didn't fully embrace it yet, only when a fellow foreigner also — independently — gave me that name with the same characters, it made sense to use it. You can read several meanings in the characters, but to me, it's 'Elegant Universal'.
Anthony:
My grandparents named me in Chinese first (安东Āndōng), then my parents named me in English based on phonetics.
Jenna:
At first, I thought it was a little weird to have a Chinese name because I'm not Chinese. But as time passed in China and I got more and more Chinese friends, they told me I should have one. But I didn't like the idea of having a name that was made up like 'golden tiger' or something, so my Chongqing tattooist friend suggested I should have a name that sounds similar to Jenna. Usually, Jenna is translated to 珍娜(Zhēnnà) but I don't think zhēn sounds so similar to Jen, so he suggested 简娜 (Jiǎnnà) which sounds more similar.
Then I started dating my boyfriend, 恒 (Heng), and his mum can't speak any English so didn't really know how to say my name, so she calls me 简娜.
Follow Jenna on Instagram.
Rory:
My Chinese name is 如海Rúhǎi. It works phonetically with my English name and I'm an ocean sailor and sailing instructor so it works nicely. My wife's former coworkers, who are native Chinese speakers in Beijing helped come up with it.
Vasil:
My Chinese name, 国王修Guówáng xiū, was crafted by myself around five years ago, a few months before I went to China for a year. 国 is for "Kolchev"; I suppose 郭 or some other character would have worked, too, but the way 国 combines with 王, which is next, is unique, as it means 'King'. 'Vasil' would be rendered as 瓦西尔 in cases of people without their own Chinese name, but I tried to improve that: 'Vasil' comes from Greek and means 'king', 'ruler', so I decided 王 was extremely appropriate. As for 修, it is phonetically fit, relatively good-sounding (in its meaning of decorating, mending, cultivating) and is just one character, in order to limit the name to three characters.
Leigh:
My Chinese name is 邬乐 Wūlè. Before I was adopted, my foster family in Wuhan gave it to me. I don't really know why they gave this name to me, but I am happy it means happiness because I feel like it fits me 🙂
Saverio:
I've been searching for a suitable name for years and I eventually settled for 习沙威 Xíshāwēi last year when I needed it for my driving license. 习 sounds like Silli and it is just too much fun to see people's face when I say 习大大的习. 沙威 sounds like Save or Savi as my friends call me plus I like to make beautiful sandcastles! And the 威 I kept from an early suggestion from Michael 老师,when he advised me to use 威力 as a name
Funny story, when I was first thinking about a name and tried to find something that sounded like Savi, I asked some friends if 傻逼 was a good name. Luckily they advised me not to take that one!
Markus:
I don't like the common translation of my first name into Chinese, so my Chinese name 熊二弟 Xióng'èrdì is a combination of my soul-animal (which is also a common Chinese last name) and a phonetic translation of my German nickname Erdi. It was first like a funny Chinese nickname, but it slowly became my official name. Anyways, I have so many brothers now!
Follow Markus on Instagram.
Mildly:
I got the name 刘丽云 Liúlìyún from a teacher in Thailand, in 2016. She and I were having dinner before I'd fly to shanghai and we both said we loved the clouds in Chinese arts and literature. Then I was like ok, I want to have a Chinese name after the cloud, so she helped me name 丽, 'beautiful cloud'. And the way the character was written is easy, back then I didn't know any Chinese only super basic characters so I think this is really cool. And li 丽 sounds like Ly in Mildly. Plus, it means beautiful, so who wouldn't want it!
---
Does this provide you inspiration on to choose a Chinese name yourself?