What's the difference between Simplified and Traditional Chinese characters? Why are there two types of Chinese characters? Which one should you learn? All is covered in this article here!
Traditional versus simplified characters
They are somewhat similar! Today, traditional characters are commonly used in Hong Kong, Macau, and Taiwan. Simplified characters were introduced in China after the 1950s and replaced thousands of traditional Chinese characters, and make up most Mandarin language in mainland China today, and they're also commonly used in Singapore and Malaysia. In GoEast Mandarin's courses we primarily use simplified characters, but if you have questions about traditional ones, we can also answer that.
Here is one sample of the sign for door: 門 (traditional) and 门 (simplified)
How and why Chinese characters were simplified
Chinese characters have evolved for a few thousand years, a history that we cover in the article 'All About Chinese Hanzi Characters', but in the 1950s and 1960s, Chinese characters got their last huge upgrade. Characters were simplified mainly to promote literacy — and one way to do so was to reduce the number of strokes.
There were several systems in place to simplify the strokes, such as
replacing a component with a simpler symbol (even if it's arbitrary)
using the basic outline but have fewer strokes inside
replacing an uncommon phonetic component with a more common one
removing the radical
or, only using the radical
removing components
etcetera
Here are some characters before and after simplification:
對 → 对 (Duì, correct)
繼 → 继 (Jì, continue)
麼 → 么 (Me, what)
廣 → 广 (Guǎng, Canton)
書 → 书 (Shū, book)
Not just characters themselves were simplified, also radicals and components. See the character 學 that went to 学.
Another round of simplification was planned in the 1970s and 1980s, but that never happened for several reasons (largely because changing characters is a huge project and the second round was just too unpopular).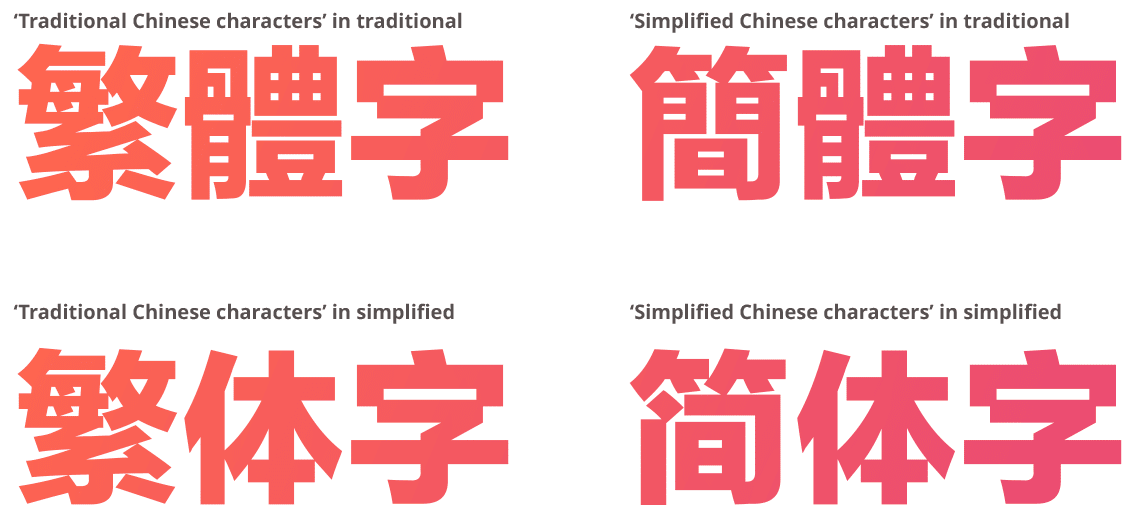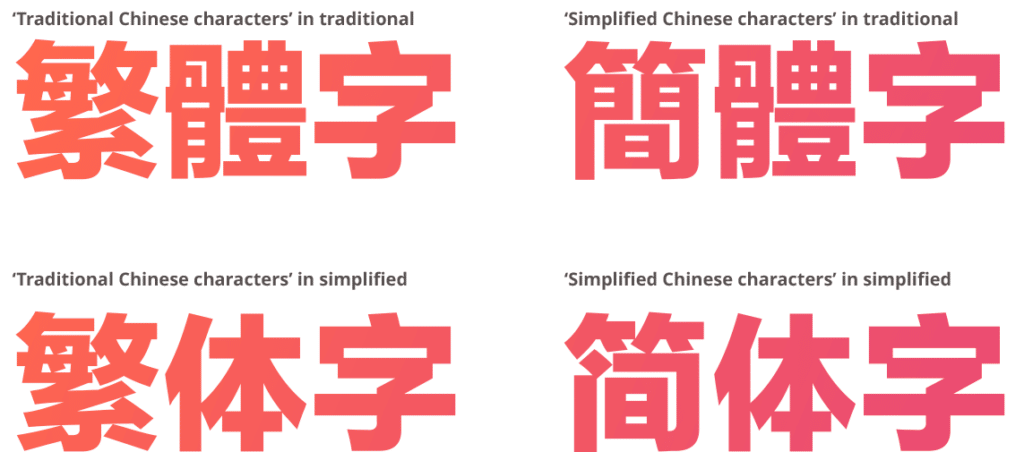 Names in Chinese
Simplified Characters are named '简体字jiǎntǐzì'
Traditional Characters are named '繁体字fántǐzì', although they're sometimes named 正体字zhèngtǐzì in Taiwan.
Which regions use Simplified Characters?
Mainland China, Malaysia, and Singapore. You may still see some Traditional Chinese characters in calligraphy, because with more strokes they're easier to write beautifully.
Simplified characters in Shanghai: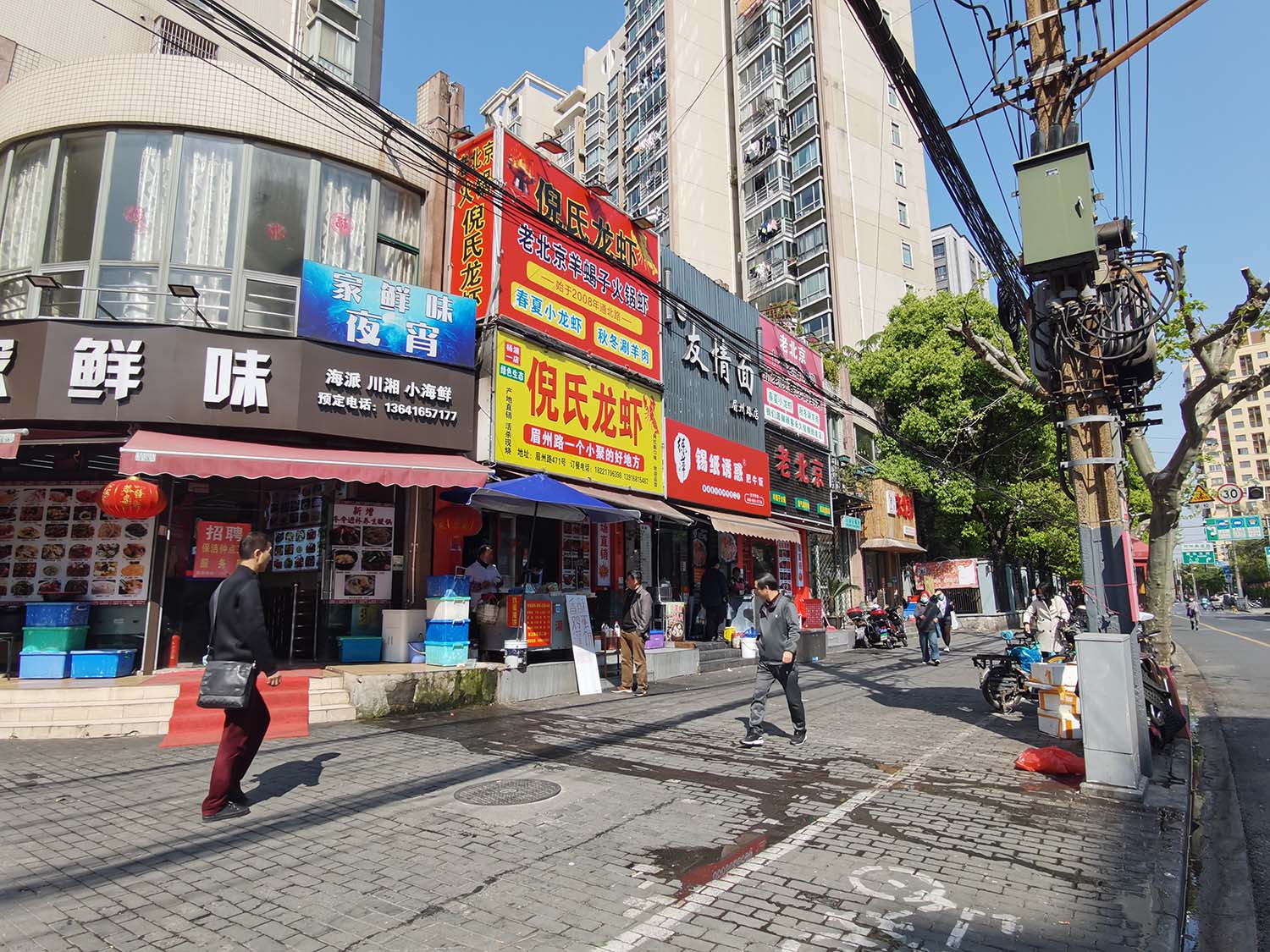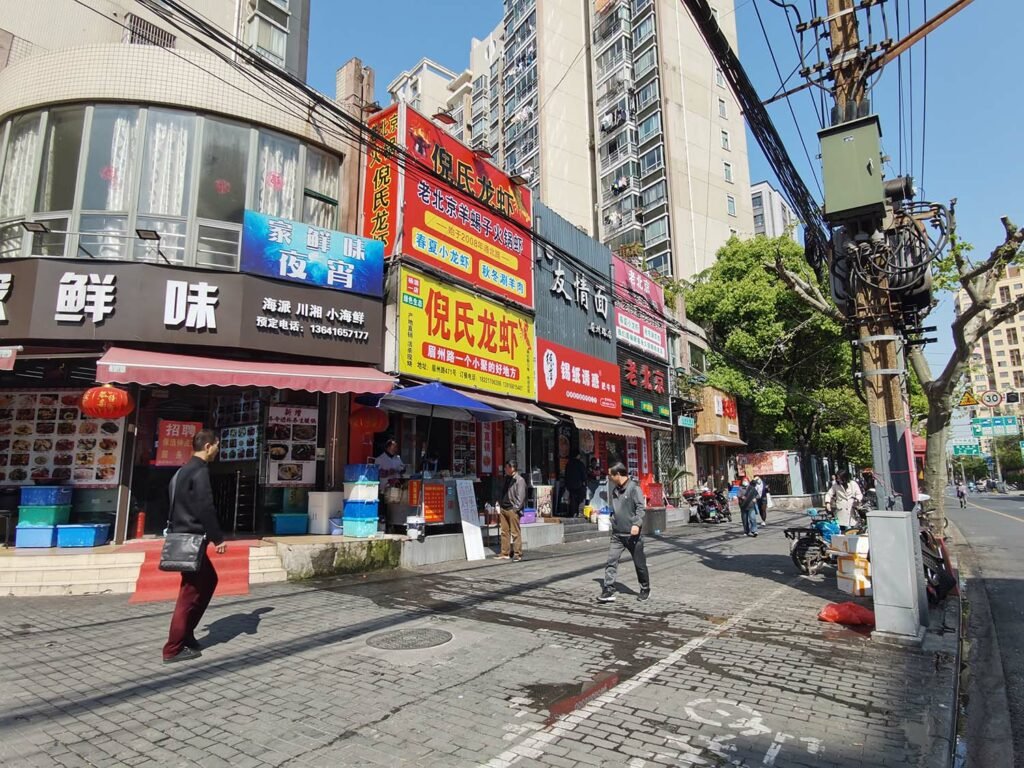 Which regions use Traditional Chinese characters?
Hong Kong, Macau, Taiwan, South Korea. However simplified is still visible, sometimes on traffic or public signs (especially neon signs are easier in Simplified), and some students prefer Simplified Chinese because it's quicker to take notes.
A street in Hong Kong: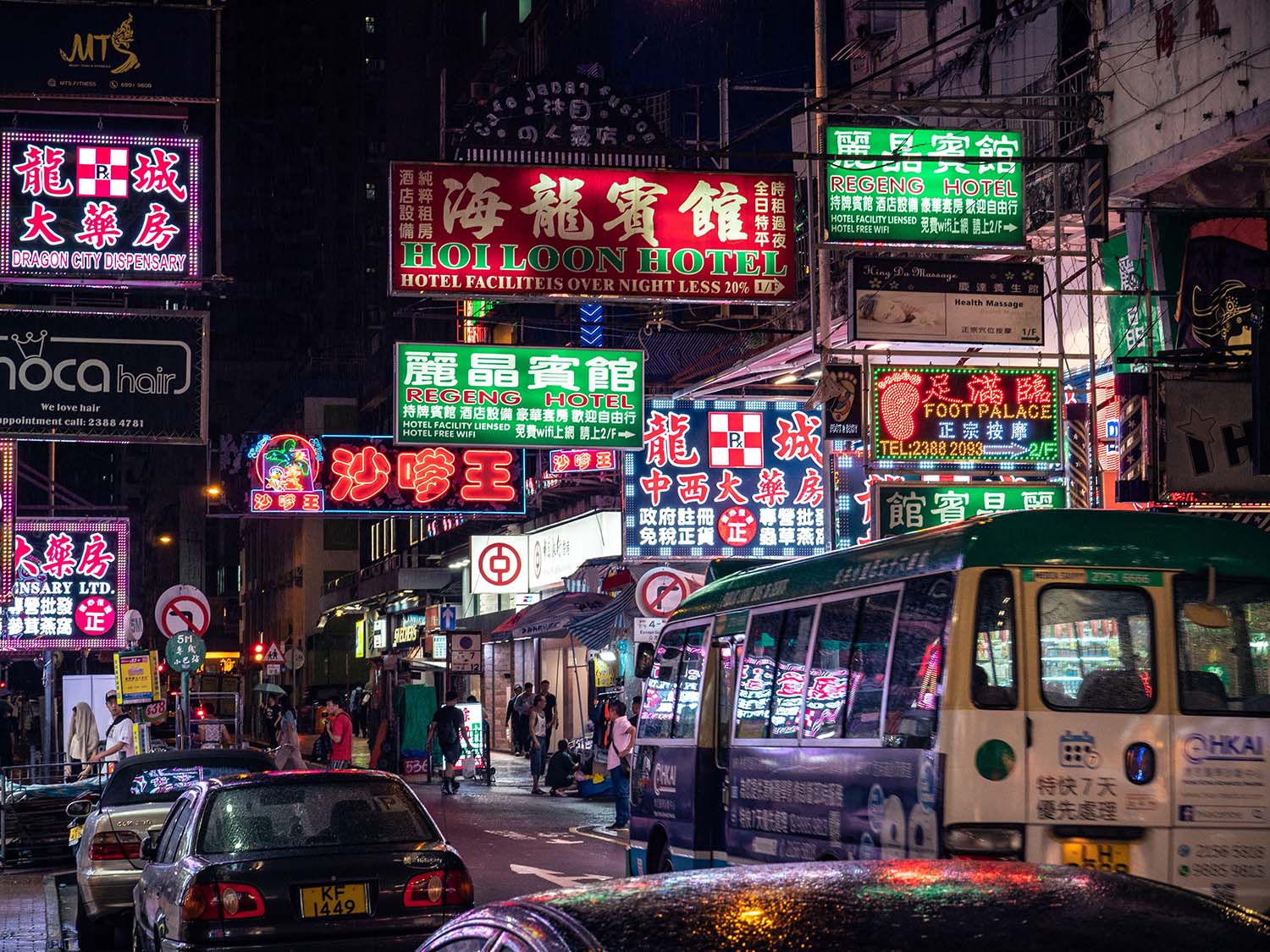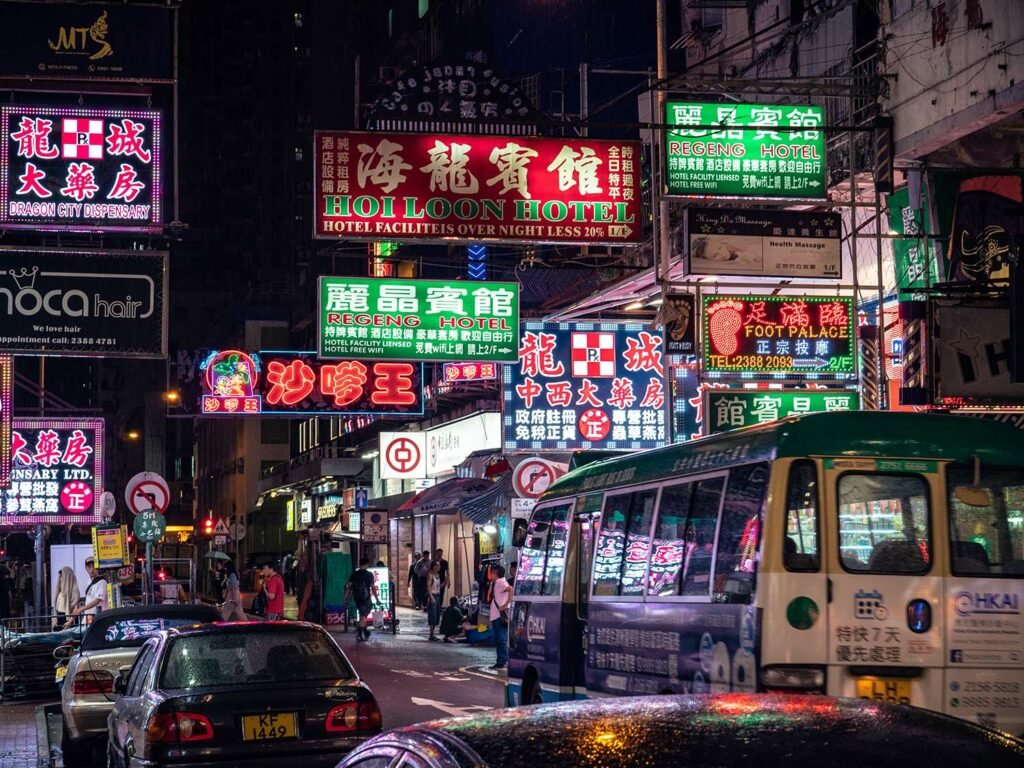 Which Chinese characters does GoEast teach?
At GoEast Mandarin we primarily teach simplified Chinese Hanzi characters. Interested in our learning? See our Chinese Hanzi course.
Should I learn Simplified or Traditional Chinese characters?
If you want to live or work or study in any of the Traditional Character regions, obviously we recommend you learn Traditional Chinese characters. The same for Simplified. If you don't know yet where you want to work — probably it's better to learn Simplified Chinese because the amount of users is bigger.
You can always learn Traditional Characters after learning Simplified and vice versa — and knowing one type definitely gives you a massive headstart to learn the other type. (That said, it's easier to go from Traditional to Simplified rather than the other way around.)
But we recommend Simplified to everyone who simply wants to learn Chinese, because it's the most prevalent across the world. If you see Chinese signs on an airport abroad (almost all big airports in any country now), usually those signs are in Simplified.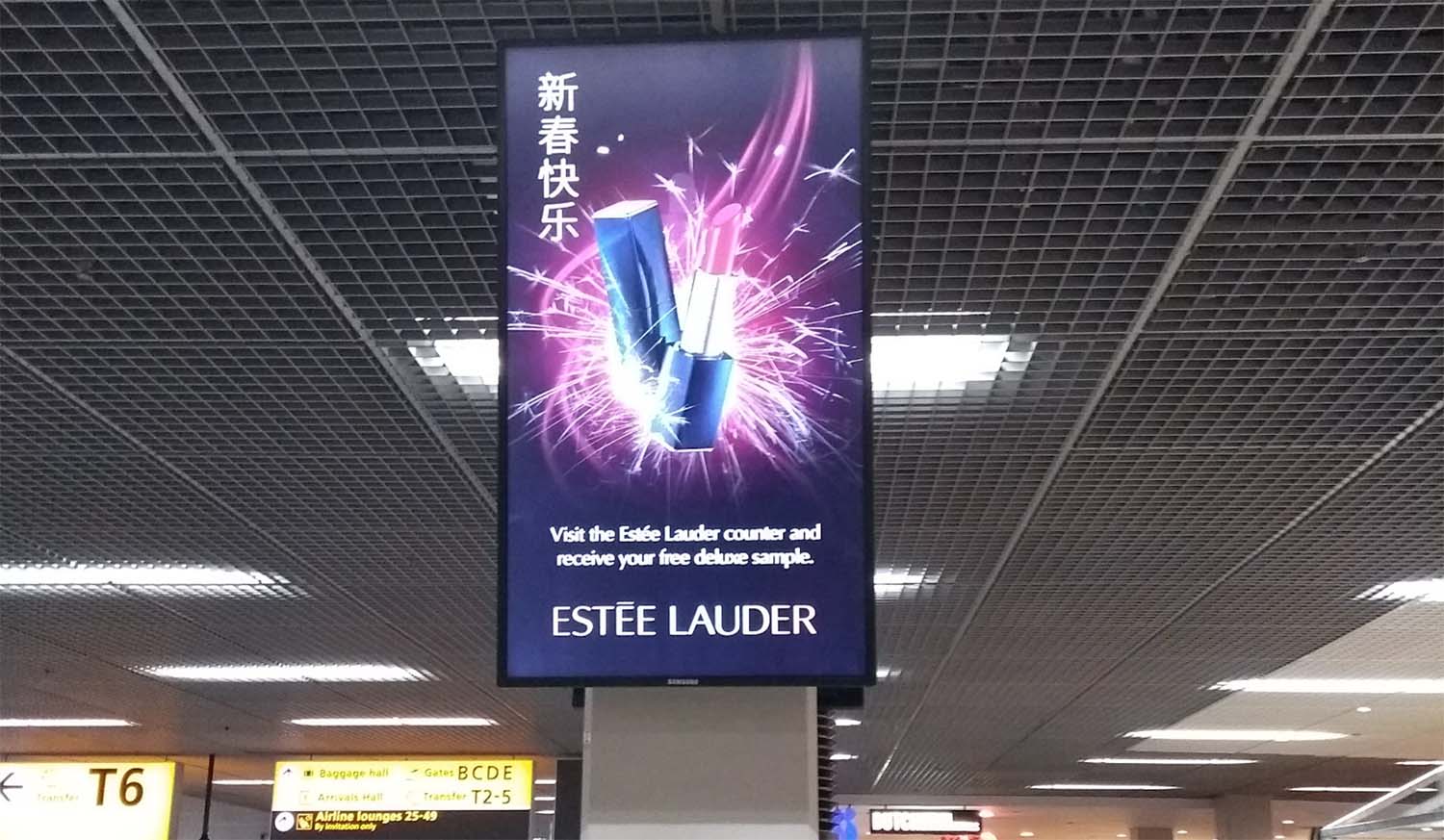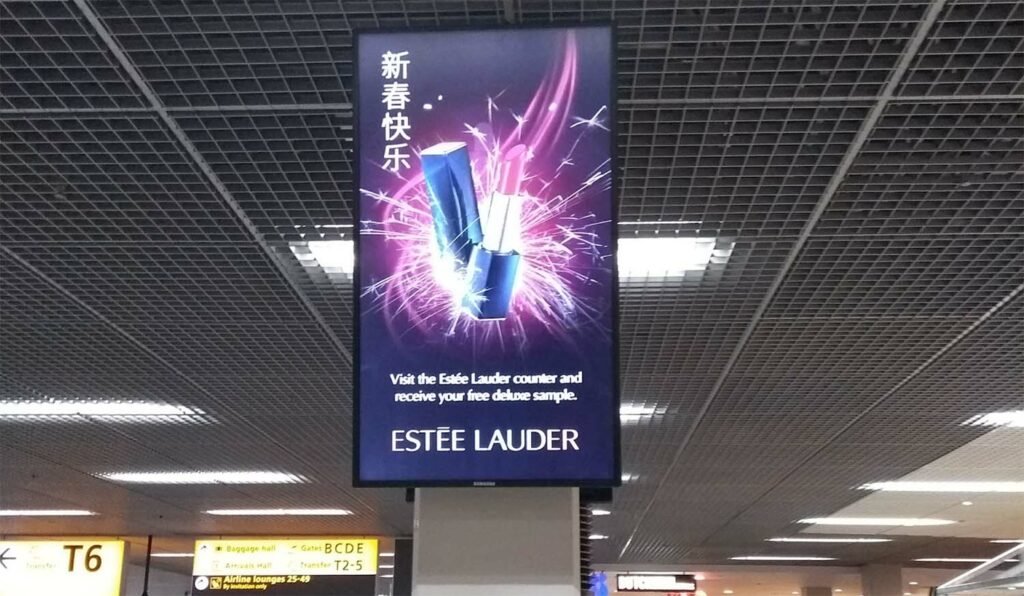 An advertisement on Schiphol airport for 2019's Spring Festival (in Simplified Chinese).