Now WeChat has become an indispensable tool for Chinese people in their life and work, but in the process of sending WeChat, some behaviors are easily annoying. Sometimes Chinese people will step on these minefields, let alone foreigners. Like interpersonal communication, in reality, WeChat also has etiquette. These potential rules will help us use WeChat better, writing in the correct etiquette for the Mandarin Chinese language.
How these messages read in 'Chinese'
The fake smile

Officially this just represents a friendly smile, but the actual meaning in Chinese would be "I don't want to keep talking with you, but I'm afraid it's impolite not to reply, so give you an embarrassed and polite smile. It's a hugely fake smile, that's how Chinese people would see it.
Advice: When you chat with others, especially Chinese people, you can use more of these smiles/emojis:


"Bye" emoji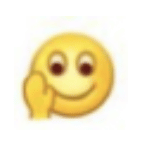 The official meaning of this emoji on WeChat is 'bye', but in the Chinese language, this'll mean "I don't want to talk to you" or "Let's not be friends", or "I want to be alone for a while".
The Sarcastic laugh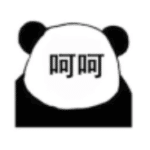 In Mandarin Chinese, "呵呵" (hēhē) is a sarcastic laugh. You can check our Beyond Class episode about this on our YouTube channel. The initial meaning of this smiley is "Feel happy;smile", but the meaning to Chinese people is of scorn and distain: "I don't want to talk to you."
The "èn" and "ò"
Replying with the Chinese particles "嗯(èn)" or "哦(ò)" on WeChat come across as disdainful too, as if you don't want to talk to the other person. The recipient on WeChat will think: "Oh, I wrote so many words to communicate to you, and wait for you, only to receive an "èn" and "ò" from you: what do you mean?" Advice: If you really want to use these two Chinese words on WeChat, it's better to say '嗯嗯ènèn' or '哦哦òò'. Although the difference is only one word, it will give people a kind feeling and make them feel that you are very warm and willing to continue talking.
The most annoying way to start a chat on WeChat in Chinese
'Are you there?''Are you busy?''Are you free?''How are you?'
When you see this message, everyone will feel nervous and cranky. They will wonder 'what are you doing? ''Should I say yes or no?' .So if you have something to ask someone, you'd better tell him directly. You can also say something quickly after ask 'Are you there?', or the other party will have a sense of fear.
Send a lot of long voice messages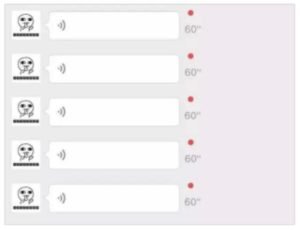 Some people like to use WeChat chat with voice messages, and every voice message time takes a long time. In fact, this kind of behavior is annoying, especially at work, and while convenient for the sender, it's really inconvenient to the recipient. But if you really want to use voice messages, it's best to ask others: 'is it convenient to listen to voice messages?' After getting a positive answer from others, you can send a voice message. (Voice messages are a great way to practice your Chinese speaking ability though!)
---
Although the etiquette of WeChat is a convention of young Chinese people, it is not as formal as it is in real life. But it's enough to be able to maintain smooth communication in work and life and to take care of the emotional feelings of both sides of the communication after we know something about it.