The Chinese language is the most spoken language in the world, with 1.3 billion native speakers. It's also one of the six official languages of the United Nations. At GoEast Mandarin, our colleagues also have first-hand experience of speaking Chinese in the Netherlands, Canada, the USA, and Chile.
How many languages are spoken in China?
Since China is over twice as big as the European Union, it's no surprise that well over a hundred languages are spoken in China, but not all of these qualify as 'Chinese language'. For example, there are also Indo-European languages such as Tajik, or Altai languages such as Kazakh, and Korean languages (spoken near the North-Korean border). But yes, the vast majority of the population does speak 'Chinese'.
Is Chinese one language?
Some Chinese people think of Chinese as a single language with some variations and dialects, because all its speakers share a common culture and history. But many linguistics will divert Chinese into seven language groups, because they are as different as English is from German.
Mandarin, which is called Putonghua as well, is a standardized form of spoken Chinese based on the Beijing dialect. It is the official language of Mainland China. The most well-known dialect is undoubtedly Cantonese, which is commonly known as Guangdonghua. It is spoken within Guangdong Province, Hong Kong, Macau, and some areas in southeastern China. It is the official language in Hong Kong. Mandarin is by far the most widely spoken language, with up to 960 million speakers in China, while Cantonese is a relatively small language, with 80 million native speakers.
All groups of Chinese language are:
Mandarin: By far the biggest language group. In this is Standard Chinese, also known as the Beijing Dialect (or simply known as 'Mandarin').
Min: This is a very diverse language group, spoken in the coastal areas of Fuijian, Hainan and Taiwan.
Wu: This group is spoken in and around Shanghai, in the surrounding provinces of Zhejiang, Jiangsu and Anhui. It has a group of 80 million people native speakers.
Gan: These varieties are spoken in the province of Jiangxi (and surroundings).
Xiang: Spoken in Hubei and Hunan.
Hakka: Spoken by in northeastern Guangdong and surroundings.
Yue: This is a large group of languages that includes Cantonese, spoken in Guangdong, Guangxi, Hong Kong and Macau.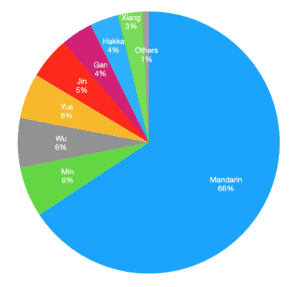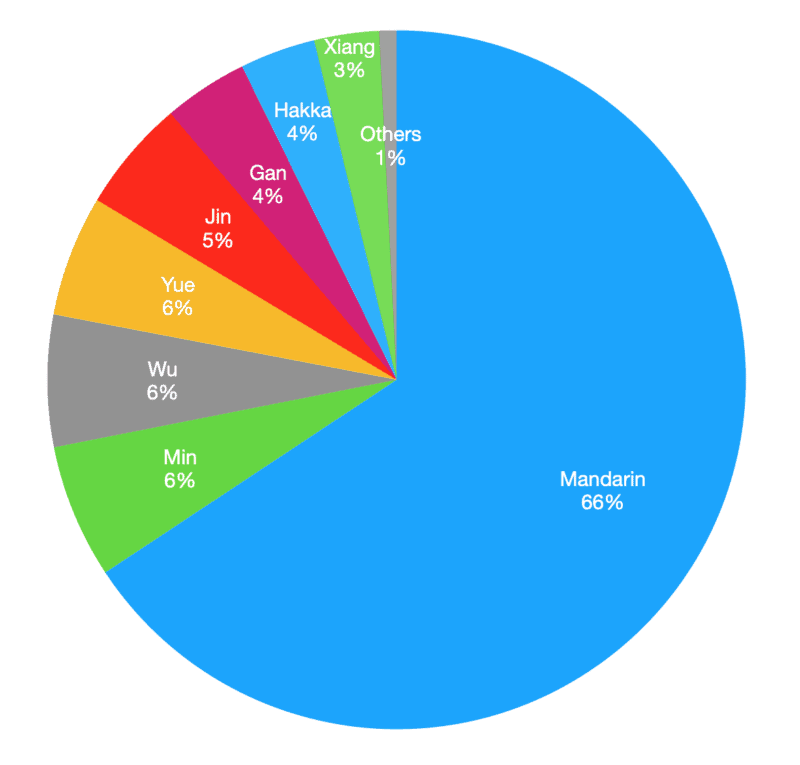 Besides the main dialects, there are some other languages used by various ethnic groups. China is made up of 56 ethinc groups with over 90% of the population belonging to the majority group, Han. Many of the minority groups have their own language, such as Tibetan, Muslim chinese population (Hui), Mongolian, etc. However everyone learns Mandarin when they go to school since Mandarin is the official language all over China.
Most Chinese can understand Mandarin but not everyone can speak Mandarin well. For instance, most people in Guangzhou speak Mandarin with a very strong Cantonese accent, which might be pretty hard to understand for foreigners. Generally, northern dialects are much easier to understand than southern dialects. So If you plan on doing business in China or traveling around, Mandarin is the main language to learn.
See our explanation here if you're looking how to say Chinese language in Chinese, because it's not that simple.
History of the Chinese language
Chinese language is probably over three thousand years old. It's not one of the first languages of the world, but it's among of the first written languages in the world that developed independently. (In this article we take you through the different Chinese Hanzi character styles and the evolution of them over time.)
Old Chinese language
The language they call 'Old Chinese' is the source of all variations of modern Chinese. This language is preserved pretty well in the oracle bones, with the earliest being found around the year 1250 BC. But the pronunciation of these characters are mostly lost, although some hints can be found in the inscriptions. It's likely that Old Chinese language is loosely related to today's Chinese — even though you definitely would not have been able to understand and speak it.
Middle Chinese
We have a better idea of the pronunciation of "Middle Chinese", which was used during the Sui, Tang and Song dynasties (from the year 581 to the year 1279.) This is mostly because of the Qieyun rhyme dictionary and later publications. The Qieyun dictionary (切韻Qièyùn) was published in 601 and uses a method of explaining the pronunciation of monosyllabic characters, by giving two example characters: one for the initial consonant (for instance a P, one for the final that makes the rest of the syllable (for instance an A). If that is hard to understand, here are three examples: 東 was spelled 德 + 紅, 德 was spelled 多 + 特, and 多 was spelled 德 + 河.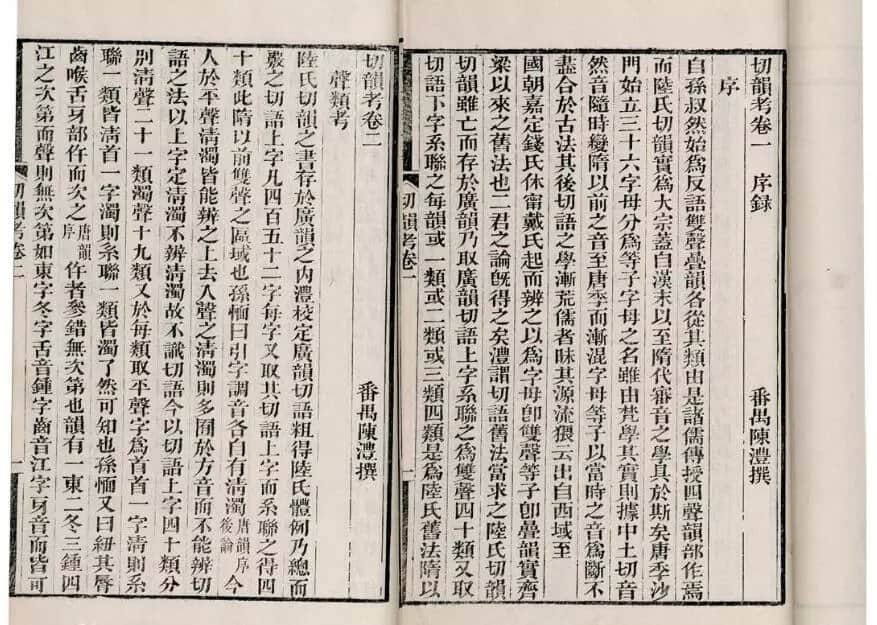 Modern Standard Chinese
After that, the development of Chinese is messy and vague. Many Chinese people spoke their local dialect or own version of Chinese.
During the Ming and Qing dynasty (1368 to 1912), most officials used the Nanjing dialect, which was referred to as 'official speech' (guānhuà), with Nanjing being the capital (alternating with Beijing through the centuries). Especially during the Qing Dynasty (1644 to 1912), the Nanjing Mandarin became the most common version of Chinese language.
Yet already in the 17th century, the Empire tried to unify everyone by making everyone speak Beijing dialect, but failed. It was only in the late 19th century that the Empire partly succeeded in this. Even in the 19th and 20th century, many regions still continued using their local dialects,
With the change from Empire to Republic in 1912 came bigger changes. The book 'Dictionary of National Pronunciation' was published in 1919, prescribing a uniform language, combined from various dialects — followed by another book in 1932: Vocabulary of National Pronunciation for Everyday Use. Another big change came when the new government of China gradually made Modern Standard Chinese a requirement for elementary school.
Which other countries is the Chinese language spoken?
Chinese language is obviously spoken in China and Singapore (as first-languages), and it also widely spoken in Indonesia, Thailand and Malaysia. But that's not all. Today, the Chinese language is spoken widely across the world. You wouldn't think it, but the Chinese language has millions of speakers in the United States, Vietnam, Australia and hundreds of thousands of speakers in Canada, Japan, New-Zealand. In basically every modern country you can find a place to speak Chinese.
Is the Chinese language difficult to learn?
Chinese isn't just difficult for foreigners to learn, it's even difficult for Chinese people to learn. David Moser, in an essay called 'Why Chinese is so damn hard' lists four reasons:
The Hanzi characters are very difficult
There's no alphabet (Pinyin doesn't fully equal to being the Chinese alphabet)
The writing system isn't very phonetic
You can't cheat using cognates (or as our student Santiago says: you can't 'wing' it)
In a more detailed article, we show you how long it takes to learn Chinese. Because even though it's very hard, with the right training, it's definitely do-able and anyone can reach an intermediate level within less than two years.