Can you learn Chinese characters from Chineasy? The method is hyped, and with millions of views on ShaoLan's TED video, we can see why. It's a believable story, the examples she gives are easy to understand. Whatsmore, the Mandarin Chinese language is hard and Chineasy is promising an easy way out. People wish it to be true. Reality is a bit more complicated. It boils down to the question:
Are Chinese characters difficult?
When Chinese language learners are asked the question "What do you think is the most difficult part of learning Chinese?", I think most of them would answer "Chinese Hanzi characters". Except for learners in the East Asian Chinese culture, especially those in Europe and the United States, Chinese characters represent small square pictures. Not only do Chinese learners need to remember the exact stroke position (and stroke order, if you wish), they also need to know the Pinyin, and the pronunciation of the character, plus the meaning. To many non-Chinese learners, Hanzi characters represent small pictures impossible to read, let alone to write.
What is Chineasy?
Chineasy was founded in 2010, and as a company designs illustrations based on Chinese Hanzi characters. Their approach makes sense in some ways. There are over 20,000 Chinese characters in total, yet if you want to be able to communicate with Chinese people and read Chinese materials normally, you have to know 1,000 Chinese characters. Even this seems to be a very large number, which discourages many foreign learners.
In order to reduce the difficulty of learning Chinese characters for foreigners, ShaoLan (Xiao Lan), the founder of Chineasy, created a system of learning Chinese characters from easy to difficult. She extracted the eight most basic and simple Chinese characters, and all other Chinese characters can be spelled out by these eight parts. These eight basic Chinese characters are: 口 (kǒu) , 人 (rén) , 火 (huǒ) , 木 (mù) , 日 (rì) , 月 (yuè) , 门 (mén) , 山 (shān) .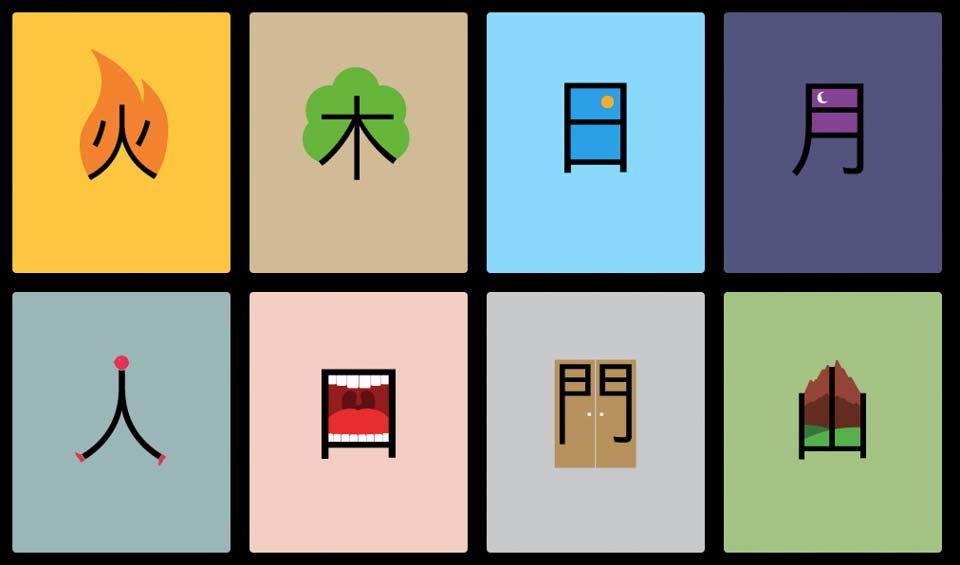 Chineasy represents these eight most basic Chinese characters very clearly through beautiful drawings. Further, just like the process of putting together Lego, each part is layered to learn more complex characters, such as "从 (cóng) " (one person following another), 众 (zhòng, many people); and longer phrases, such as "火山" (a mountain on fire), "火山口" (a crater), and "火口" (a mouth on fire).
Chineasy's approach to learning Chinese characters is actually a cumulative process, moving from less to more, from short to long, and from simple to complex. The learner can go backward and forwards in the learning process, and the Chinese characters learned become bigger and bigger like a snowball, which is also very fulfilling.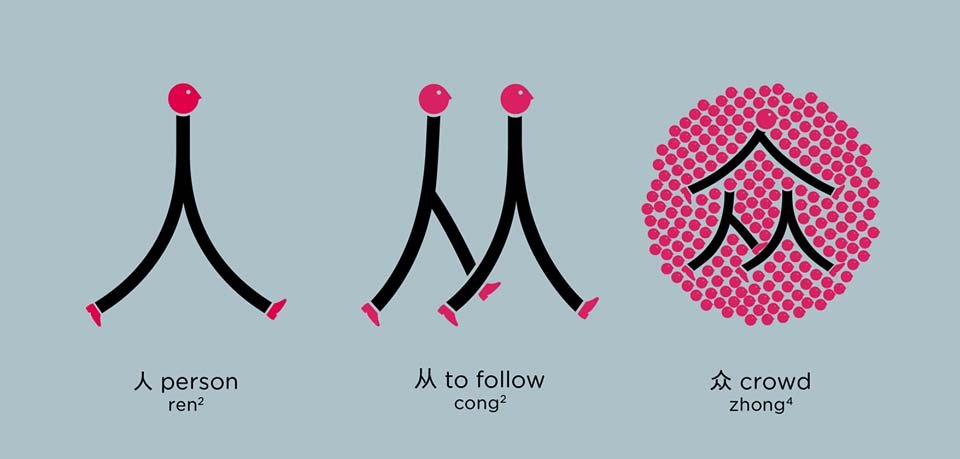 Where do I get Chineasy's Chinese character learning materials?
Chineasy has created its own account on YouTube, which has some Chinese character teaching videos, and Chineasy has published a set of books. But unfortunately, the set is not available on Amazon at the moment. You can try contacting Chineasy directly.
So can you learn Chinese characters from Chineasy?
In our opinion, there is one small area where Chineasy can be helpful: to a beginning Chinese language student. Chineasy emphasizes that the learner can quickly learn the meaning of many characters by superimposing the meaning of the basic components. This is useful for beginning students. But after that, the shortcomings come into play.
No explanation on character logic for radicals and components
No teaching on pronunciation
Just characters, not phrases or texts
Only 400 characters, which isn't enough to read even children books
Beginnining Chinese learners are better off to follow a real Chinese Hanzi character course, and learn from real educational books. Especially for Elementary, Intermediate or Advanced Chinese learners, Chineasy provides no educational value.
The ultimate goal of learning a language is to communicate. Focusing on the meaning but not the reading is like walking on two legs without one leg, you can't run fast. Chineasy can teach some Chinese characters, but it being hyped (or it selling itself) as the way to learn Chinese characters is like selling snake oil.