GoEast Online: Custom course
Whether you want to polish specific areas in your Chinese skills or learn terms about a special interest; we're here to create custom courses with you, centered around our teaching capabilities.
We've had students who didn't want to learn from normal books, so we used comic books instead. We've had aviation engineers who wanted to learn Chinese aviation terms from aerospace book — and we've even turned video games into education material.
We'll help you set goals & achieve them:
prepare for a specific job in a specific industry
learn about a topic that interests you
polish up "gaps" in your Chinese skills you have
talk about politeness in China, eg: welcome new colleague, lend and borrow stuffs, invite someone to the wedding etc
talk about study in school, eg: study after class, exam score, competition etc talk about work at a company, eg: have a meeting
Why GoEast online?
We're a Mandarin school with teachers online and in Shanghai. Our online school combines self-learning with live teachers; the best of both worlds.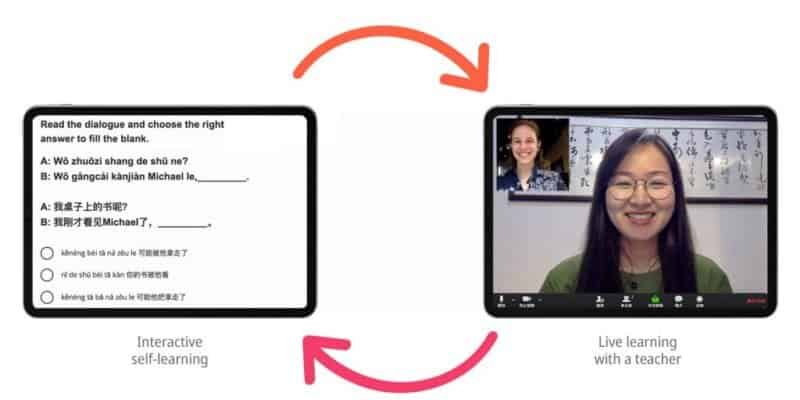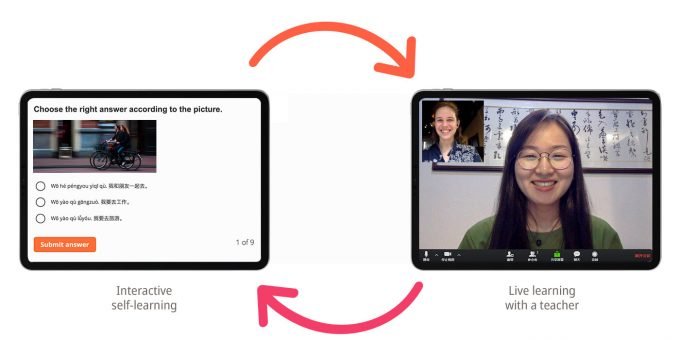 Interactive self-learning
Video lessons and interactive exercises

Learn on any device, anywhere in the world

Real conversations from daily life

Earn a certificate by completing a course
Live learning with a teacher
Highly experienced teachers

Data from self-learning course is used to target areas for improvement

Practice speaking and review each chapter with the teacher

Language immersion to achieve faster proficiency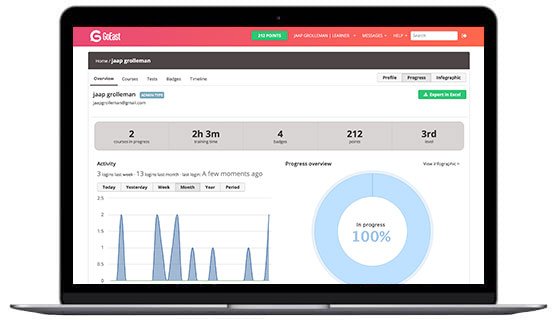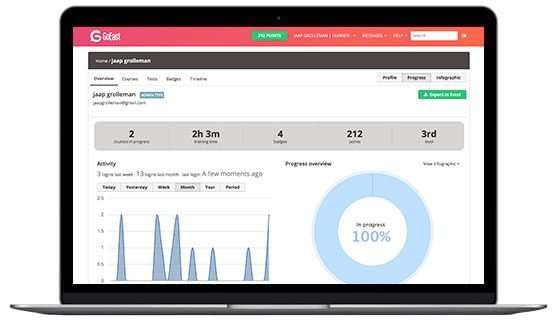 Online dashboard to track your progress
Keep track of the parts you've learned, the tests you've made and the parts you still have to do. All of this generates insightful data for you as well as our teachers, who can select what to learn together with you. Plus, badges to encourage you!
The teachers will contact you in our learning environment to schedule your classes. This platform is integrated with Zoom video calling, which works on any device.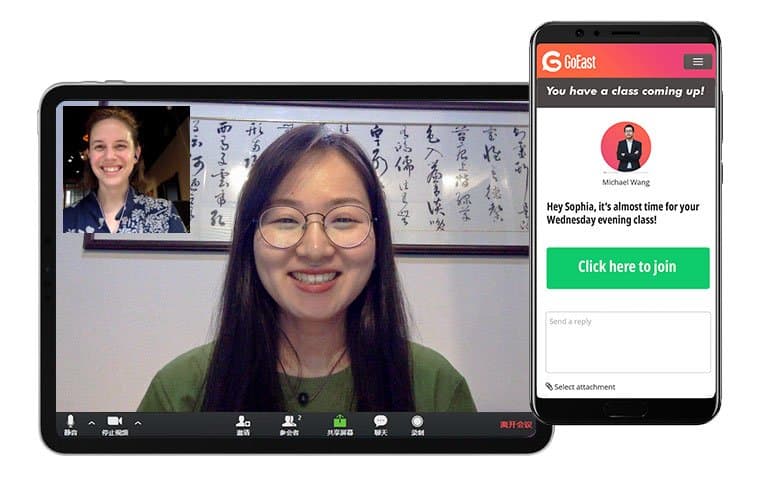 Get started with Chinese,
select a plan
Praise for GoEast's online courses:
"The teacher was awesome – really friendly, obviously experienced, and spoke great English but stuck with using Chinese. She really did a phenomenal job."

— All Language Resources about GoEast Online

After the trial course, I knew that this was the one. They helped me learn not only the vocabulary and the reading, but they also helped me improve my conversational skills. The staff at GoEast really care for you and they teach according to your learning style and your needs. It really is the perfect tutoring institute that I've been across!

– Hayeon Kim (South Korea)

GoEast Online is the best place to study Chinese language and culture in a fast and fun way. Before starting my lessons here, I had never imagined I would be able to make such progress.

– Manny Sue (Netherlands)

GoEast's teaching is effective and efficient. The teaching is well-rounded and certainly puts you ahead of the game, language-wise. The lessons themselves are tailored to your specific language needs, so regardless of your language goals and your reasons for studying, they'll find a way to help you get your Chinese to the level you want it to be at.

– Chaz Sonoda (USA)

These lessons were my first ever attempt at studying online actively with real people. Wise choice — not only the online self-study videos were excellently crafted and thought provoking, the vocabulary exercises, really helped cement the new words, the structured learning conversations and tests all prepared me. I highly recommend this course for anyone interested in learning the basics of business Chinese.

My GoEast teachers have been the most intelligent, skilled, fascinating, and kind teachers I have ever studied with, and I say this as a former university professor myself.

-Tom Smart (USA)
What happens when you fill in this form?
A language consultant will contact you soon
He or she will form a lesson plan with you, without obligation
If the times and schedule is agreed with by you, you'll receive a payment link
Upon payment, we'll create an account for you on our learning platform
Then the learning starts!