GoEast Online: HSK2
Continue learning the basics of Chinese with this course, doubling your vocabulary.
 30 self-learning chapters included
 90 videos and 500+ interactive questions
 30 articles explaining Chinese culture
 33 private classes with teacher
HSK is the standardized level of Mandarin for non-native speakers. Level 2 follows level 1: you're one step closer to fluency! In this course you'll learn 150 words and essential grammar, building on what you already know.
Real life examples of conversational Chinese to apply the words you've learned. Click here for a sample.
Videos explaining basic sentence structure. Click here for a sample.
Have live video lessons with your personal teacher to practice what you've learned and to check your pronunciation.
Several sets of flashcards which you can use to study vocabulary on any device. Click here for a sample set.
Test yourself with a short quiz and find out what you need to study more.
Chinese culture is part of the language. Our courses include short cultural articles too.
After this course, you can:
talk about entertainment
talk about your study
talk about your daily life
go shopping
describe weather in different cities
talk about your work in a company
describe your outing every day
talk about distances from places
 30 self-learning chapters included
 88 videos and 500+ interactive questions
 30 articles explaining Chinese culture
 33 private classes with teacher
Why GoEast online?
We're a Mandarin school with teachers online and in Shanghai. Our online school combines self-learning with live teachers; the best of both worlds.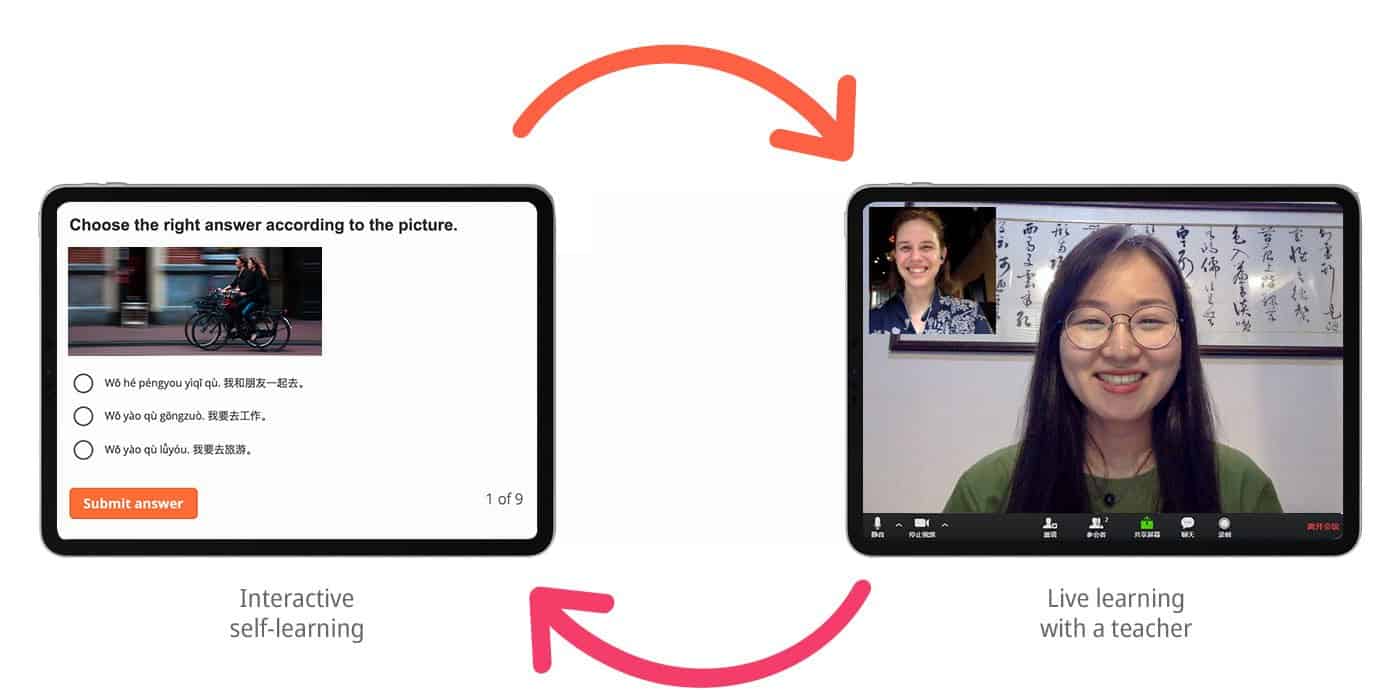 Interactive self-learning
Video lessons and interactive exercises

Learn on any device, anywhere in the world

Real conversations from daily life

Earn a certificate by completing a course
Live learning with a teacher
Highly experienced teachers

Data from self-learning course is used to target areas for improvement

Practice speaking and review each chapter with the teacher

Language immersion to achieve faster proficiency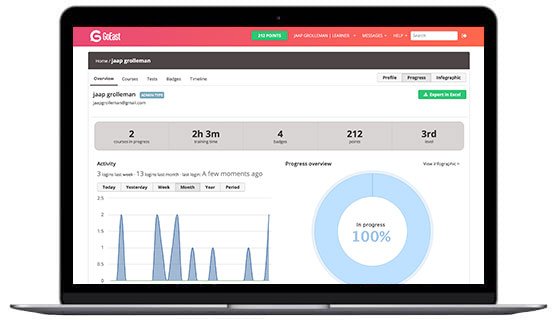 Online dashboard to track your progress
Keep track of the parts you've learned, the tests you've made and the parts you still have to do. All of this generates insightful data for you as well as our teachers, who can select what to learn together with you. Plus, badges to encourage you!
The teachers will contact you in our learning environment to schedule your classes. This platform is integrated with Zoom video calling, which works on any device.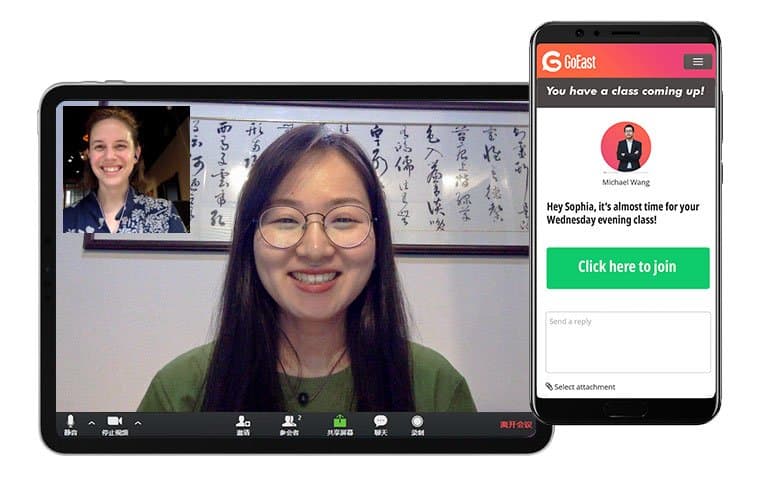 "The teacher was awesome – really friendly, obviously experienced, and spoke great English but stuck with using Chinese. She really did a phenomenal job."
What students say about our online program
What happens when you fill in this form?
A language consultant will contact you soon
He or she will form a lesson plan with you, without obligation
If the times and schedule is agreed with by you, you'll receive a payment link
Upon payment, we'll create an account for you on our learning platform
Then the learning starts!