As with many global industries, China is quickly becoming the largest consumer market for video games (电子游戏, diànzǐ yóuxì), spending 1 billion USD more than any other country on video games each year. Considering that video game consoles were banned from being made in China for more than 10 years during the 2000s, this growth is even more significant. The most popular video game companies in China are still big foreign names, such as Microsoft, Sony, Nintendo, and Ubisoft, but more and more Chinese companies are gaining domestic popularity.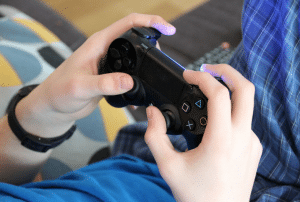 While gaming console manufacture was banned in China, gaming enthusiasts spent their time on computers playing PC games and, eventually, online games. After gaming consoles were allowed in China, they quickly tied PC games for popularity. Now, however, with the prevalence of smartphones, mobile gaming makes up half the market for gaming in China. Gaming, overall, is so popular that its sales have surpassed movie ticket sales in China.
The largest Chinese gaming companies include Tencent, Netease, Shanda, and Perfect World, to name a few. The two largest companies, Tencent and Netease, aren't exclusively gaming companies but are digital content service providers, offering many different forms of digital entertainment, including movies, music, comics, and more. Tencent, for instance, is best known for its social chat platform WeChat, an essential tool for daily life in China. Their gaming platform is called WeGame, focusing on mobile games and convenience, often at the cost of quality.
The Chinese gaming industry is young but growing quickly. There are many homegrown companies and startups working hard to produce content for the largest gaming market in the world. Domestic companies alone can't meet the demand for more and better content. The global gaming market is working to win Chinese gamers, many by partnering with local companies to help enter and understand the millions of gamers in China.