Shanghai and China are in partial lockdown. Michael is here, Ellie is there. But both are online, answering your questions about learning Chinese. In clear spoken Chinese with Hanzi, Pinyin & English subtitles.
Have a look!
Click here for a full transcript in Hanzi, Pinyin & English.
Questions about online learning with GoEast?
If you are interested or have questions about GoEast's online Mandarin courses, add GoEast's Eva on WeChat (WeChat ID = morningra), or scan the WeChat code beneath: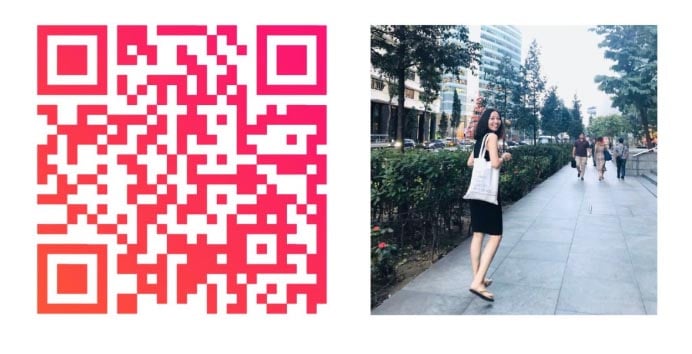 Transcript in English:
"Hi, welcome to ask us anything. It's Michael and Ellie. I'm Ellie. I am now in Puyang, Henan Province. Hello, I'm Michael. Now I'm in Shanghai.
Because of the virus, there are some restrictions on public transportation on my side. So we decided to record this episode at home.
So far, we are all pretty good. All the GoEast teachers are also very healthy. I believe we will get through this difficult time.
Yes. So let's start our questions now. The first part is about Shanghai. Let me ask Michael. The first question is from Judith on WeChat. She asked if all the stores and gyms in Shanghai are open now.
Basically all stores in Shanghai, including gyms. Actually they're all closed. Only some big supermarkets or some chain stores are open. And public transportation is also open, it's OK to take the subway. But everything else should be closed. Including — actually I want to have a haircut — you can see my hair is already long. But all barbershops are closed! So there is no way to cut it.
Ok I understand. The second question is from Amandine. She asks how do you spend your time at home now, especially with family and children. And StuffedGreenPepper on Reddit also asked: "How do Chinese people kill time? Is there anything special?"
For us there are no children in my house, so lucky. This is a quiet spring festival, but it may be troublesome for children. Like my neighbour next door, he has a child, and should be studying now. Possible learning online, but then at home. I think Chinese people are actually the same. Everyone is the same. May be reading, watch some online movies or clean your room.
Then a GoEast teacher: here's Clytie, she's painting at home. So it 's all okay. Then I have a friend, In his WeChat moments, he was making Lego with his children. A lot of Lego sets, very interesting. Then for me, I usually read a book at home. Most of the time is actually work. Then there is still some time, I'll play the game. Because I have a Switch, so I will play some Switch games.
Ok. Then the third question is also more important. Jennifer, she asked, now in the community, the neighbours are reporting something.
Then if she is in Shanghai, does she need to do some reporting? For foreigners, I am not very clear. But in my house, in my community, all people returning to Shanghai need to be registered. The the doctor advises to be at home and quarantine yourself for 14 days. But I don't know if my community has this 14-day rule. So for the Chinese, as long as you return to where you live, you need to report to your properties in your community, or report to the neighbourhood committee. For example, in my home, there is a restriction on going out. I don't know if there is such a rule in the community in Shanghai.
Not yet in Shanghai, for example, I came to GoEast today. It was quite smooth that I went to this Xuhui campus. Nobody asked me.
Then what is the situation of the restriction at your home?
The restriction is that each household can only send one person out each day. In and out once, so it feels more strict than Shanghai.
Yeah. Then, here's a question about entertainment programs. I think it suits you Ellie. Eternalfantasi asked on Reddit, he/she says to him/her, China's talk shows are fun, very funny, but Chinese sitcoms are a bit old-fashioned, do you agree with him/her? If you don't agree, any suggestions?
I agree with him/her more. But when I was young, we often watched some Chinese sitcoms. For example, Home with kids. And iPartment, things like these. But now for me, these Chinese sitcoms are also quite old-fashioned. But the talk shows are really funny. I recommend everyone to watch Rock & Roast. Roast or I can I BB. And if anyone likes to watch variety shows. Recently there are two very popular shows. One is The Protecters, promoting environmental protection. And then Young Forever, a musical show. I hope you can take a look when you have time.
So you watch variety shows every day at home, right?
Yeah, that's not boring.
And then there's our student Jaap asking on the impact of this virus. What are some specific impacts on your Spring Festival? For example, did you still have a reunion dinner? And also, like visiting relatives, is there such behaviour this year?
Because this virus happens to be the Spring Festival, so it actually has a big impact. For example, this year's Spring Festival, our grandparents and grandparents in law didn't have a reunion dinner with us – because you can't go in or out of the city. Then we did not visit the relatives, like going to my aunties house. Auntie doesn't have any visitors. But one of the good things is that I didn't give out red envelopes. But one disadvantage is that I did not receive a red envelope! So actually it has an impact on me.
So it was not only the reunion dinner, visiting relatives canceled. Even the red envelope was cancelled, right?
Yes, even the red envelope was cancelled.
Let's take a look at the second part. The second part is some questions about Chinese learning. I know everyone may continue to learn Chinese during this time. So there are some issues that everyone cares about. Then I will answer these questions with Teacher Michael. The first question is from NeeroxDaFx, on Reddit he/she said: I have been learning Chinese, then he learned that there are actually many dialects in China. If there are many dialects, which one is considered the better dialect?
Actually, if you study Chinese, you just need to learn Mandarin. Just Mandarin. This is the most standard Chinese. Then if you want to learn some dialects, for now, Beijing dialect should be the closest to Mandarin. Also the most standard dialect, because the standard of mandarin is based on Beijing dialect, as the standard. So you can learn some Beijing dialects.
Ok I also agree with Michael.
The second question is to ask Michael, because he knows better about novels and reading. It's from plop_symphony, he/she asked us to recommend some novels popular with modern Chinese young people or documentary literature. This question, I actually have a lot of students, they are all reading a Chinese Si-Fi novel called The Three Body. This book is also popular in China, actually very popular in foreign countries because of the author of this book won a Si-Fi award, so now he's very famous. And it's in both Chinese and English. So I highly recommend this book, Three Body (Problem).
Then another book is published more recently, it's popular that The Longest Day In Chang'an. This is a historical novel. Because it recently made into a TV series, then the TV series was made very well, so many young people also wanted to read this novel. I heard it was good. I have not read it. But I heard it's good. So I recommend you can take a look.
Okay thank you. I heard there are TV shows, so I want to watch The Longest Day In Chang'an.
That definitely suits you, definitely suits you
The third question is also from Reddit. He asks we want to learn some new buzzwords during this period. I think the most popular is actually everyone saying online: Be strong China. Then, Be strong Wuhan.
This is, yes, the two most popular ones. Then there is another funny one which is. If your parents come to wake you up, you can tell them: I won't get up, it's the country that ask me to sleep. Because now all governments encourage everyone stay at home. And try not to visit your friends. So you can say the country asks me to sleep. I want to contribute to the country. Yes, and actually ensure adequate sleep. Good for resistance, good for everything. So it's really the country that asks us to sleep
Hahaha yes yes yes.
So that's all the questions we answered this time. If you find it interesting please remember to give us a like and follow us
If you have any other questions. You can leave your message below. Then we will answer your questions on the next episode. In addition, do you know. In fact, you can continue to learn Chinese at home. GoEast will continue to launch more interesting online activities and online courses. So remember to follow us.
Ok. Then the last words I want to say: China, be strong. Wuhan, be strong!
See you next time. Bye!"