Invite your friends to learn at GoEast. For each that signs up for a GoEast Mandarin course, either online or in Shanghai, we'll give you a Netflix gift card, while your friend gets an extra private Mandarin class.
How it works
When a friend is looking for a language school, or you think GoEast Mandarin is suitable for someone, you can recommend GoEast to them (or share us on your social media).
When your friend registers for a course at GoEast and mentions your name, the rewards kick in.
Rewards for getting your friends to learn Chinese at GoEast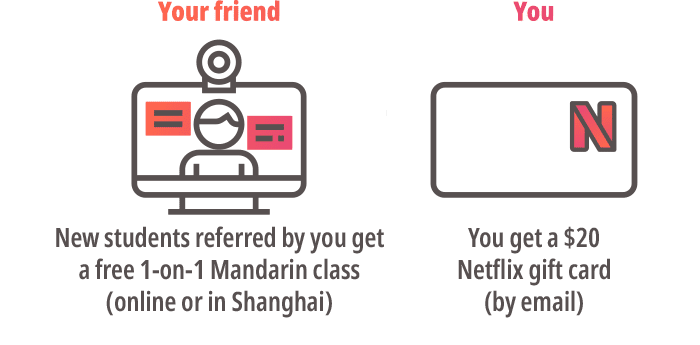 So if you refer two students to GoEast, that means you get two Netflix gift cards, and so forth
If you refer over 5 students to us, we'll also send you a coffee mug or t-shirt that says "GoEast Elite"
Why GoEast Mandarin?
Rated 4.9 out of 5 (and an NPS of +84)
Over 90% of our students renew their lesson package with us
Listed as one of the best language schools by Time Out Shanghai
"Definitely among the best online 1-1 classes I've ever taken", as reviewed by AllLanguageResources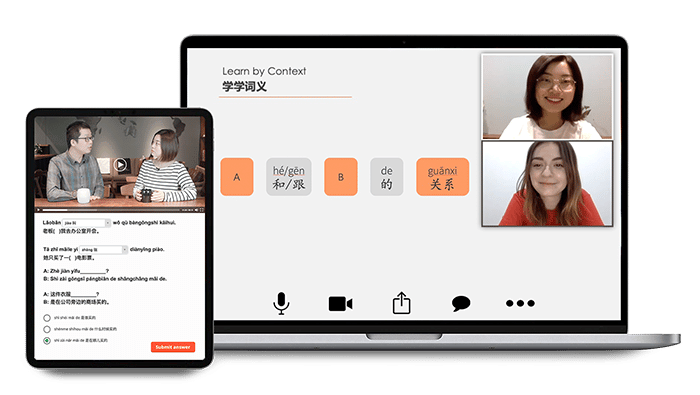 Why Netflix for learning Chinese?
We want a casual way of showing you our appreciation for spreading the word. Besides, Netflix is something you can watch together with the friend you just referred! There are also series & movies in Mandarin to watch, such as Accidentally in Love & Nowhere Man.
Don't like Netflix, or unable to access it? We can also offer 爱奇艺Iqiyi memberships.
Any terms?
Not a lot. Only new students are applicable to be considered 'referred' by you. Gift card value roughly equals to 20USD (e.g. 30AUD, 25CAD, 15EUR, depending on availability). Let us know the currency of your Netflix account and we'll send you the corresponding gift card. This offer lasts until the end of May this year, but may be extended (sorry, we did a pun there).
Want to share something?
Save one of these poster to your phone and share it with your friends. If your friends are not on WeChat, you can share our website goeastmandarin.com, the same offer applies. 谢谢你! Xièxie nǐ!