Laodong Jie (劳动节) is known as Labor Day in Chinese. It is a public holiday celebrated on May 1st every year in China. It honors the achievements and contributions of workers across the country. With its socialist roots and focus on workers' rights, Labor Day carries great significance in modern China.
Origins of Labor Day in Chinese
The origins of Labor Day in China can be traced back to the international labor movement in the late 19th and early 20th centuries. During this time, socialists and communists advocated for an international Labor Day to celebrate workers and bring attention to labor issues.
The first Labor Day celebrations took place on May 1, 1890 after it was designated International Workers' Day at the Marxist International Socialist Congress in Paris. This date was chosen because it commemorated the Haymarket Affair protests in Chicago during 1886.
In China, May 1st was celebrated as Labor Day from 1922 onwards after it was adopted by the Communist Party of China. After the founding of the People's Republic of China in 1949, the new government officially declared May 1st as a national public holiday called Laodong Jie.
Symbolism and Significance of Labor Day in Chinese
As a socialist country, Labor Day carries important symbolic meaning in China. It represents the fundamental role of China's workers in building and sustaining the nation. Chinese leaders emphasize the significance of Labor Day in their annual addresses on this date.
Labor Day is seen as an acknowledgement of the working class as the driving force behind China's economic development. It honors workers for their sacrifices, hard work, and dedication. The date of May 1st also connects today's Labor Day with its historical origins in the international socialist movement.
By upholding Labor Day as a major holiday, the government affirms its socialist commitments and the right to decent working conditions, fair wages, reasonable work hours, and collective bargaining. These principles are enshrined in China's labor laws and regulations.
Traditions and Celebrations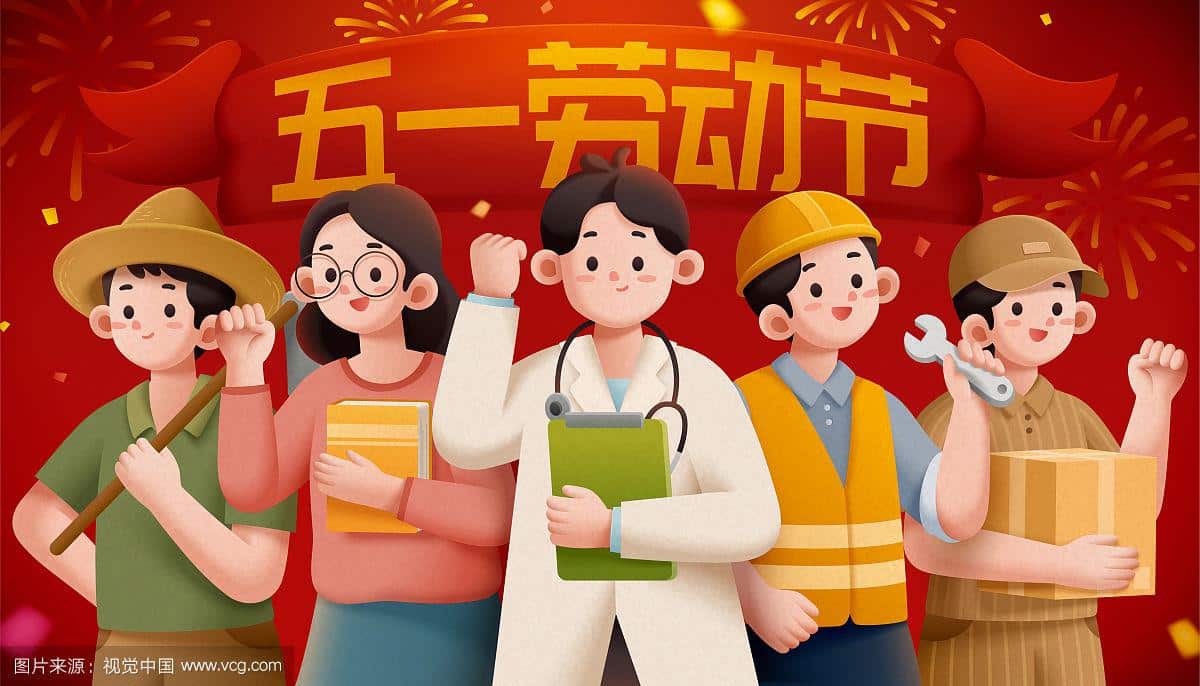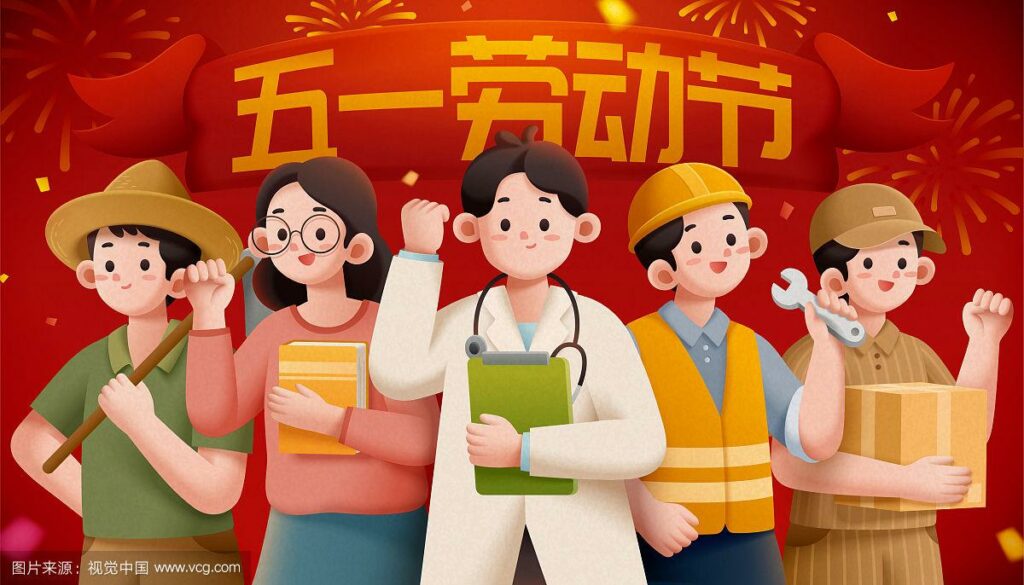 Labor Day is celebrated across China with various traditions, events, and public festivities. Here are some of the common ways Chinese people observe this holiday:
Outdoor Carnivals and Festivals: Large-scale carnivals, culture festivals, sports meets, and other public events are organized in cities across China on Labor Day. Beijing and Shanghai host some of the biggest Labor Day celebrations.
Fireworks and Concerts: Fireworks displays light up the sky in major cities on the eve of Labor Day. Concerts, performances, and shows are also staged for the public to enjoy.
Theme Parks and Travel: Many working professionals and students take advantage of the 3-day weekend to travel and visit theme parks with their families or friends. Domestic tourism booms during Labor Day holidays.
Honoring Model Workers: governments and organizations hold ceremonies to honor model workers and award national medals on Labor Day. This highlights workers' achievements.
Communist Party Speeches: Senior leaders of the Communist Party and government address the nation on Labor Day, underscoring the holiday's significance.
Media Coverage: There are special TV programs, newspaper articles, and online content dedicated to Labor Day, educating the public about its history and meaning.
Day Off Work and School: All employees, laborers and students across China get a day off from work and school on May 1st to participate in Labor Day events and celebrations.
Family Reunions: Since people get consecutive days off, many working professionals travel back to their hometowns to reunite and spend time with parents, grandparents, and other family members.
Labor Laws and Protection in China
While celebrating workers' rights during Labor Day, it is also important to examine the labor laws and workplace protections guaranteed to employees in China:
Constitutional Rights: Labor rights are upheld as sacred in China's Constitution. This includes right to work, rest, material assistance, and protection against unemployment, old age, illness or disability.
Labor Contract Law: This requires written contracts for all workers and protects their rights and interests including wages, benefits, safety, vocational training etc.
Labor Union Law: Grants all workers the right to organize through labor unions and collectively bargain with employers for better working conditions.
Social Insurance Law: Employers must provide workers with social security benefits like healthcare, pensions, unemployment benefits, work injury coverage, maternity leave etc.
Labor Dispute Mediation Law: Lays down dispute resolution mechanisms for conflicts between workers and company management through mediation, arbitration and litigation.
Work Safety Laws: Comprehensive laws and standards around occupational health, safety procedures, accident prevention, emergency response etc. to minimize work-related risks.
While China has made significant strides in protecting labor rights, areas of concern still remain, including excessive overtime, lack of collective bargaining, discrimination against migrant workers, and unsafe working conditions in certain industries. Ongoing reforms and better implementation of existing laws is important.
The Future of Labor Day in China
Labor Day continues to be celebrated extensively in China more than 70 years after its establishment. However, some worry that its socialist symbolism is being diluted amidst rapid economic growth and commercialization in the country.
Preserving the essence of Labor Day is crucial as China progresses. The working class must remain central to the nation's development. As China's economy matures, Labor Day can promote sustainable and equitable growth through technology adoption, skills training, environmental protection and human-centered policies that protect workers.
The message of solidarity, equality and dignity of labor embodied in May 1st continues to remain relevant. Labor Day serves as an important reminder of China's socialist history and commitment to improving workers' livelihoods. It will likely continue to be celebrated nationwide for generations to come.
Don't miss out on expanding your knowledge – visit our Chinese learning resource page!