After a long week at work, how do you relax and enjoy the weekend? In China, people "play" with friends.
The word 玩 wán means to play, not only sports, but to say that you are going to do something fun with your friends:
我们一起玩吧!
Wǒmen yìqǐ wán ba!
Let's play together!
So what do people in China do on the weekend when they 玩 (play)? Not surprisingly, real life isn't like the movies: mahjong, martial arts, calligraphy and ping pong are not on the list of leisure activities for modern day Chinese people.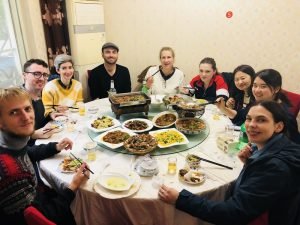 Going Out to Eat 出去吃饭
We all need to eat to live so, of course, going out to eat is the number one thing to do with friends. Whether it's one or two friends sharing a meal or a large gathering of friends and relatives for a birthday, eating is more often about spending time with friends than it is about the food. It's debatable whether chatting with friends or eating good food is more important. Additionally, most Chinese meals are designed for sharing and served "family style" with all of the food in the middle of the table.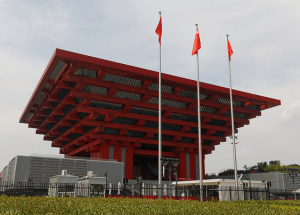 Museums & Exhibitions 博物馆和展览
The major cities in China, Beijing, Guangzhou/Shenzhen, Shanghai, are the largest in the world and regularly attract international exhibits. There are dozens of traditional and modern museums in each city which regularly host world tours of art and even some exclusive shows, in addition to hundreds of domestically produced work. Going to a museum can be an educational event, a cultural experience, or simply a place to walk and talk with friends. People sometimes choose which exhibit to see based on advertisements but mostly rely on recommendations from friends, either as an invitation to visit an exhibit or social media posts.
Shopping 逛街
People in China have more disposable income than ever before. So what better way to spend your weekend than going shopping? There are countless shopping malls all over China with air-conditioning and protection from the elements and air pollution, making shopping a great activity any time of year. The phrase 逛街 guàngjiē actually refers to strolling and looking at stores rather than the act of buying things. Shopping malls also have a wide variety of entertainment besides shops, from restaurants and movie theatres to sports venues like indoor skate parks, obstacle courses, as well as video arcades and activities like "Escape the Room". It's easy to spend a whole day inside a shopping mall without even shopping!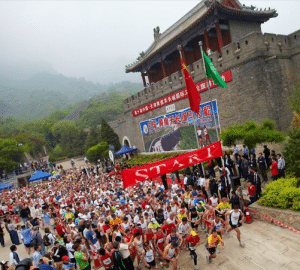 Sports and Exercise 体育运动
Team sports and physical activities have recently gained popularity in China. With more money and leisure time, people are spending more time playing sports and engaging in exercise in their spare time. From running and hiking to basketball, CrossFit, rock climbing, and many other trendy exercises, sports are a new but popular way to spend the weekend, often with friends. Traditional activities are also still popular, especially playing badminton in the park.