Looking for some inspiring activities to do with your children? What can be more fun to celebrate Chinese festivals with them? Chinese New Year's Eve falls on Jan. 21st, 2023 and Chinese New Year's Day on the 22nd of this year. Here are the knowledge and activities we have prepared for your family. Of course, you can also follow these activities to have fun even if you do not have children. Everyone is a kid deep in the heart!  
 What is Chinese New Year?
Chinese New Year (春节 chūn jié) actually means Lunar New Year and spring festival,  we also call it 过年(guò nián),过大年 (guò dà nián). Chinese New Year (春节 chūn jié) is a Chinese traditional festival, that has a very long history and carries rich historical and cultural meanings.
As one of China's four most important traditional festivals (Chinese New Year 春节, Tomb Sweeping Day清明节 qīng míng jié, Dragon Boat Festival端午节 duān wǔ jié, Mid-Autumn Festival中秋节 zhōng qiū jié), Chinese New Year Symbolizes reunion, people who always work away from home for a whole year will rush back home during the Spring Festival to gather together, feeling the meaning and warmth of home.
Here are 7  things you can do with your kids to celebrate the Chinese Year.
1. Buy a zodiac animal toy for your kids:  Year of the Rabbit
Each year a Chinese zodiac animal is the symbol for the year. The 12 Chinese zodiac animals are: rat, ox, tiger, rabbit, dragon, snake, horse, goat, monkey, rooster, dog, and pig. 2023 is the year of the Rabbit (兔年 tù nián).
As a parent and a friend, it is a great opportunity to buy zodiac animal toys – Rabbit Dolls, puzzles of Rabbit Theme, Rabbit stickers, etc
Well, Almost all children like Spring Festival, do you know why? Because the children can eat a varies of delicious food and have a lot of fun. Then let's learn together, How children "play" or "enjoy themselves" at Spring Festival!
2. Decorate your house with some traditional customs
There are a lot of traditional customs in the long history of the Chinese New Year, such as pasting the antithetical couplet (贴对联 tiē duì lián), hanging the character "fortune" on the Door (贴福字 tiē fú zì), Pasting New Year Prints (贴年画 tiē nián huà).
A week before Chinese New Year's Eve, people always paste the antithetical couple、hang the character "fortune" on the Door and Paste New Year Prints to decorate their houses. It embodies Chinese people's good wishes to welcome good fortune! Children can get red paper and write wishes on it!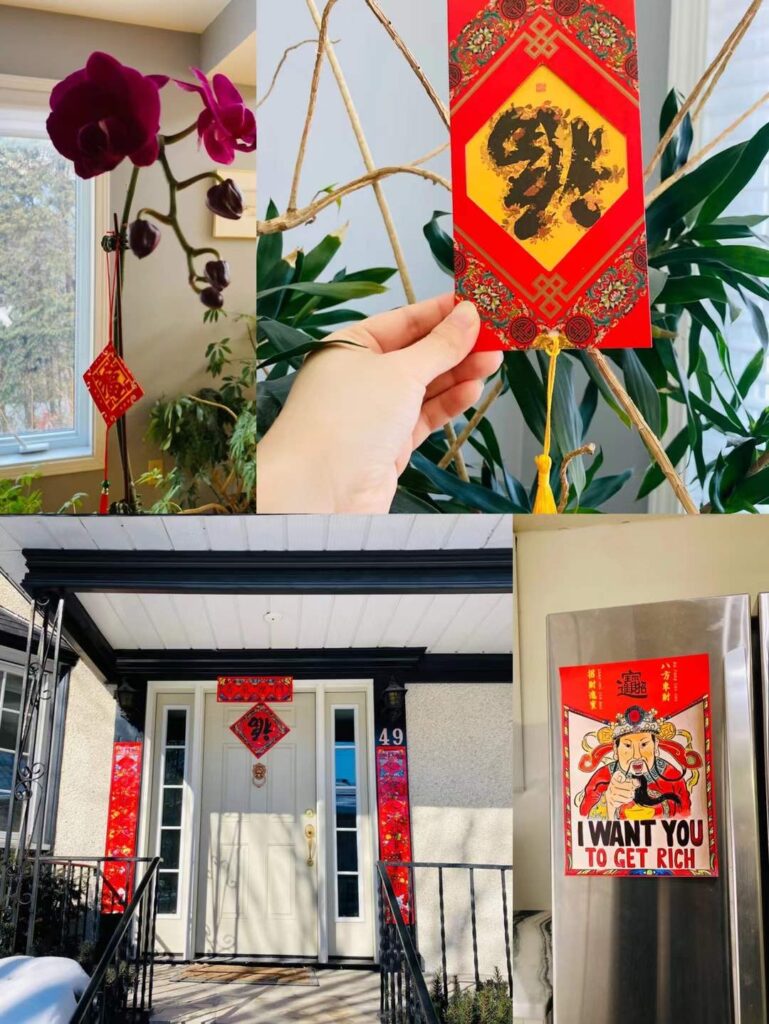 3. Eat Dumplings on New Year's Eve
Dumplings are traditional food during the Spring festival and It is also an important part of the Spring Festival. Dumplings have different fillings and, of course, different tastes. These little round rice flour balls are often filled with vegetables and meat, such as Beef and carrot stuffing,  pork and cabbage stuffing, etc. Children will always find a flavour they like!
Of course, Dumplings are just a part of the fancy New Year's Eve dinner (年夜饭 nián yè fàn). China's New Year's Eve dinner is a family reunion dinner, which is the most abundant and important dinner at the end of the year. Generally, there are chickens (Implied a plan), and fish (means May you always get more than you wish for 年年有余 nián nián yǒu yú), and the purpose is to get lucky in the future.
Children can also eat a variety of delicious food! Enjoy!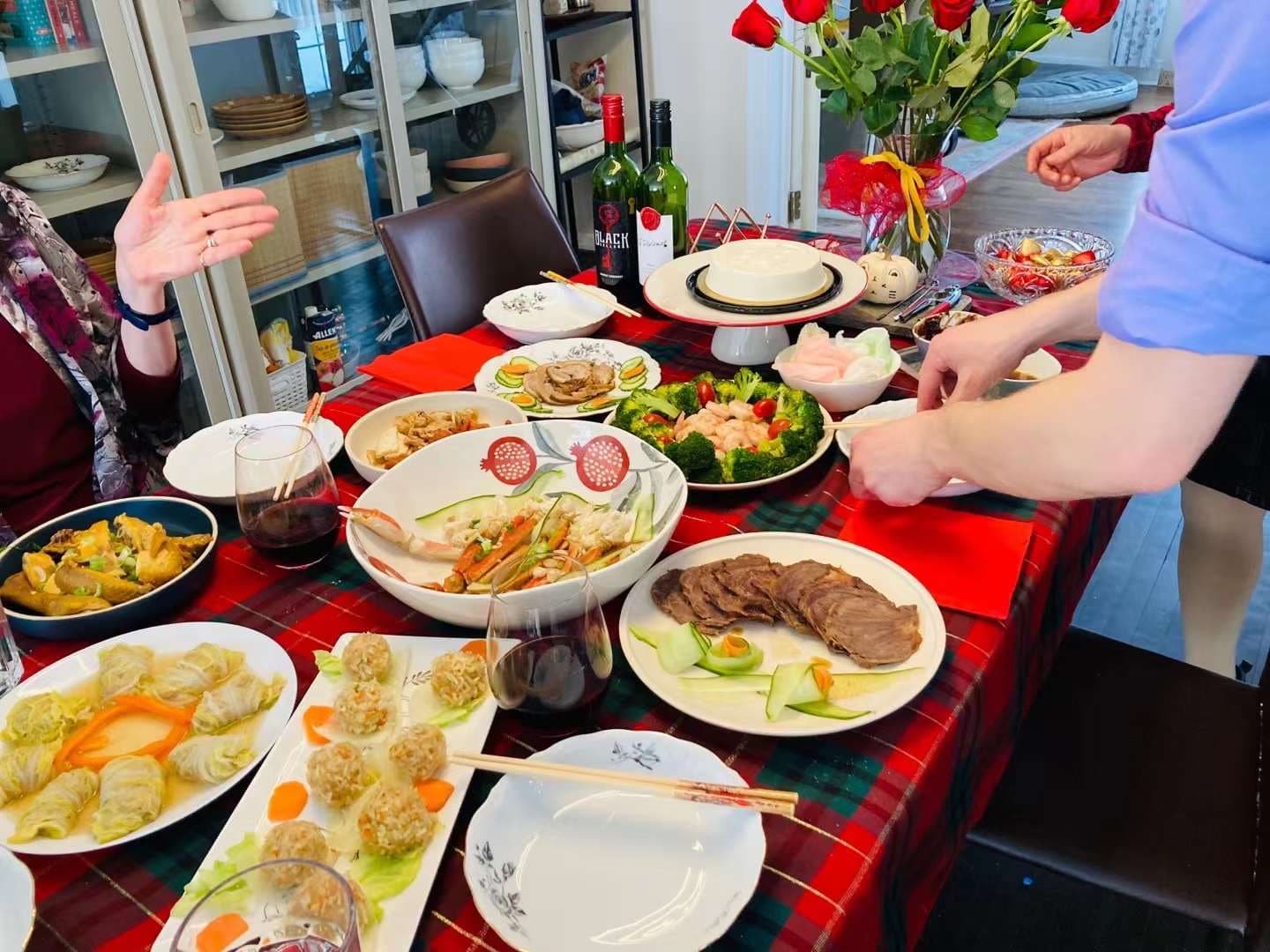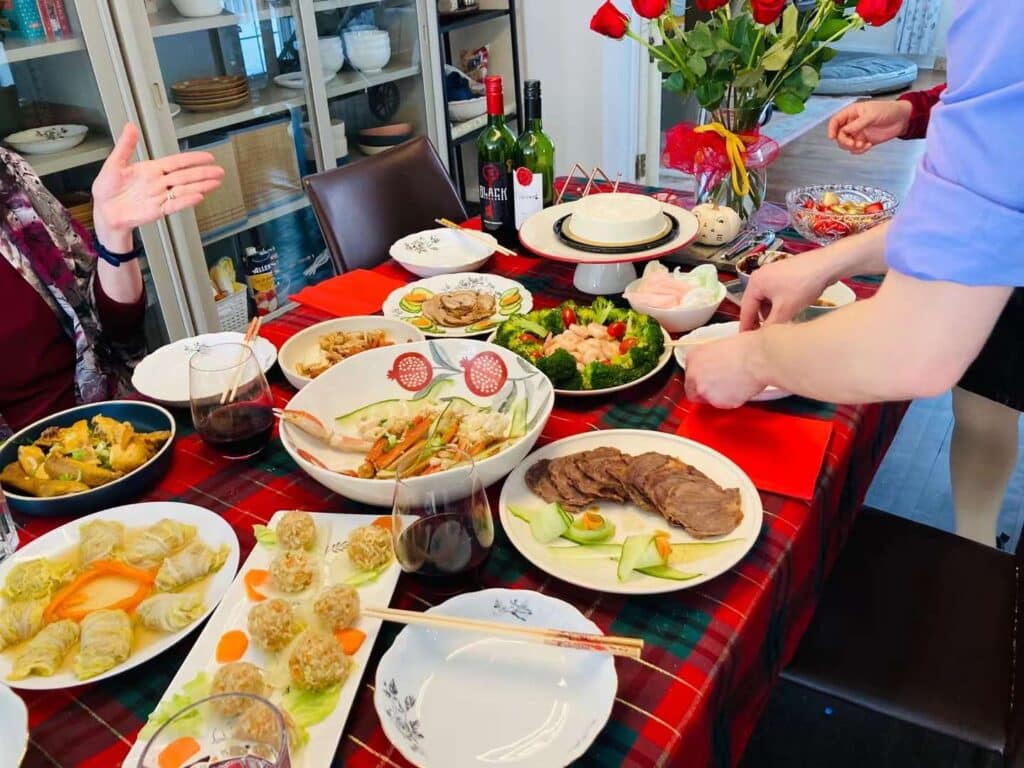 4. Presenting red envelopes or Hongbao to Children
Receiving red envelopes is the happiest thing for children during the Spring Festival. The traditional red envelope (红包 hóng bāo) or Hongbao is also called lucky money (压岁钱 yā suì qián). As the name suggests, Friends and relatives put money in a red envelope to give children to express their best wishes to the younger generation. No matter the size of the red envelope or Hongbao (红包 hóng bāo), children will be very happy to receive the red envelope.
5. Pay New Year's call
As mentioned above, do you know When will children get the red envelopes? Yes, l! Paying New Year's call is a traditional Chinese custom to exchange visits at Spring Festival time. Many relatives and friends who haven't seen each other for a whole year can get together during this time. Children wear red festival clothes and give new year's greetings, Adults give children red envelopes to represent their love and blessings. Do you have Chinese families and friends? It will be the best time to visit them during the Chinese New year time, which usually last at least one or even two weeks!
6. Watch the dragon dance & Lion dance Performance
Dragon dance & Lion dance Performance is considered to be auspicious things during festivals or major events, which passes on from generation to generation. Most Children will love this lively performance. Although living overseas, A family can get out and see the annual dragon dance & Lion dance at a Chinatown near you!
You can also encourage children to try to draw an image of a lion & dragon dance Performance. Their shape and action indicate happiness and auspiciousness!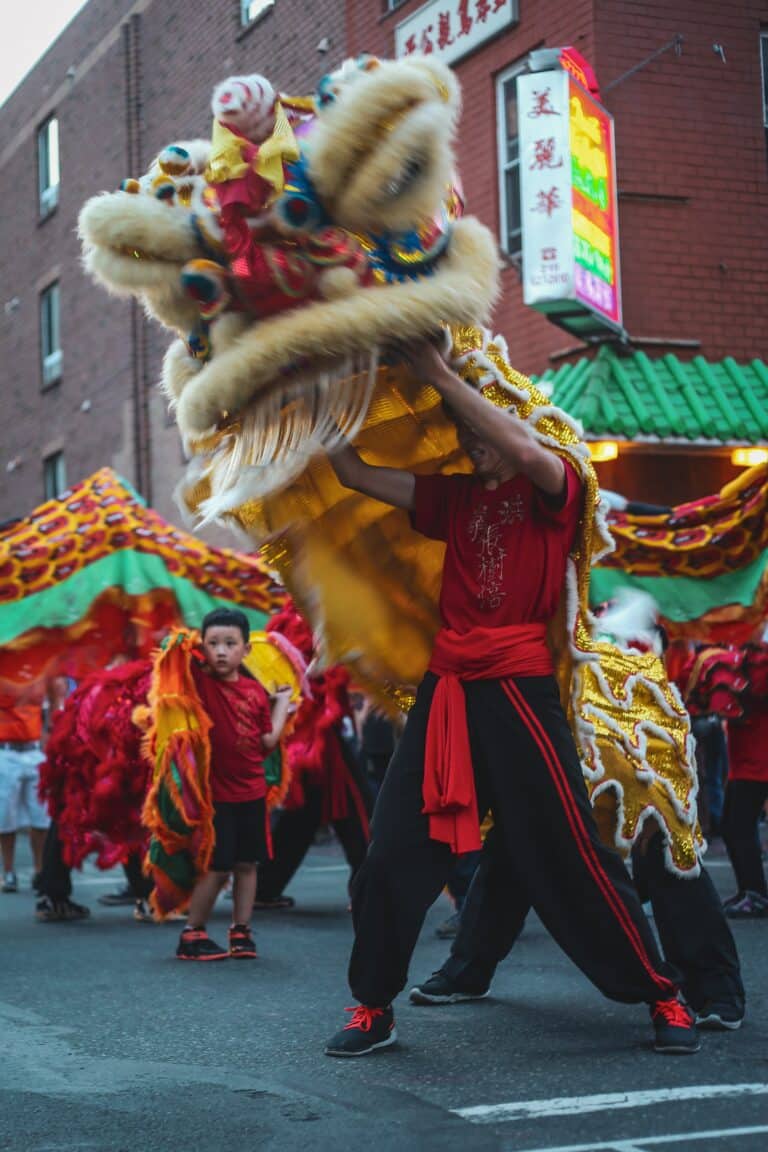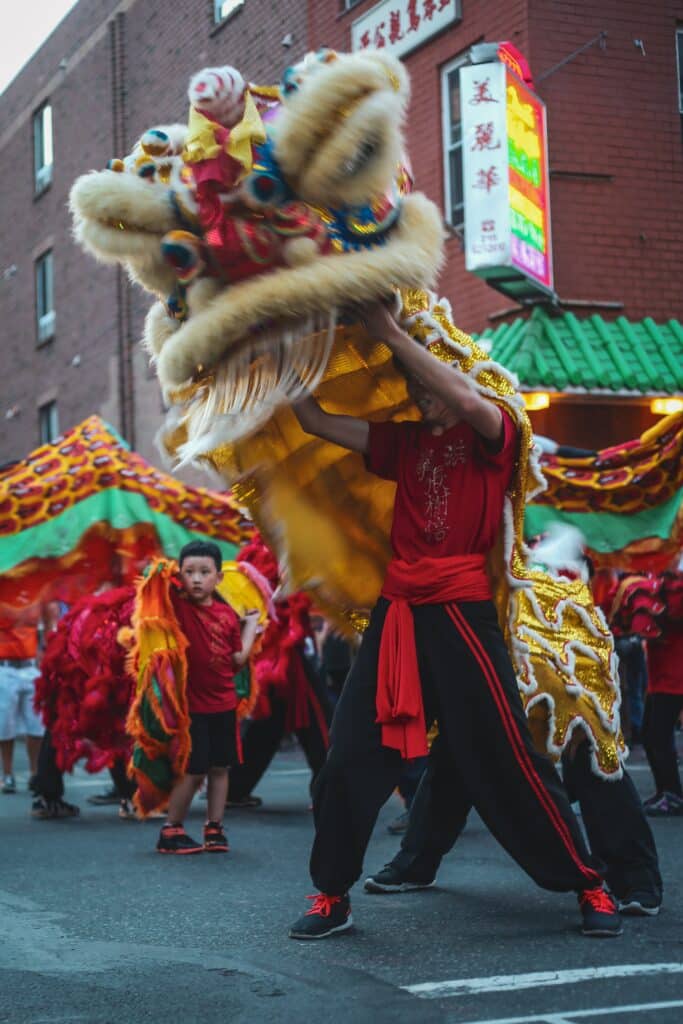 7. Learn the Chinese New Year Greetings  
In a word, don't forget to teach the children to speak:
Happy Lunar New Year! 新年快乐(xīn nián kuài lè)!新春快乐 (xīn chūn kuài lè)!
May you make a fortune! 恭喜发财 (gōng xǐ fā cái)!
May all your dreams come true! 心想事成(xīn xiǎng shì chéng)!
May you be the luckiest in the year of Rabbit. 兔年大吉(tù nián dà jí)!
Of course, you can also choose to let a professional GoEast teacher teach these Chinese New Year customs and greetings to your kids and they probably will be happy to arrange the celebration for the family themselves. Book your free trial today.