Happy the year of the rabbit. This year the Chinese New Year's Eve is on Jan. 20th, 2023. And here is an excellent easy to make traditional Chinese dessert for the big dinner GoEast has prepared for you:八宝饭bā bǎo fàn,  literary means eight treasure rice.
The origin of Eight Treasure Rice Pudding
This dish can be traced back to the Zhou Dynasty in China, around 1046 BC, over 3000 years ago. After the Amy of Zhou defeated the army of Shang,  this dish was made to pay respect to the eight brave generals. Since then, 八宝饭bā bǎo fàn has always been a special dish enjoyed by royal families until the end of the Qing Dynasty; the recipe was introduced to ordinary people by then.
The good meanings of Eight Treasure Rice Pudding
First, the shape of the dish is round, representing the family reunion and the core value — families stay stronger when they are together.
Second, the dry fruits and nuts are good for health, while "eight" represents a good variety, so it is a symbol for wishing a healthy and prosperous new year.
Ingredients of Eight Treasure Rice Pudding
The ingredients involve there parts:
Rice + 8 kinds of dry fruits, nuts + sugar
Rice:
The most popular is the white glutinous rice(白糯米bái nuò mǐ). You can also use black glutinous rice or purple glutinous rice.
Quantity: 250g (1 and 1/3 cups); use less (like 200g or 1 cup) if you make it for only 1-2 people.
Dry fruits and nuts:
Most popular is date (红枣hóngzǎo),the lotus seed (莲子liánzǐ),raisin(葡萄干pútáo gān). You can add any dry fruits and nuts your family and friends enjoy.
Quantity: each kind for 4-8 pieces.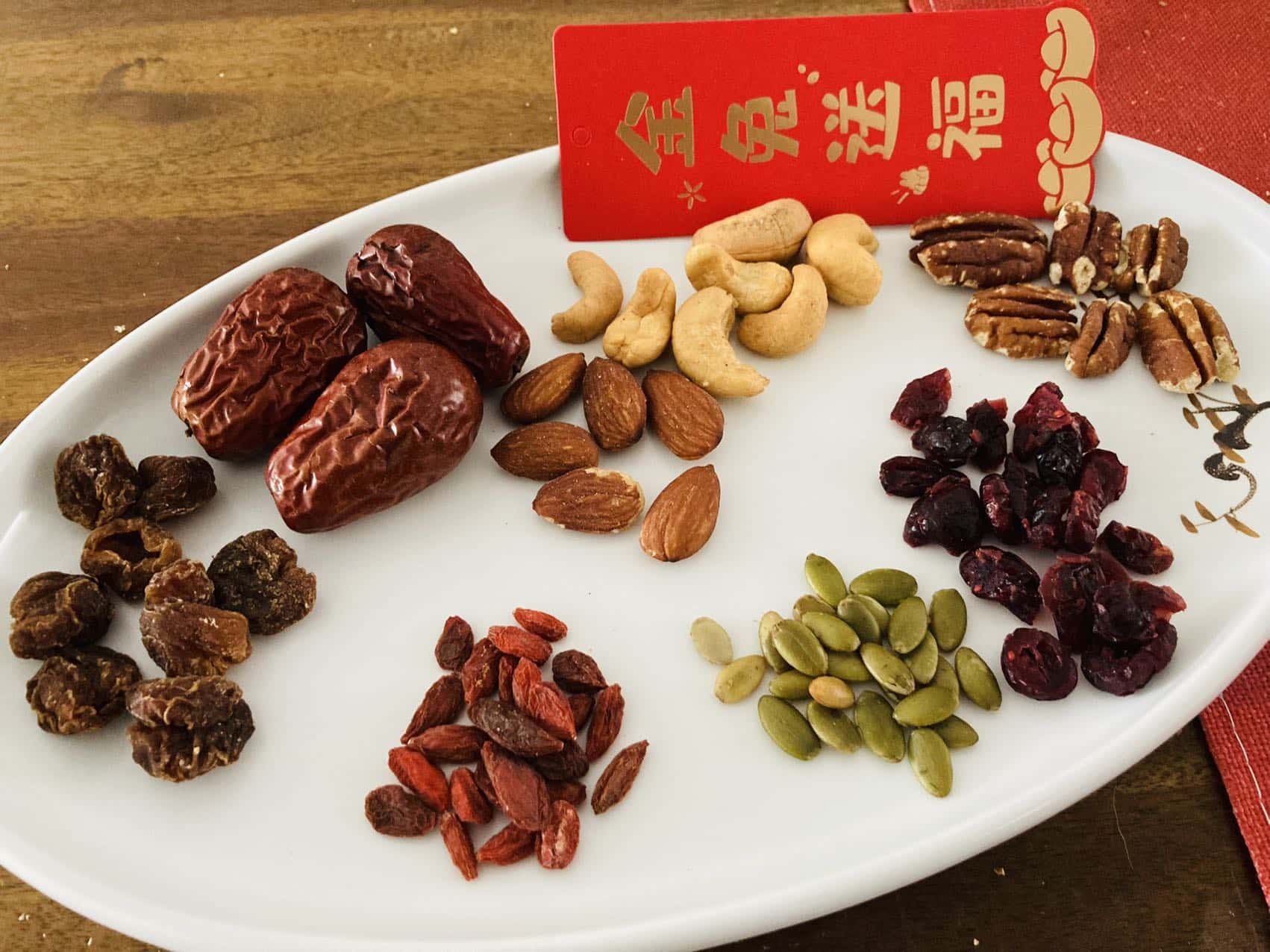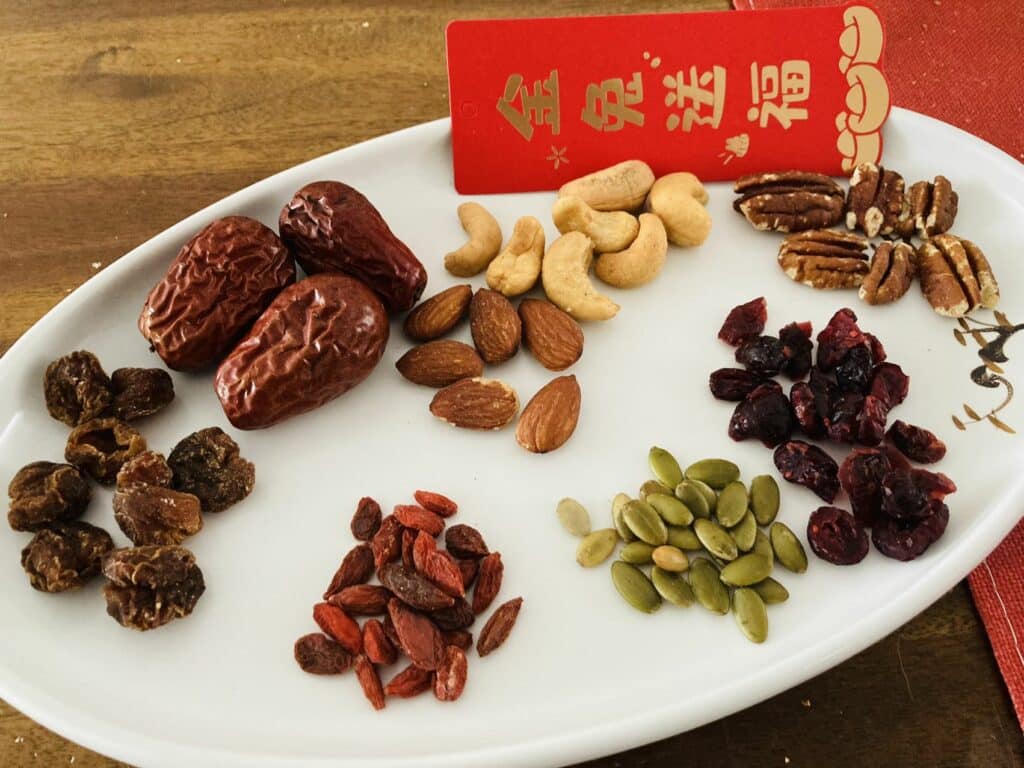 Sugar:
Any sugar will be ok; the most common is white sugar.
Quantity: 30g or 1/8 cup. Or it is based on your preference.
Others:
Oil:  traditionally, we will use lard(猪油zhūyóu), but nowadays, for the sake of health, people choose olive oil or coconut oil.
Quantity: 30g or 1/8 cup.
Sesame seed powder: this adds an excellent fragrance to the dish. Optional.
Quantity: 30g or 1/8 cup.
Red Bean Paste: this adds both fragrance and sweetness to the dish. Also optional.
Quantity: 60g or 1/4 cup.
Steps to make Eight Treasure Rice Pudding
Step 1: Soak glutinous rice for at least 4 hours ahead. Then steam it for 20-20 minutes or use a rice cooker: white rice mode.
Step 2: Scope out all the glutinous rice into a big bowl, add the oil and white sugar and give them a good mix.
Step 3: Take out a round bowl, put on a cling wrap or spray some oil; lay the nuts at the bottom of the bowl into a lovely pattern.
Step 4: Scope 1/3 of the glutinous rice onto the bowl and give it a good press; dig a hole in the middle, add the sesame seed powder of the Red Bean Paste if you have them or skip this step.
Step 5: Spread the rest of the rice into the bowl and press hard into a flat surface.
Step 6: Put the bowl on a steamer or rice cooker for 5 to 10 minutes to ensure all the flavours are blended well, and the rice is even softer, so easier for kids and seniors to digest. You can also skip this step.
Step 7: Place a nice serving plate on top of the bowl, turn it around and slide the rice cake out. Decorate the plate with extra nuts, fruits or lovely wishes on red paper.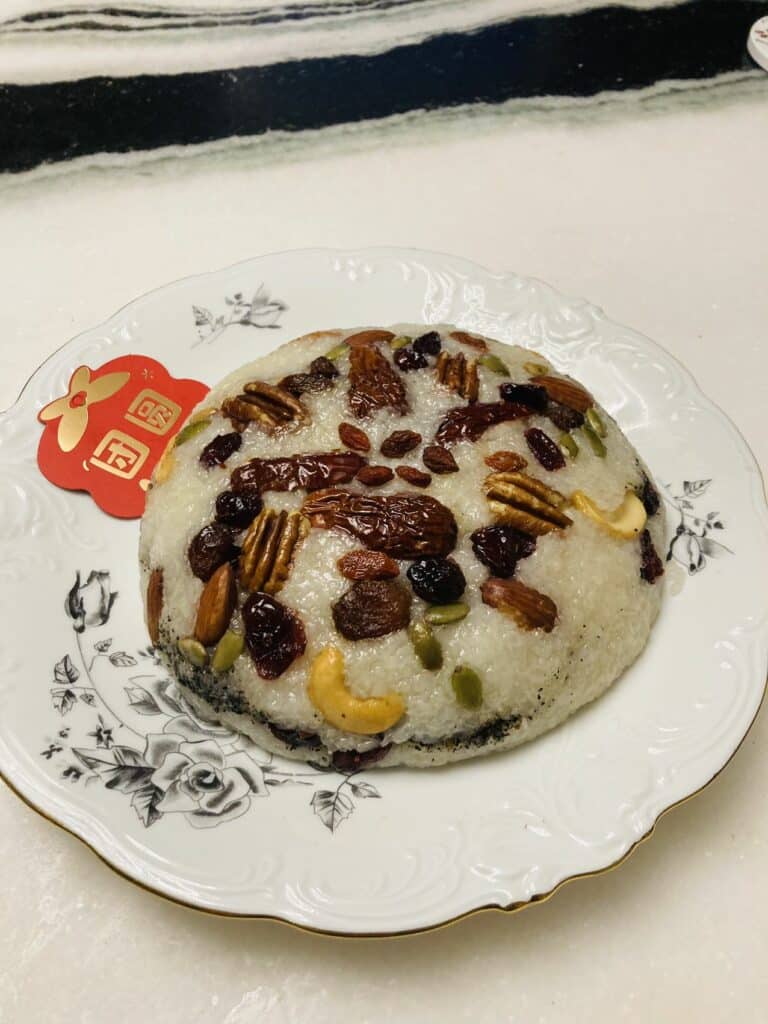 Now, wait to hear "wow" or "好漂亮(hǎo piàoliang, So pretty!)" from your family and friends!
We taught how to make this dish live at our online CNY celebration party. If you want to join our events for Chinese language, culture, social skills, and business opportunities, remember to sign up for our newsletter.