Famous for his cryptic Twitter posts, on November 2nd, Elon Musk quoted an ancient Chinese poem, titled 'Humankind'.
The poem Musk quoted is actually named 'The Seven Steps Verse', a four-line poem taught in primary school and widely known in China. There is a frenzied debate on the internet over Musk's intended meaning.
Google Translate will not be enough to understand the full meaning of the language inside the poem (translating Chinese poetry is extremely hard and multi-interpretational), so for you Chinese learners, let's take a look!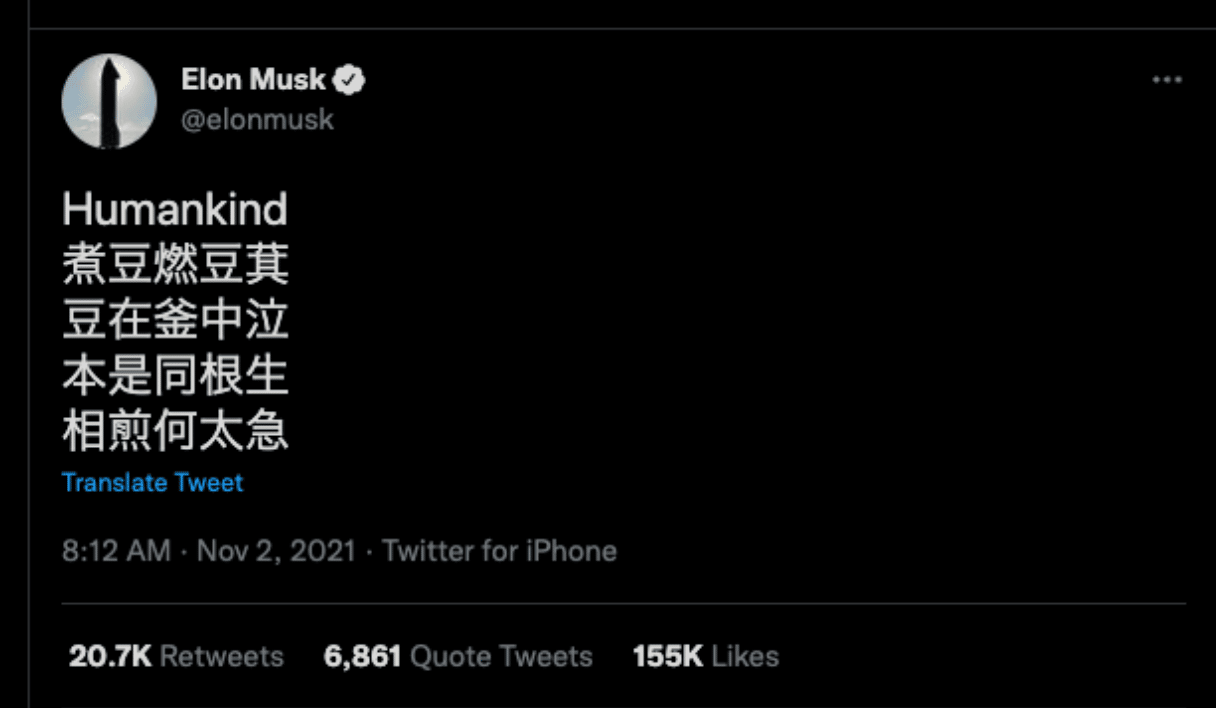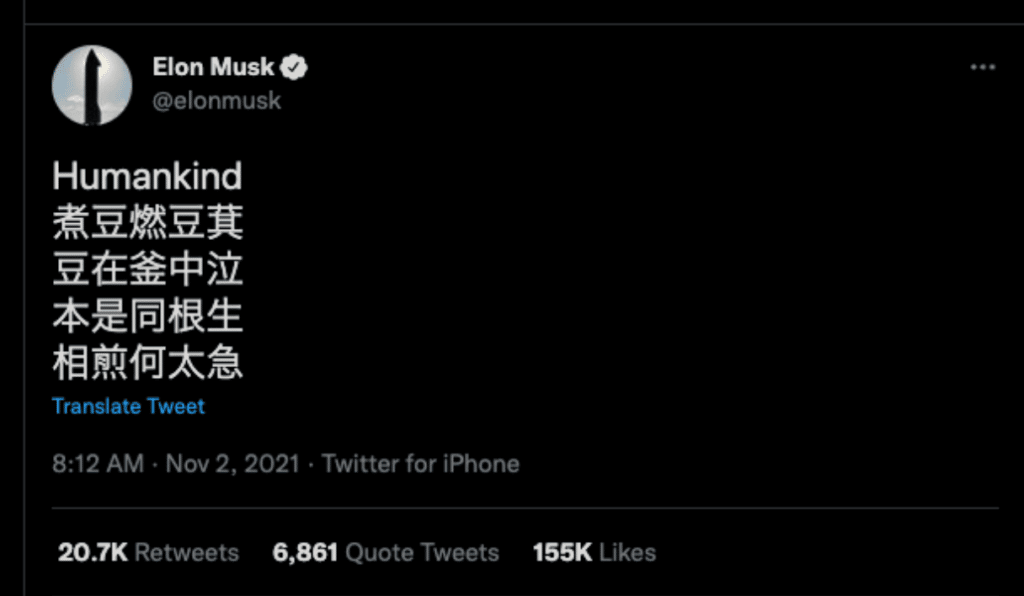 Understanding the poem's text
Characters
Pinyin
Translation by GoEast
Key vocabulary
煮豆燃豆萁
Zhǔ dòu rán dòu qí
When you) cook the beans (you) burn the bean straw (for the fire)
煮zhǔ: to cook
豆dòu: bean
燃rǎn: to burn
豆萁dòuqí: ancient word, known as "豆秸dòujiē"now, bean straw
豆在釜中泣
Dòu zài fǔ zhōng qì
The bean is weeping in the pot
釜fú: ancient word, known as "锅guō now, pot
泣qì: similar to "哭kū", to cry, to weep
本是同根生
Běn shì tónggēn shēng
Originally (the bean and the bean straw) were from the same root
本běn:means "本来běnlái" in modern Chinese, originally
同tóng: the same
根gēn: root
相煎何太急
Xiāng jiān hé tài jí
Why are they persecuting each other in such a hurry?
相xiāng:相互xiānghù, each other
煎jiān:literally menas"to fry", here refers to persecute
何hé:何必hébì, similar to "为什么"in modern Chinese, why
急jí:着急zháojí,anxious
Understanding the background
​The origins are unclear, but the most common legend states that the poem was written by 曹植(Cáo Zhí, 192-232), who was the third son of 曹操(Cáo Cāo, 155-220), a famous politician during the Three Kingdoms Period.
After Cáo Cāo died, the elder brother 曹丕(Cáo Pī) took the throne, but Cáo Pī had always been jealous of this little brother's intelligence and talent in literature, and of course, Cáo Zhí was also a strong political rival. Thus, he came up with the famous event "Compose a poem within 7 steps", otherwise, Cáo Zhí would be killed.
Therefore, the talented prince Cáo Zhí composed this poem to mock his elder brother. That's also why this poem is called "The Seven Steps Verse".
Two Chinese idioms in this poem
There are also two famous idioms from this event and poem.
One is "七步成诗qībù chéngshī", literally means "to compose a poem within seven steps", to describe someone as quick-minded, talented and knowledgeable. An example can be:
Chloe聪明极了,七步成诗,是个人才!
Chloe cōngmíng jíle, qī bù chéng shī, shìgè réncái!
Chloe is so clever; she's such a talent!
The other is "煮豆燃萁zhǔ dòu rán qí", used as a metaphor for family, friends or even colleagues — who should be working together but aren't, despite of bloodline or affection.
你这样做就是煮豆燃萁啊。
Nǐ zhèyàng zuò jiùshì zhǔdòu rán qí a.
What you do is hurt your brother!
So dear Chinese learners, you probably know more about this poem than Elon Musk now.