踢毽子(Jiànzǐ)是一项古老的中国传统运动,使用一只有羽毛的毽子(jiànzi)和任何身体部位进行击球。这项运动起源可以追溯到2000多年前,在中国各地广为流行。
Jianzi is an ancient Chinese traditional sport played with a feathered shuttlecock (jiànzi) and any body part used to keep it in the air. This sport dates back over 2000 years and was wildly popular throughout China.
毽子看起来像一个小塑料圆盘,上面插有四根羽毛。它通常是用塑料或皮革制成,羽毛则来自鸡或鸭。球员用脚、腿、肩、胸和头部击打毽子,使其在空中翻转并尽可能长时间保持在空中。这需要很强的肢体协调能力和反应能力。
The jiànzi looks like a small plastic disc with four feathers attached. It is usually made of plastic or leather, with feathers from chickens or ducks. Players hit the jiànzi with their feet, legs, shoulders, chest and head, making it spin and flip in the air while trying to keep it aloft for as long as possible. This requires great physical coordination and reflexes.
这项运动可以一人进行,也可以多人一起玩。群体比赛时,球员围成一个圆圈,依次击球,看谁能保持毽子在空中最长时间。这需要球员之间有很强的配合和默契。有时比赛也会指定必须用某个身体部位接球。
The sport can be played solo, or with multiple people together. In group competitions, players stand in a circle and take turns hitting the shuttlecock, seeing who can keep it in the air the longest. This requires strong cooperation and understanding between players. Sometimes rules specify which body part must be used to hit the jiànzi.
踢毽子要求快速的反应能力,高超的球感和身体控制力。熟练的玩家可以使用各种花式技巧击球,如后空翻、头顶弹跳或者用脚尖挑球等。这些高难度动作既艺术又富有挑战性,看起来非常华丽。许多人观看这项运动也是为了欣赏球员的球技。
Jianzi demands fast reflexes, excellent ball control and body coordination. Skilled players can perform various flashy maneuvers like backflips, head bounces, or kicking with their toes. These highly difficult moves are artistic and challenging, and look very elegant. Many people watch the sport to appreciate the players' skills.
踢毽子的起源及发展
The Origin and Development of Jianzi
据传说,毽子运动起源于中国古代军事训练。战士们用毽子练习反应能力、协调性和战斗技巧。这项运动后来传遍中国各地,成为一项休闲活动,人们在柔软的草地上进行比赛。20世纪80年代起,踢毽子在中国学校里也变得很流行。
Legend has it that jianzi originated from ancient Chinese military training. Soldiers used it to practice reflexes, coordination, and fighting skills. The sport later spread throughout China as a recreational activity, played competitively on soft grass fields. Since the 1980s it has also become very popular in Chinese schools.
早在2000多年前的汉朝,毽子就已经在中国出现。汉代文献中就有关于毽子的记载。唐代诗人杜甫的一首诗里提到了"羽毽乱入苍茫云"。宋代画家关仝的绘画作品《百子图》中也描绘了人们在玩毽子的场景。
The shuttlecock dates back over 2000 years to China's Han Dynasty. Han texts contain references to the jiànzi. The Tang poet Du Fu wrote a line mentioning "feathered shuttlecocks mixing with the vast clouds." Song artist Guan Tong's painting Hundred Children depicts people playing jianzi.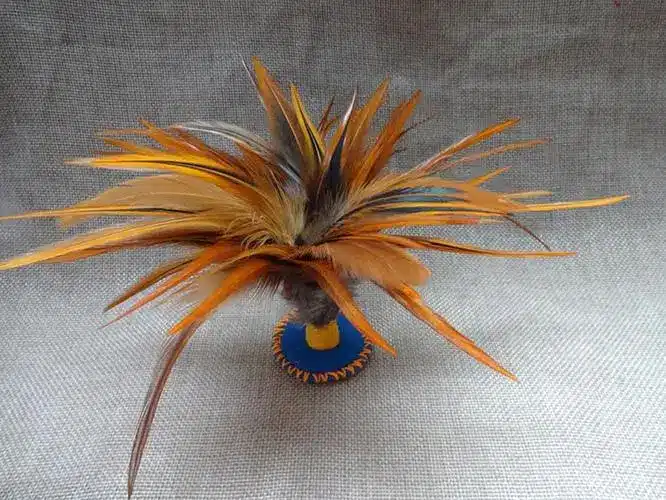 毽子在古代还代表着道德品质。把毽子高高击起代表着志向远大,而毽子的羽毛代表着仁爱。所以这项运动也被视为一种道德修养的方式。
In ancient times, the shuttlecock also represented moral character. Hitting it high meant having lofty ambitions, while its feathers represented benevolence. So the sport was seen as a way to cultivate moral virtue.
如今,踢毽子已发展成为一项专业化的竞技运动,在全国范围内有不同级别的比赛。中国国家体育总局把踢毽子列为正式的竞技项目之一。亚洲毽球联合会于2007年在马来西亚成立,定期举办亚洲毽球锦标赛。现在全球约有30个国家和地区在进行毽子运动。
Today, jianzi has evolved into a professional competitive sport, with tournaments at different levels nationwide. China's State General Administration of Sports lists it as an official competitive event. The Asian Shuttlecock Federation was established in Malaysia in 2007 and holds regular Asian Championships. Now there are approximately 30 countries and regions worldwide playing jianzi.
毽子运动的基本规则
Basic Rules of Jianzi
虽然毽子运动最初是自发的休闲活动,但随着它的专业化,一些标准化的规则也确立了。国际毽球联合会制定了正式的比赛规则。
Although jianzi began as a casual recreational activity, standardized rules have been established as it became more professionalized. The International Jianzi Federation has formalized competition guidelines.
在单人项目中,参赛者需在1分钟内击球尽可能多次。双人项目则需要2名选手互相击球,看谁先把毽子击落地面。群体项目需要2-4人站在一个圆圈里击球,计算整个团队的击球总数。运动员们需要控球在空中并尽量少接触地面。
In singles events, competitors try to hit the shuttlecock as many times as possible within 1 minute. Doubles require 2 players to rally, seeing whose shuttlecock hits the ground first. Team events have 2-4 players standing in a circle hitting the jiànzi and counting the group's total hits. Players must keep the shuttlecock in the air and minimize contact with the ground.
比赛使用标准化的毽子,通常由塑料和4根鸡毛制成。羽毛长度必须在5-7厘米之间。运动员可以用身体的任何部分接球,但不能用手直接接触毽子。同时需要遵守标准的场地尺寸。
Standardized shuttlecocks are used in competitions, typically plastic with 4 chicken feathers. Feathers must be 5-7 cm long. Players can hit the shuttlecock with any body part, but cannot directly touch it with their hands. Standard court dimensions must also be followed.
随着踢毽子运动的不断发展,许多新规则也应运而生。比如引入了扣球得分的规则,增加了比赛的难度和观赏性。不同级别的比赛也会有不同的具体规定。
As jianzi continues evolving, many new rules have emerged. For example, scoring points for volleys was introduced, increasing difficulty and spectator appeal. Specific regulations also vary between tournaments at different levels.
毽子的基本玩法及技巧
Basic Jianzi Plays and Techniques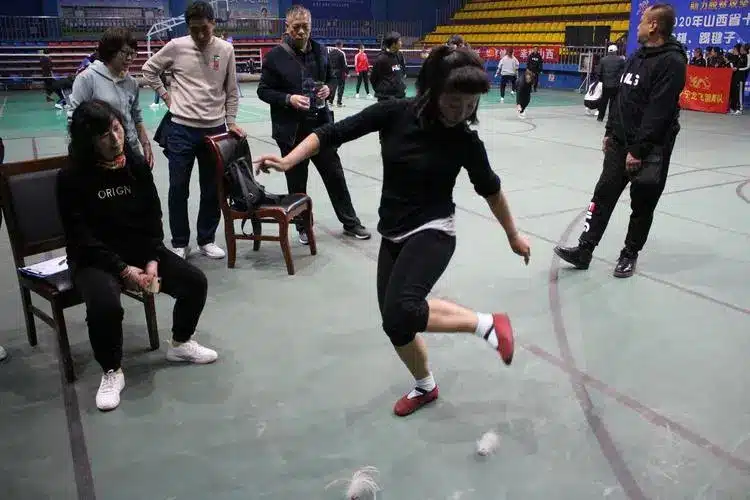 虽然高手们可以使出各种高难度技巧,但毽子运动的基本玩法非常简单易学。最基本的就是使用脚尖将毽子轻轻击起。
While experts can pull off many complex maneuvers, the fundamentals of jianzi are very simple and easy to learn. The most basic is gently kicking up the shuttlecock with the toes.
用脚尖触碰毽子的底部,将其垂直向上弹起约1-2米高。保持身体重心稳定,眼睛始终注视着毽子。当它下落时,再次用脚尖将其击起。如果用力过猛,毽子会飞得太远而难以控制。
Touch the bottom of the shuttlecock with the toes and bounce it straight upwards around 1-2 meters high. Keep the body's center of gravity steady and eyes fixed on the jiànzi. As it drops down, kick it back up with the toes again. Hitting too hard will send it flying too far to control.
接下来可以尝试使用小腿内侧击球。曲膝将毽子接触小腿轻弹。也可以用大腿外侧或膝盖击球。上半身也可以参与进来,用肩、胸或头顶接球。
Next try hitting with the inside of the shin. Bend the knees and let the shuttlecock bounce off the shin. The outside of thighs or knees can also be used. The upper body can participate by bumping with shoulders, chest or head.
熟练之后,可以尝试一些更复杂的技巧。例如用脚背或脚掌进行弹球、用脚跟或脚尖挑球等。还可以进行联合动作,如臀部弹跳加头顶击球等。
Once comfortable with the basics, try some more advanced moves. These include volleying with the instep or sole, flicking with heels or toes, or combinations like a butt bump with a header.
不同的击球部位和力道会使毽子产生不同的飞行轨迹,这需要大量的练习来掌握。但熟练之后,就可以运用各种技巧来保持毽子在空中。
The jiànzi will fly in different trajectories depending on hit location and force, which takes much practice to master. But with proficiency, a variety of techniques can be used to keep the shuttlecock airborne.
毽子运动的健身价值
Fitness Benefits of Jianzi
作为一项全身运动,踢毽子对提高身体素质非常有益。它可以增强肢体协调性、灵活性、敏捷性和反应能力。与许多球类运动一样,毽子运动也能提高心肺功能和耐力。
As a full-body exercise, jianzi is great for physical fitness. It improves coordination, flexibility, agility and reflexes. Like many ball sports, it also boosts cardiorespiratory function and endurance.
这个运动训练和锻炼了身体的各个部位。腿部需要不断移动,这样可以增强下肢爆发力。臀部和腰腹参与毽子的击打,可以练就强健核心。上半身需要灵活转动来接球,锻炼肩、胸、背和颈部肌肉。
It works and tones every part of the body. The constant leg movement enhances lower body explosive power. The glutes and core are worked from hitting the jiànzi. The upper body twists and turns to make hits, training the shoulders, chest, back and neck.
毽子运动是一项充满乐趣和挑战性的有氧运动。它适合任何年龄层人群进行,但需要一定时间来掌握基本技巧。许多人觉得这项运动上手较难,但只要持之以恒地练习,就能取得进步。
Jianzi is a fun, challenging cardio workout suitable for all ages, though takes time to learn the basics. Many find it difficult initially, but steady practice leads to improvement.
作为一项充满国粹的运动,踢毽子也富有文化底蕴。它结合了运动与艺术,对于传承中华传统文化具有重要意义。
As a sport full of Chinese character, jianzi also has deep cultural heritage. Blending art with athletics, it holds significance for passing on traditional culture.
毽子运动的现状与发展前景
Current Status and Future of Jianzi
近年来,在国家体育总局的大力推广下,踢毽子运动在中国蓬勃发展。各地建立了专业毽球队,举办不同级别的比赛。作为全民健身活动也越来越普及。许多学校都将毽子课纳入体育课程中。一些高校还设置了专业的毽球运动训练项目。
In recent years, jianzi has flourished in China with strong promotion from the State General Administration of Sports. Professional teams have emerged across the country, with tournaments at different levels. It has also gained popularity as a mass fitness activity. Many schools have integrated jianzi into their PE classes, while some universities even offer specialized training programs.
2009年,踢毽子被国际奥委会正式确认为一项竞技运动。这为其未来被列入奥运会及其他重大赛事提供了可能。一些业内专家预计,这项运动有望在2028年洛杉矶奥运会上作为表演项目亮相。
In 2009, jianzi was officially recognized as a competitive sport by the International Olympic Committee. This opens up the possibility of future inclusion in the Olympics and other major events. Some experts predict it may debut as a demonstration sport at the 2028 Los Angeles Olympics.
随着人们对传统文化的重视和对健身的追求,毽子运动未来发展前景广阔。它容易上手,又能全面提高身体素质,非常适合推广。相信通过不断完善训练系统、建立标准化体系,毽子运动会吸引到更多人参与,在国际上也将更加普及。
With growing appreciation of traditional culture and fitness pursuits, jianzi has bright prospects going forward. Easy to pick up while improving overall fitness, it is ripe for promotion. Continuous improvements in training and standardization will likely attract more participants, gaining international popularity as well.
毽子作为一项优秀的民族传统项目,在世界运动中独树一帜。我们有责任发扬光大这项国粹,让更多人体验中华文化的独特魅力。
As an outstanding traditional sport, jianzi occupies a unique place globally. We have a responsibility to carry on this heritage and let more people appreciate the charm of Chinese culture.