The Hakka people are an intriguing ethnic subgroup in China with a distinct culture, cuisine, and history. Numbering over 80 million worldwide, the Hakka have a fascinating story of migration, hardship, and preservation of ancient traditions. This article explores the origins, diaspora, language, culture, food, and impact of the Hakka Chinese.
Who Are the Hakka Chinese?
The Hakka (Kejia) people are Han Chinese who speak the Hakka language. Also known as the "guest people", the Hakka migrated to Southern China from the Yellow River region centuries ago. While the majority of Hakka reside in southeastern China, there are significant diaspora populations throughout Asia and the world.
What sets the Hakka apart from other Han Chinese subgroups is their unique culture, food, and history of migration. Facing discrimination in mainland China, the Hakka moved from place to place before settling mostly in Guangdong, Fujian, Jiangxi, and Sichuan provinces. Their origins and status as outsiders contributed to a strong sense of identity.
Origins and Early Migrations of the Hakka
The Hakka trace their origins to ancient migrations from the north during the Jin Dynasty (265-420 CE) and the Northern and Southern Dynasties (420-589 CE). However, their defining characteristics developed during the Song Dynasty (960–1279 CE) as they moved south in search of arable land.
As the population grew in northern China, land became scarce. This caused many people, including the Hakka, to migrate southward. When they arrived in the south centuries later, the fertile land was already populated. So the Hakka continued moving into isolated areas in the mountains and on infertile land, where they developed their self-reliant ways.
Their chosen land provided refuge but made agriculture difficult. Living in hostile environments caused them to band together, defending their settlements from attackers. This experience contributed to strong community ties.
Despite their contributions to developing the lands of southern China, the Hakka continued to be viewed as outsiders. Local populations referred to them as "guest families." This became the basis for the name "Hakka," literally meaning "guest people."
Diaspora and Global Spread of Hakka Culture
The hardships faced by the Hakka caused many to emigrate out of China entirely. This migration and diffusion helped spread Hakka culture across the globe.
Hakka diaspora communities exist in many overseas Chinese settlements. Significant populations live in Taiwan, Malaysia, Indonesia, Singapore, and more. The Hakka also comprise the majority of Chinese immigrants to places like Suriname, Jamaica, and Mauritius. Numerous Hakka also settled in Australia, India, Canada, and the United States.
Wherever they went, the Hakka brought their cuisine, architecture, social customs and rituals. Their culture has assimilated with local cultures, while still retaining a distinct Hakka identity. Overseas Hakka networks promote research and preservation of their unique heritage.
Hakka Language
The Hakka speak the Hakka language, also called Hakka Chinese or Kejia. It derives from the variant spoken in southern Henan during the Northern Song Dynasty.
Hakka dialects differ by location but originally belonged to the Lu dialect group. Having migrated southward, their language preserved features that were lost in other Chinese dialects. It also absorbed influence from local languages.
Due to its uniqueness, UNESCO classified Hakka as an Intangible Cultural Heritage in need of protection. Efforts are underway to preserve it by promoting use and education among younger generations.
Key Aspects of Hakka Culture and Traditions
Despite assimilation into Han Chinese culture, the Hakka have maintained cultural traditions tied to their origins. Here are some of the most integral parts of their ethnic identity:
Architecture
The Hakka were defensive about their settlements, building fortified villages called "tulou" or "roundhouses." These were communal, enclosed structures where up to 800 residents could live. The round shape, thick earthen walls, and minimal exterior windows provided protection and reinforced community bonds.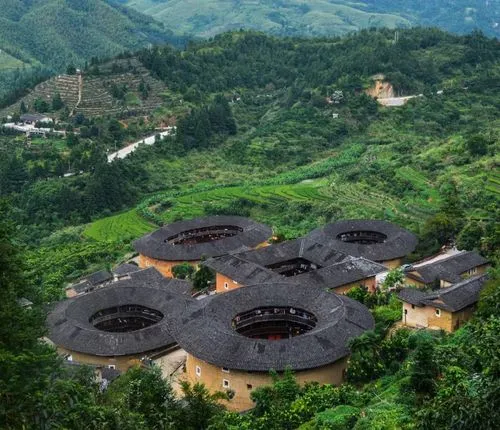 Social Structure
Traditional Hakka society was patriarchal and centered around the family. Hakka identity derives from paternal lineage traced back centuries. Younger generations show respect for elders. Inheritance passes from fathers to sons, while daughters join their husbands' families after marriage.
Religion
Most Hakka follow standard Chinese belief systems like Taoism, Buddhism, and Confucianism. Some converted to Christianity after contact with missionaries. They incorporated their own traditions like ancestor worship into the religions.
Arts and Crafts
Hakka arts like paper cutting, embroidery, and indigo dying reflect their origins as peasant farmers. Their crafts were humble yet colorful, portraying nature, history, and spiritual motifs.
Festivals
The lunar calendar dictates auspicious days for Hakka festivals. These bring families together to celebrate seasonal events, deities' birthdays, paying respects to ancestors, and blessing future generations to carry on traditions.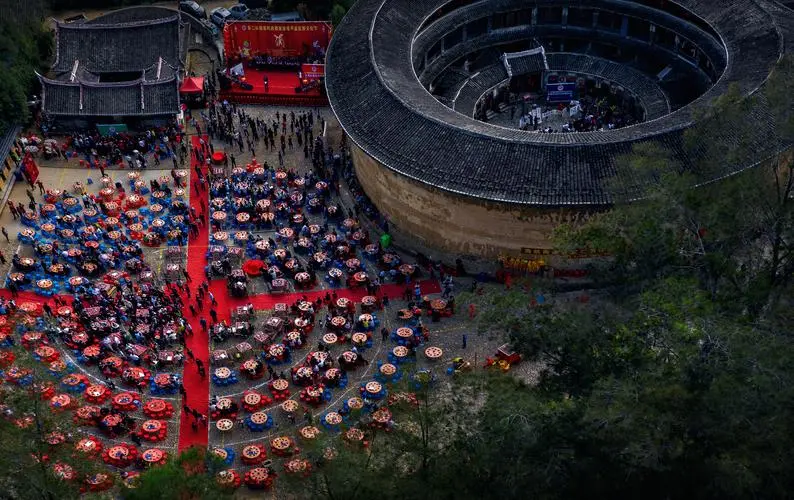 Cuisine
Hakka cuisine reflects its peasant roots but evolved to suit local ingredients. Signature dishes include salt-baked chicken, preserved tofu, and "poongji" rice dumplings. Strong flavors represent the hardships faced in Hakka history.
Contributions and Influence of Hakka Culture
Though discriminated against, the Hakka influenced regional development through their migrations. They farmed inhospitable land, fought against enemies in wartime, and emigrated overseas.
Wherever they went, Hakka immigrants preserved traditions while assimilating elements of local cultures. This cultural exchange enriched the ethnic diversity of their adoptive homes.
The Hakka sense of family community also influenced areas like education. For instance, they emphasized schooling for girls when it was uncommon. And their self-sufficient villages provided commune-like support during hard times.
The Hakka Legacy
From humble beginnings along the Yellow River, the Hakka people have come to influence culture across the world. Their history is one of hardship and preservation that gave strength to their identity. Even as they assimilated and spread globally, they carried the unique language, food, arts, and customs of the Hakka with them.
This sincere maintenance of ancestral traditions is the true legacy of the Hakka. Their pride in culture remains important today through preservation efforts and study of their impact worldwide. Though "guests" everywhere, it is truly the rest of the world that has benefited from the Hakka presence.