The "get ready to learn Chinese buddy" meme has become a viral sensation online in recent years. Often used in response to perceived threats to American ideals or freedom of speech, this meme pokes fun at the idea that Chinese censorship and authoritarianism could somehow spread to the United States.
Where did this meme come from and how did it gain such popularity? This article will explore the origins, context, and significance of the viral "get ready to learn Chinese buddy" meme.
Get Ready to Learn Chinese Buddy – The Meme's murky origins
Like many memes, the exact origins of "get ready to learn Chinese buddy" are difficult to pinpoint. However, the phrase appears to have emerged sometime around October 2019.
One of the earliest known uses was in response to the NBA controversy surrounding Houston Rockets general manager Daryl Morey. After Morey tweeted support for Hong Kong protestors, the Chinese government threatened to cut ties with the NBA. Many saw this as an example of China attempting to export censorship.
In response, an image of Morey alongside the text "Get ready to learn Chinese buddy" spread across social media. The meme implied that if the NBA caved to China's demands, Chinese-style censorship could become normalized in America too.
This incident appears to have kicked off the meme's popularity. But the humorous phrase may have origins before this. Some have speculated that it could be derived from older jokes about America's rising debt to China.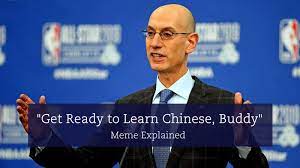 Why the Meme Resonated?
While the "get ready to learn Chinese buddy" meme started as a reaction to the NBA controversy, it clearly tapped into something deeper in American culture. Fears over China's growing power and authoritarian approach have become more pronounced in recent years.
The meme gave voice to concerns that America could lose its values of free speech if Chinese censorship expands globally. By satirizing this idea, the meme provides catharsis for those anxious about eroding freedom of expression.
The humor also allows people to laugh at the absurdity of authoritarian control spreading to the US. The exaggerated scenario of being forced to learn Chinese highlights the far-fetched nature of such fears.
So while the meme may have dark undertones, it packages those worries into easily shareable humor. This resonant format helped propel the viral spread.
Evolution and Offshoots
As the meme proliferated across social media, variations and offshoots emerged. For example, some versions replaced "buddy" with terms like "pal" or "chief" for humorous effect.
Another common change was adding extra phrases before the punchline. For instance, memes would start with "when you criticize China's human rights record…" to set up the joke.
Some versions branched out from China entirely. Example countries swapped in include Russia, Iran, and North Korea. These iterations satirize authoritarianism more broadly.
Image macros also added further humor. Pictures of historical figures like George Washington or film characters like Indiana Jones warned to "get ready to learn Chinese." Seeing beloved American icons deliver this line heightens the absurdity.
Certain offshoots generated controversy, however. Some memes replaced "Chinese" with other cultures or languages. Critics argued this needlessly insulted those groups when the target was meant to be the Chinese government.
These variations demonstrate the meme's adaptability. While the core joke remains, the format can flexibly respond to current events involving censorship.
Widespread Usage Across Groups
The meme's simple format gave it broad appeal for multiple groups:
For political conservatives, "get ready to learn Chinese" satirizes encroaching authoritarianism from a rival superpower. It taps into long-running fears over China's ambition to replace America on the world stage.
For the pro-Hong Kong movement, the meme highlights Chinese human rights abuses. It suggests China unjustly exports its political oppression abroad.
For free speech advocates, the meme defends the right to criticize foreign powers without censorship. Some see speaking out against China as increasingly taboo in today's climate.
For internet culture enthusiasts, the viral status makes it a trendy reference. The meme demonstrates one's familiarity with social media humor.
This versatility enabled the meme to spread widely despite its politically charged origins. Both serious activists and casual meme sharers could finds meanings to latch onto.
Key Events Propelling the Meme
While the meme first emerged from the NBA controversy, several later events propelled its viral trajectory:
October 2019 – Daryl Morey's original tweet and China's backlash spurred the earliest known uses.
March 2020 – As COVID-19 spread globally, some blamed China's censorship for enabling the outbreak. Fresh versions of the meme resulted.
November 2020 – State media threats to ban Eric Trump's shows after he promoted baseless election fraud claims triggered more memes.
January 2021 – China's banning of social app Clubhouse after political discussions emerged led to another flare-up.
February 2022 – Dire human rights reports before the Beijing Winter Olympics spurred meme versions criticizing the IOC.
May 2022 – Fears over Elon Musk losing access to China markets after purchasing Twitter led to a resurge.
These examples demonstrate the meme's ongoing relevance as a commentary on Chinese authoritarian conduct. New events continually refresh its popularity.
Notable High-Profile Uses
The meme has also gotten boosts when high-profile figures employ it:
In November 2019, Florida Senator Marco Rubio tweeted the phrase in response to China pressuring the NBA. This helped legitimize the meme.
In 2020, celebrity investor Dave Portnoy posted a video of himself with duct tape over his mouth holding a sign saying "Get Ready to Learn Chinese."
In 2021, podcast host Joe Rogan wore a shirt with the meme phrase on an episode. His massive audience further expanded its reach.
Also in 2021, journalist Megyn Kelly invoked the meme on her podcast while discussing Apple's ties to China.
These examples show how prominent figures reinforce the meme as a commentary on resisting Chinese influence. Their usage helps cement its place in pop culture commentary.
The Meme's Significance
At its core, the "get ready to learn Chinese buddy" meme exemplifies how internet culture can spread messages. The format distills complex geopolitical debates into easily sharable humor.
While exaggerated, the meme also reflects very real concerns. Fears over expanding Chinese soft power, especially regarding censorship, have grown considerably.
Groups like Hong Kong activists use the meme to criticize authoritarianism generally. But for others, the specific emphasis on China may stoke prejudices.
Nonetheless, the viral status demonstrates social media's role in activism, both constructive and potentially harmful. Memes grant citizens a platform to tackle sensitive subjects, albeit in simplistic ways.
The longevity of "get ready to learn Chinese" highlights the deep roots of these tensions. With China's global influence expanding, the satirical warning continues resonating for critics across the political spectrum.
So whether used seriously by dissenters or jokingly by meme aficionados, this viral phrase encapsulates emerging free speech tensions. The meme seems unlikely to disappear as these pressures persist from Beijing.