Learning to type Chinese characters is an essential skill for anyone studying Mandarin or trying to communicate in written Chinese. While typing in Chinese may seem daunting at first, with the right tools and practice, it can become second nature.
In this comprehensive guide, we'll cover everything you need to know about typing in Chinese on a computer, smartphone, or tablet. Here's what we'll be discussing:
Why Typing Chinese is Difficult
Chinese Input Methods and IMEs
The Big 5 Input Methods

Pinyin
Wubi
Cangjie
Zhuyin
Stroke/Radical

How to Choose the Right Input Method
Installing and Using Chinese IMEs

Windows
Mac OS
iOS/Android

Tips for Practicing and Improving Your Typing
Use Voice Dictation for Faster Typing
The Benefits of Learning to Type Chinese
By the end of this guide, you'll have a solid understanding of the various Chinese input methods, know how to setup Chinese typing on all major platforms, and have actionable tips to start improving your typing fluency. Let's get started!
Why Typing Chinese is So Difficult
Chinese presents unique challenges for typing that don't exist in alphabetic writing systems like English. Here are some of the reasons why Chinese is considered one of the hardest languages to type:
Huge number of characters – There are over 70,000 Chinese characters in existence, with about 3,000 commonly used ones. Memorizing all characters is impractical.
Non-alphabetic writing system – Chinese uses complex hanzi characters rather than a simple alphabet. There's no direct mapping from keys to characters.
Lack of spacing – Chinese is written without spaces between words, so word segmentation needs to happen during typing.
Homophones – Many Chinese words sound identical but have different hanzi representations. The typing system must be able to choose the correct character.
Stroke order – To look up or input a hanzi, you need to know the specific sequence of strokes used to write it.
Thankfully, smart Chinese text input methods have been developed to deal with these challenges and make typing Chinese on modern devices quick and intuitive.
Chinese Input Methods and IMEs
A Chinese input method editor (IME) is a special program or system that allows the conversion of phonetic or shape-based inputs into the correct Chinese characters on a device.
The IME contains a large dictionary of Chinese words and characters with information on pronunciation, shape components, and stroke order. When you type using roman letters or other symbols, the IME does a lookup to match and suggest possible candidates based on context. This saves you from having to memorize thousands of Chinese characters!
Here are the 5 most common Chinese IMEs:
1. Pinyin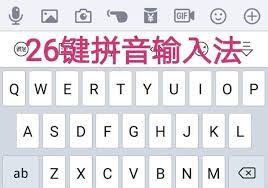 The pinyin input method is the most popular way to type Chinese. It uses the romanization system called Hanyu pinyin to input Chinese characters phonetically.
Pinyin assigns roman letter spellings to the pronunciation of Chinese characters. As you type the pinyin letters, the IME shows you character options that match the pinyin. This allows you to input characters you don't know how to write.
Pros:
Intuitive to learn, especially if familiar with pinyin
Works well with predictive text for fast typing
Cons:
Multiple characters may match the same pinyin
2. Wubi

Wubi (五笔, wǔ bǐ) uses unique keystroke combinations based on character shapes and components to input hanzi.
Each Chinese character is mapped to a 5 digit code representing the strokes and radicals. Users memorize codes for common characters. The method is very efficient for typing phrases by muscle memory.
Pros:
Faster typing once wubi codes memorized
Requires no language knowledge
Cons:
Steep learning curve for memorizing the codes
Less intuitive than phonetic input methods
3. Cangjie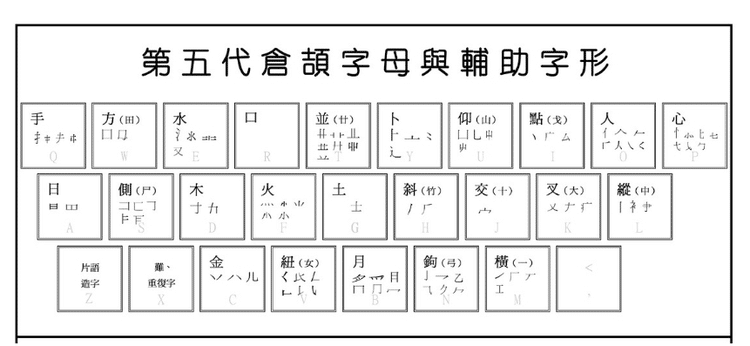 Cangjie (仓颉, cāng jié) works by breaking down hanzi into their key shape components known as radicals. Each radical is assigned to a specific letter key.
By typing the letters corresponding to the radicals in a character, you can input any Chinese character without memorizing specific codes. Cangjie is fast for adept users but has a learning curve.
Pros:
No special codes to memorize
Faster once familiar with radicals
Cons:
Requires memorizing the ~200 radicals
Less intuitive typing process
4. Zhuyin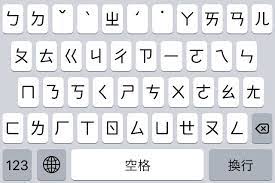 Zhuyin (注音, zhù yīn), also known as bopomofo, uses phonetic symbols to type the sounds of Mandarin Chinese. It was invented in Taiwan and is widely used there.
The 37 zhuyin symbols map to the different sounds in Mandarin. Typing sequences of zhuyin provides accurate phonetics for hanzi output.
Pros:
Precise phonetic input method
Popular in Taiwan
Cons:
Requires learning new set of symbols
Input limited to Mandarin sounds
5. Stroke/Radical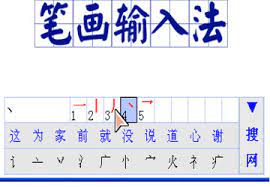 The stroke or radical methods allow you to input characters directly based on the count or sequence of strokes or radicals.
You would type out the strokes and radicals to narrow down and select the desired character. Less common outside of Taiwan and Hong Kong.
Pros:
Direct input of characters
No language knowledge needed
Cons:
Need to remember character stroke orders
Slower than other input methods
Now that you know the 5 main input methods, how do you choose which one is right for you?
How to Choose the Right Chinese Input Method
There are a few key factors to consider when picking a Chinese text input method:
Your language background – Choose pinyin if familiar with romanization. Pick zhuyin for Taiwan Mandarin.
Learning goals – Pinyin helps learn Mandarin pronunciation. Strokes/radicals improve character writing.
Device typing experience – Mobile may benefit from pinyin or zhuyin's predictive text.
Typing speed requirements – Wubi and cangjie offer high speeds for fluent typists.
Customization options – Some IMEs offer more user customizability than others.
Regional usage – Stick to primary input methods used in your target country/region.
For most learners, starting with pinyin or zhuyin provides the best balance of usability and language learning. The phonetic nature and predictive text allow for quick, intuitive typing.
Advanced users can add a secondary method like wubi or cangjie to maximize typing efficiency. Testing out different IMEs to find your favorite is recommended.
Now let's go over how to setup and use Chinese IMEs on all major platforms.
Installing and Using Chinese IMEs
Modern operating systems make it easy to activate Chinese text input support. Here's how to get started on Windows, Mac, iOS and Android devices:
Enabling Chinese Typing on Windows
Go to Control Panel > Language
Click "Add a language" and select Chinese.
Choose your preferred input methods such as Chinese (Simplified) – Pinyin.
Open the Language Bar (lower right corner) and select the input method.
The IME interface will appear letting you type pinyin or other inputs.
Other options like keyboard shortcuts, IME settings and custom dictionaries can be configured as well. Typing in Chinese on Windows takes just minutes to setup!
Setting Up Chinese Input on Mac OS
Go to System Preferences > Keyboard > Input Sources
Click + and add Chinese – Simplified or Chinese – Traditional options
Select the input methods you want like Pinyin or Cangjie.
Use the keyboard shortcut (⌘ Cmd+Space) to switch between input methods and start typing.
Mac OS also offers advanced IME settings and customization for user-defined hotkeys, dictionaries, and keyboard layouts.
How to Type Chinese on iPhone/iPad (iOS)
Go to Settings > General > Keyboard > Keyboards
Tap "Add New Keyboard" and select Chinese – Simplified/Traditional
Also make sure "Pinyin" is added under Chinese keyboards.
Switch keyboards within any app by tapping the globe key.
The pinyin keyboard will have options to type the romanization for hanzi characters.
For advanced iOS typing, add other Chinese keyboards like Cangjie or Handwriting Recognition. iPhones provide seamless typing in Chinese using predictive pinyin.
Typing in Chinese on Android Phones/Tablets
Download and install the Google Pinyin or other IME app from the Play Store.
Go to Settings > System > Languages & Input > Virtual Keyboard
Add the Chinese input method apps and enable them.
Switch keyboards in any app by long-pressing the enter key.
Select the Pinyin or other IME and begin typing your hanzi.
Android offers robust Chinese typing with apps like Google Pinyin and Sogou. Try different keyboards to find one with the optimal features and accuracy for your needs.
With your device now setup for Chinese text input, it's time to practice typing and improve your speed and accuracy!
Tips for Practicing and Improving Your Typing
Typing Chinese well takes regular practice and usage over an extended period. Here are helpful tips:
Use your IME daily – Integrate it into messaging, emails, notes etc to get comfortable.
Focus on precision – Accuracy is more important than speed when starting.
Train muscle memory – Try to internalize the locations of keys/symbols without looking.
Practice common phrases – Typing greetings or introductions can improve fluency.
Learn hotkeys – Use shortcuts to switch between input methods and English.
Use predictive text – Let the IME autocomplete common words and phrases.
Personalize your dictionary – Add names, slang, and new vocabulary you learn.
Analyze your errors – Identify areas to improve like spelling or unfamiliar characters.
Compare IME options – Different keyboards have unique features to enhance the experience.
Stay patient – Chinese typing proficiency develops gradually over months and years.
With regular usage, Chinese typing will transition from a slow, tedious process to a fast, intuitive skill!
Use Voice Dictation for Faster Typing
Speaking Chinese and having it converted to text can save a lot of time compared to manual typing.
Smartphone assistants like Siri and speech-to-text apps provide voice dictation capabilities in Chinese. Here are some ways to leverage voice input:
Enable voice typing in your IME – Many keyboards integrate a dictation feature or app.
Use Siri or voice assistants – iOS and Android devices have integrated assistants that understand Mandarin.
Install speech-to-text apps – Apps like iFlytek provide advanced dictation software.
Use for long-form writing – Speaking paragraphs or essays is easier than typing them.
Dictate messages/emails – Respond to communications hands-free by speaking aloud.
Edit as needed – Voice input may require fixes for punctuation or errors.
Train accuracy over time – The more you use it, the better speech recognition becomes.
Voice makes Chinese content creation much more efficient. Give dictation a try to boost your productivity!
The Benefits of Learning to Type Chinese
Being able to type Chinese unlocks many benefits:
Faster communication – Typing hanzi directly is quicker than using pinyin.
Express yourself in Chinese – Type social media posts, stories or poems to share your thoughts.
Take notes in Mandarin – Record lessons, lectures, meetings, and ideas.
Improved technological access – Use Chinese software, apps, websites that require text input.
Language learning – Reinforces memorization of characters and builds vocabulary.
Cultural connection – Exchange messages and emails with native Chinese speakers.
Career opportunities – Chinese typing is an in-demand professional skill.
Fluency in Chinese typing enables you to fully leverage online resources, deeply engage with native materials, and become more proficient in the language.
Make the investment to learn typing now and reap dividends through enhanced fluency and efficient digital communication in your target language.
Summary
Typing Chinese presents unique challenges but modern IMEs make inputting hanzi fast and intuitive on any device. With an intelligent input method like pinyin and regular practice, Chinese typing can become second nature.
Remember these key tips as you improve your skills:
Use a phonetic IME like pinyin or zhuyin when starting out.
Install Chinese keyboards on all your devices for daily practice.
Strive for accuracy first before building speed.
Leverage predictive text, hotkeys, and voice dictation.
Personalize your IME with custom dictionaries and shortcuts.
Be patient and persistent – you'll type faster than you think after a few months!
With the right strategies, learning to type Chinese characters can be easy and enjoyable. This indispensable skill will provide a bridge to communicate seamlessly in text, access content in Chinese, and take your language abilities to the next level. Just take it one hanzi at a time.
Read More: HSK 1 Vocabulary List