Looking to travel in China to learn Chinese, or just looking for a weekend trip? China's big cities like Shanghai are each a world to themselves, with enough variety of entertainment, food, and unique experiences to last a lifetime. But it's good to get out of the cities, too, and explore all that China has to offer. Locals, as well as tourists, use regular and long weekends to get out of the city by bus, train, or car, traveling just 1-2 hours to nearby famous destinations. Here are some examples of popular destinations for Shanghai weekend trips.
— By Andie Ma (马萍 Mǎ Píng) & Sarah Johnson (江淼 Jiāng Miǎo) 
Take a vacation, meet your loved ones, or friends who share the same heart, and travel around Shanghai and China to feel the flavor of spring. It doesn't have to be too long, two or three days, or maybe five or six days at most.
Trips to learn (and use) Chinese around Shanghai
Wuzhen 乌镇
Car: 2 hours
Highspeed train: 1 hour
Famous for: Indigo blue fabric, ancient watertown
Wuzhen is a Jiangnan (meaning south of the river the Yangze) water town, located in Tongxiang City, Zhejiang Province. The city near Shanghai has a history of 1300 years. The town is located along the river, and every morning, once you open the window, you can see the boats swaying by.
In the spring, all kinds of flowers are competing to bloom, adding a little fun to the original white walls. Accustomed to the fast-paced life in the big city, you may want to go to Wuzhen to feel the slow pace. To the riverside teahouse tea, just quietly watching the boats come and go, or watch a China drama, with some snacks, seeming to have forgotten the world.
And unlike other ancient towns, the commercialization of the atmosphere so serious, Wuzhen's management is very strict, so you do not have to worry about the commercial atmosphere affecting the pure experience of travel.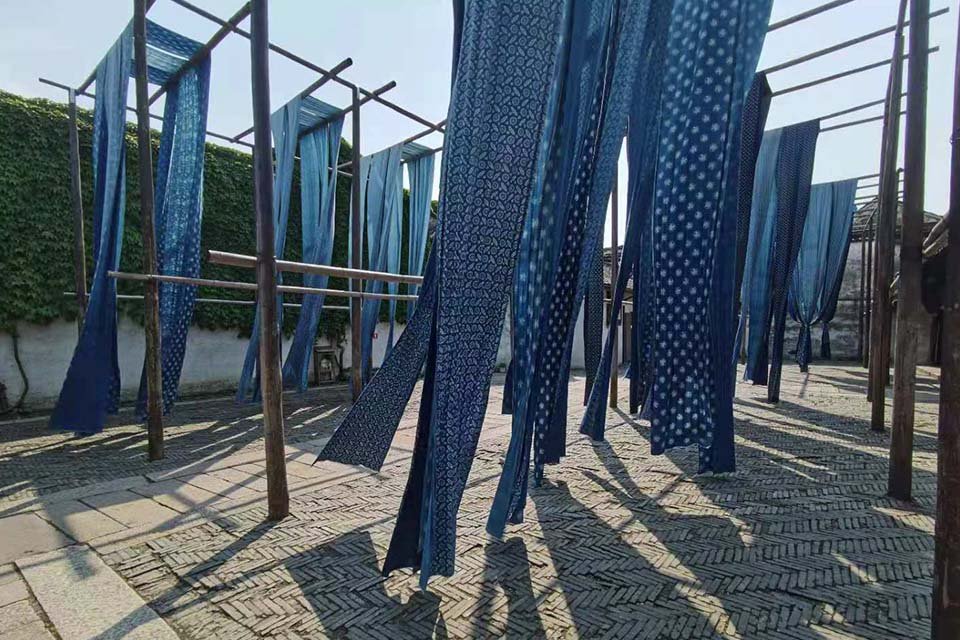 Suzhou 苏州
Car: 1.5 hours
Highspeed train: 0.5 hour
Famous for: canals with classical Chinese bridges, architecture, and gardens
Another popular weekend trip for Shanghai-based expats (or locals) is Suzhou. Known as the "Venice of the East" with UNESCO World Heritage protection, tourists flock to Suzhou to walk the Grand Canal bordered by picturesque white-washed houses with tile rooves. Explore the dozens of gardens and parks around the city to see well-maintained examples of ancient Chinese culture. Sitting on Lake Tai 太湖(Tàihú), one of China's largest fresh-water lakes, Suzhou has been home to scholars, poets, and artists for over 1,000 years, most notably during the Song Dynasty. It's also the heart of the silk industry in China with factories and museums showing the process with live worms, thread extraction, silk weaving, embroidery, bedding, and more.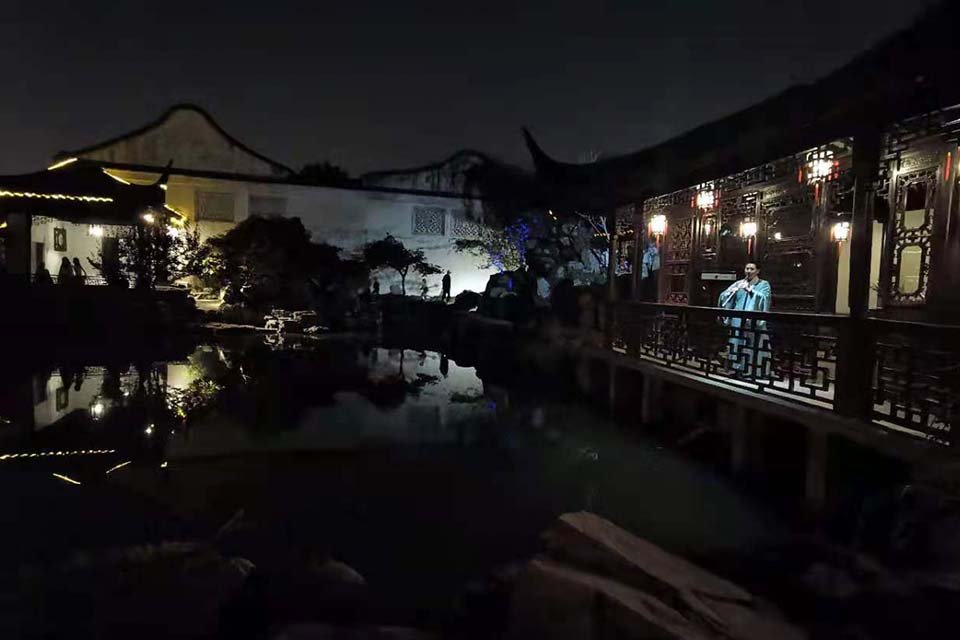 Hanghzou 杭州
Car: 2.5 hours
Highspeed train: 1 hour
Famous for: Dragon Well tea 龙井茶(Lóngjǐng chá) and West Lake wetlands
At the south end of the Grand Canal sits Hangzhou and its UNESCO World Heritage site, West Lake. The lake has wetland parks on its banks, temples on the hills, and a path around the lake with markers identifying the "Ten Scenes of West Lake" 西湖十景 (Xīhú shí jǐng). In the nearby hills are nestled dozens of tea plantations with rows and rows of tea bushes, picturesque villages with inns and restaurants, and all the Dragon Well tea you can drink. At night on West Lake — literally, the stage is under the surface of the water — there is a popular acrobatic dance performance depicting legends of Hangzhou.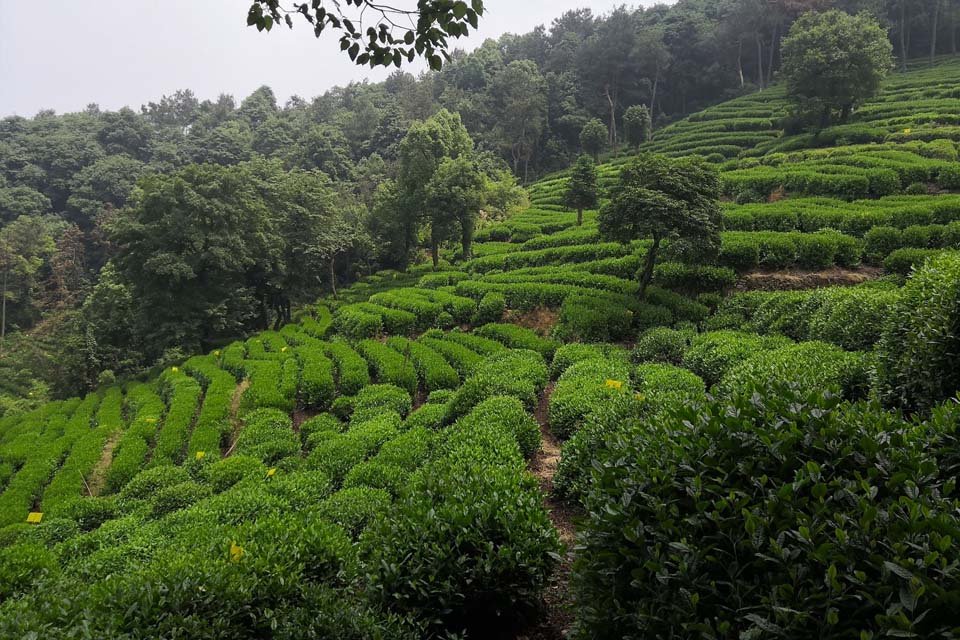 Nanjing 南京
Car: 4 hours
Highspeed train: 1.5 hours
Famous for: former capital of China
Nanjing has been an important city throughout China's history and is still quite large with respected universities and many monuments and museums to showcase the city's history. Sun Yat-sen's Mausoleum pays tribute to the founder of the Republic of China. The Presidential Palace which housed the government until 1949 displays the history of modern China. Another well-known destination in Nanjing is the Memorial Hall to the Victims of the Massacre in Nanjing, a heartbreaking reminder of the atrocities of war, specifically the Japanese invasion of China in the late 1930s. On the edges of the city are small mountains and temples with great views of the area, most notably Purple Mountain. A little further outside of Nanjing are mountains with hot springs where people go in the winter to relax.
Other locations near Shanghai that are great for a weekend from Shanghai or even day trips include:
Sheshan 佘山 Shéshān, Shanghai's only mountain, which has a large botanical garden, amusement parks, and a unique underground hotel built in a mine crater with a few floors underwater
Chongming Island 崇明岛 Chóngmíng dǎo, just north of Shanghai is great for camping and bicycle riding around farms
Jinshan 金山 Jīnshān, is a "beach" south of Shanghai with three small islands with mountains
Shengsi Islands 嵊泗列岛 Shèngsì lièdǎo, is an archipelago southeast off the tip of Shanghai, with parks, small villages, and temples, only accessible by ferry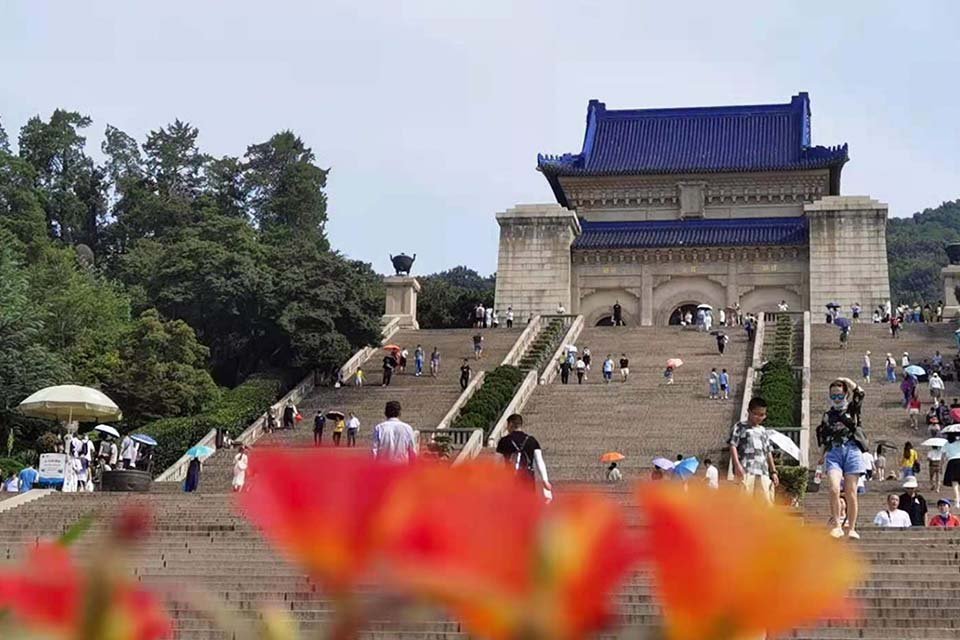 Wuyuan婺源
By car: 6 hours
Highspeed train: 3 hour and 30 minutes
Famous for: A landscape with strange caves, secluded rocks, and historic sites with ancient architecture
Wuyuan is famous for its rape flowers in spring, and the best time to play and watch is around Qingming Festival. In the early morning, step on the uneven mountain road, go to a large field of rape flowers to take some memorial photos, and in the evening, meet several friends in the tavern at the end of the stone road to play fistfights and games, and stay in a local B&B to tell each other's heart on the roof. If you want, you can also wash your clothes in the trickling stream as the locals do.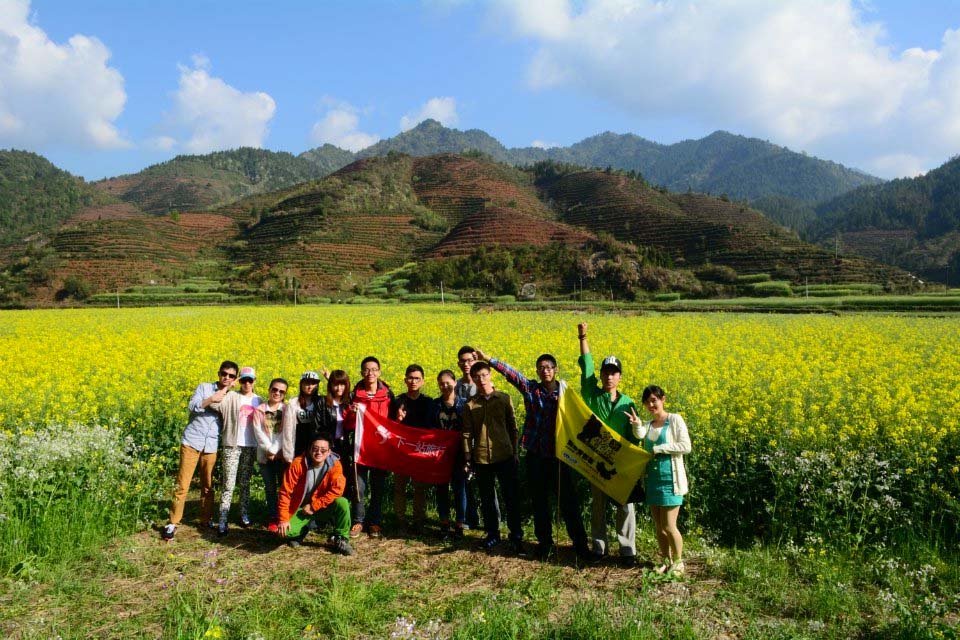 Weekend trips further into China
Lugu Lake泸沽湖
By plane: 2 hours 20 minutes
Famous for: Unique nature, lake, islands, ethnic minorities
Lugu Lake is in the beautiful Yunnan province, which has the largest number of ethnic minorities. You can see ethnic costumes with special features. The lake of Lugu Lake is as blue as the sky.
On the way, the guide will tell you the origin of some customs and traditions that have been passed down to this day, and at night you can attend a bonfire, singing and dancing in a circle with your local minority friends. At midnight, it is also the time when the starry sky is at its brightest. If your camera skills are good enough, you can take pictures of the starry sky curtain, which is really beautiful.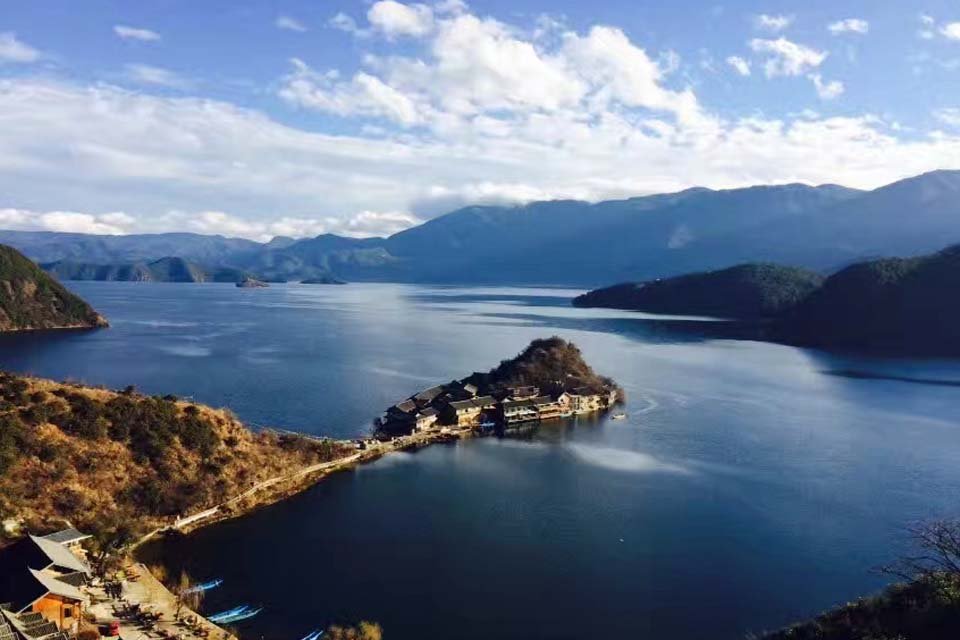 The 4 Most Famous Cities in China
Do you know how many cities China has? Over 600, officially. But you don't have to know all the cities. Start with 4 famous Tier 1 cities: Beijing, Shanghai, Guangzhou and Shenzhen.
Actually, these 4 cities are not the biggest but frequently referenced by the media for business, transportation, tourism, education, and so on. These four cities also have the most expensive real estate markets in China. They're often referred to as one group using the first character of each city's name: BěiShàngGuǎngShēn 北上广深.
BEIJING 北京
Beijing is the capital of China. It has been the political center of the country for most of the last 8 centuries. It is known for political, educational, and cultural activities. It's actually China's largest city by area but not by population.
In Beijing, you'll find the most historical attractions, both ancient ones such as the Great Wall, Summer Palace, Forbidden City, as well as more recent ones like Chairman Mao Memorial Hall and Tiananmen Square. Additionally, you can also explore modern developments such as 798 Art Zone and Sanlitun Bar Streets. Beijing is a good city to visit to enjoy both the modern and traditional aspects of China.
SHANGHAI 上海
Shanghai, is China's largest city by population with more than 24 million people as of 2017. Shanghai is located at the midpoint of China's Eastern coastline, where the Yangtze River empties into the sea. Due to its advantageous location, Shanghai is the financial center of China and the most international city, historically connecting foreign countries with China.
Shanghai is renowned for its modern skyline in Lujiazui: Oriental Pearl TV Tower, Jingmao building, World Financial Center and Shanghai Tower, the 2nd tallest building in the world (2018). Shanghai also has many famous historic buildings along the waterfront, known as The Bund, in the old town at Yuyuan Gardens, and in the ancient water towns surrounding the city.
GUANGZHOU 广州
Guangzhou, historically known as Canton, is the capital of Guangdong Province and China's third largest city by urban population. It is located at the Southern end of China, near Hong Kong. What makes Guangzhou world-famous is Cantonese food and Cantonese language. You can find Cantonese food and hear people speaking Cantonese in Chinatowns all over the world.
Guangzhou is well known for its annual Canton Fair, the oldest and largest trade show in China. People in manufacturing will most likely visit the factories in Guangzhou.
SHENZHEN 深圳
Shenzhen is located immediately north of Hong Kong and just South of Guangzhou. Back in the 1970's, Shenzhen was a small market town with a population of only 30,000. After it was promoted to a city in 1979 and designated as China's first Special Economic Zone in 1980, Shenzhen became one of the fastest-growing cities in the world. It attracted workers from all over China and foreign investment for manufacturing. Now, Shenzhen is a major financial and industrial center of Southern China.
---
The more places you go, the more your horizons are broadened — as a Chinese language learner and as a human being, and the more you will love our world.