China's big cities are each a world to themselves, with enough variety of entertainment, food, and unique experiences to last a lifetime. But it's good to get out of the cities, too, and explore all that China has to offer. Locals as well as tourists use regular and long weekends to get out of the city by bus, train, or car, travelling just 1-2 hours to nearby famous destinations. Here are some examples of popular weekend destinations around Shanghai (GoEast's headquarters).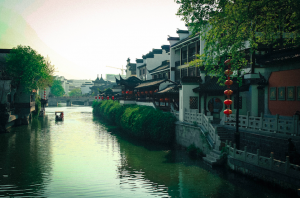 Suzhou 苏州
Car: 1.5 hours
Highspeed Train: 0.5 hour
Famous for: canals with classical Chinese bridges, architecture, and gardens
Known as the "Venice of the East" with UNESCO World Heritage protection, tourists flock to Suzhou to walk the Grand Canal bordered by picturesque white-washed houses with tile rooves. Explore the dozens of gardens and parks around the city to see well-maintained examples of ancient Chinese culture. Sitting on Lake Tai 太湖(Tàihú), one of China's largest fresh-water lakes, Suzhou has been home to scholars, poets, and artists for over 1,000 years, most notably during the Song Dynasty. It's also the heart of the silk industry in China with factories and museums showing the process with live worms, thread extraction, silk weaving, embroidery, bedding, and more.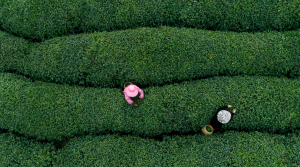 Hanghzou 杭州
Car: 2.5 hours
Highspeed Train: 1 hour
Famous for: Dragon Well tea 龙井茶(Lóngjǐng chá) and West Lake wetlands
At the south end of the Grand Canal sits Hangzhou and its UNESCO World Heritage site, West Lake. The lake has wetland parks on its banks, temples on the hills, and a path around the lake with markers identifying the "Ten Scenes of West Lake" 西湖十景 (Xīhú shí jǐng). In the nearby hills are nestled dozens of tea plantations with rows and rows of tea bushes, picturesque villages with inns and restaurants, and all the Dragon Well tea you can drink. At night on West Lake — literally, the stage is under the surface of the water — there is a popular acrobatic dance performance depicting legends of Hangzhou.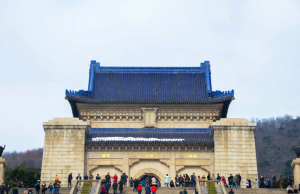 Nanjing 南京
Car: 4 hours
Highspeed Train: 1.5 hours
Famous for: former capital of China
Nanjing has been an important city throughout China's history and is still quite large with respected universities and many monuments and museums to showcase the city's history. Sun Yat-sen's Mausoleum pays tribute to the founder of the Republic of China. The Presidential Palace which housed the goverment until 1949 displays the history of modern China. Another well-known destination in Nanjing is the Memorial Hall to the Victims of the Massacre in Nanjing, a heartbreaking reminder of the atrocities of war, specifically the Japanese invasion of China in the late 1930s. On the edges of the city are small mountains and temples with great views of the area, most notably Purple Mountain. A little further outside of Nanjing are mountains with hot springs where people go in the winter to relax.
Other locations near Shanghai that are great for weekend or even day trips include:
Sheshan 佘山 Shéshān, Shanghai's only mountain, which has a large botanical garden, amusement parks, and a unique underground hotel built in a mine crater with a few floors underwater
Chongming Island 崇明岛 Chóngmíng dǎo, just north of Shanghai is great for camping and bicycle riding around farms
Jinshan 金山 Jīnshān, is a "beach" south of Shanghai with three small islands with mountains
Shengsi Islands 嵊泗列岛 Shèngsì lièdǎo, is an archipelago southeast off the tip of Shanghai, with parks, small villages, and temples, only accessible by ferry