Emily Wang (王蓉), Co-Founder and CEO of GoEast Language School, has an MA in Comparative English Literature from Fudan University and a BA in Teaching Chinese as a Foreign Language and English Language and Literature from Beijing Foreign Studies University.
"I never regarded myself as a leader or entrepreneur. For a long time I was ashamed to call myself a CEO."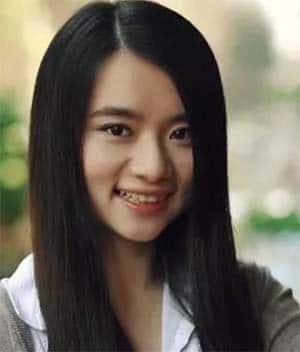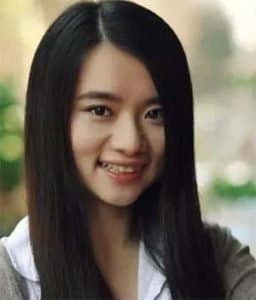 Emily's background and training is in Chinese language education. At university, she studied comparative English literature and teaching Chinese to non-native speakers. During her undergraduate and master's degrees, she had no business or finance classes. She was prepared to become a diplomat at the Ministry of Foreign Affairs, a reputable and secure career choice which her parents fully supported.
When she announced her decision to abandon a diplomatic career and focus on teaching Chinese to foreigners, her parents were furious. Her father cut off her financial support and she was left with 5,000RMB (<$1000USD) to pursue her dream. This unexpected financial independence served as a powerful motivation for her to succeed as an entrepreneur.
"Oh my gosh, they give you that much money just for an idea?!"
While supporting herself in graduate school with a job tutoring Chinese language students, Emily saw a poster advertising an entrepreneurship competition with prize money for the winning teams. Her tutoring was already such a success that she decided it would make a good business proposal for the competition. She was not only tutoring CEOs and corporate presidents in Chinese language but also Chinese cultural and economic perspectives. The combination of teaching language and culture, providing insights for businesses and individuals to succeed in China, was the founding principle of what eventually became GoEast Language Center.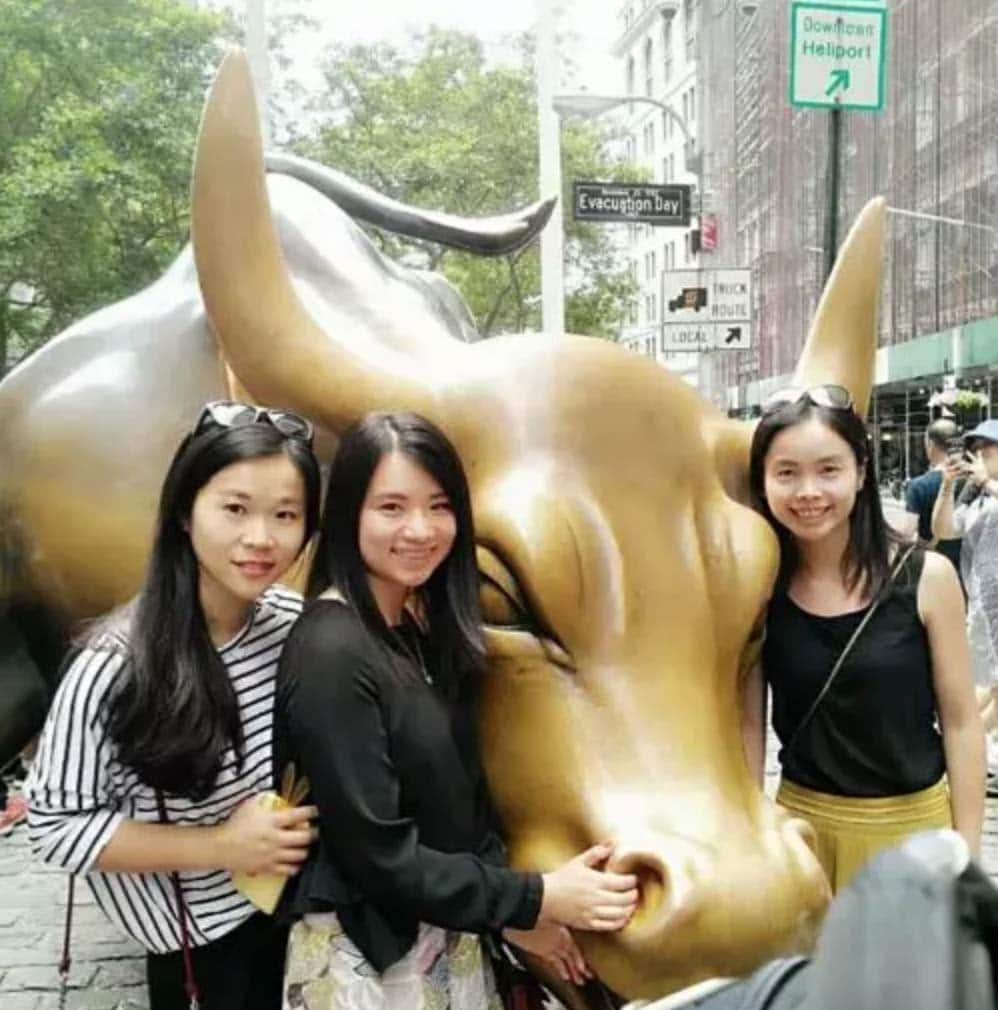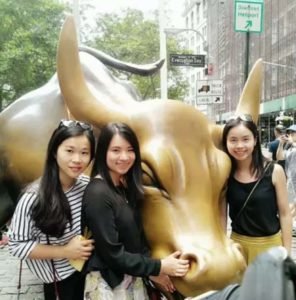 Emily's all-female team (all three co-founders of GoEast and a fourth member), was one of two winners of the entrepreneurship competition. The prize money enabled them to start GoEast during her second year of grad school in 2012. Over the last six years, GoEast Mandarin has grown slowly and steadily at its headquarters in the Yangpu District of Shanghai. By contrast, the other all-male winning team opened an office next to GoEast, grew aggressively in the first year, and has subsequently moved to five different offices, experiencing significant fluctuations in their growth over the years. Emily points out the differences between the two companies, including their gender, but explains that one outcome isn't necessarily better than the other, just different.
"They only asked me because I'm female."
In their 3rd year, GoEast sought investors to help fund their growth. There was a lot of interest so they were comfortable saying no to investors who disrespected them. During one interview, the male investors asked "When are you looking at getting married and having kids? Could you promise that you won't do this in the next 5 years?" Emily asked if this was a standard question for every founder and company. They admitted that they only asked her because she's a woman. Emily immediately told them "Thank you, I don't need your money."
"When I started GoEast I was very anxious and afraid because I had zero background in business or management."
Emily is a teacher by training. She does not have an MBA or a history of successful business endeavors. So when GoEast was established, she found opportunities to learn about business and management. She took classes at Fudan University and online, attended seminars, workshops, and read lots of books. "When I was younger," Emily admits, "I only wanted a good score on exams." Now that she has a specific problem to solve, she is dedicated to learning about entrepreneurship. Although, one of the business professors at Fudan University who encouraged Emily, told her that "Business people are not taught, we're born."
"Now I am definitely more of an entrepreneur and businesswoman."
In China, people from Zhejiang province, like Emily, are known for being good at business. She lives up to this stereotype, especially since she started GoEast without studying any business theories. "I followed my intuition [and] was open to advice," she says. Advice comes from the people in her network – professors, mentors, co-founders, and GoEast team – people who appreciate Emily and her abilities as a businesswoman and leader. Her advice to others is to maintain a supportive network and "get away from people who try to not give you credit."
"You're just a woman, don't push yourself so hard."
Emily persists in working hard and making GoEast a successful business. Her stubbornness and competitive nature enabled her to persevere even in the face of criticism and doubt from her parents. As with many children of the 80s and 90s, Emily was told that she can succeed at whatever she does. Her parents fostered her drive for success and she regularly performed at the top of her class from first grade all the way through graduate school. Yet when she started GoEast, her parents expressed concern, asking when she was going to get a real job, every time they talked for three years. Emily confronted her parents, pointing out that they taught her to work hard to pursue her dreams. Her mother said, "I lied to you. Now you're a grown up, you should understand life is much harder." Emily understands that her parents wanted to protect her daughter, that they didn't want to see Emily fail and suffer.
"In the end, your ability and ideas and how you do business speaks louder than your gender."
Six years later, GoEast is prospering with in-person classes and a new online learning platform. They have hundreds of teachers and students all around the world. Emily's parents have finally stopped questioning her career choices and express their pride in her accomplishments. "They could see that I am financially independent and they saw the growth of GoEast." As always, Emily demonstrated her abilities and changed even her parents' first impressions of her. Her dedication and hard work continues to impress investors and clients as GoEast grows and teaches Chinese language and culture on a global scale. Even though her title is now CEO and Co-founder, Emily stays true to her roots as a teacher, educating others by her example as a successful entrepreneur and businesswoman.
---
Maria Mao (毛瑞), CoFounder, COO and HR Director of GoEast Mandarin, taught Chinese at Jiaotong University, and has a BA and MA from Beijing Foreign Studies University in Teaching Chinese as a Foreign Language.
"If we are the bosses then we can decide when to work."
The promise of setting your own schedule is an appealing idea, especially to someone who's not a morning person. This was the promise that convinced Maria Mao to be a co-founder of GoEast Language Center. The reality of starting a business was very different than the promise and involved a lot of early mornings and long days. Six years later, she enjoys her work at GoEast so much that the best part of vacations is sitting in the airport on the way home, waiting to board the plane, and starting to work.
Maria majored in Teaching Chinese as a Foreign Language at university, attracted by government promotion of the major in an effort to bring Chinese language, culture, and economics to the world outside its borders. Although the government-guaranteed jobs for students studying to be Chinese teachers, what was missing, at the time, was a career path and opportunities for professional growth. Maria and the other co-founders of GoEast decided to set their own career path by starting a language school.
"At the beginning… we did everything… we fixed our toilet as well."
As any business owner knows, at the beginning you do everything yourself. Maria and the two co-founders, Emily Wang and Jane Luo, were all trained as Chinese language teachers. They educated themselves so they could take care of the finance, administration, taxes, and many other tasks necessary to establish a company. When presented with a problem, Maria works to find a solution. "I search, I learn, I ask people [and] I learn a lot from online courses," she says. She is particularly interested in operations and HR management and lets the other co-founders focus on their own strengths in other areas such as marketing. The founding team has a balance of skills and interests which makes this distribution of responsibilities possible.
One unique educational resource for Maria and the other GoEast teachers is their own Mandarin Chinese language students. Foreigners working in China come to GoEast for language training from all industries: CEO's, university professors, and technology researchers, to name a few. Many GoEast Mandarin students have international business experience and have taken the time to share their expertise with the co-founders and teachers. A few students have even used what they learned at GoEast to provide professional education to Maria and her colleagues in Chinese, a mutually beneficial relationship rarely found at formal educational institutions. For Maria, these unique exchanges are confirmation that she made the right choice in establishing GoEast Mandarin in Shanghai.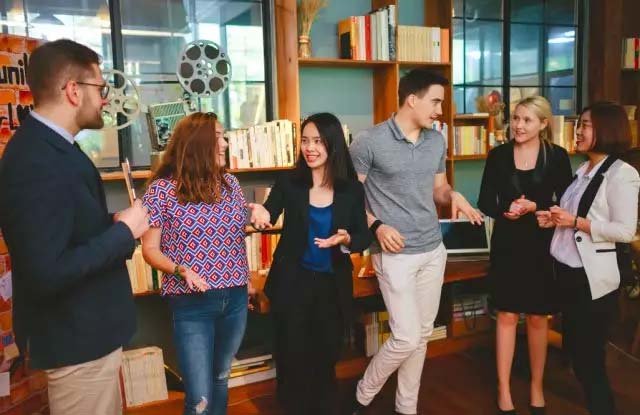 "Put people in the right position and let them have the power to do something amazing."
Maria's interest in HR management stems from her belief that people drive success. Her professional goal is to "be the one who can help teachers enjoy their teaching." A passionate teacher herself, she knows the frustrations and limitations that teachers face. Maria is proud to use her administrative knowledge and resources for managing time, money, and a business that gives teachers the freedom to focus on teaching.
The GoEast team has grown steadily over the last six years from just the three co-founders to 14 full time teachers plus nearly a hundred additional part time teachers around the world. When recruiting talent, "we work hard to let them know who we are," and what we value, says Maria. In the early days of GoEast Mandarin, a Chinese teacher approached the language center, asking to join the team but they had to turn her offer down because they couldn't afford her. Years later, after their growth stabilized, Maria reached out to the teacher and she jumped at the chance to join them. Another teacher tracked GoEast's achievements for five years before giving up a higher salary at an established company to join the team. Maria maintains that the core members of the team define the company values and attract future talent. In this case, teachers dedicated to long term growth at a company that achieves concrete results.
"Be honest with yourself: if you're not growing then stop."
How did Maria know they were succeeding? Statistics. Before founding GoEast, the co-founders thoroughly researched the market to determine the feasibility of the company. They checked the number of foreigners coming to China each year, using the visa statistics to determine how many were coming for work, travel, or with their spouse. They also looked at the number of international students at local universities and set their goal: if they could get 0.1% of the international students at universities then they would succeed.
At the end of the first year, each of the co-founders was making less money than their previous job and they considered giving up. Wisely, they returned to the statistics and reviewed their goals with a simple question: are we growing? The statistics showed that they did indeed have positive growth so they kept going. Five years later, they are still growing, increasing their teachers, clients, and revenue.
"The team gives me confidence as we grow."
---
Listen to more GoEast Mandarin stories about Chinese language education in this video on YouTube.