Many students of Chinese find that their biggest challenge is feeling confident in their ability to speak the language with good pronunciation. When asked what specifically frustrates them about their Chinese accent, they may cite issues such as being misunderstood due to incorrect sounds, feeling awkward or unnatural, struggling to hold smooth conversations, and difficulty fitting in or being taken seriously in social situations. If you've experienced any of these challenges, don't worry! There are many techniques you can use to improve your Chinese pronunciation and sound more natural.
1. How to improve your Chinese sentence flow?
When a native speaker says that someone isn't natural, it often refers to their sentence flow. What are the characteristics of Chinese sentence flow?
Overall, the flow of the Chinese language tends to be more melodic and rhythmically complex than many other languages, and can take time and practice to master for non-native speakers.
Tonal: Chinese is a tonal language, meaning that the pitch and tone of each syllable can significantly impact its meaning. This creates a natural rhythm and melody to the language. I am going to tell you to let go. Tones are not as important as you think. Or, real tones are different from idealized tones! It is going to be completely different from what you learned before .

Lack of stress: Unlike in English, Chinese does not have a stress accent, so every syllable is pronounced with roughly the same amount of emphasis.

Pauses/segements: Chinese chuncks of phrases porbably is not what you think. Chinese often groups words together into clusters, rather than separating them into individual words. Pauses can be used in Chinese for emphasis, to mark a change in thought or topic, or to give the listener time to process what has been said.

Sentence-final particles: Chinese has a variety of sentence-final particles that can convey different tones and attitudes, and these can also affect the flow of the language.
1.1 How to have better tones?
You may have excellent tonal accuracy for individual words, yet make a large number of very unnatural tonal errors in natural speech. Why?Many learners initially learn tones in isolation by applying them to individual syllables. The chart below shows the idealized tones in isolation.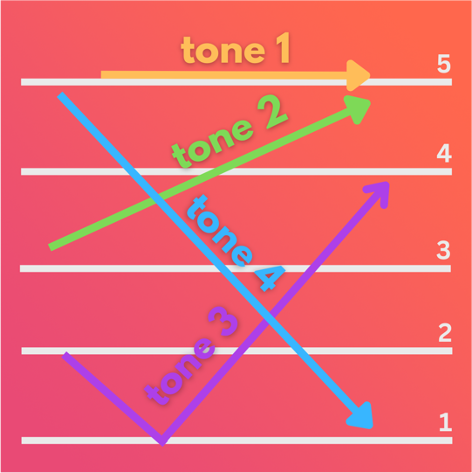 However, in natural connected speech, tones don't always behave the same way as they do in isolation. They tend to be less exaggerated and more subtle, particularly the third tone. As a result, a chart that is more suitable for real speech would look different.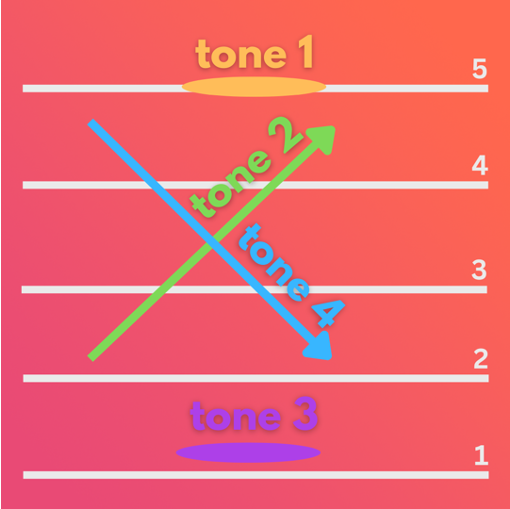 In natural speech, tones tend to be shortened, run together, and deviate from the idealized versions.
1.2 Pay great attention to pauses.
In general, Chinese is considered a relatively fast-paced language, 150-200 words per minute, while native English speakers are 150-160 words.Plus, unlike in English, Chinese does not have a stress accent, so every syllable is pronounced with roughly the same amount of emphasis. How to achieve that?
In natural Chinese speech, sentences are typically not segmented or paused as frequently as in some other languages. Instead, there tends to be a more continuous flow of speech, with pauses occurring at the end of phrases or clauses rather than between every word. These pauses are often relatively brief and can be used to signal changes in topic or to allow the listener a chance to respond. Here is the example where you shall pause in the following sentence:
谢谢大家来参加这次活动,我真的非常高兴。
Xièxie dàjiā lái cānjiā zhè cì huódòng, wǒ zhēn de fēicháng gāoxìng.
谢谢大家来参加这次活动,| 我真的非常高兴。 (for advanced learners)
谢谢大家|来参加这次活动,  | 我真的|非常高兴。(for intermediate or lower learners)
1.3 Get to know sentence-final particles well
In Chinese, sentence-final particles such as '啊' or '吗' are often used to signal the end of a sentence and create a slight pause or break in the flow of speech. Because these particles carry important meanings, it is crucial to understand their usage and pronounce them correctly. Typically, these particles have soft and unstressed sounds. Also, it's worth noting that '啊' and '呀' are often connected to the preceding sounds.
吗 (ma) – This particle is often added to the end of a sentence to turn it into a question. For example, 你好吗? (nǐ hǎo ma?) means "How are you?"

呢 (ne) – This particle can be used to ask about the whereabouts of someone or something, or to inquire about a person's situation or feelings. For example, 你的妈妈呢? (nǐ de māmā ne?) means "Where is your mother?"

啊 (a) – This particle can be used to express surprise, or to indicate that the speaker has just remembered something. For example, 对啊! (duì a!) means "Oh yeah!"

吧 (ba) – This particle is often used to suggest something, or to soften a command. For example, 去吃饭吧! (qù chīfàn ba!) means "Let's go eat!"

呀 (ya) – This particle is often used to express excitement or surprise. For example, 真的呀? (zhēn de ya?) means "Really?"

嘛 (ma) – This particle is often used to indicate that something is obvious or self-evident. For example, 这很容易嘛! (zhè hěn róngyì ma!) means "This is very easy, isn't it?"
1.4 Key technique  to improve your Chinese sentence flow: "Imitation"
Imitation technique includes four steps: Listen, repeat, feedback, shadow. Let's break them one by one:
Listen: The first step of the imitation technique is to listen carefully to the target language being spoken. This can be done by listening to audio recordings, watching videos, or speaking with native speakers.

Repeat: After listening to the target language, the learner repeats what they heard, trying to imitate the flow of the language. This helps to train the learner's vocal muscles and develop their ability to produce the sounds of the language.

Feedback: Once the learner has practiced repeating the language, they can receive feedback from a teacher, tutor, or language partner. The feedback can help the learner identify areas where they need to improve.

Shadowing: The final step of the imitation technique is to practice shadowing, which involves repeating the language while simultaneously listening to a native speaker. This helps the learner develop their ability to produce the language more quickly and fluently, and to internalize the patterns of the language. The process of acquiring a language is akin to building muscle strength through training. Just as regular exercise is necessary to develop strong muscles, consistent language practice is essential for achieving natural pronunciation and fluency. This is why many people experience a decline in their language abilities when they take a break from using the language for an extended period of time.
This is also the reason why we refer to our teachers as "coaches" at GoEast. Just like athletes need coaches to help them train and perfect their skills, language learners need guidance and extensive practice to achieve native-level pronunciation. By using the imitation technique and regular practice, you can improve your pronunciation skills and keep them strong.
2. Foundations: Alphabets Improvement
2.1Identify incorrect pronunciations
At GoEast, we offer
a comprehensive pronunciation table
for both teachers and students to utilize. It also includes the youtube Video we made to explain as well. If you're interested,
contact us and we'll send it to you
. This resource is perfect for self-assessment. In There are other ways to identify your incorrect pronounciations, such as receiving feedback from your teachers or friends. Additionally, if you're really dedicated to improving your pronunciation, you can schedule
a free assessment
with our language consultant.
2.2 Progressive technique
Progressively improve pronunciation, following the principle of transitioning from individual characters, words, and phrases to sentences, and finally expanding sentence application. Focus on correcting key pronunciation errors before moving on to the next stage. For example, 'wo she mei go ren':
a. Start by correcting the character 'she' to 'wo shi'.
b. Then correct the word 'mei go' to 'meiguo'.
c. Correct the phrase 'meigo ren' to 'meiguoren'.
d. Correct the sentence to 'woshi meiguo ren'. e. Progress to practicing negative forms, such as 'wo bushi zhongguo ren'.
f. Build on previously learned sentences, such as 'I am American, not Chinese'."
3. Improving pronunciation is a journey
Improving your pronunciation and fluency in Chinese is indeed a journey, and incorporating improved pronunciation into your daily habits can help make that journey smoother. One book I want to share with you is: Micro Habits: The Small Changes That Change Everything" by Haim Omer.
You can apply the four steps of Cue, Craving, Response, and Reward to make practicing your Chinese pronunciation a daily habit. Here are some specific ways to use each step:
Cue: Choose a specific cue or trigger that will remind you to practice your Chinese pronunciation regularly. For example, you could practice for 10 minutes before bed every night, or you could practice during your daily commute to work, or 1 hour before every Chinese lesson.

Craving: Develop a craving or desire to improve your Chinese pronunciation. Think about how good it will feel when you can express yourself clearly and be understood by native speakers. You could also think about the opportunities that improved Chinese skills could open up for you, such as new job prospects or the ability to travel more easily in China.

Response: Decide on a specific action that you will take when the cue occurs. This could be something simple, like using the imitation technique to practice GoEast Beyond Episodes. It could also be more involved, such as scheduling regular sessions with a tutor or joining a language exchange group.

Reward: Give yourself a reward for completing the response. This could be something small, like taking a short break or enjoying a favorite snack. It could also be something more substantial, such as treating yourself to a nice dinner or taking a trip to China if you keep practicing for 3 months!
By using these four steps, you can make practicing your Chinese pronunciation a regular part of your daily routine. Remember to start small, be consistent, and reward yourself for your efforts, and you will be well on your way to improving your Mandarin pronunciation and fluency.
Conclusion
Improving your Chinese pronunciation takes time and practice, but by paying attention to sentence flow, tones, and sentence-final particles, you can sound more natural and confident in your spoken Chinese. Whether you're a beginner or an advanced learner, these tips and techniques can help you take your Chinese language skills to the next level.