Tandem is an app for learning Chinese, but unlike many other learning apps, it involved real people. Which is interesting! Tandem basically matches speakers of language X who want to learn language Y, with speakers of language Y who want to learn language X. For instance, in the case of this reviewer, someone who speaks English & Dutch at a native level, and who wants to improve his Chinese. Let's see how we can learn Chinese with this app.
Learning Chinese with Tandem
We registered, added a profile photo, set some data like our birthday, and voila. On our profile we filled in we want to learn Chinese, and talk about which topics (I added 'Culture, people, history' for lack of better ideas.) Then Tandem also asks you which ways you would like to meet people: text messages online, voice messages or video calling, or meeting people face-to-face. And you can set which times suit you best.
So from setting your communication methods, it seems you can have several goals for learning Chinese:
Improving your writing
Improving speaking & listening ability
Or just generally meeting people (online) & learning about their culture
Finding a language exchange partner
The app itself is rather simple: when you open it, you'll get a list of all profiles who are native in your target language (Mandarin Chinese) and who want to learn one of your native languages. For me, 99.99% that means Chinese natives wanting to learn English, but when I used the search function, I also found two who want to learn Dutch.
I don't know how the list is sorted, but actually, I wanted to use 'Near me' to find language partners, because then if after a few phone – or video calls our conversations are good, maybe we could meet in person and do an offline language exchange. For this, you need a premium subscription, which for one month is 45 RMB. Let's try! Later I discover that there are also language challenges, but this isn't even offered in the premium package. For this, you need to pay another $2,99.
Connecting on Tandem is rather easy. You can send a text message, but you can only send images or audio when someone has replied to you. Although Tandem warns that the app is not a dating app, some users, especially females, may get some unsolicited admiration.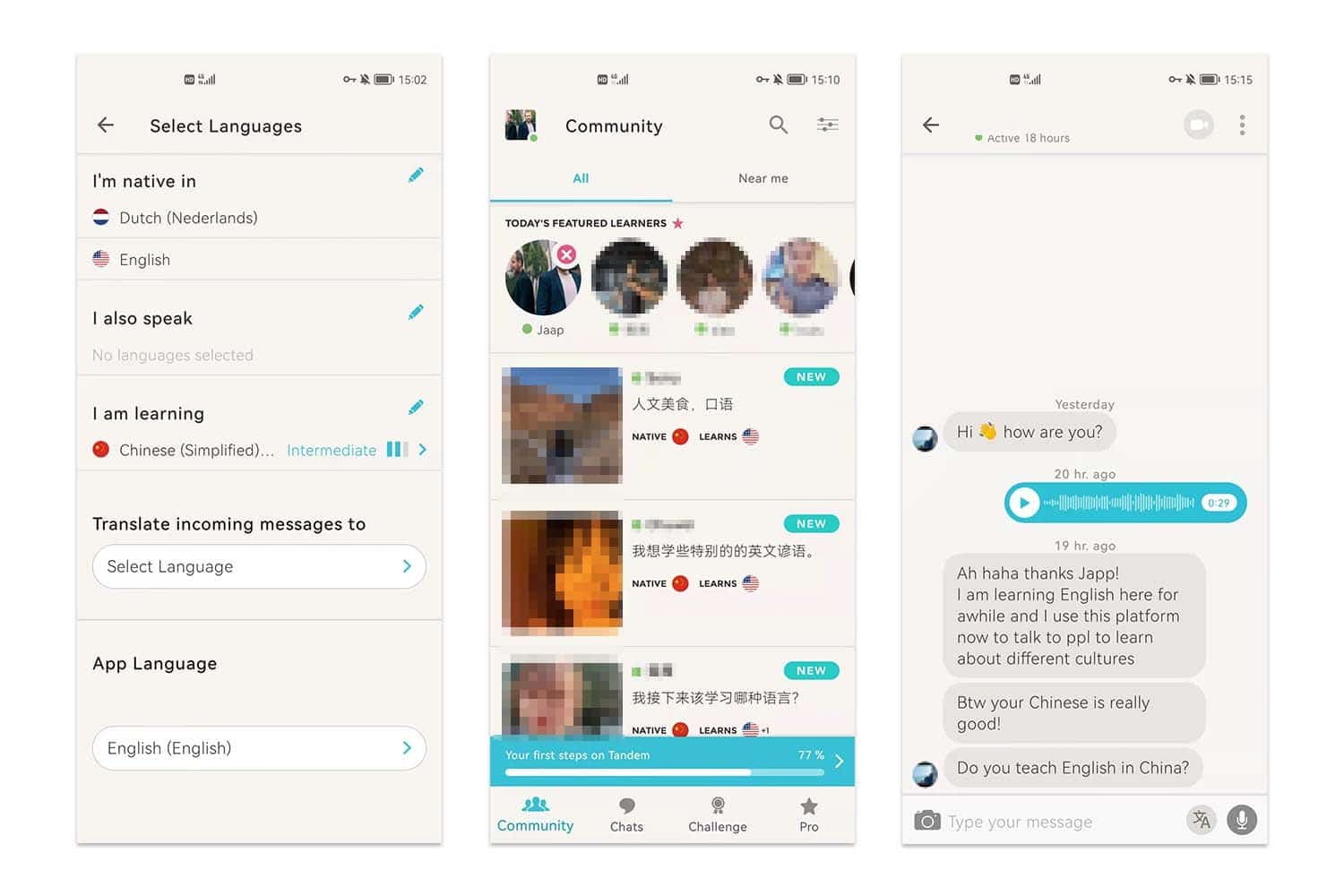 Best way to use Tandem to learn Chinese
I switch between English and Chinese, and I make a call with a lady who lives in Hong Kong, and later I call with a guy from Changsha. It is interesting to learn about their lives: the lady is studying at a conservatory to play an ancient Guzheng (she has eight of them at home!), and she needs a 5.5 or higher for her English exam. Her last score was a 5.2. The guy from Changsha works as a software engineer.
Yes, the start of the conversations are a bit awkward (or maybe it's just me), but you need to get past that fast. Also, if you don't structure the conversation, it'll go nowhere and there's less educational value in it. If you're calling, Tandem's advice is to stick to 5 minutes in one language, then switch to the other language for 5 minutes. So for me, that meant me and my partner speak 5 minutes talking in Chinese, and then we spoke 5 minutes in English. (I once also tried to speak in Chinese and the partner talks in English, but this is really weird, and I also want to improve my listening ability.)
Depending on your level of Chinese
If you're at a beginner level of Chinese, let your partner focus on improving your basic grammar and pronunciation. She or he can instantly correct you if you say something wrong in Chinese, or you can discuss to first speak the whole sentence in Chinese, and then let her or him correct you. Whatever your preference is.
If you're at an intermediate or even advanced level of Mandarin Chinese, tell your partner to push your Chinese. Add more complex words and compound sentences, speak fast, etcetera.
Goal-oriented conversations:
It's good to push yourself to go beyond the usual conversations you already had 100 times. So skip hobbies, or add detail. If you say you like football, then try to talk about which position on the field you play, and if you ever scored a goal. If you don't know the word, you can ask your language partner to explain this in Chinese.
Prepare a 'menu' of things you want to learn in Chinese and show this to your partner. It's easy to say: "I want to learn how to talk about social media better."
It's good to come with some requirements and to find a partner who is as serious about learning a second language as you are about learning Chinese.
How useful is Tandem for learning Chinese?
Tandem or similar apps cannot replace a real Chinese course, but they provide a free and fun way of getting to speak more outside of the class. A paid platform like Italki is a step-up from Tandem, because since you pay you don't have to return the favor of conversing in your native language. But an online Chinese language course is a rocket to the moon, but apps like Tandem are the rocket boosters. This is because a real Chinese language course uses teachers who are trained to teach grammar, and they are already fluent in English, so they know which mistakes you are making because you didn't understand the materials, or because you're using the structure of your mother tongue.