Here's GoEast's Pinyin chart for kids, to let your child (aside from learning Chinese online with our children courses), learn the most important sounds of the Chinese language. You can help your child learn Pinyin by following our guide on how to learn Chinese Pinyin.
Chinese Pinyin chart for kids
Here are all the key sounds of the Chinese language, the initials, and finals. For each sound, there's a Chinese Hanzi character and object to highlight where this sound is used.
Click to expand.
Made for kids
Lots of Pinyin charts do not fit the language of kids. For instance, many Chinese pinyin charts will show the sound "Bb" (bo) with the 播Bō Hanzi character, meaning 'broadcasting'. For our Pinyin chart for kids, we use the character 卜Bo which is part of 萝卜Luóbo (carrot). These words fit better to the imagination of kids and their surroundings.
Printable Pinyin chart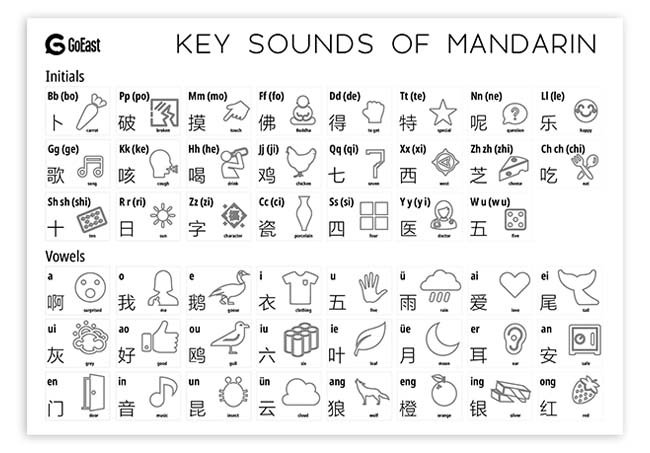 Download a printable pinyin chart for kids here. Click this link and save the PDF or print directly from your browser.
Video: