Are you considering enrolling your child in a foreign language program but unsure of which language is the best fit for them? As a co-founder of GoEast, an institution that specializes in teaching Chinese to children since 2016, I am here to provide you with the right tools and information to help you assess which language will be the most suitable for your child. In this article, I will be focusing on why it is important for kids to learn foreign languages, the advantages of learning Chinese, the myths and misconceptions associated with language learning, and tips on how to help your kids learn a foreign language.
Scroll down to the very end to watch a recording of a live event we did on this topic as well: The Bilingual Edge: Why,When and How to Teach Your Child Foreign Languages, with a Focus on Chinese.
Why should your kids learn a foreign language?
Most parents we know have already had a sense of important advantages for children to have advanced knowledge of two or more languages. But I still want to share some of the most reliable research findings today with you. Why? Because as a language educator and a mother myself, I know too well that raising bilingual kids requires lots of effort and motivation, and you will encounter a lot of skeptics along the way. I hope these scientific findings will help you preserve in the years ahead.
Benefit No 1:Gain cognitive and academic advantages
Intuitively, we think kids who speak more than one language are smarter. And indeed, this intuition is supported by lots of research.
Researchers describe bilingual kids as more mentally flexible, and this kind of creativity can translate into success in school and in life.
Most of the cognitive advantages come from bilingual's greater metaliguistic awareness, which means the awareness of language as an object or system. It is linked to important academic skills, including learning to read. 
Special features about Chinese: 
Researches show that Chinese involves both sides of the brain because of its unique characteristics, such as the use of pictographic characters, tonal inflections, and complex grammatical structures. For example, when reading and writing Chinese characters, the left hemisphere of the brain is used for language processing and the right hemisphere is used for visual processing. Additionally, learning to distinguish between the different tones in Chinese requires the use of both hemispheres of the brain.
The benefits of learning Chinese for kids include enhanced cognitive development, improved memory, and better problem-solving skills. Studies have shown that learning Chinese can help increase gray matter density in the brain, which is associated with improved cognitive functioning. Additionally, because Chinese is a tonal language, learning it can help improve children's ability to distinguish subtle differences in pitch and tone, which can improve their overall communication skills.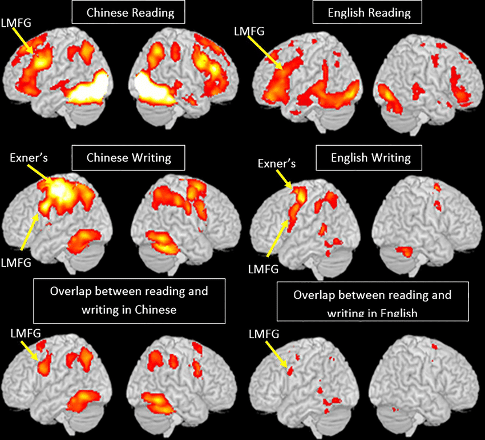 Benefit No 2:Enhance cross-cultural attitudes, behaviour and friendships
Fostering cross-cultural attitudes, behaviour, and friendships is an essential aspect of preparing our children for today's global society. Research shows that children who learn a second language are more likely to develop positive attitudes towards individuals who speak that language. Additionally, they are less likely to hold negative stereotypes about that group. These children are also more inclined to form friendships with individuals of diverse linguistic or ethnic backgrounds. Ultimately, children learn that what matters most is not how they look or speak, but who they are as individuals. This lesson is invaluable in life and can last a lifetime. With a population of 1.4 billion, the Chinese people are a significant group to consider in promoting cross-cultural understanding and sensitivity. In conclusion, teaching our children to embrace and appreciate diversity will equip them with essential skills for success in today's interconnected world.
Benefit No 3:  Enrich Family life, culture and communication
Maintaining a strong connection to one's heritage language is crucial in preserving family ties and cultural traditions. It also serves as an important source of pride and self-esteem for the child, contributing to a strong sense of identity and belonging. Studies have shown that children who have a strong sense of their cultural background perform better in school and in life overall. Learning one's heritage language also fosters closer relationships between parents and children.
For instance, if a family has Chinese heritage, it is essential to provide children with the opportunity to learn the Chinese language. Doing so would not only strengthen the child's connection to their roots but also provide an avenue for parents and children to bond over a shared cultural experience. By enriching family life with culture and communication, families can pass down traditions and values that can be carried on for generations to come.
Benefit No 4: Provide your Child with an education and career edge
Learning a foreign language, such as Chinese, can provide your child with numerous educational and career advantages. In today's globalized world, proficiency in a foreign language is highly valued and can set an individual apart in the job market.
For instance, China's economy is rapidly growing, and the demand for individuals who are proficient in Chinese is increasing. Being able to speak and understand Chinese can open up opportunities for your child to work in various fields such as business, international relations, law, and more.
In terms of education, learning Chinese can provide your child with an edge when applying for universities and scholarships. Universities may offer language-specific programs, and scholarships may be available for students who are proficient in a foreign language.
Myths and misconceptions: What are the real deal about learning foreign languages?
As parents, we all want to provide the best for our children, especially when it comes to education and language learning. However, there are many myths and misconceptions surrounding bilingualism that may cause parents to doubt their approach. Today, we will debunk some of the most widespread misconceptions.
Misconception No 1:"Exposing my child to two languages means she will be a late talker."
One of the most common concerns is the fear that exposing a child to two languages will cause them to be a late talker. However, there is no scientific evidence to support this notion. Children develop language skills at different rates, and the age at which they start speaking their first words varies. Hearing multiple languages does not lead to delays or disorders in language acquisition. Therefore, parents should not worry about exposing their child to two or more languages from an early age.
Misconception No 2:"I'm too late! You have to start very early for second language learning, or you will miss the boat."
Another common misconception is that second language learning must start very early, or else children will miss the boat. While age can play a role in language learning, the critical period hypothesis, which emphasizes early childhood or before puberty, is not absolute. Many adults have successfully learned a second language, including those who started at 20+, 30+, and even 50+. At GoEast, we have seen many students start learning a new language at various ages and still achieve fluency. In fact, starting to learn a second language later in life has its own advantages and disadvantages, which we will discuss in more detail later.
Misconception No 3:"Only bilingual parents can raise bilingual children."
A third misconception is that only bilingual parents can raise bilingual children. While it is true that raising bilingual children takes planning, effort, and dedication, there are many resources and opportunities available outside of the family. The real challenge for parents is to wisely pick and choose programs, activities, and materials that fit their child's learning style and needs.
Misconception No 4:"Videos and toys are great to learn a foreign language"
Finally, many parents believe that videos and toys can be a great way to help children learn a foreign language. While these can be useful tools, particularly for older children, it is important to note that effective language exposure for young babies must come from real people and real interaction. The quantity and quality of exposure and interaction are what really matter when it comes to language learning.
In summary, there are many myths and misconceptions surrounding bilingualism and language learning. By separating fact from fiction, parents can make informed decisions about how to best support their child's language development.
Put up the right learning Strategy
Learning a foreign language, such as Chinese, can bring about numerous benefits for your child's personal and professional growth. But before embarking on this journey, it's important to assess your family's own language profile and resources to make the most of the experience.
Assessing your family's Own Language Profile
Start thinking and talking about your family's own language attitudes, skills, and resources.Firstly, it's essential to understand how you and your partner feel about using certain languages. Language is a deeply personal and intimate aspect of our identity, so it's important to explore your feelings and attitudes towards it. For instance, if only one parent can speak the language, it's essential to consider how the other parent might feel left out. It's also worth noting that even native speakers can feel awkward using their language with their children.
Another crucial aspect is assessing the role of grandparents and other family members in providing conversational stimulation and interaction in the language. Grandparents, for instance, can play a crucial role in providing exposure to the language and culture.
Evaluate the language resources available in your community
Additionally, it's essential to evaluate the language resources available in your community. Research the different languages spoken in your community and see if there are children's activities and programs available in different languages at community centers or other venues. This can provide an excellent opportunity for your child to practice and engage with the language outside of the home.
Assess the Language Programs Available in Schools and Beyond
Check what language programs are available in your child's school, both during and after school hours. Some schools may offer language immersion programs, while others may have language classes as part of their curriculum.
Remember to check out private language schools, such as GoEast, offer excellent language learning programs that cater to the specific needs of students. These schools have experienced and dedicated language instructors who can provide personalized instruction and feedback to help students achieve their language learning goals. The small class sizes or even 1 on 1 in private language schools allow for more individual attention, creating a conducive learning environment. Private schools often provide flexible schedules, including evening and weekend classes, to accommodate busy parents and working professionals. Additionally, private schools may offer cultural activities and events to complement language learning, providing a well-rounded educational experience. While private language schools may require a financial investment, the quality of education and personalized attention can make them an excellent choice for families looking for a more intensive language learning experience for their children.
Others
Aside from schools, consider other options such as field trips or travel to countries where the language is spoken. These experiences can provide real-life language practice and cultural immersion.
In summary, assessing your family's language profile and resources can help you plan your child's language learning journey effectively. It's essential to explore your feelings and attitudes towards language, evaluate the role of family members in language learning, and research language resources available in your community. By doing so, you can ensure that your child receives the best possible language learning experience. Keep in mind that language learning is a long-term commitment and requires consistent practice and exposure. Finding the right program that fits your family's needs and resources is crucial for a successful language learning journey.
How to support your child's language learning journey?
Pros and cons of language learning at different ages
It is essential to understand that language learning can occur at any age. Each age group presents unique advantages and challenges that parents need to consider when supporting their child's language learning.
From Birth: Babies and Toddlers (0-3)
Learning a second language at an early age has several advantages. Babies and toddlers can absorb language quickly and easily, as their brains are still developing. Here are some tips on how to support language learning for babies and toddlers:
Encourage friends, relatives, babysitters, siblings, and other visitors to speak and play with your child in the foreign language.
Listening to music and playing games in the language can help babies and toddlers learn and remember words.
Reading stories is an excellent way to help young children develop language skills and foster a love of reading.
Preschoolers (3-6)
Preschoolers are fearless when it comes to trying new languages. At this age, children are curious and eager to learn, making language learning more enjoyable. Here are some tips on how to support language learning for preschoolers:
Have fun integrating languages as a part of their daily routines. Incorporate language learning through play, such as singing songs, playing games, and telling stories.
Look for games, cartoons, and characters that your child enjoys in the target language.
Encourage your child to interact with other children who speak the target language.
School-Age Children (6-12 and beyond)
Older children may need more support and encouragement, as language learning can become more challenging. However, they can benefit more from explicit instruction, making it easier to understand grammar rules and sentence structure. Here are some tips on how to support language learning for school-age children:
Help establish a true connection by finding family or friends who speak the target language for your child to interact with.
Plan trips to the country where the language is spoken to give your child an immersive experience.
Minimize stress and be enthusiastic and positive about your child's language learning journey.
Your Child's Preferred Learning Style
Each child has a unique way of learning, and it is crucial to identify their preferred learning style to support their language learning journey fully. By providing materials and activities that match their learning style, language learning can become more enjoyable and effective.
Auditory learners prefer to hear the language input, so listening to songs and stories is essential for them. They learn best when the language is spoken aloud and when they can listen to conversations. Reading aloud to them or having them listen to audio recordings of stories and songs can help them retain information.
Visual learners prefer to see language input, so looking at words and pictures and making connections between them is how they enjoy learning. Flashcards, visual aids, and videos can be helpful for them to remember new vocabulary and grammar.
Kinesthetic learners learn through movement, so physical activities, sports, field trips, and movement classes can be beneficial for them. They may also benefit from learning through role-play or interactive games that involve movement.
Tactile learners respond to touch, so using manipulatives, finger painting, and crafts might help them remember new vocabulary and grammar rules. They may benefit from using flashcards with texture, such as those with a raised surface.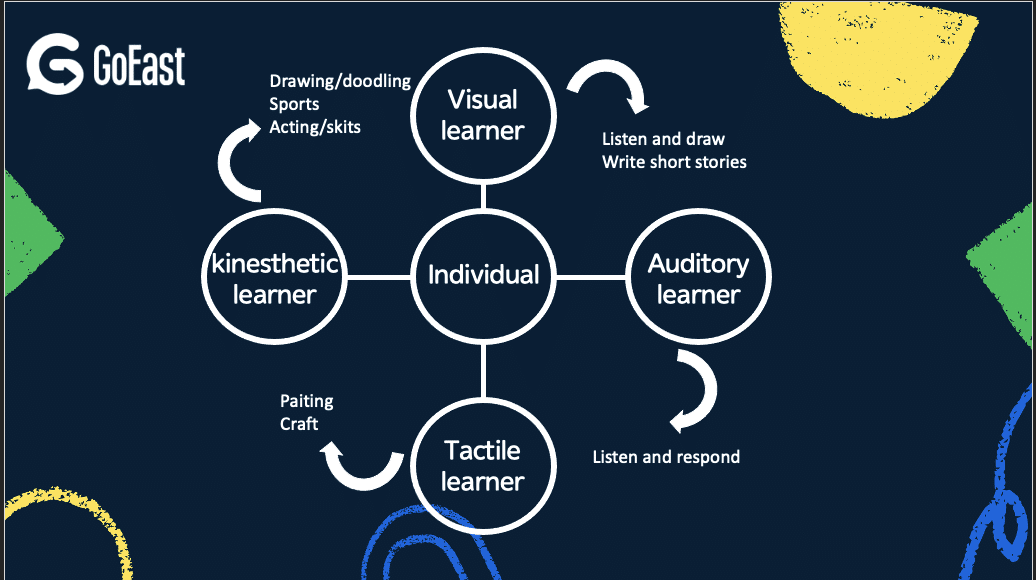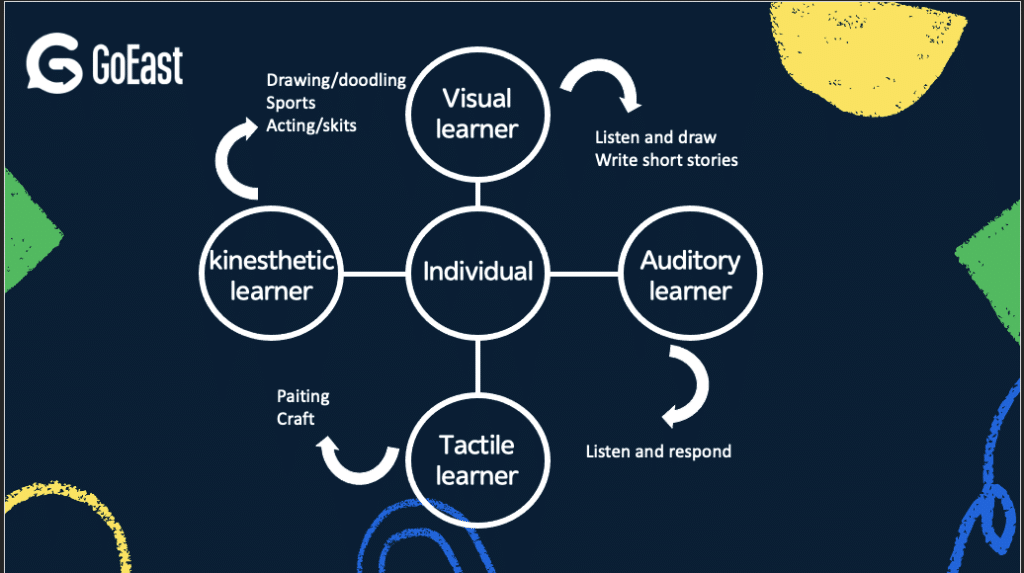 It's important to keep in mind that if you have more than one child, they may have different learning styles. What works for one child may not work for another. It is normal for siblings to have different preferences, so don't get frustrated if one method doesn't work for all of your children. Observing and understanding each child's learning style can help you tailor your approach to their individual needs, making language learning a fun and rewarding experience.
Choose the right programs for your Child
GoEast Mandarin offers online Chinese language programs for children: the Fun Chinese and the Fantasy Chinese.
The Fun Chinese is designed for children aged 3-6 and focuses on developing their listening, speaking, and basic reading skills in Chinese. Our experienced teachers use fun and engaging materials such as songs, stories, and games to create an immersive learning experience for young learners.
The Fantasy Chinese is designed for children aged 7-12 and aims to develop their listening, speaking, reading, and writing skills in Chinese. Our experienced teachers use a communicative approach to teaching, where students are encouraged to speak and interact in Chinese from the very beginning. The curriculum is tailored to the students' individual needs and interests, making the learning experience relevant and engaging.
Both programs offer flexible scheduling and personalized attention from our experienced and certified teachers. By providing materials and activities that match your child's learning style, we strive to make language learning a fun and rewarding experience. Enrol your child today and let us help them achieve their language learning goals! Book an inquiry session with our language consultant today.
Live event recording we did on this topic
The Bilingual Edge: Why,When and How to Teach Your Child Foreign Languages, with a Focus on Chinese