One of the weirdest Chinese Hanzi characters is 丫 (Yā), because it looks like the Y from the Greek alphabet. Let's look at the Chinese character 丫 (Yā) and 丫头 (yātou)
Pleco will say its two meanings are:
Noun: Fork
And dialect: Girl
Now it's mainly used in two situations:
你丫nǐ yā (scolding)
丫头yātou (little/cute girl)
The original usage of 丫 (yā)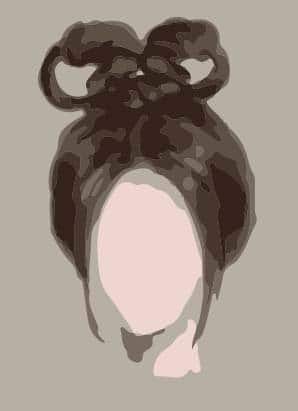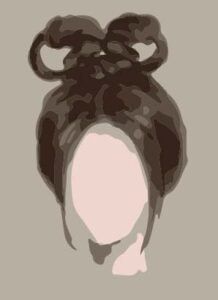 丫环Yāhuan specifically means maid. 丫头 (yātou) originally means a maidservant, sister, or simply a girl — especially a girl with her hair combed in the Y shape (see image).
In 三千里江山Sānqiān lǐ jiāngshān (Three Thousand Miles) there's a line from 杨朔Yáng shuò (Yang Shuo):
临到打雪仗,二边挑人,男孩子就不要她了,他们嫌她是丫头,说她不中用
Líndào dǎxuězhàng, èr biān tiāo rén, nán háizi jiù bùyào tāle, tāmen xián tā shì yātou, shuō tā bù zhòng yòng
When it comes to snowball fights, when picking sides, the boys don't want her. They think she is a little girl and say she's useless.
This phrase is also used in the famous 红楼梦Hónglóumèng (Dream of the Red Chamber) from 曹雪芹Cáoxuěqín (Cao Xueqin):
贾母笑道:'这不重了我们凤丫头了?
Jiǎ mǔ xiào dào:'Zhè bù chóng le wǒmen Fèng yātoule?
Mother Jia smiled and said: "Is this not too heavy for our Feng girl?
Here, 凤Fèng is the family name of the girl.
老舍Lǎoshě (Lao She) wrote in 龙须沟Lóng xū gōu (Longxu Ditch):
四嫂哇,您看二春这丫头,今儿个也不是又上哪儿疯去了
Sì sǎo wa, nín kàn èr chūn zhè yātou, jīn er gè yě bùshì yòu shàng nǎ'er fēng qùle
Wow Sisao, look at Erchun, this girl, this one is not going crazy again
This is all pretty ancient Chinese though.
你丫nǐ yā (scolding)
In Beijing, you may hear this phrase sometimes: 你丫nǐ yā, or 你丫挺的 nǐ yā tǐng de. It's used to scold people and basically means they look at them as servants: 丫环Yāhuan (maid)
丫头 (yātou) means cute girl
Nowadays, 丫头 (yātou) is used to describe a 'cute girl' now. But it's best to use this word only for young Chinese people, especially those who are close to you — because it's very informal. It is dialect, so used more in the Northeastern Dongbeihua dialect. Another form is family name +丫yā.
Here's a sample sentence of family name +丫yā:
李丫买的生日礼物太可爱了
Lǐ yā mǎi de shēngrì lǐwù tài kě'àile
The birthday gift the girl Li bought is so cute
Here, 李丫(Lǐ yā) means a girl with the 李Lǐ last name.
You can complement a girl with:
你是很可爱的小丫头
Nǐ shì hěn kě'ài de xiǎo yātou
You are a cute little girl