GoEast Mandarin is based in Shanghai, and started with offline classes in 2012. Online Mandarin courses were added in 2016, leading many Chinese language students to ask: What are the benefits of online Chinese courses compared to offline ones?
Benefits of online Chinese courses
Learning Chinese online has many advantages over offline classes;
Firstly, Chinese language students can study anytime and anywhere without the limitation of time and space to realize fragmented and personalized teaching and learning. We can have a class with Australian students in Sydney about to go to sleep, and American students in New York who just woke up. All joining for online class as we offer all timezones.
Secondly, the Chinese teaching resources of online courses are rich, and the media are diverse; there are videos for grammar and conversations. There are flashcards like Quizlet, interactive exercises, articles on Chinese culture, and more.
Finally, with the help of online communication tools, Chinese teachers of GoEast can timely inform students of the contents, resources, plans, and notices related to teaching, thus saving the time and cost of information circulation.
How to make full use of online courses?
Since we choose the network course to study, how can we make full use of the network Chinese course? This article will be combined with the online course of GoEast Mandarin for analysis.
GoEast Mandarin's online course
Goeast's Chinese language courses are mainly divided into two parts: self-study and teaching.
First of all, through self-study, Mandarin language students learn the core Chinese words and grammar structures in the online class. At the same time, the online class is also combined with exercises and tests to test whether the knowledge points are understood or not.
After self-studying, the student will learn together with the Chinese tutor, either privately or in a group.  In this part of the teacher will check the students' self-study report in advance, and carry out communication practices according to the situation of students' self-study, so as to be targeted. The important knowledge points and grammar points of the Chinese lesson are integrated into daily conversations so that students can not only know grammar, but also apply it to real life.
So the two parts of online learning can be very good to find their own language learning problems, and through the teacher's guidance to let the language into life. By using them together we make full use of the benefits of online Chinese courses.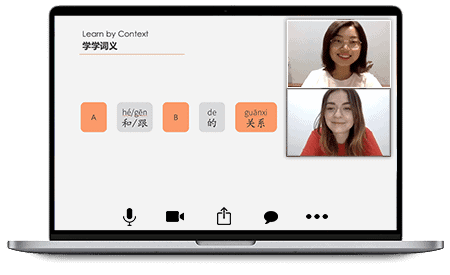 Suggestions for learning online courses
Based on this network teaching mode, to maximize the use of online courses, we must start from self-study.
First of all, to develop good Chinese language learning habits. The online class lacks the supervision of teachers, so students must sort out all the knowledge points before class. For the places they don't understand, they need to take notes and ask the teacher about the difficulties and key points before face-to-face teaching.
Secondly, the online video materials can be watched infinitely, so students can watch the Chinese language points that they do not master well twice or more. Students can also see how they score on interactive exercises and see what they need to review more. Then after a live-lesson, the Chinese teacher can advise a student to learn or watch a certain video again.
Finally, if it is class learning, you can train with your classmates, because you are familiar with each other, you can better exercise your oral ability.
---
Make full use of online courses to learn Chinese, and can fully learn Chinese in free time. This is a good learning method!