At GoEast, our teachers are always exploring new technologies to help our learners boost their Chinese language skills. ChatGPT, which has been available for two months now, has quickly become a favourite among our team. After experimenting with the tool, we have identified some best practices for integrating it into your language learning routine. In this article, we will discuss the benefits of using ChatGPT, how to incorporate it into your learning plan, and some limitations to be aware of. By the end of this article, you will have a clear understanding of how ChatGPT can help you achieve your Chinese language learning goals.
We also included a recording of one of our live events at the end, in which GoEast teachers Emily and Dan presented to Chinese learners on how to use ChatGPT to improve their Chinese skills. Our students provided some valuable input during the session as well.
1 Using ChatGPT to Learn Chinese words: better than any dictionaries
One of the most valuable features of ChatGPT for Chinese language learners is its ability to help you learn new words. With its interactive design, ChatGPT operates like a more advanced dictionary that provides not only definitions and examples but also contextual explanations that can help you understand how to use new words in real-life situations. Additionally, ChatGPT allows you to create personalized vocabulary lists and quizzes, so you can review and reinforce your new knowledge at your own pace. In this section, we will delve into each of these features in more detail, so you can see how ChatGPT can help you expand your Chinese vocabulary and improve your language skills.
1.1 Provides Definitions and Examples
We have tested ChatGPT's vocabulary support for learners at all levels, from beginner to advanced, and found that it offers correct definitions and suitable examples for every level. This means that whether you are just starting to learn Chinese or are looking to refine your skills, ChatGPT can provide the vocabulary support you need to make progress in your language learning journey.
Prompt example: "Act as a Chinese-English dictionary for me. When I type a Chinese word, please provide its  Pinyin, English meaning, and an example."
Here are examples our teacher tested beginner to advanced level words: all the pinyin, explanations and examples are pretty suitable.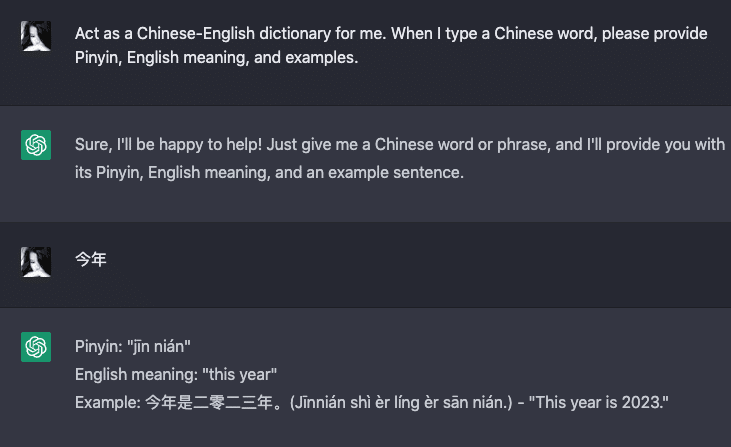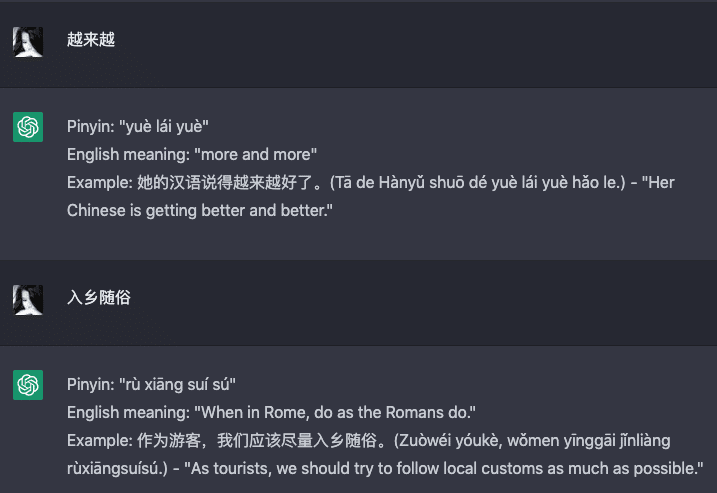 1.2 Explain words in context
One common challenge when using a traditional dictionary is knowing which definition to choose in a given context. However, ChatGPT offers a solution to this problem. By asking ChatGPT to explain words in context, you can receive not only the correct definition, but also additional knowledge related to the word. This can help you gain a deeper understanding of the word's usage and improve your ability to apply it in various contexts.
Prompt example: "I can't understand "word" in this sentence/paragraph, can you explain it to me?"
Below is an example of how we asked ChatGPT to provide a definition for a less common usage of the intermediate level word "厉害" in a specific context. ChatGPT not only provided a correct explanation for the requested usage, but also highlighted its more frequent meaning.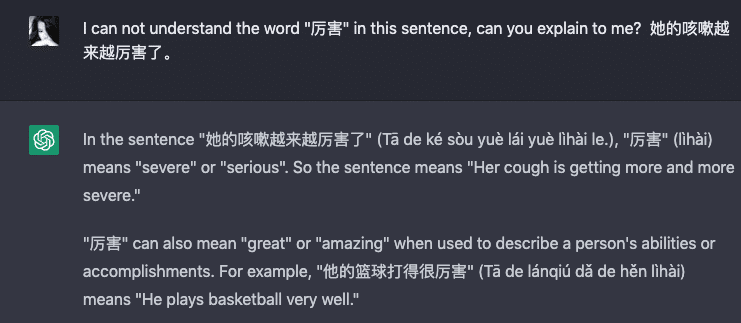 1.3 Create a learning vocabulary list
Another helpful feature of ChatGPT is the ability to create a personalized vocabulary list for your own learning needs. With this feature, you can easily save new words and phrases that you want to focus on and review them later. This can be especially useful if you want to target specific areas of your language learning, such as business vocabulary or travel-related terms. And remember to indicate the level of vocabulary you want it to create: you can use HSK1 to HSK6 as a level indicator, or beginner too advanced.
Limitation to be aware of: ChatGPT is not 100% aligned with the HSK1 to 6 level. It reacts better to beginner to advanced for now. 
Prompt example: ""I am a [ level ] Chinese learner, give me a list of vocabulary to study for [a topic]"
Earlier, we asked ChatGPT to provide a word list related to the topic of "self-introduction" for HSK1 level. While the list is complete and helpful, it is more difficult than what is required for HSK1.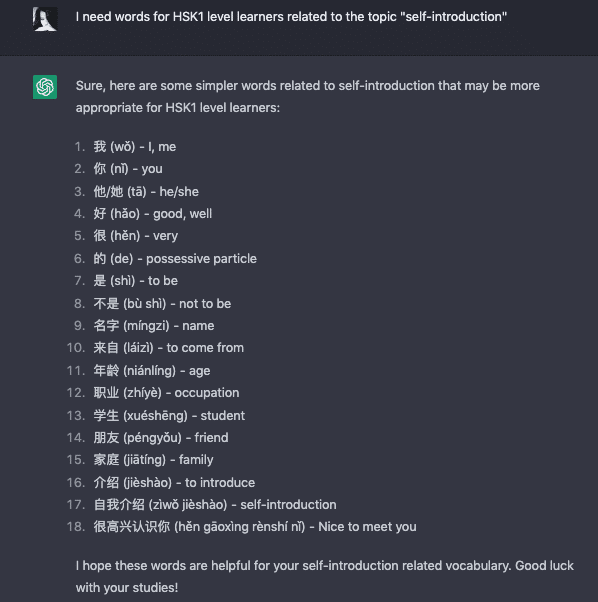 1.4 To Quiz your vocabulary
ChatGPT can create quizzes in a variety of formats to help you test and reinforce your vocabulary knowledge. Some of the most common formats include multiple choice, fill-in-the-blank, and matching exercises.
In a multiple-choice quiz, you are presented with a word and several possible definitions or translations, and you must select the correct one. Fill-in-the-blank quizzes require you to complete a sentence or phrase using the appropriate vocabulary word. Matching exercises ask you to match vocabulary words with their corresponding definitions or translations.
These quizzes can be customized to your level and interests, so you can focus on the specific vocabulary that you need to learn. Additionally, ChatGPT's machine learning capabilities can adapt to your learning progress, creating personalized quizzes that challenge you at the appropriate level.
Limitation to be aware of: some quizzes it created can be weird, you need to keep speaking to it and giving feedback to make it more appropriate to you. 
Prompt example: "Create a vocabulary quiz for …"
Here is an example where we asked ChatGPT to quiz me on Chinese vocabulary related to the topic of "hobbies". It provided multiple choice style questions to test my understanding of the meaning of Chinese words, with answers provided at the end.

2 Learning Grammar
In addition to vocabulary support, ChatGPT can also be used to learn and reinforce Chinese grammar. By using the correct grammar, you can better convey your meaning and communicate more effectively in Chinese. ChatGPT can help you achieve this in several ways.
2.1 Correcting and explaining grammar points

If you have a sentence or a paragraph with a grammar mistake, ChatGPT can help you correct it. Simply provide the text, and ChatGPT will identify the error and suggest a correction. Additionally, ChatGPT will provide an explanation of the grammar rule behind the correction so that you can understand why the correction is needed.
Prompt example: "Correct the mistakes in this sentence: "
We asked ChatGPT to correct a common mistake made by beginners: misplacing location words. It quickly identified the mistake and provided a concise and simple explanation without too many linguistic terms, which was quite helpful.

2.2 Generate examples using a certain grammar point
ChatGPT can provide examples of how a particular grammar point is used in real-life situations. For example, if you want to know how to use "比" in Chinese, you can ask ChatGPT to generate some examples. This feature can help you understand how to use grammar points correctly and in context.
Prompt example: "Give me 5 examples using "grammar point".
We asked ChatGPT to provide five examples of the grammar point '比'. It provided a comprehensive list of examples covering all the different variations of the usage, which was very helpful..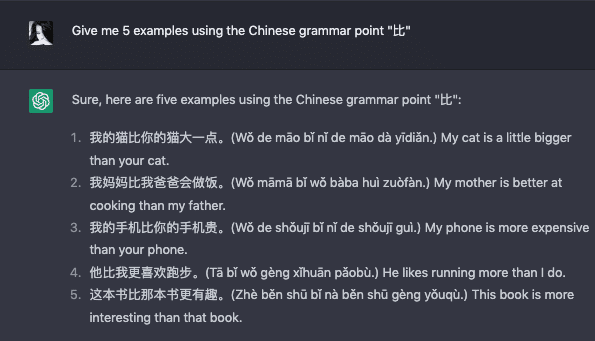 2.3 Create quiz on grammar points
Similar to the vocabulary quizzes, ChatGPT can create quizzes to test your understanding of different grammar points. However, it is important to note that the quality of these quizzes may not be as good as the ones created for vocabulary. You may need to provide feedback and speak to ChatGPT to refine the quiz to your level and learning style.
Prompt example: "Can you create a quiz on [grammar points]"
In the example shown here, quiz questions like No. 3 would not be approved by our teachers as it does not align with our testing methods.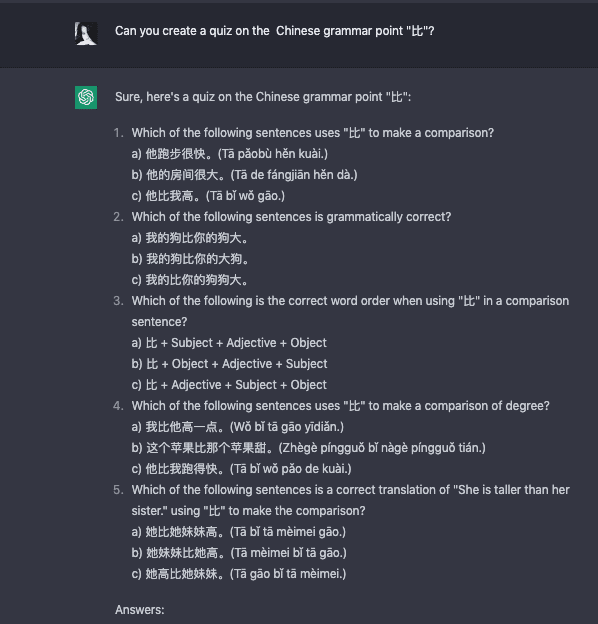 3 Improve Writing
ChatGPT can also be used to improve your Chinese writing skills. Whether you need to write a formal letter, an email, or for a specific, ChatGPT can provide support in several ways.
3.1 Write from scratch
If you need to write a message or a document from scratch, ChatGPT can help you. Simply provide a topic or a prompt, and ChatGPT will generate text for you. You can then use this text as a starting point to create your own writing.
Prompt Example: "I need to [explain the situation, can you write a [request] for me in Chinese]"
The example provided here is a leave note requested from a student to his Chinese teacher. While it is well-written, it may be overly formal for the intended purpose. Your teacher will immediately noticed that it is written by an AI.

3.2 Rewrite in a better way
If you have a piece of writing that you're not satisfied with, ChatGPT can help you improve it. Simply provide the text and tell ChatGPT what you want to achieve, such as making it more formal or more concise. ChatGPT will then generate a new version of the text that meets your requirements.
Prompt Example: "Can you improve my Chinese writing, make it more [requirements]"
We asked ChatGPT to write a more casual version of the leave note, and this new version is much better and more appropriate for a friendly student-teacher relationship at our school.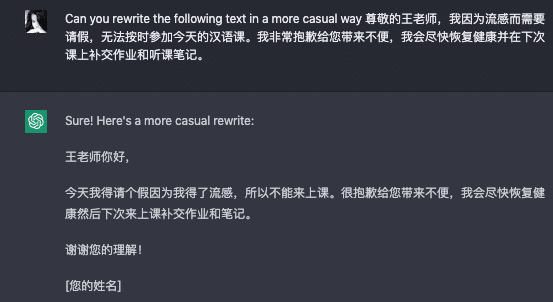 3.3 Correct mistakes and explain changes
If you have a piece of writing that you want to improve, but you're not sure what changes to make, ChatGPT can help. Simply provide the text, and ChatGPT will identify the errors and suggest corrections. Additionally, ChatGPT will explain the changes so that you can understand why they are necessary.
Prompt Example: "Correct my mistakes in this Chinese writing and explain all the changes"
We submitted one of our GoEast students' homework to ChatGPT and asked it to correct any mistakes and explain why. The resulting improved version is now more authentic and natural. The explanations provided for each change are both accurate and clear. Of course it will take the student a long to digest these though.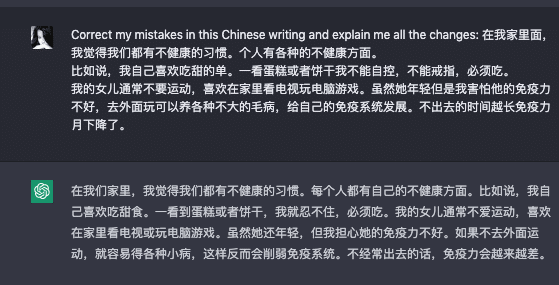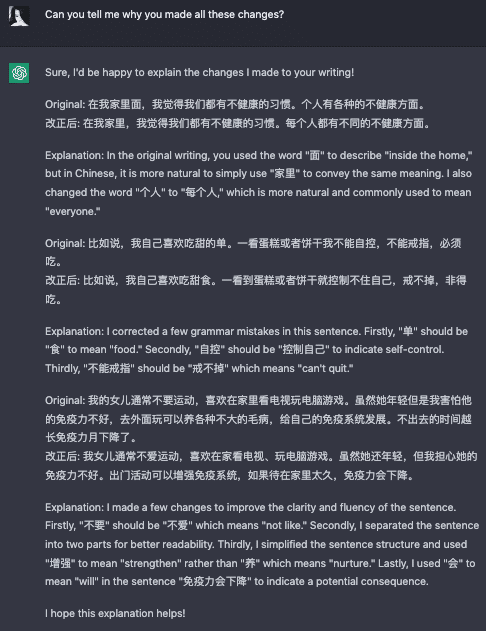 4 Practice Chinese Conversations
Another way to improve your Chinese language skills with ChatGPT is through conversation practice. ChatGPT can simulate a conversation with you in Chinese, helping you practice your listening and speaking skills. You can also choose the topic and the level of difficulty, so you can practice the skills you need to improve.
4.1 Back and forth Conversation
One way to improve your Chinese language skills is through practice conversations with ChatGPT. You can choose a topic that interests you and engage in a back-and-forth conversation with the AI language model. During the conversation, you can request feedback from ChatGPT to help you correct any mistakes and learn new vocabulary. This interactive and engaging way of practicing can be a helpful supplement to more structured language learning activities.
The limitation here is that it is not necessary give you the suitable level answers for you to continue.
Prompt examples: "Let's have a conversation about [topic], correct my mistakes, suggest different vocabulary".
We asked ChatGPT to have a conversation with us about itself. Despite me indicating that I would start the conversation, it initiated a question, demonstrating its ability to understand Chinese quite well. However, the answers provided became too complex too quickly when discussing deeper topics such as technology, making it challenging for ChatGPT to use simple Chinese.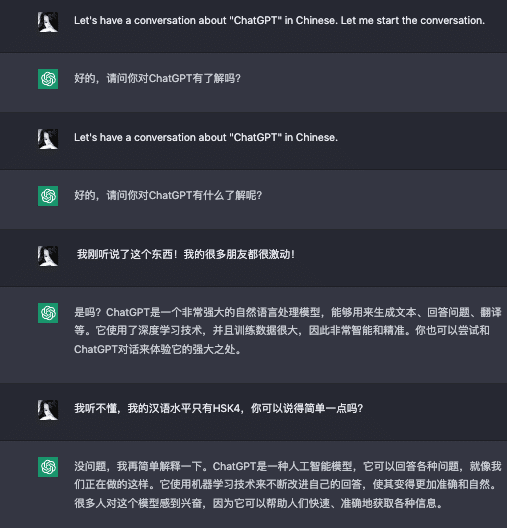 4.2 Generate Scripts for specific conversations
If you have a specific conversation in mind that you'd like to practice, ChatGPT can help! Simply ask it to generate a mock conversation on any topic you choose. This is a great way to practice for real-life situations, like ordering food or having a conversation with a native speaker.
Prompt example: "Write a mock conversation related to [topic]"
We asked ChatGPT to generate a mock script in Chinese for an intermediate-level learner on how to get a haircut. The resulting script is quite authentic and could be used as one of our practice scripts for our teachers.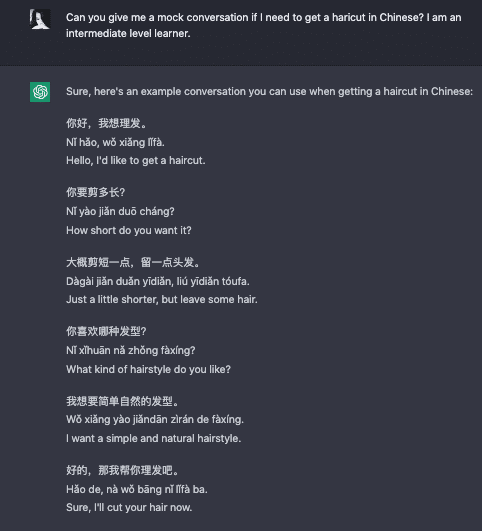 4.3 Segment sentences to speak more naturally
ChatGPT even offers a unique feature specific to Chinese learning. When you're struggling to find the right pauses within a sentence, ChatGPT can help you by segmenting the sentence into more natural speaking patterns. Simply ask ChatGPT to help you divide a sentence into smaller chunks and you'll be speaking more naturally
Prompt example:   And you are suggested to write in Chinese to get more natural results "帮我把这句话分词:".
The following examples show how ChatGPT responds to the same sentence when asked by our teacher in both English and Chinese. The generated answers are different, but the latter one has pauses that more closely resemble those of a native speaker.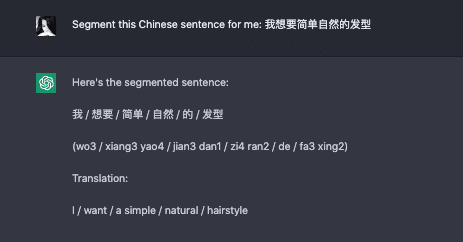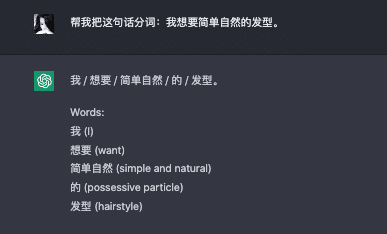 However, it's worth noting that the practice conversations on ChatGPT are generated from scripts, meaning that the conversations may not be as dynamic as a real-life conversation with a native speaker. While it is important to note that practicing with a professional language teacher is generally the best way to improve your language skills, ChatGPT can provide additional practice opportunities and support.
Conclusion
In conclusion, ChatGPT is a valuable tool that can help you improve your Chinese language skills in several ways. From vocabulary support to grammar correction, writing improvement, and conversation practice, ChatGPT offers a range of features to support your language learning journey. It's important to keep in mind that it has its limitations. It's not a substitute for the expertise and guidance of a professional language teacher. A professional teacher can help you identify your strengths and weaknesses, develop a personalized learning plan, provide detailed feedback, and answer your questions. They can also provide you with cultural insights and help you gain a deeper understanding of the language. So, while ChatGPT can be a helpful supplement to your language learning journey, it's important to also seek out the guidance of a professional teacher to ensure that you are making the most progress possible.