Since 1992, HSK (汉语水平考试 Hànyǔ Shuǐpíng Kǎoshì, translated as the Chinese Proficiency Test) is the official standardized test for Mandarin — and it's about to get its second big overhaul.
The first revamp of HSK:
From 1992, HSK had 11 levels. The levels were then simplified in 2010 and some contents removed, such as scientific terminology, sayings, and outdated words such as phonebooths. A total of 4189 words were purged, and 349 added.
HSK levels now:
Now there's HSK1 to HSK6 which ranges from Beginner (1&2) to Elementary (3) to Intermediate (4) to Advanced (5&6). In total there are around 5000 words to know.
At GoEast we commonly use the HSK system for our classes — because even if you just want to get conversational and don't care about testing your Mandarin, the HSK structure works extremely well. It's friendly to beginning students, and many characters you learn return in later levels as compound words. In HSK1 you may learn 谢谢Xièxiè (Thank you),in HSK3 觉得Juédé (Think), in HSK4 感谢Gǎnxiè (Thank) and 感觉(Gǎnjué). It's also extremely popular, so there are lots of resources available — such as vocab lists specific per HSK level. Search 'HSK3 vocab list' on YouTube and you'll find several people reciting.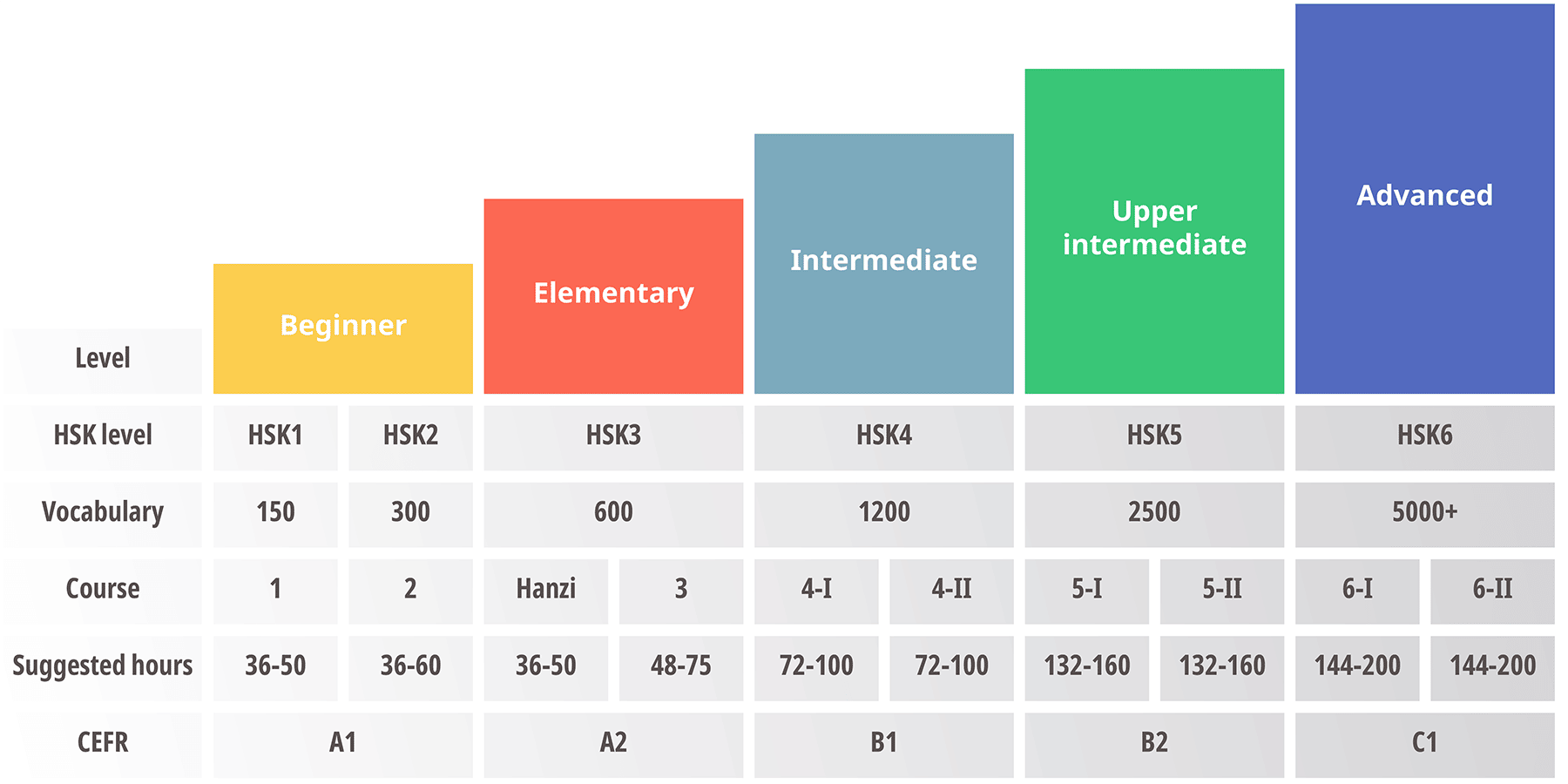 The new HSK levels:
Unlike the 2010 change, this is not a big purge, although we expect some outdated words to be swapped for newer ones (looking at you, fax: 传真Chuánzhēn).
The biggest change is 3 new levels: HSK7 to HSK9. These are meant to be a better gauge for students who major in Chinese language and literature or sinologists. The student will only need to take one exam for this range, and based on the score a certificate of HSK7, HSK8 or HSK9 will be given. Besides the original requirements of abilities of listening, reading and writing, the ability of translation will also be tested.
| Level | Difficulty | Amount of words | Difference from old HSK |
| --- | --- | --- | --- |
| HSK 1 | Beginner | 500 | +350 |
| HSK 2 | Beginner | 1272 | +972 |
| HSK 3 | Elementary | 2245 | +1645 |
| HSK 4 | Intermediate | 3245 | +2045 |
| HSK 5 | Intermediate | 4316 | +1816 |
| HSK 6 | Upper intermediate | 5456 | +456 |
| HSK 7 | Advanced | 11,092 (TBC) | n/a |
| HSK 8 | Advanced | 11,092 (TBC) | n/a |
| HSK 9 | Upper advanced | 11,092 (TBC) | n/a |
More details are expected later this year, and exams will probably be available in the first half of 2021.
What it means for your Chinese learning:
The current 6 levels will probably remain mostly the same, bar the updated vocab. The first updated textbooks will probably come from Beijing Language and Culture University Press (the ones we also use) — but you can probably keep using your current textbooks. Any new vocabulary required for tests will be added by your GoEast teacher. Our online courses will of course also be updated.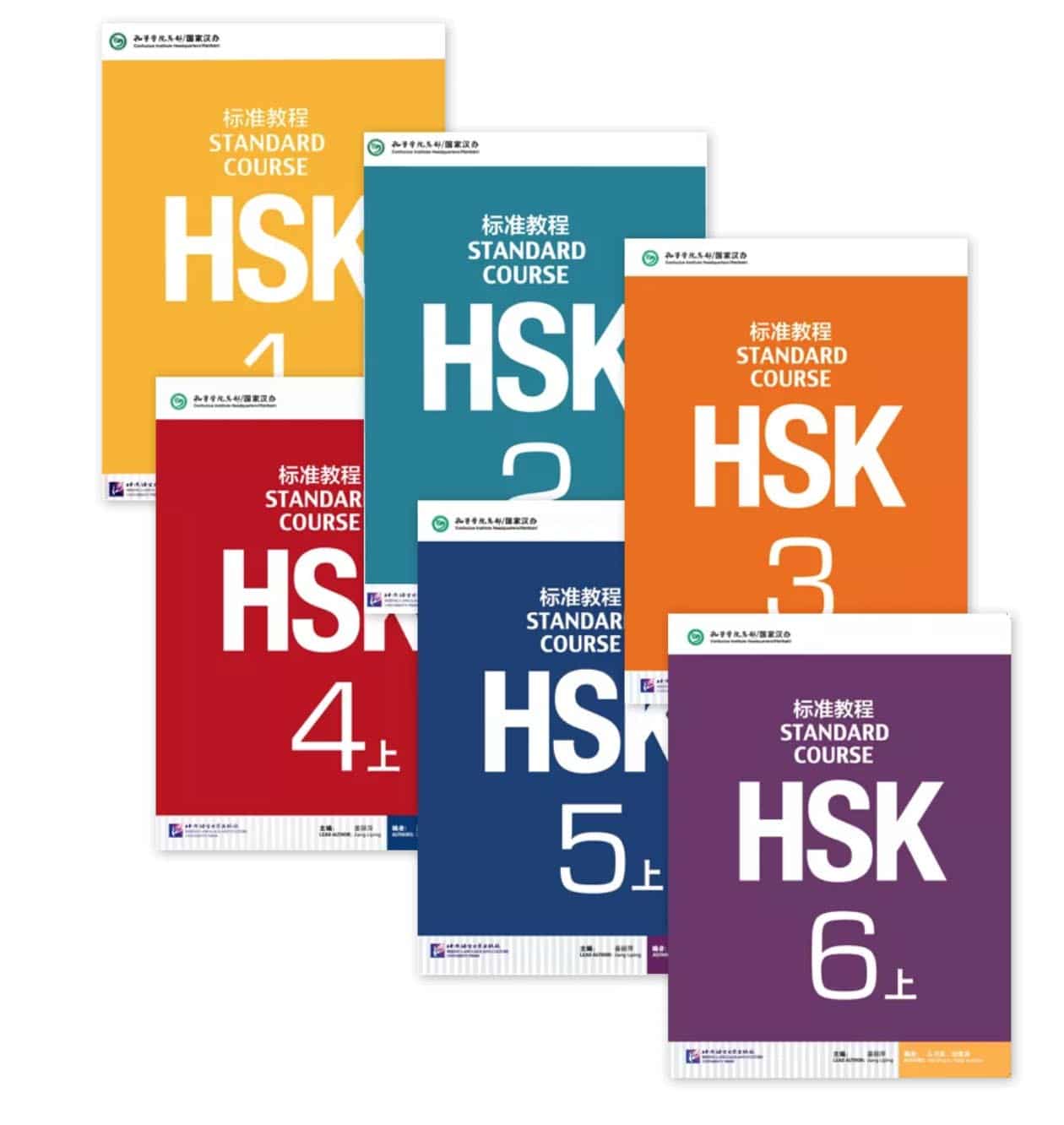 The biggest difference is that to "100% complete" HSK, you'll probably have to learn well over 10,000 words instead of 5,000. And it may let you down a bit, that if you're an HSK4 student, you're now at 4/9 completion instead of 4/6.
But don't let it dampen your motivation: The additional HSK levels are an academic reality, while your conversational level stays the same. Most Chinese people do not even reach this level! The words you can speak are the words you can speak, the conversations you can make, to use it for the people you can meet all around the world.
Non-HSK Chinese language courses
HSK is how your Chinese language skills are officially graded, and as such, they're often seen as the only way to learn Chinese. Which is a pity, because every Mandarin student's goals are different. We think HSK1 to 4 are perfect to get conversational. After that, for some Chinese learners, HSK5 & 6 are perfect, for others, Spoken Chinese or Business Chinese is more suitable. This is because HSK5 and 6 are very much literature-based. HSK5 and 6 are not relevant in their entirety if you just want to make casual with Chinese people, or want to work in China. We expect the same literatury-focus from HSK7, 8, and 9.
See here the schedule for the 2021 HSK tests.